Italian Lentil Soup
Yum
The recipe for this rich and hearty Italian Lentil Soup requires very little time, start to finish, and it takes advantage of lentils luscious state of tenderness.  This is a humble soup made with the most humble of ingredients.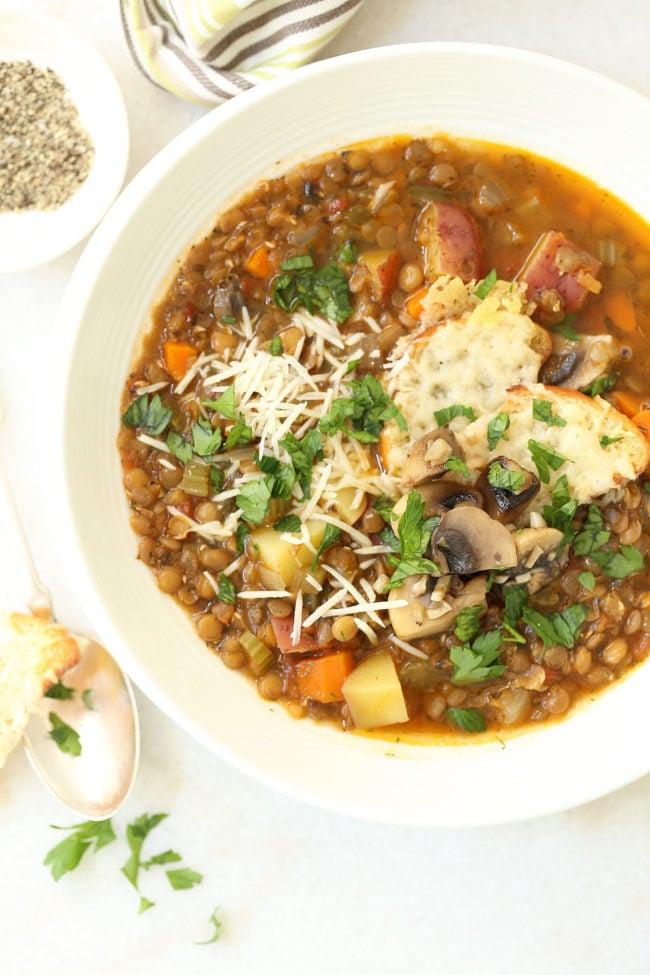 This hearty Italian Lentil Soup can be made in under an hour, but it gets better as days go by because it keeps absorbing its few flavors, basil, oregano, dill, and especially the flavor of a good olive oil.  A healthy drizzle of fresh olive oil added just before serving adds to the richness in flavor.  The simplicity of this soup requires no garnish, but I personally love to garnish this soup with croutes, fresh parsley, sautéed mushrooms and a sprinkling of freshly grated Parmesan cheese.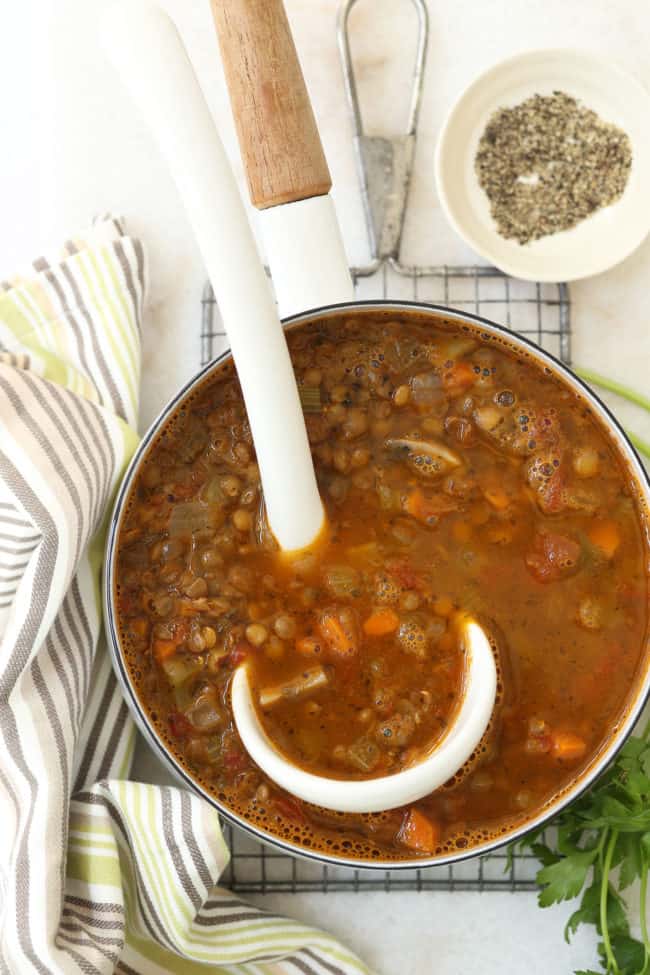 This post is a re-post of a much earlier post which is one of my family's favorite soup recipes.  I wanted to update the recipe with a few tweaks and a few new photos.
There's a little Italian restaurant called Garduno's in Costa Mesa that my family has gone to for years.  They make a really wonderful hearty lItalian Lentil Soup. Everything they make is wonderful, but I'm especially partial to their lentil soup. This Italian Lentil Soup is my riff on their soup. They add mushrooms to their soup, but I prefer to sauté them and add them on top with homemade cheese croutés. My family loves this soup, and I make it often. This is an easy lentil soup recipe that's quick and inexpensive to make, and I typically have all of the ingredients on hand.
Soup is one of my favorite meals to make… it's the ultimate comfort food. I love the way the house smells when a large pot of soup is simmering on the stove.  I always make a large batch, so I can have leftovers for lunch the next day or two.
I hope you enjoy this Italian Lentil Soup as much as my family does!
~ Deb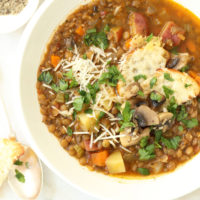 Italian Lentil Soup
Yield: 4 - 6 servings
Total Time: 45 minutes
Ingredients:
6 cups chicken broth
1-1/2 cups water
1/2 cup white wine or sherry
1 cup crushed tomatoes (canned)
1 cup green or brown lentils (rinsed and stones and debris discarded)
4 tablespoons extra-virgin olive oil
1 large yellow onion,  chopped
3 large stalks celery, chopped
2 large carrots, chopped
2-3 small red potatoes, cut into small chunks
2-3 cloves garlic, finely minced
2 tablespoons fresh parsley, coarsely chopped
1 tablespoon dried basil
1 teaspoon dried oregano
1 teaspoon dried dill
1/2 teaspoon freshly ground black pepper
sea salt to taste
Directions:
Heat oil in a large pot. Add the onions, celery and carrots and sauté for approximately 7 minutes until tender and the onions are golden in color.
Add the garlic and sauté for another minute.
Add the wine and let simmer for just a minute.
Add the chicken broth, water, and tomatoes, potatoes and lentils.
Add the parsley, basil, oregano, dill, and freshly ground black pepper.
Cover the pot and simmer for approximately 40 minutes or until the lentils are tender.
Ladle the soup into bowls and garnish with cheese croutés and sautéed mushrooms.
An extra drizzle of olive oil is nice to add as well.
Leave a Comment