Black Bean Soup
Yum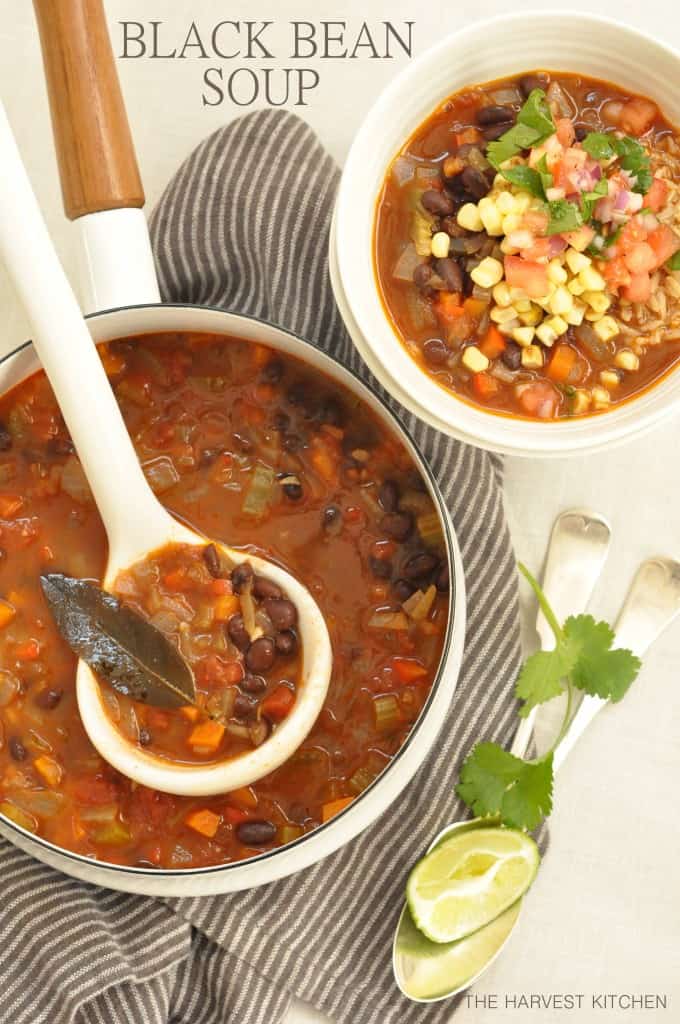 Hey guys!!  Welcome to the new site!!  You'll notice there's a fresh new look… (thank you so much to  the very talented Lindsay at PURR DESIGN for this!), and I also changed the name.   Delicious Happens is no more – and The Harvest Kitchen is where I'll be making healthier dishes to share with you.  Not that I didn't make healthy dishes before – but some of the recipes wouldn't exactly be considered "health food". 
Why did I change the name? Well…because I wanted an earthier name to go with the foods that I'll be sharing here. And…The Harvest Kitchen seemed like a perfect fit, since my kitchen is always filled with fresh organic produce. I'm really excited about the changes, and I have to give credit to Kyle for this. I've always been interested in nutrition (at one time I thought about going back to school to be a nutritionist), so Kyle suggested that I take things in that direction. He thought I'd have more fun with it!  He was so right! You'll also notice that I have added some new categories…. "be cleansed" will be for detox recipes, "be balanced" will be for PH balance recipes, etc. This is a fresh concept for me that I'll be exploring and learning about as I go. I've also added a "juices/smoothies" category because I make fresh juices and smoothies every day for myself, so I wanted to expand on that and share more juice and smoothie recipes here as well. I'm going to try to share a smoothie recipe on every Sunday. Sunday Smoothies! So anyway, these are some ideas about where I want to take The Harvest Kitchen. I hope you like!!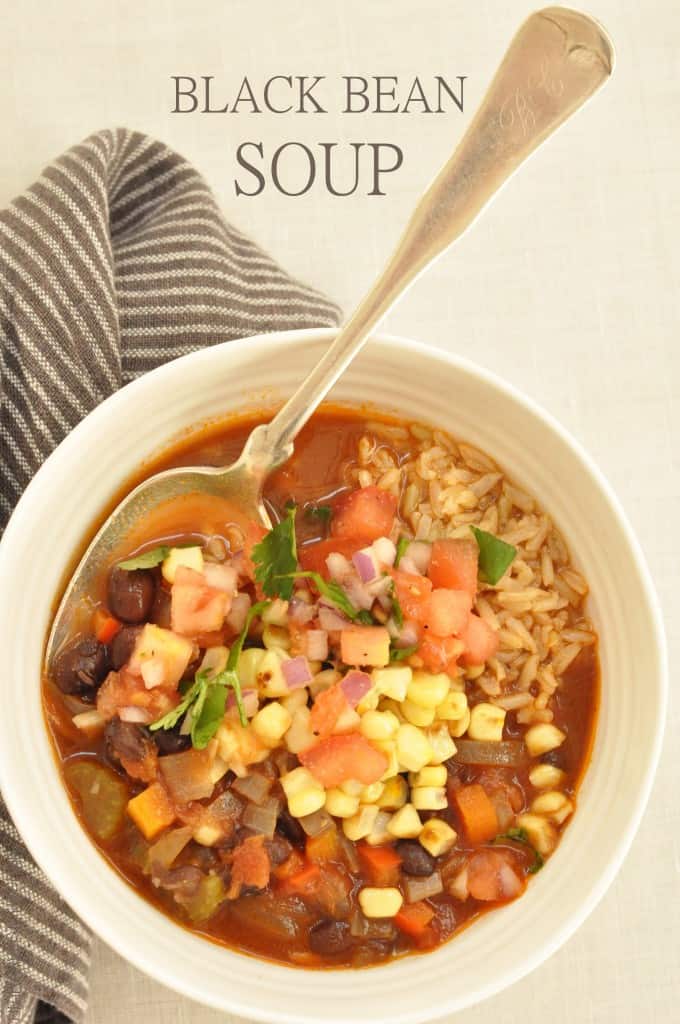 There's still a little work for me to do though.  I've been fixing all of the older recipes so you can print them in a nice format.  This is a really slow and tedious process – but I'm more than half way there.  I want everything perfect for you!! And I still need to add a bio pic.  Hoping to have everything done in a week.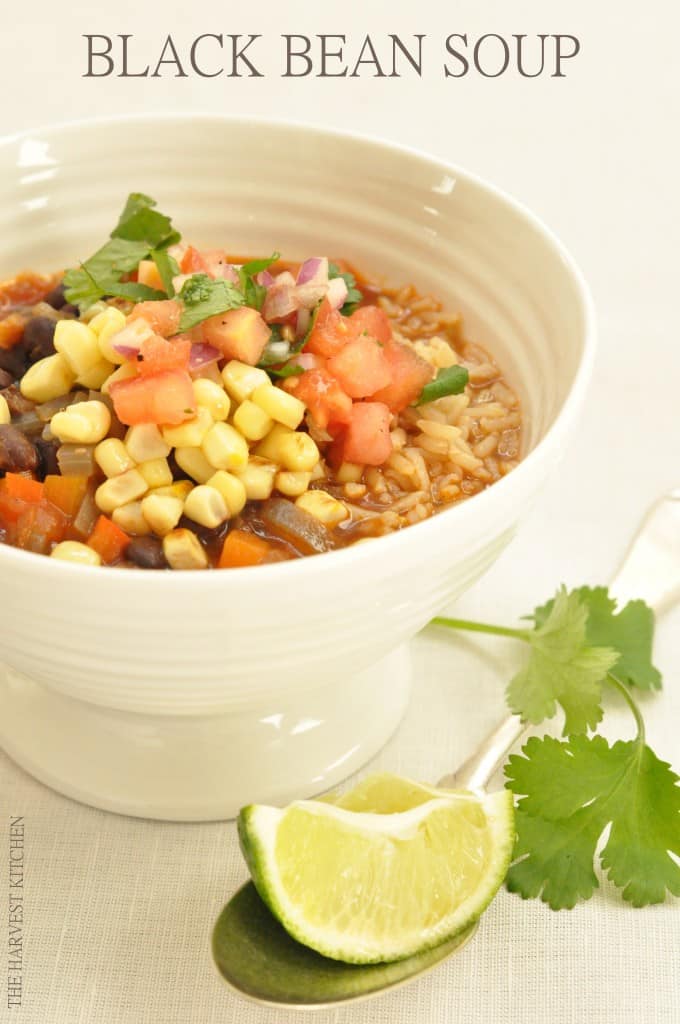 So lets talk about this really delicious hearty Black Bean Soup.  I love soups like this!  Not a wimpy brothy soup – but a hearty sustenance soup that's as filling as it is flavorful.  I love adding rice to the bowl before dishing it up.  Spanish rice, brown rice, white rice… it doesn't matter.  Whatever you prefer.  And I especially love topping things off with some fresh grilled corn, tomato, red onion and cilantro.  Often times black bean soup is pureed….but I think the soup is prettier left alone.
This Black Bean Soup is a new favorite of mine!!
Also… be sure to check out the new subscribe feature at the top of the site that Lindsay set up for me.  Just fill in your info and new posts will be sent directly to your email.
~ Deb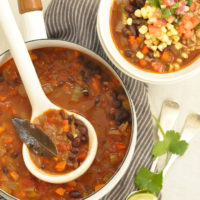 Black Bean Soup
Yield: 4 servings
Total Time: 1 hour
Ingredients:
3 tablespoons extra-virgin olive oil
1 onion, peeled and chopped
1 cup carrot, peeled and chopped
2 celery stalks, peeled and chopped (include the leafy green parts)
3 garlic cloves, minced
1 small red pepper, chopped
1 teaspoon fresh jalapeno, minced (optional)
2 teaspoons ground cumin
2 teaspoons dried oregano
1 bay leaf
1 19 ounce can black beans, rinsed and drained
2 fresh corn cobs, grilled
14 ounce can diced tomatoes, undrained
4 cups low-sodium chicken broth
Directions:
Heat the oil in a large saucepan over medium-high heat.
Saute the onion, carrot and celery for about 5 minutes or until they soften.
Add the jalapeno (if using), garlic, red pepper and cook for another minute.  Add the cumin, oregano and bay leaf.
Add the beans, tomatoes and chicken stock.  Bring to a boil then reduce heat and cover.
Simmer for 30 to 45 minutes or until the soup thickens.
Garnish with fresh grilled corn kernels, chopped tomato, red onion and cilantro.  Serve with lime wedges.
Recipe adapted from "Spilling the Beans" by Judy Van Rosendaal and Sue Duncan
3 Responses to "Black Bean Soup"
Leave a Comment