Turkey Taco Skillet
This delicious Taco Skillet is a healthy one pot meal recipe that comes together in a pinch. It makes the best turkey tacos and taco bowls!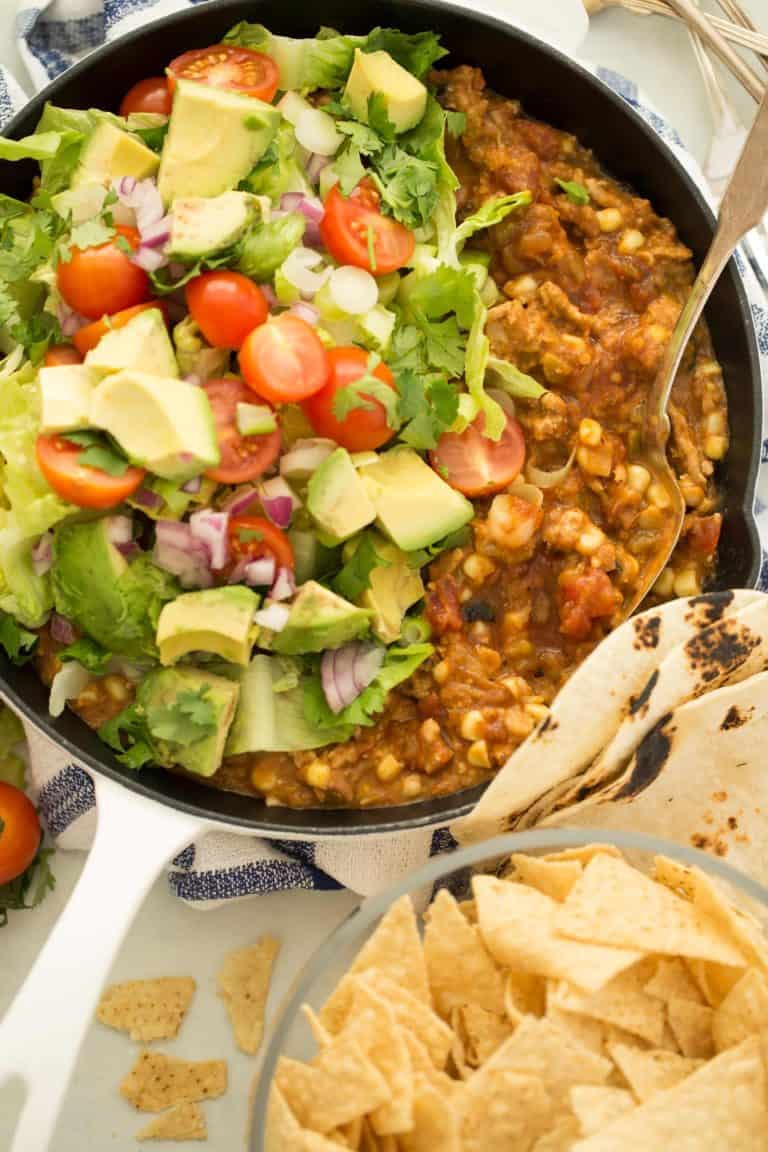 GROUND TURKEY TACO RECIPE
This easy ground turkey taco recipe combines ground turkey, canned beans, corn, onion, garlic, tomato and salsa. It's quick and easy to make and has a delicious combination of flavors.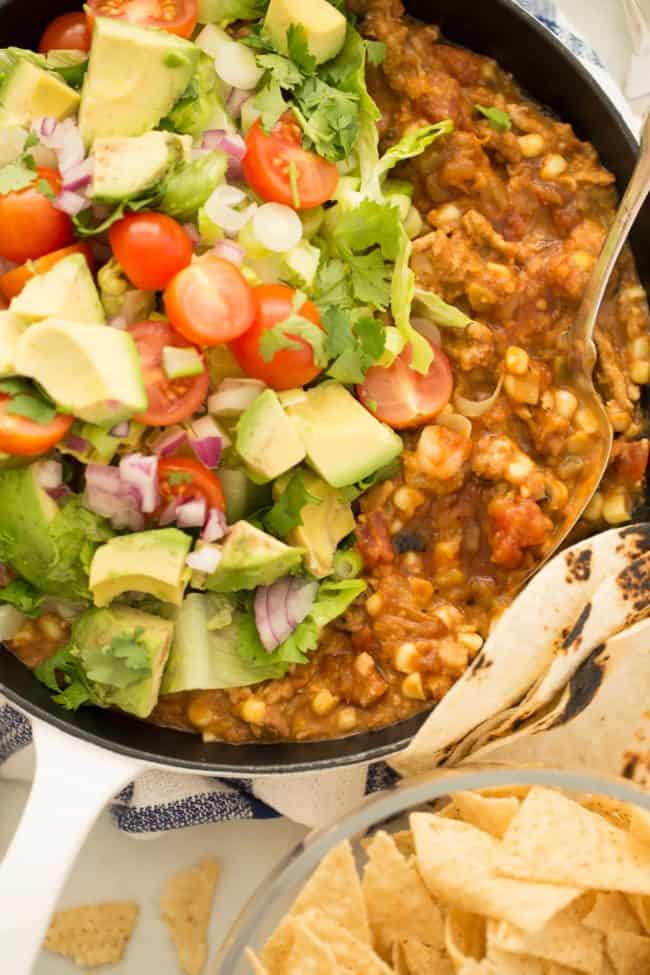 TACO SKILLET RECIPE
This taco skillet recipe has a delicious blend of ingredients that makes the best turkey tacos and taco bowls.
1 pound ground turkey
1 yellow onion, chopped
2 cloves garlic, minced
1 large tomato, chopped
1-1/2 teaspoons ground cumin
1 teaspoon ground coriander
1/2 teaspoon ground oregano
1/4 cup frozen corn kernels (fresh or frozen)
1 14 ounce can vegetarian refried beans (Amy's)
1/3 cup mild salsa (Hatch)
1 small can sliced black olives
HOW TO MAKE THE BEST TURKEY TACOS
This taco skillet comes together in about 30 minutes start-to-finish. Stuff this ground turkey taco meat inside tortillas for the best ground turkey tacos!
In a large skillet over medium-high heat, heat oil. Add onion
and cook for about 5 minutes or until tender. Add garlic and cook for another minute.
Add chopped tomatoes and cook another minute.
Add seasoning and stir until combined.
Add ground turkey and cook for about 5-7 minutes or until no
longer pink.
Add beans and salsa and stir until combined.
Add corn and black olives.
Reduce heat to low and simmer for about 5 -7 minutes until
heated through.
Add a few tablespoons chicken broth or water if it loses its
moisture.
Season with salt and freshly ground black pepper
VARIATIONS
Add black beans or Pinto Beans or these Borracho Beans instead of refried beans
Add a can of Hatch green chiles
Add a can of tomatoes with green chilis instead of tomato and salsa
Add bell pepper or red pepper
Use ground chicken instead of ground turkey
Make it vegan and add more beans and omit the meat altogether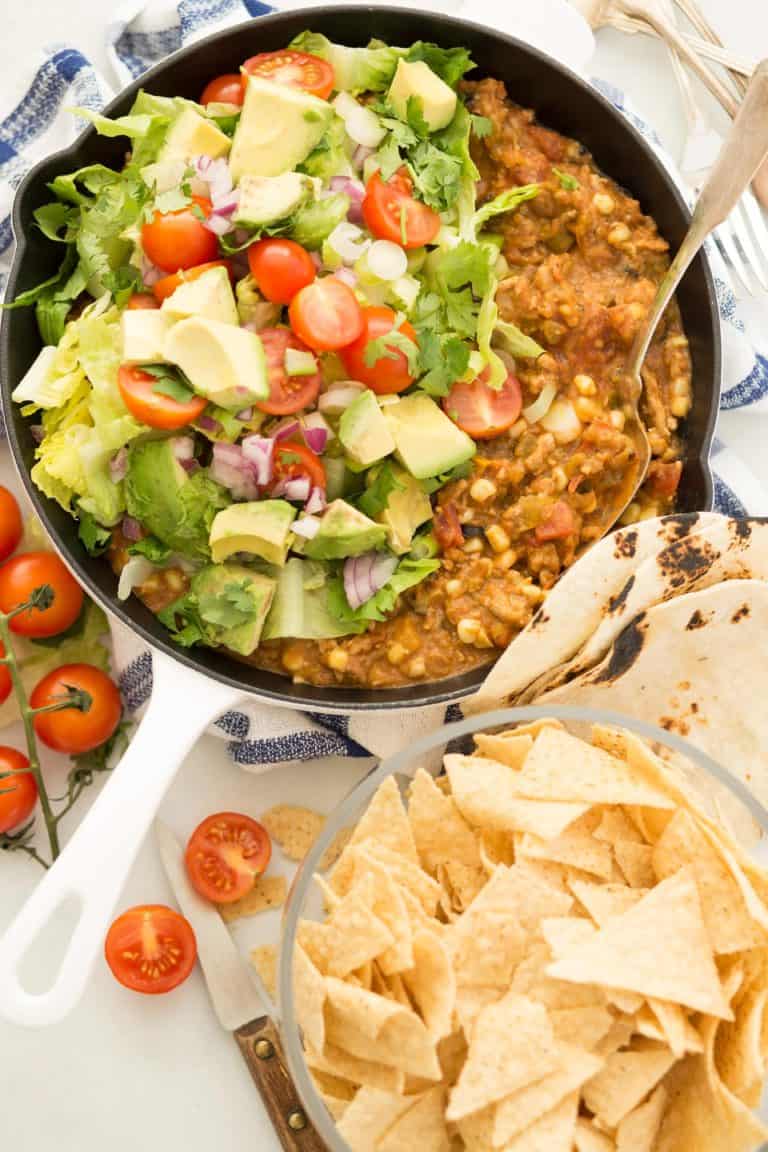 HOW TO SERVE THIS TACO SKILLET
Turkey Tacos – Stuffed inside tortilla shells with cheese, lettuce and pico
Ground Turkey Taco Bowl – Served in bowls topped with lettuce, tomatoes, avocado, chopped onion and cilantro (similar to this Chicken Picadillo Bowl)
Taco Dip with Meat – This makes an easy taco dip topped with cheese, lettuce, tomatoes and olives and served with tortilla chips
Turkey Taco Salad – Served as a salad with lettuce, tomatoes and avocado lightly tossed in this Cilantro Lime Vinaigrette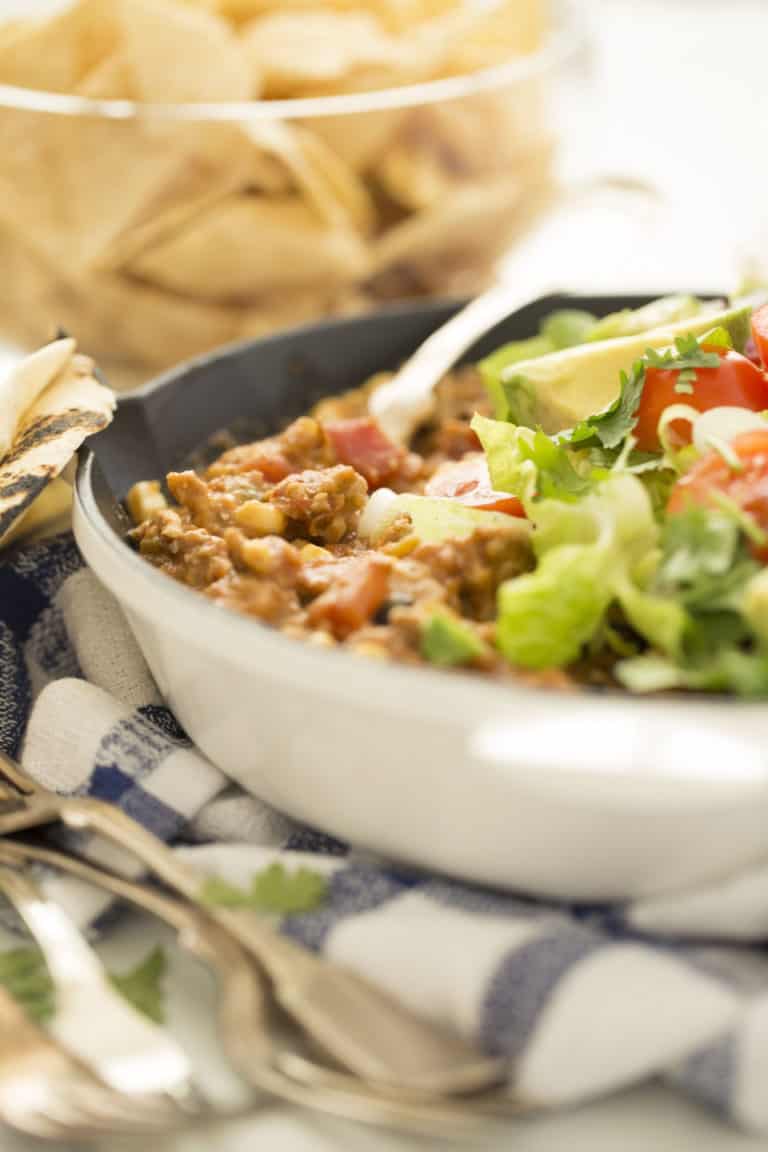 MORE DINNER RECIPE IDEAS YOU'LL LOVE
Mexican Avocado Chicken Burgers
Chicken Fajita Stuffed Sweet Potatoes
Mexican Style Shredded Chicken
Baked Chicken Fajita Quesadillas
Easy Turkey Enchilada Casserole
Taco Bowls with Spanish Quinoa
Chicken Burrito Bowl with Quinoa
Yield: 4 servings
Easy Taco Skillet
Ingredients
1 pound ground turkey
1 yellow onion, chopped
2 cloves garlic, minced
1 large tomato, chopped
1-1/2 teaspoons ground cumin
1 teaspoon ground coriander
1/2 teaspoon ground oregano
1/4 cup frozen corn kernels (fresh or frozen)
1 14 ounce can vegetarian refried beans (Amy's)
1/3 cup mild salsa (Hatch)
1 small can sliced black olives
Instructions
In a large skillet over medium-high heat, heat oil. Add onion
and cook for about 5 minutes or until tender. Add garlic and cook for another minute.
Add chopped tomatoes and cook another minute.
Add seasoning and stir until combined.
Add ground turkey and cook for about 5-7 minutes or until no
longer pink.
Add beans and salsa and stir until combined.
Add corn and black olives.
Reduce heat to low and simmer for about 5 -7 minutes until
heated through.
Add a few tablespoons chicken broth or water if it loses its
moisture.
Season with salt and freshly ground black pepper