Chopped Cheese
This post may contain affiliate links.
This mouthwatering New York Chopped Cheese sandwich recipe (aka chop cheese) is a quick and easy family favorite that you can whip up in 30 minutes. What is a chopped cheese, you wonder. Its a popular American loose meat sandwich made with ground turkey and melted cheese on a grilled roll or bun.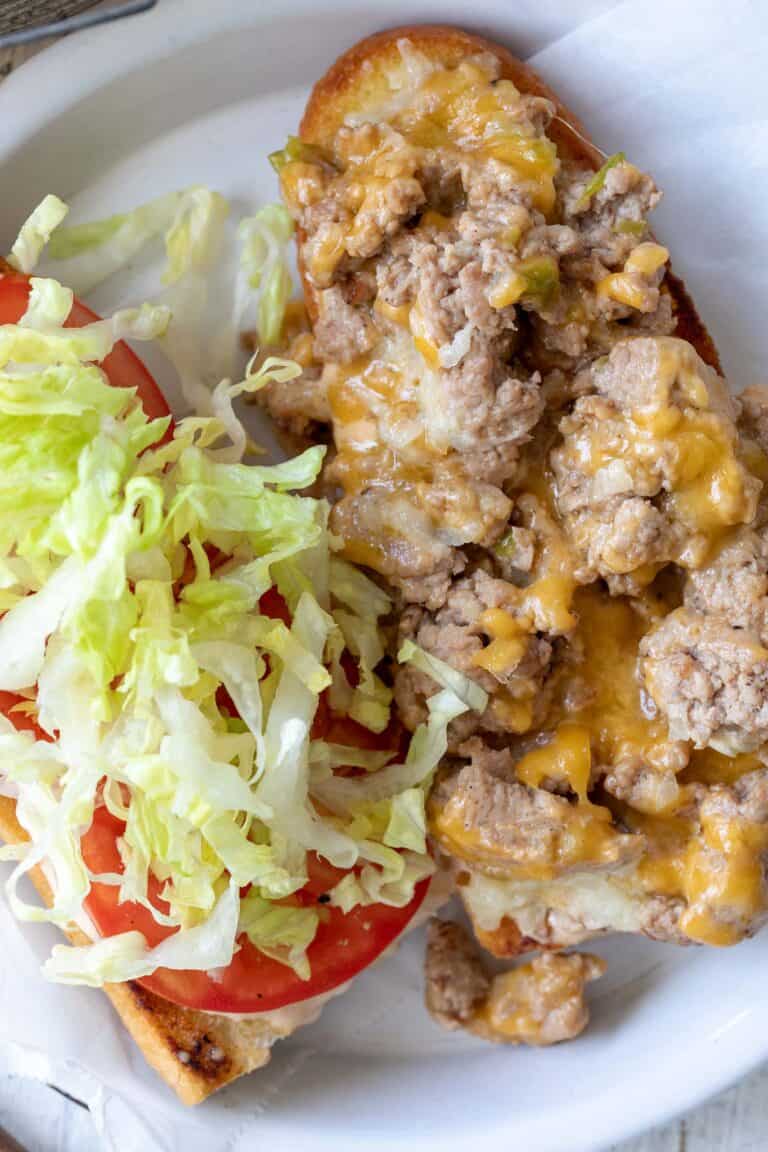 If you've never had a New York Chopped Cheese Sandwich, you're in for a treat. It's an amazing sandwich that combines ground turkey, grated onion, bell pepper, cheese and homemade burger sauce on a French roll.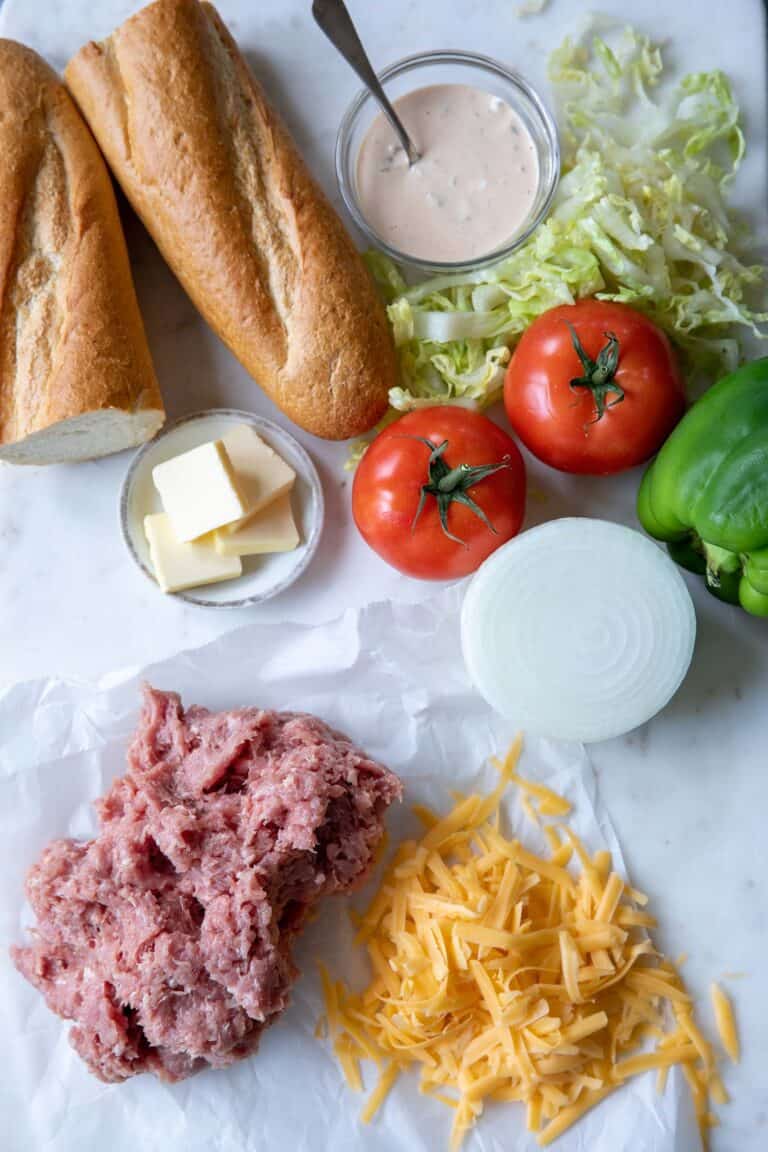 This quick and easy Chopped Cheese recipe is made with budget friendly ingredients, and its a family favorite that you can make any night of the week.
What is a Chopped Cheese
If you're wondering, what is a chopped cheese, well, it's basically a loose meat sandwich made with ground beef that's cooked with grated onion and bell pepper, then chopped up with melted cheese. But for this chop cheese sandwich, we've lightened things up a bit by using ground turkey instead of ground beef. It still has the amazing New York chopped cheese style flavor but with less fat, cholesterol and calories. Apparently the chopped cheese sandwich origins can be found in corner stores and markets in the Bronx, Manhattan, Brooklyn and Queens, New York. It's often compared to a cheeseburger, Philly cheesesteak, and even Sloppy Joes.
Chopped Cheese Recipe
Butter – We use a little butter to grill our bun and to saute the onion and bell pepper with.
Onion – We grate the onion so when it cooks, it practically melts into the ground turkey giving this sandwich such an amazing flavor.
Bell pepper – We add just a little grated bell pepper for a hint of flavor that also practically melts into the ground turkey adding a lot of flavor.
Ground turkey – I don't eat red meat, so we use ground turkey for this sandwich. It still has all the flavor of a great chop cheese sandwich because it's flavored with butter, onion and bell pepper.
Seasoning – You can sprinkle steak seasoning, garlic powder, salt and pepper or whatever you like to use to season the ground turkey.
Cheddar cheese – I like to grated cheddar cheese, but you can also use slices of cheddar or American cheese if you prefer.
Buns – We grill the French rolls in a little butter before assembling the sandwiches. For the bun, you can use hoagie buns, ciabatta, brioche buns, or regular hamburger buns.
Burger Sauce – I make a super easy and delicious burger sauce using mayo, mustard, ketchup and dill pickle relish to slather on the toasted buns for this recipe.
Tomato – We add about 3 slices of tomato to each sandwich.
Lettuce – Use either finely shredded Romaine or iceberg lettuce for this sandwich. I like to use Romaine rather than iceberg lettuce because it has more nutrients.
How to Make a Chopped Cheese
Prepare burger sauce. Mix together the mayonnaise, mustard, ketchup and relish in a small bowl.
Grill rolls. Slice your rolls in half lengthwise. Add butter and olive oil to a pan over medium high heat and place both sides of the roll cut-side down in the pan and cook until they turn lightly golden and slightly crispy on the edges.
Cook ground turkey. Saute onion and bell pepper for just a minute then add in the ground turkey and cook breaking apart the meat into large chunks.
Add cheese. Sprinkle grated cheddar cheese over the top of the meat and cook another 1-2 minutes until the cheese melts into the meat. The using a spatula mix the cheese into the meat.
Assemble sandwich. Slather the burger sauce on both sides of the grilled rolls. Add lettuce and tomato slices on one side of the rolls. Using the spatula divide the meat evenly on the rolls and place the lettuce and tomato half of the sandwich on top of the meat side.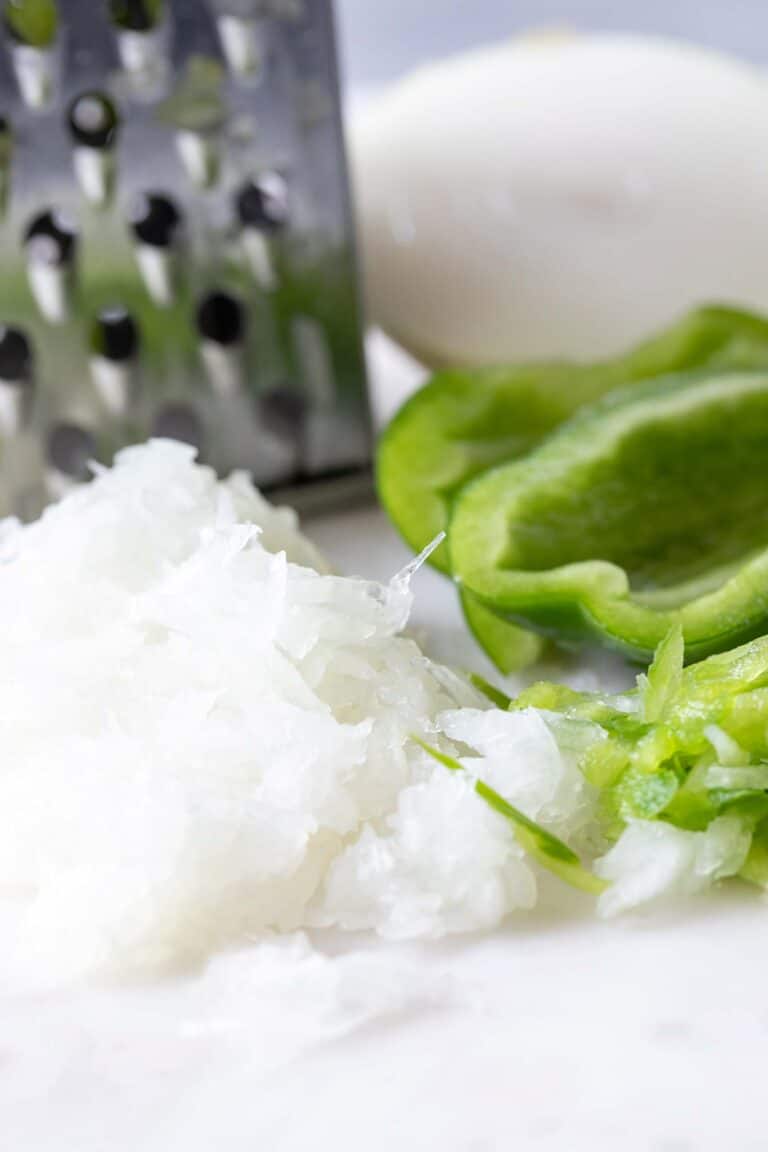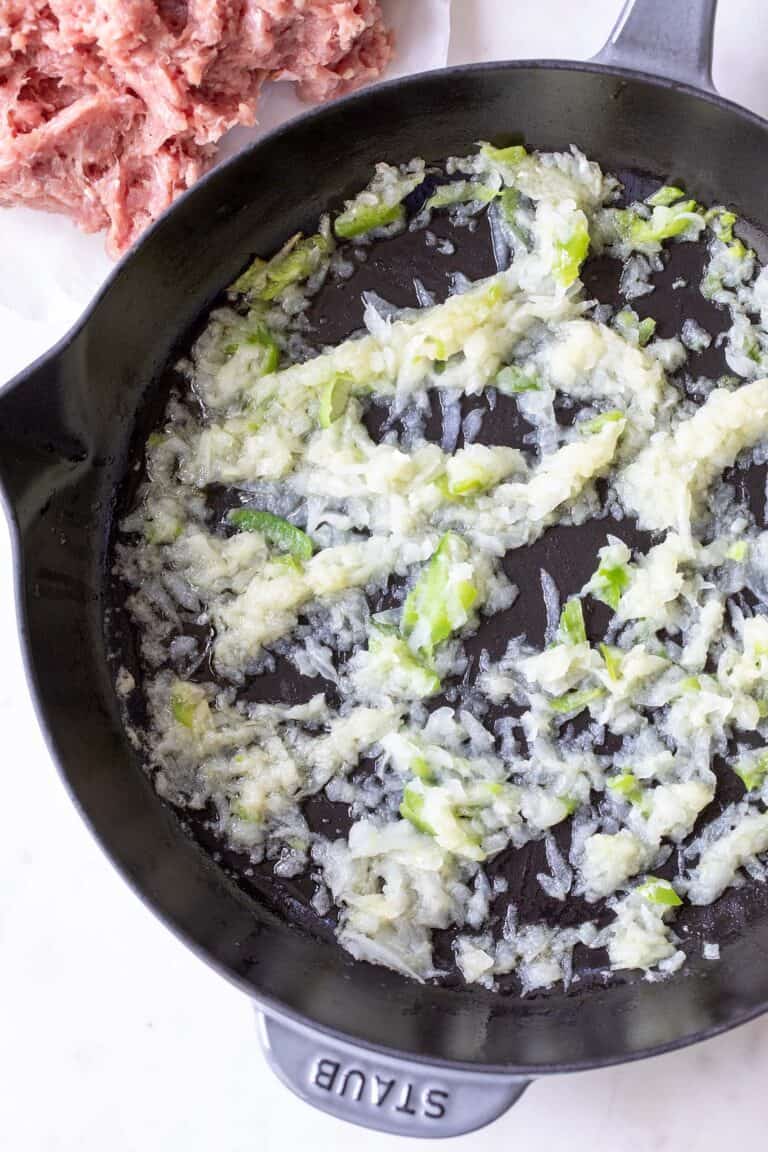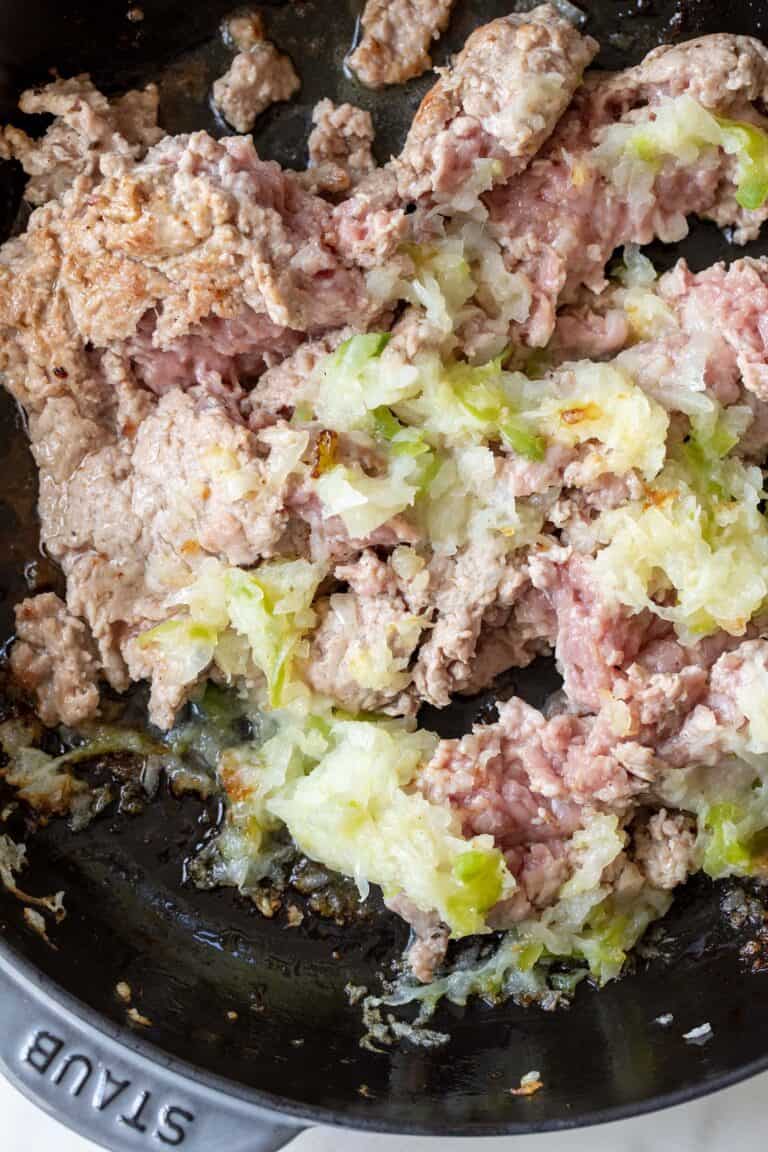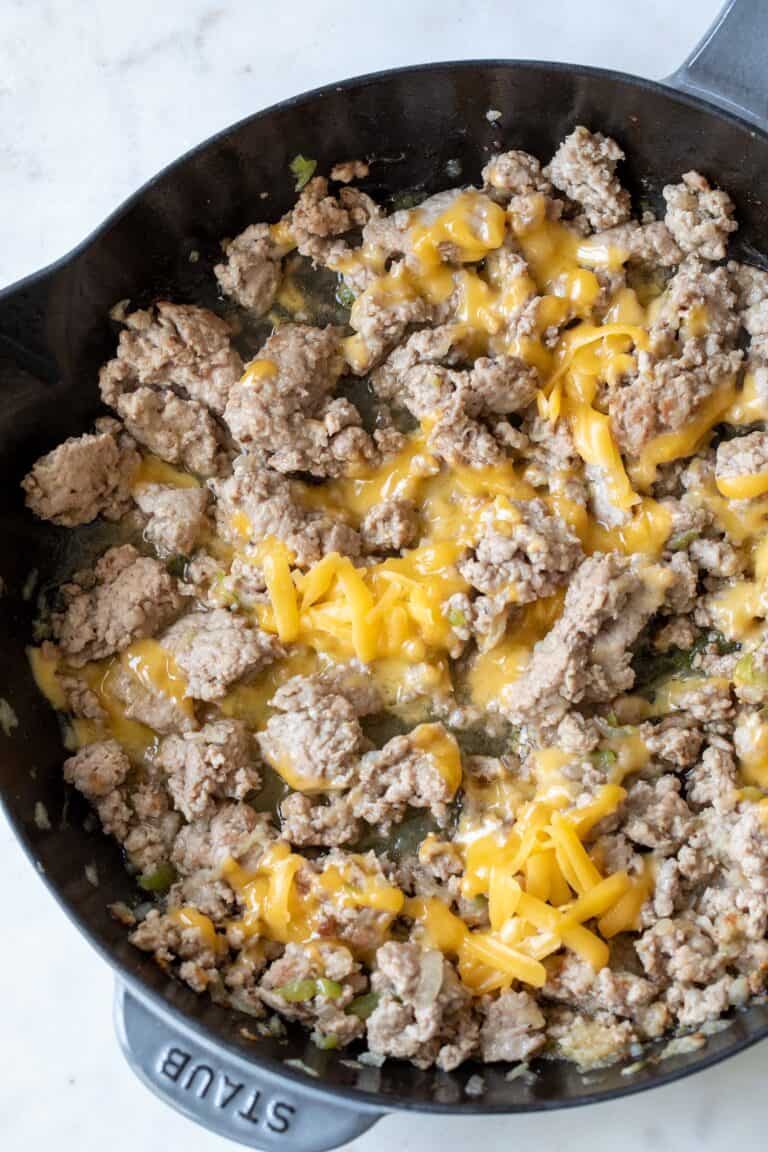 Burger Sauce Recipe
This recipe is an easy one to pull together. Just mix the ingredients with a fork in a small bowl and chill in the refrigerator before serving. Store it in an air-tight container in the refrigerator for up to 5 days.
Mayonnaise
Yellow Mustard
Ketchup
Dill Pickle Relish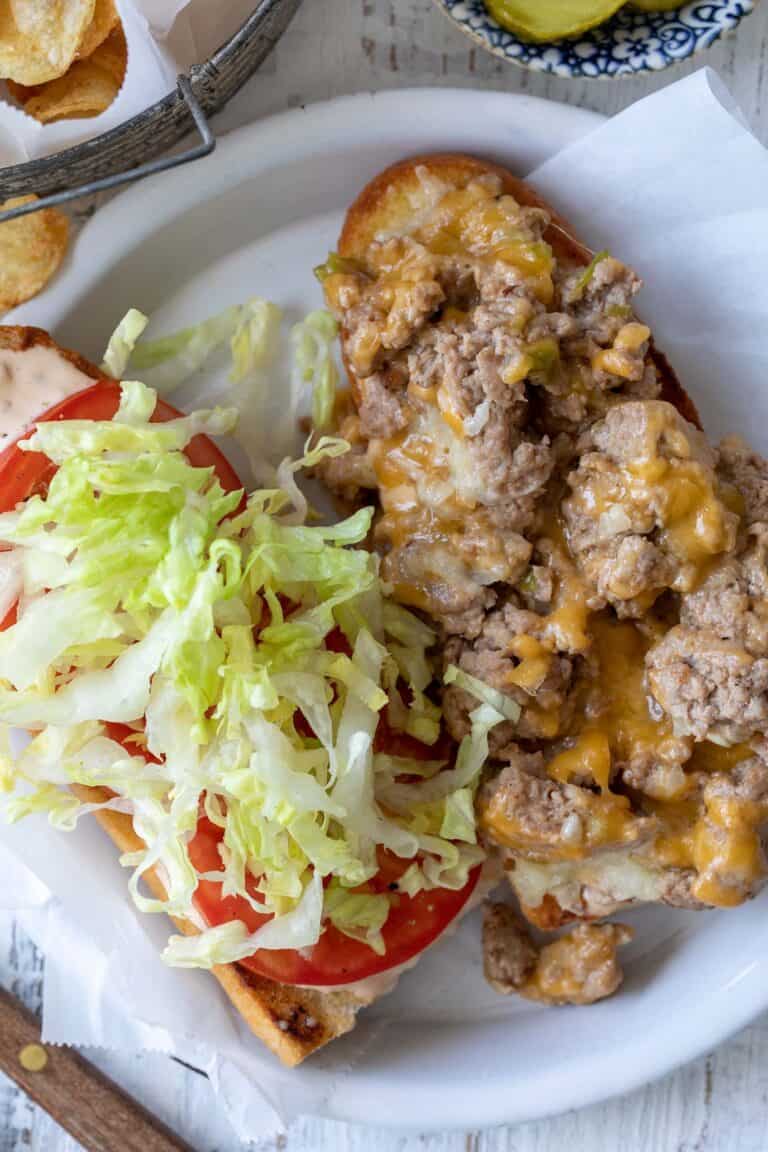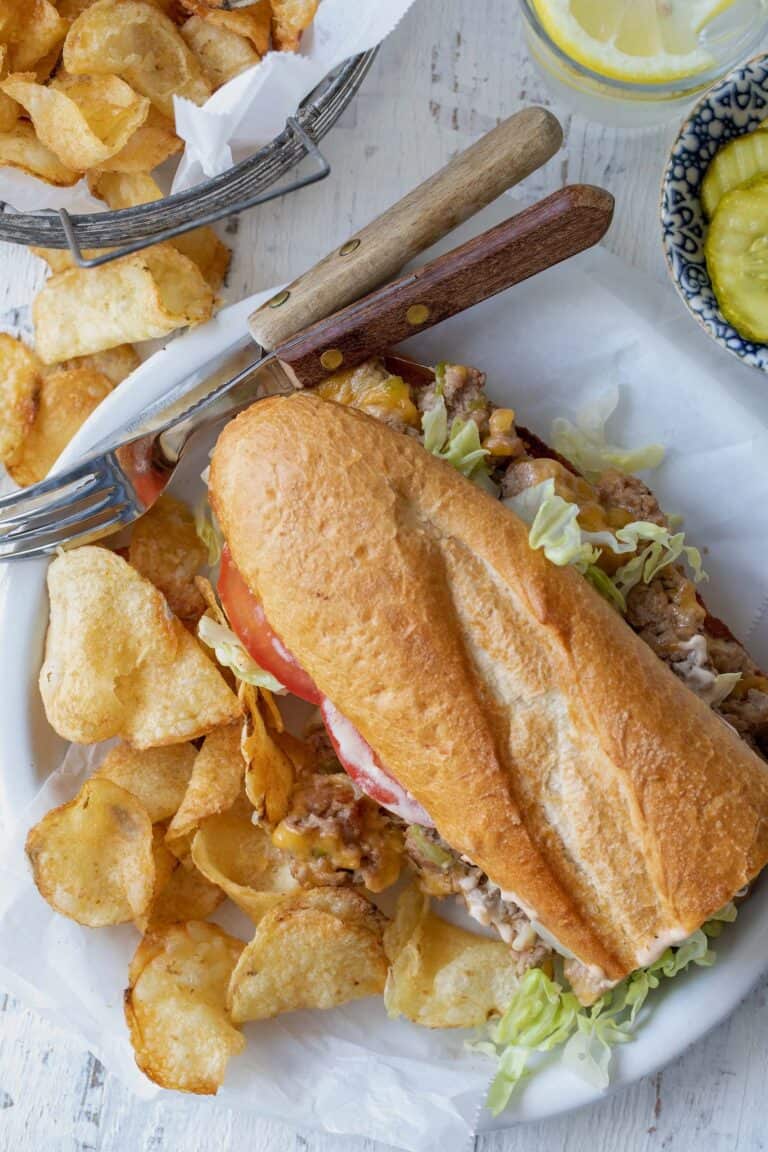 Ground Turkey vs Ground Beef
Ground beef and ground turkey are both rich in protein, and the protein found in turkey is comparable to the protein found in ground beef. Depending on the cut of beef, ground beef can contain anywhere from 25-30 percent fat with leaner cuts like sirloin, containing about 5-7 percent fat. Ground beef contains about 1 gram more of saturated fat in comparison to ground turkey which contains the same percentage of fat depending on the cut of meat.
Ground turkey can be a mixture of both light and dark meat (the breast and thighs) or all light meat (just the breast). Ground turkey from dark meat has a higher percentage of fat compared to ground turkey breast which contains as little as 1 percent fat per 3 ounces of meat. As far as calories go, low-fat turkey (made with breast meat) has fewer calories and more protein compared with higher fat cuts of ground turkey.
If you when trying to lose weight, low-fat ground turkey may be a better choice. And since ground turkey is generally lower in saturated fat, it may also be a better choice for your heart health.
What Bread is Best to Use
My two favorites are French baguette and ciabatta. However, there are many more types of breads that will work well for this loose meat sandwich. You could use a hamburger bun, brioche bun or any other type of sturdy roll.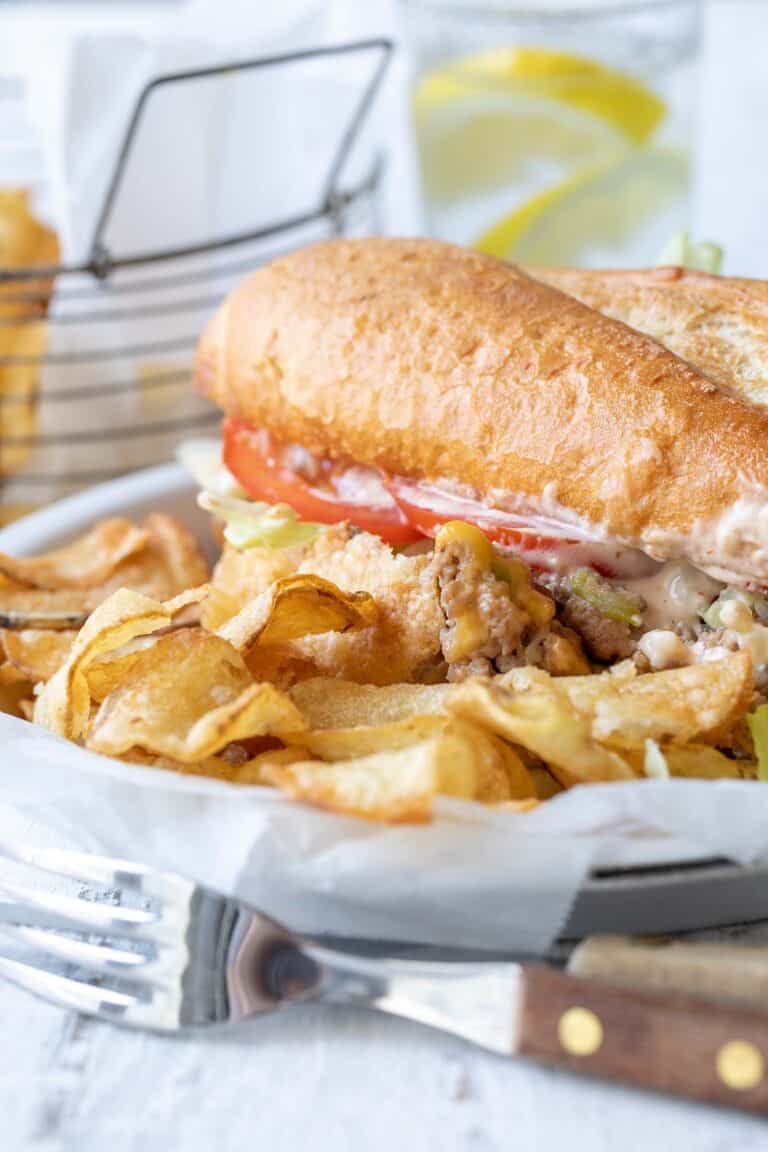 Looking for More Ground Turkey Recipes to Make?
Still want more ideas? Check out all my healthy dinner recipes.
Want More Sandwich Ideas?
Yield: 4 servings
Chopped Cheese
This mouthwatering New York Chopped Cheese sandwich (aka chop cheese) is a quick and easy family favorite that you can whip up in 30 minutes. What is a chopped cheese, you wonder. Its a popular American loose meat sandwich made with ground turkey and cheese on a grilled roll or bun.
Ingredients
4 tablespoon butter, divided
1 pound ground turkey
1/2 yellow onion, peeled and finely grated
3 tablespoons green bell pepper, finely grated
1 teaspoon steak seasoning or seasoned salt (optional)
1/2 cup cheddar cheese, grated
4 French rolls, hoagie buns, or hamburger buns, sliced in half lengthwise
2 Tomatoes, sliced
Lettuce, shredded
1/2 cup Burger Sauce
For the Burger Sauce
1/2 cup mayonnaise
3 tablespoons ketchup
1 teaspoon yellow mustard
3 tablespoons dill pickle relish
Instructions
Slice rolls in half lengthwise.
Melt 2 tablespoons butter in a skillet over medium high heat.
Place the rolls cut side down on the skillet and grill for 3-4 minutes or until lightly golden and slightly crispy on the edges. Add more butter or olive oil if needed. Remove from skillet and set aside.
Spread both sides of the rolls with burger sauce and add grated lettuce and tomato slices to one side of the rolls. Season lettuce and tomatoes with salt and freshly cracked black pepper.
Add the remaining 2 tablespoons of butter to the skillet.
Add the grated onion and green pepper and saute for 1-2 minutes. Add more butter or olive oil if pan becomes too dry.
Add ground turkey to the skillet and cook over medium-low heat. Fold in the onion and green peppers to the meat as it cooks. Using a spatula break the meat up into large pieces.
When the meat is thoroughly cooked, sprinkle cheese over the top and cook another 2 minutes or until the cheese melts. Using a spatula fold in some of the cheese to the meat.
Using a spatula equally divide the meat onto the prepared rolls. Place the lettuce and tomato side of the roll on top of the meat side of the roll.

For the Burger Sauce
Using a fork, combine the ingredients in a small bowl.
Nutrition Information:
Yield:
4
Serving Size:
1
Amount Per Serving:
Calories:

1033
Total Fat:

76g
Saturated Fat:

21g
Trans Fat:

1g
Unsaturated Fat:

48g
Cholesterol:

188mg
Sodium:

1689mg
Carbohydrates:

48g
Fiber:

4g
Sugar:

15g
Protein:

40g
theharvestkitchen.com attempts to provide accurate information, however, this nutritional information is provided as a courtesy and is an estimate only. The nutritional information provided comes from online sources and calculations.