Spanish Quinoa
Yum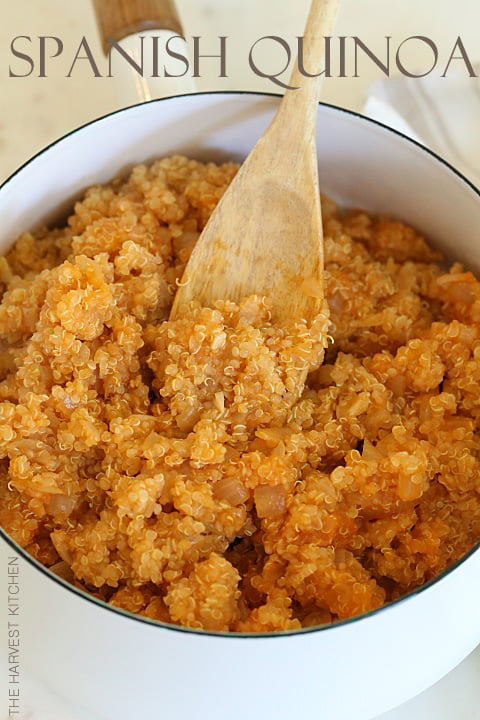 I love good Spanish Rice (especially this Spanish rice) so much so that I can eat leftovers of my Homemade Spanish rice… cold…straight from the refrigerator.  And I love leftovers of my Homemade Spanish Rice heated up in the morning with fried eggs.  That's the best!  Hot or cold, I never tire of this simple side dish.  But lately I've been on a quinoa kick.  Can't seem to get enough quinoa.  So I thought I'd make my Homemade Spanish Rice recipe only using quinoa instead of white rice.  Five batches later (in 2 days) ….and I'm utterly and completely obsessed with this Spanish Quinoa!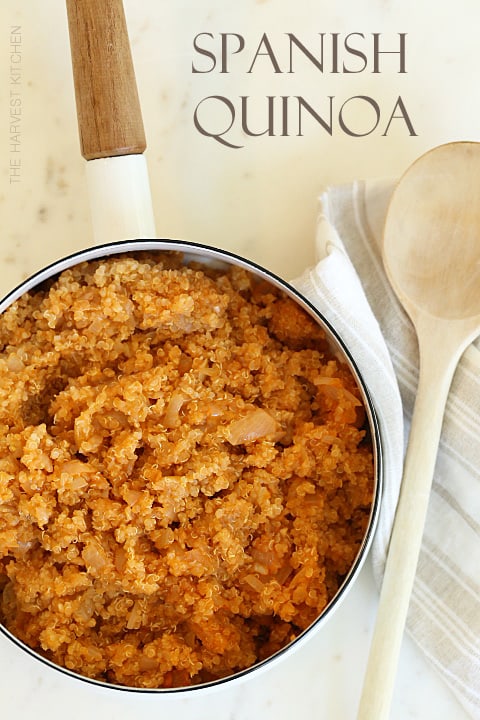 My whole family loves this Spanish Quinoa (even my dad who doesn't like rice)!  I actually like this Spanish Quinoa better than Spanish rice.  I don't know if it's the texture, or if it's the knowledge that quinoa is a superfood with nutritional benefits that far outweigh that of white rice.  Maybe it's a little of both.  What I do know is – in the future, I will be serving this quinoa side dish with Mexican food and chicken dishes instead of rice (Spanish or otherwise).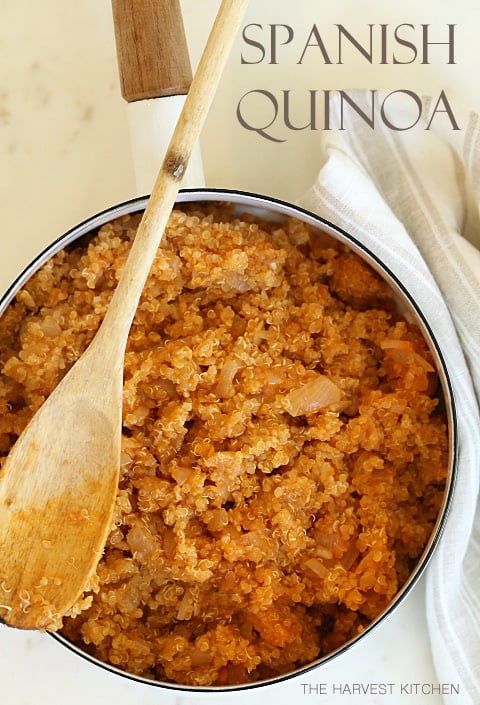 I realized something while I was making my fifth batch of this quinoa – I eat a lot of onions.  And garlic.  And the often overlooked and under appreciated flavor-enhancing onion is a superfood on its own!!  Apparently, onions have the potential to help lower cholesterol, inhibit hardening of the arteries, enhance the elasticity of blood vessels,  maintain healthy blood pressure, and to offer anti-inflammatory benefits.   In addition to these cardio perks, onions contain a powerful compound called quercetin, which apparently plays a significant role in preventing certain types of cancer and the formation of cataracts.  If you'd like to know more about the benefits of onions – you can check out the information provided on the Whole Foods site here. After reading all of this, it makes me wonder if it would be better off to eat an onion a day to keep the doctor away!!!
~ Deb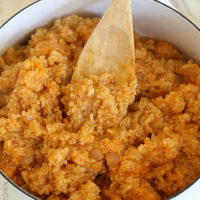 Spanish Quinoa
Yield: 4 servings
Total Time: 30 minutes
Ingredients:
1 cup white quinoa (rinsed well for a good minute in a strainer before cooking)
1 whole yellow or brown onion, finely chopped (don't use sweet onion)
1 garlic clove, minced
4 tablespoons canola oil
1/4 cup low-sodium tomato sauce (roughly about 1/2 of an 8 ounce can)
2 cups low-sodium chicken broth (1 14.5 ounce can)
1/2 teaspoons onion powder
1/4 teaspoon garlic powder
Directions:
Heat the oil in a saucepan over medium-high heat.
Add the chopped onion.
Cook the onion for a minute or two or until it starts to soften.
Add the garlic and cook for another minute or two.
Stir in the quinoa and blend well.
Add the tomato sauce and stir to incorporate well.
Add the chicken broth and the onion and garlic powders.
Place a lid on the saucepan and turn the heat down to low.
Stir about 3 times or so for the first 5 minutes, then leave it alone and let it simmer.
Cook on low heat for about 20 minutes total or until the liquid is mostly absorbed but it still looks slightly moist on top.
Remove from heat and let set for about 5  to 10 minutes before fluffing with a fork.
2 Responses to "Spanish Quinoa"
Leave a Comment