One Pan Italian Chicken
Yum
This tasty One Pan Italian Chicken dish features  classic Italian ingredients, like tomatoes, olives, capers,  mushrooms, parsley, a little vino and some Parmesan cheese.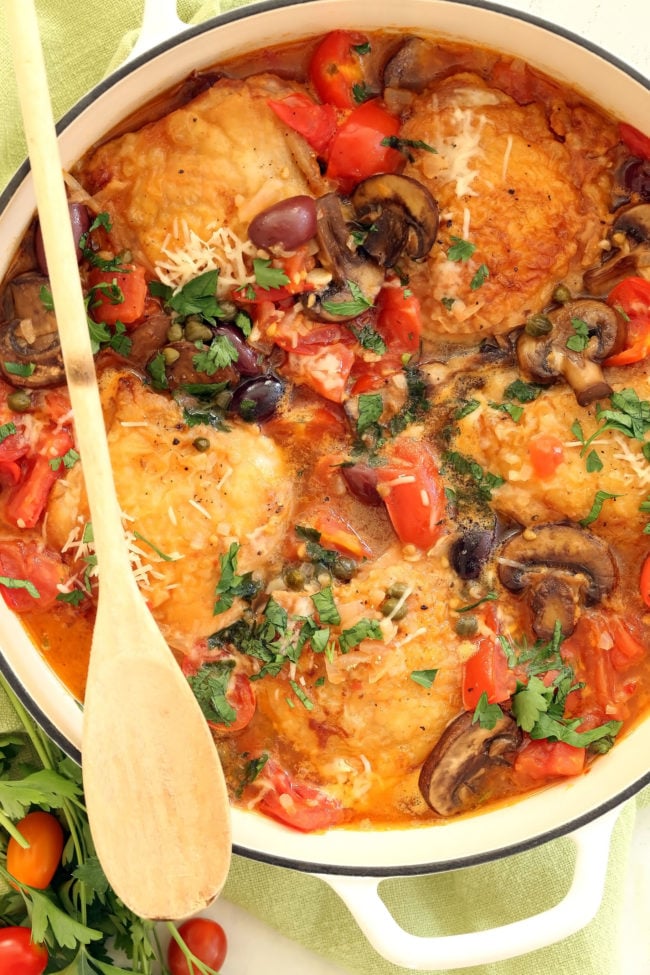 This One Pan Italian Chicken is an easy Dutch oven chicken recipe that's bursting with bright, hearty Italian flavors.  It's easy enough to make any night of the week, yet elegant enough to serve guests for dinner.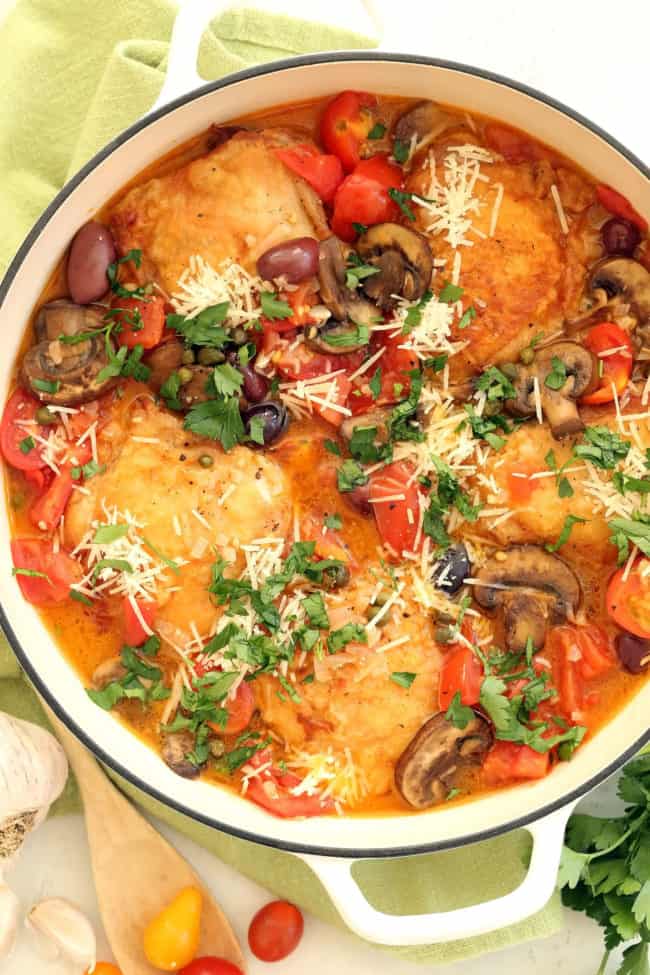 There's lots of fresh tomatoes in this Mediterranean chicken recipe, that when simmered with chicken broth and wine, transform into a delicious stewy like sauce that will wow you with every bite.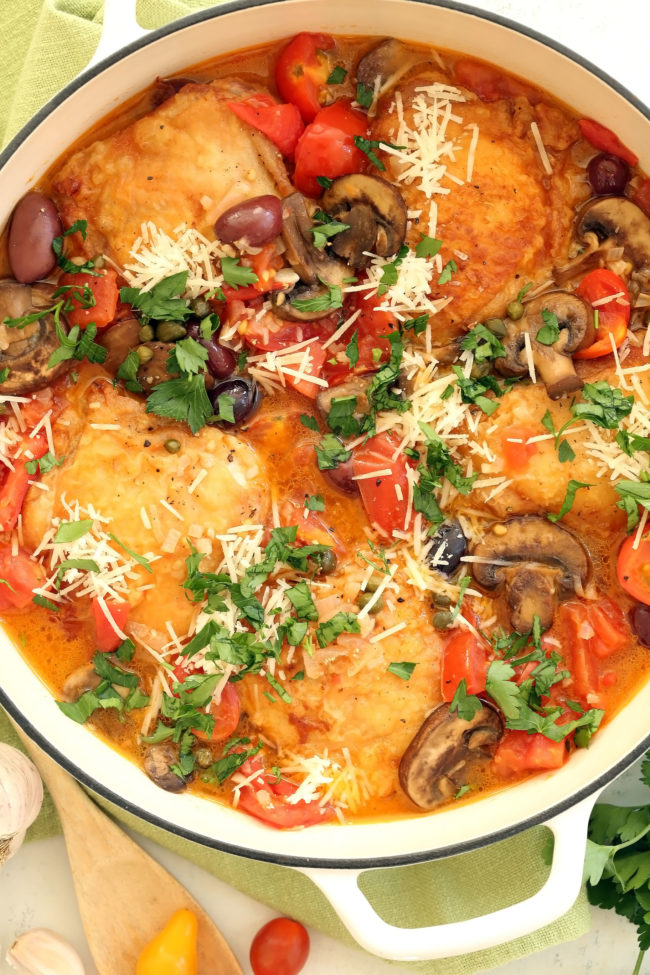 This One Pan Italian Chicken is quick, easy to make.  It's ready to eat in about 40 minutes (prep time included) and turns out perfect every time.   It will become one of your favorite chicken recipes that you'll make over and over again.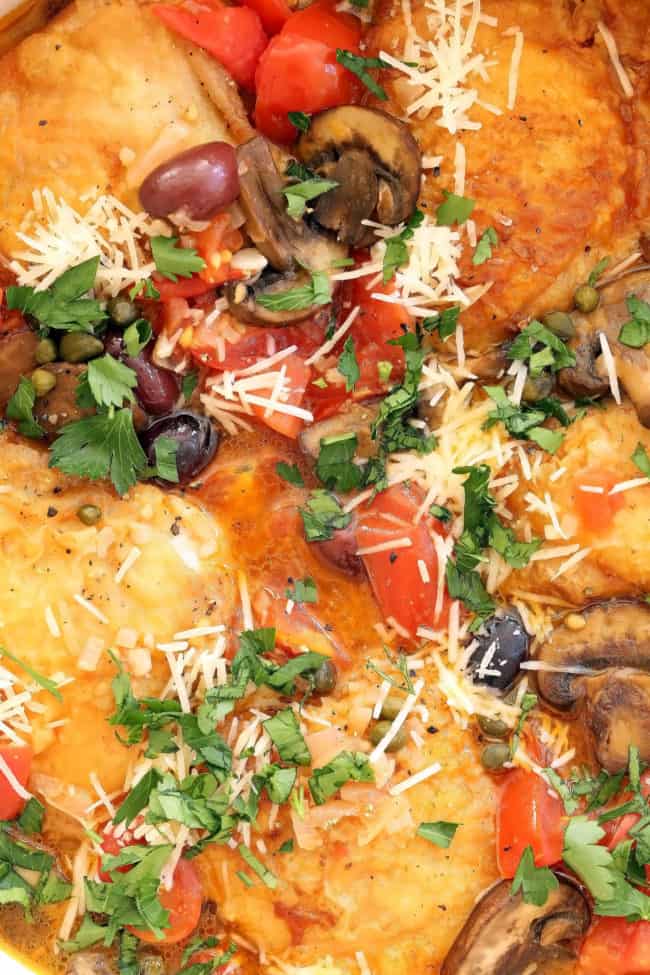 There's some serious flavor happening here. Not to mention aromas. You'll want to serve this dish with a loaf of crusty Italian bread to mop up every last drop.  The parmesan cheese in this recipe is completely optional.  There's not a lot added here.  Just a few sprinkles at the end that will melt into the stew when the lid is placed on the pot for just a minute or two.  Sometimes I add it.  Sometimes I don't.
This One Pan Italian Chicken has an amazing ensemble of flavors.  It's Kyle's favorite chicken dish that I make. Although…. I think any meal that I make that comes adorned with Kalamata olives is a favorite dish of Kyle's. You can serve this Mediterranean Chicken with either a side of noodles or serve it with light and fluffy mashed potatoes. We prefer it with mashed potatoes.  They soak up the broth really well!
~Deb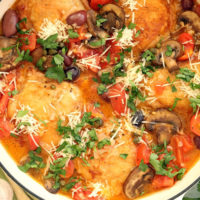 One Pan Italian Chicken
Yield: 4 servings
Total Time: 40 minutes
Ingredients:
4 tablespoons olive oil
4 chicken breasts or thighs
2 tablespoons garlic, minced
1 pound fresh mushrooms, sliced
3-4 tablespoons shallots, minced
3 tablespoons cooking sherry (optional)
1 14 oz can chicken broth
3/4 cup Kalamata olives
2 tablespoons capers, drained
4 tablespoons unsalted butter
4 plum tomatoes, seeded and diced
1 cup cherry heirloom tomatoes, cut in half
Kosher salt and freshly ground pepper to taste
Chopped fresh Italian parsley for garnish
3-4 tablespoons parmesan cheese, grated
Directions:
Heat 2 tablespoons of olive oil in a large skillet over medium-high heat. Add the chicken and cook until golden brown, approximately 5-6 minutes on each side. Transfer chicken to a plate and set aside.
Heat 2 tablespoons olive oil and 2 tablespoons butter in the same skillet over medium heat.
Add the mushrooms and garlic and saute until they are soft, approximately 5 minutes. Be careful not to burn the garlic.
Pour the broth in and simmer, then add the shallots, capers, olives and plum tomatoes.
Stir in remaining butter.
Add the chicken to the pan and simmer on low for 5 - 7 minutes.
Add the cherry tomatoes and cook just long enough until the tomatoes are warm. Do not overcook the cherry tomatoes.
Leave a Comment