Greek Chicken Bowl
This delicious Greek Chicken Bowl combines the flavors of the Mediterranean for a casual healthy meal that everyone is sure to love!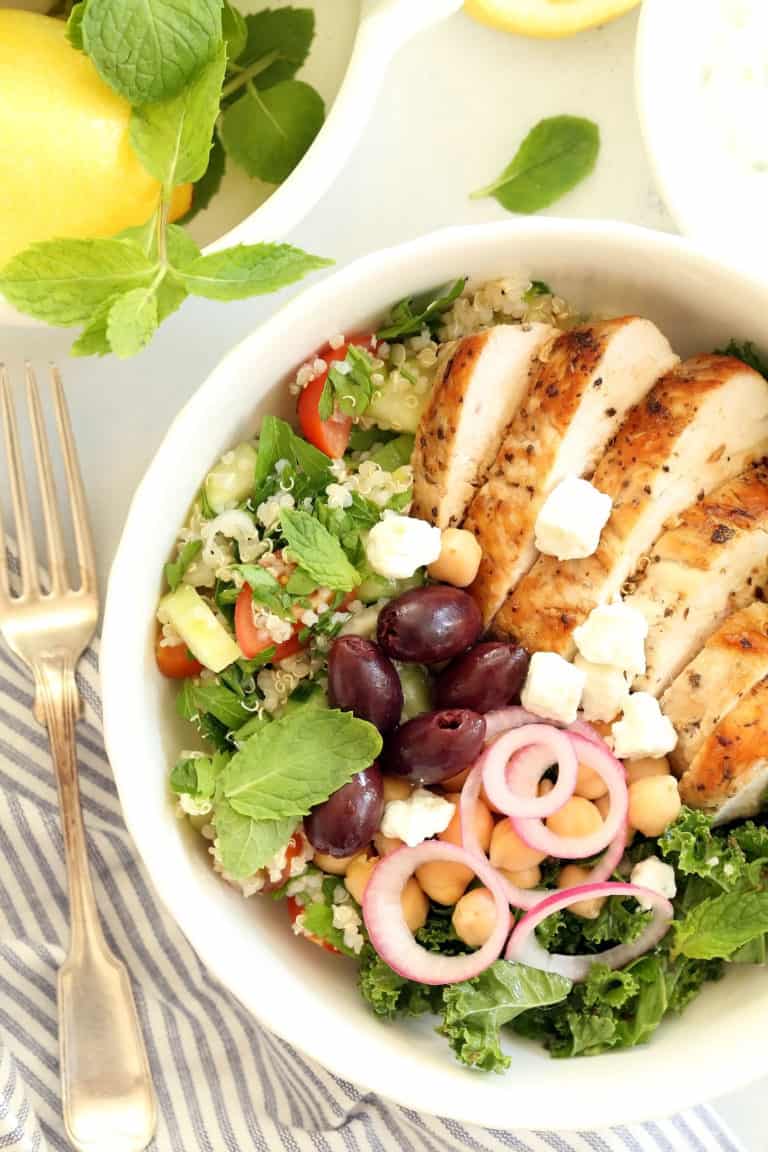 If you love a good casual meal in a bowl, you'll love this Greek Chicken Bowl. It's jam-packed with marinated chicken breast, quinoa tabbouleh, kale, garbanzo beans, pickled onions, kalamata olives and feta cheese. Just add a dollop of tzatziki to make it extra tasty.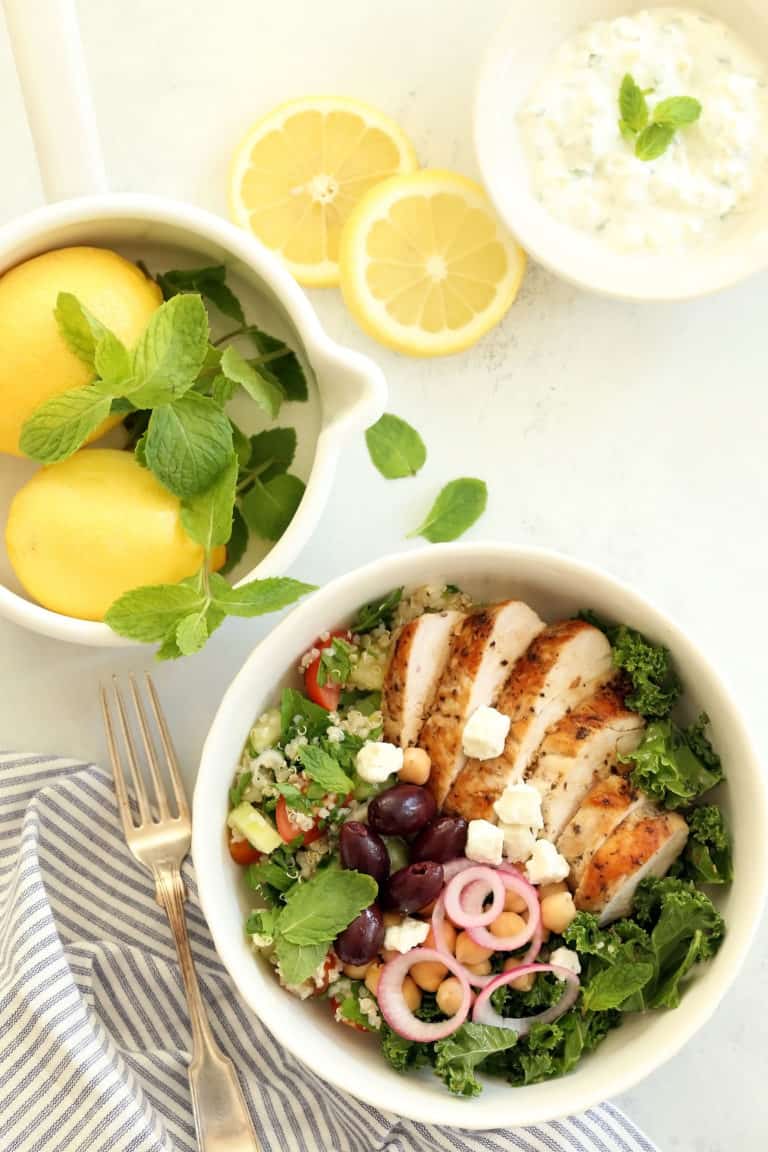 The chicken for this healthy bowl recipe is marinated in this Italian salad dressing for about 30 minutes. The longer – the better, but if you're short on time – 30 minutes will do. The chicken is then seared in a pan or grilled . Once the chicken is cooked through, I give it a good brushing of more of the oregano dressing.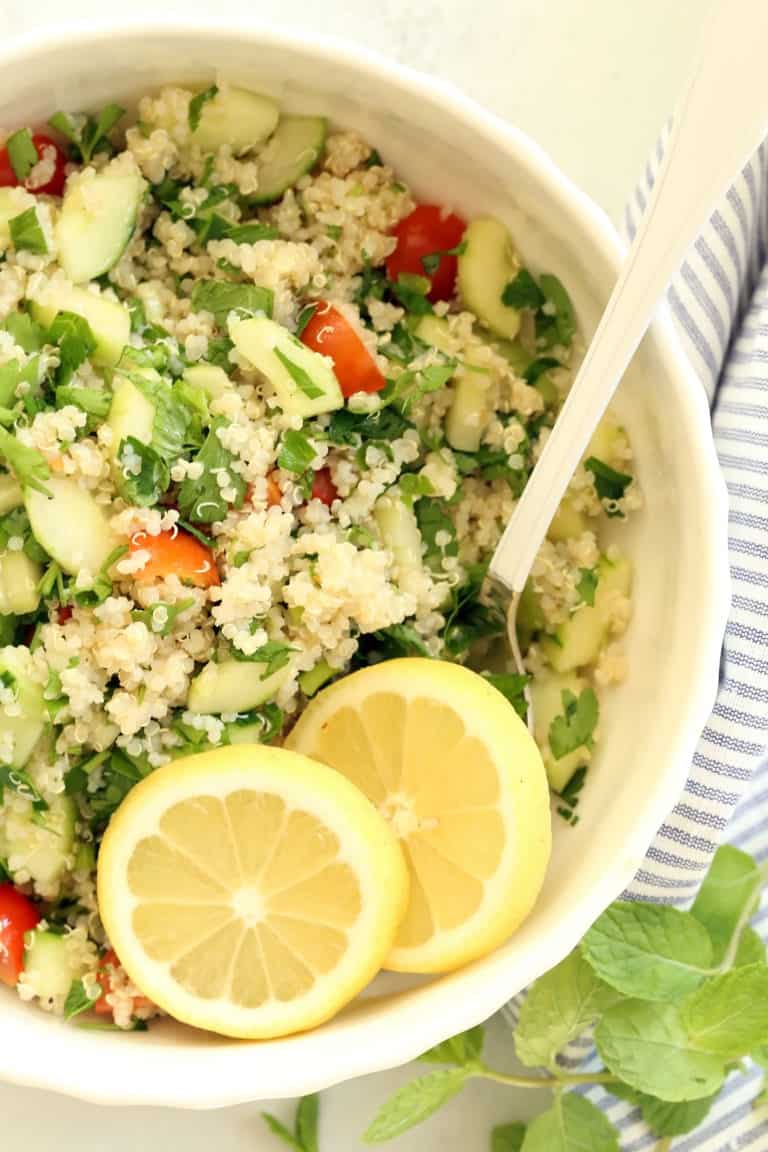 While the chicken is marinating, I prepare the other components for this Greek chicken bowl.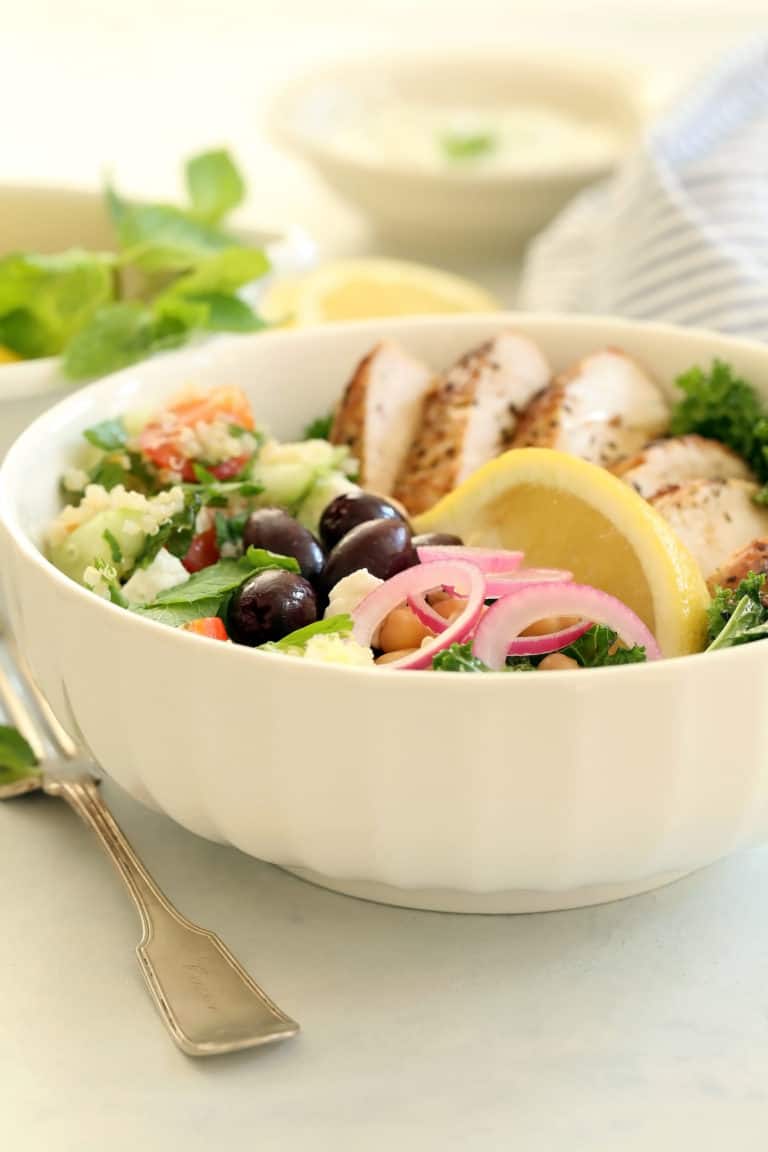 You can easily turn this bowl recipe into a vegetarian version by subbing in some of your favorite hummus together with grilled zucchini, eggplant, onions and red pepper in lieu of the chicken, garbanzo beans and pickled onions.
Bowl food has been quite the trend for the past couple of years. The great thing about making a bowl meal, is they're typically artfully layered with delicious color, textures, flavors and nutritional properties.. To make a great meal in a bowl, just have a base of cooked quinoa, brown rice, farro, or bulgur. Then add in some protein (chicken, turkey, salmon, egg (hard-boiled or fried) or legumes (beans or lentils). Add a pop of color with some avocado, tomato, cucumber, beets, carrots, broccoli, lettuce or kale. And top things off with lots of fresh herbs, maybe a bit of cheese, a few olives, pesto, tzatziki sauce, nuts and seeds. Get creative and have fun designing your favorite bowl recipe.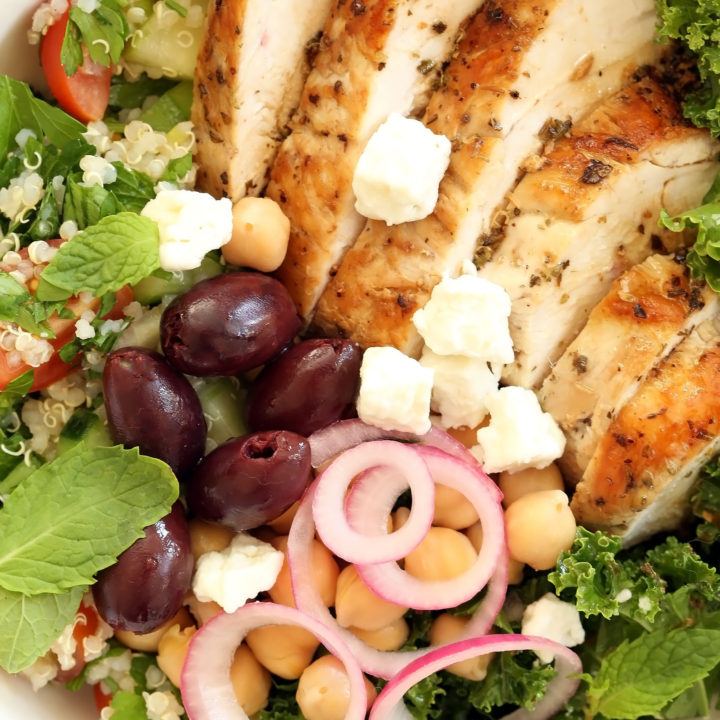 Yield: 4 bowls
Greek Chicken Bowl
This delicious Greek Chicken Bowl combines the flavors of the mediterranean for a casual healthy meal that everyone is sure to love!
Ingredients
4 free-range chicken breasts (or thighs)
1 cup of Italian marinade/fressing
2 cups quinoa tabbouleh
1/2 cup pickled onions
2 cups kale, tossed in Italian dressing
1 15 ounce can low sodium garbanzo beans
1/2 cup Feta cheese, crumbled
1/2 cup kalamata olives
fresh parsley and mint for garnish
2-1/2 tablespoons red wine vinegar
1-1/2 tablespoons dried oregano
1 teaspoon dried basil
1 tablespoon fresh lemon juice, plus more to taste
2 garlic cloves, minced
1-1/2 tablespoons minced kalamata olives (optional)
2 tablespoons Parmesan cheese (optional)
1/4 teaspoon freshly ground black pepper, plus more to taste
1-1/2 cups good extra-virgin olive oil
For the Quinoa Tabbouleh
1 cup cooked quinoa (equal to about 1/2 cup dried quinoa)
1 cup flat-leaf parsley, chopped (about 1 bunch)
2 tablespoons fresh mint, chopped
1 cup cherry, baby heirloom, or teardrop tomatoes, cut in half lengthwise
3 scallions, sliced - white and light green parts only
3/4 cup Persian cucumber, peeled, seeded, and chopped
2 cloves garlic, crushed and minced
1/2 cup extra-virgin olive oil
1/3 cup freshly squeezed lemon juice
1/2 teaspoon sea salt
freshly ground black pepper to taste
1 red onion, thinly sliced
3/4 cup apple cider vinegar
1 teaspoon sea salt
2 tablespoons clover honey (you can use granulated sugar if you prefer)
1 dried bay leaf
6 peppercorns
2 8-ounce containers plain Greek yogurt
2 large cucumbers, peeled, seeded, and grated
1 tablespoon extra-virgin olive oil
1/2 lemon, juiced
1 tablespoon chopped fresh dill
1 tablespoon chopped fresh mint (optional)
1 clove garlic, peeled and minced
kosher salt and freshly ground black pepper to taste
Instructions
Add the chicken to the marinade in the shallow dish and evenly coat; cover and allow to marinade for 30 minutes in the refrigerator.
While chicken is marinading, prepare all of the other components of the bowl.
Heat a large grill pan or cast iron skillet over medium-high heat.
Remove the chicken from the marinade and add to the heated pan.
Grill or sear until the chicken is golden on the outside and cooked through, (about 5-7 minutes each side).
Brush the chicken with any marinade left over in the bowl.
Remove chicken from the pan and allow to rest for 5 minutes.
Slice thickly and arrange in your bowl with the other ingredients.
Evenly divide four bowls with the quinoa tabbouleh, lightly dressed kale, cooked chicken, garbanzo beans, pickled onions, kalamata olives, and cheese. Garnish generously with fresh parsley and/or mint.
Serve with tzatziki sauce (optional)
For the Marinade/Dressing
Add the ingredients for the marinade/dressing in a jar and shake to combine. Pour out 1/2 cup to use as the dressing for the kale, using the rest o use as the marinade.
For the Quinoa Tabbouleh
Cook the quinoa according the package. (1 cup dried quinoa with 2 cups water - simmered for 15=20 minutes until quinoa is fluffy).
After the quinoa has finished cooking and you've turned the heat off, add the minced garlic and put the lid back on the pot.
After the quinoa has cooled, you'll add it to the other ingredients.
In a large bowl, combine the parsley, mint, tomatoes, scallions, cucumber and apple.
In a separate small bowl, mix the olive oil, lemon juice, salt and pepper and mix well.
Add the cooled quinoa to the parsley mixture and toss.
Add the olive oil-lemon mixture to the tabbouleh salad and toss to coat well. Refrigerate for an hour and serve chilled.
For the Pickled Onions
In a medium size glass jar combine the vinegar, salt, honey, bay leaf and peppercorns.
Stir until the honey (or sugar) is dissolved.
Add the onion. Place the lid on top of the jar and refrigerate for 1 hour before using.
Drain the onions before using.
Or add the onions to the jar and in a separate jar mix the vinegar, salt, honey, bay leaf and pepper corns, then pour over the onions.
For the Tzatziki Sauce
Place the yogurt in a medium bowl.
Grate the peeled and seeded cucumbers on a box grater and squeeze the grated cucumber with your hand to remove some of the liquid.
Take a knife and mince the shredded cucumber.
Add the cucumber to the yogurt, along with the olive oil, dill, mint, lemon juice, garlic, salt and pepper and stir.
Refrigerate until use.
Leave a Comment