Oven Roasted Vegetables
This post may contain affiliate links.
Learn how to roast vegetables with this Oven Roasted Vegetables recipe. It's an easy roasted vegetable medley made with fresh broccoli, cauliflower, carrots, zucchini, yellow squash and red onion all tossed with olive oil and Italian seasoning.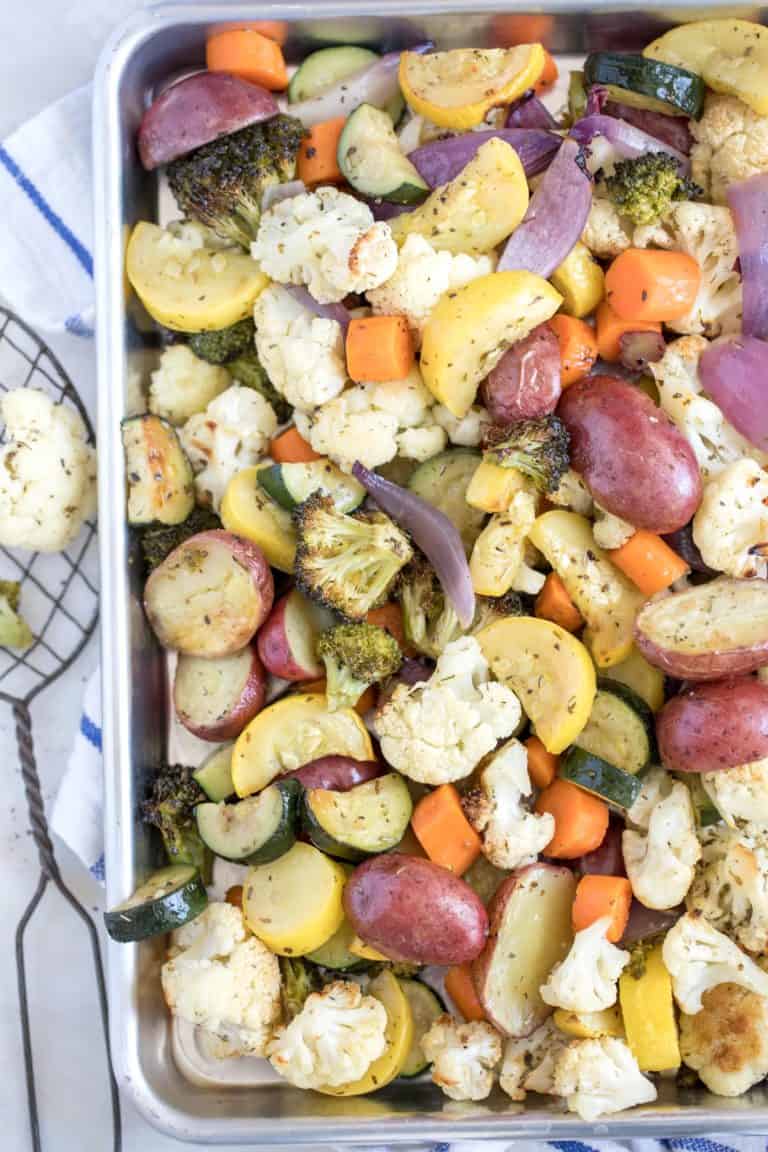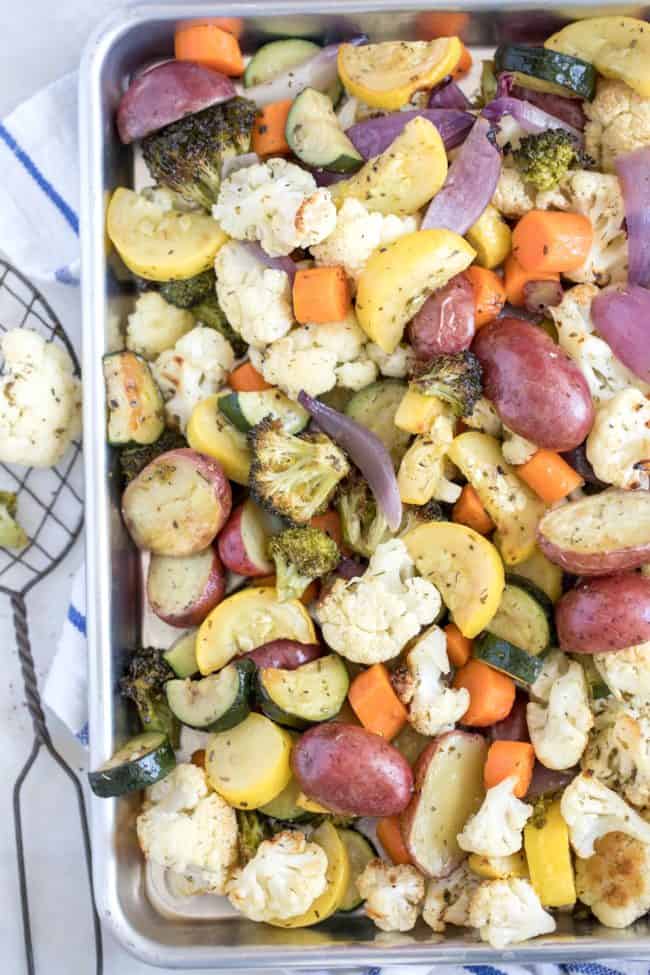 This roasted vegetable medley is super easy to make and it's a perfect side to any protein dish or serve it with quinoa for an easy vegan main.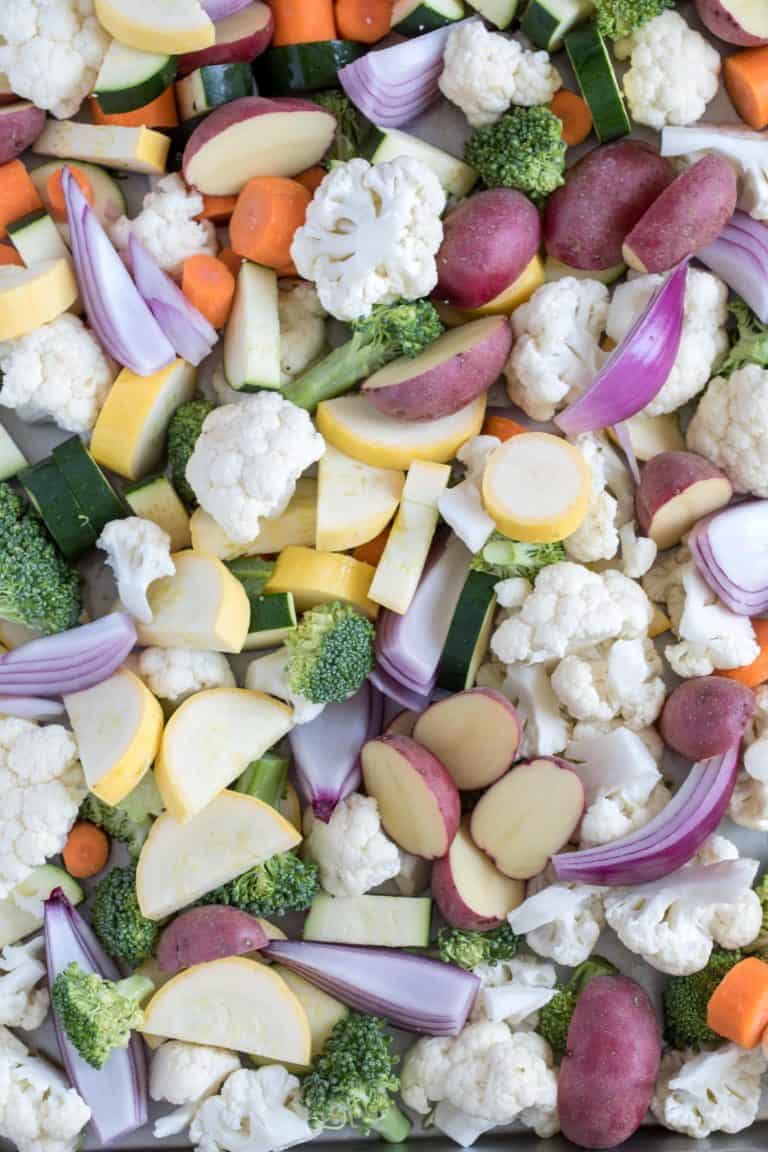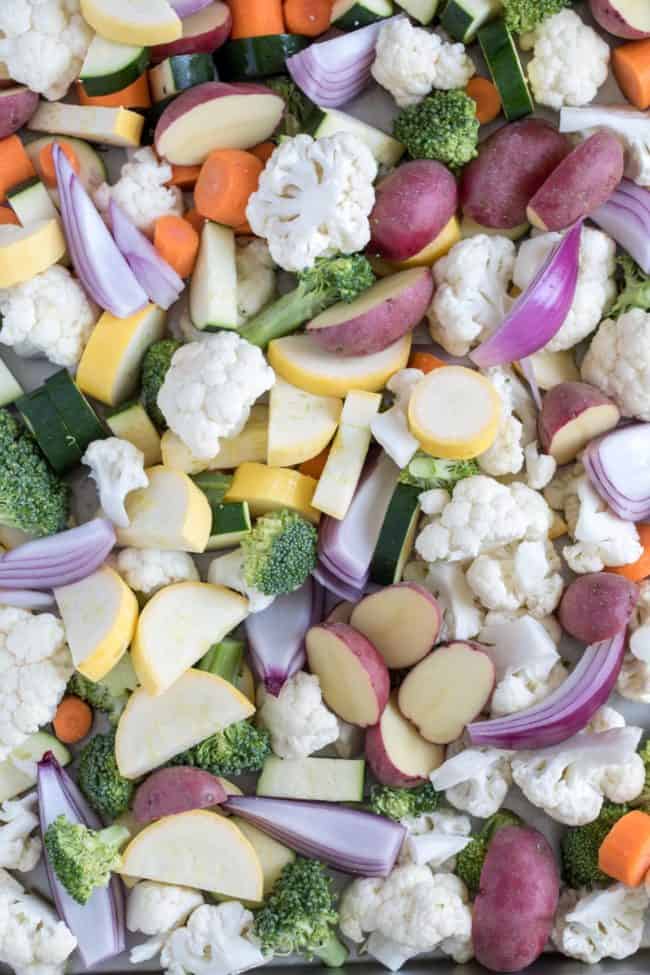 Roasted Vegetables Recipe
This oven roasted vegetables recipe calls for a mix of fresh vegetables (organic if possible), some Italian seasoning and a drizzle of extra-virgin olive oil.
Broccoli
Cauliflower
Baby red potatoes
Red onion
Yellow Squash
Zucchini
Italian seasoning
Extra-virgin olive oil
Variations
Feel free to swap out any of the vegetables called for in this recipe for any of your favorites. Here's some ideas:
Mushrooms
Red, yellow and green pepper
Garlic
Asparagus
Brussel sprouts
Sweet Potatoes
Corn on the cob (cut in quarter pieces)
Instead of using Italian seasoning, sprinkle with 1 tablespoon dried rosemary leaves
Mix 1-1/2 tablespoons good balsamic vinegar with the olive oil before tossing the vegetables with it
Sprinkle veggies with 1/4 cup Parmesan cheese then pop back in the oven for about 3-7 minutes or until the cheese melts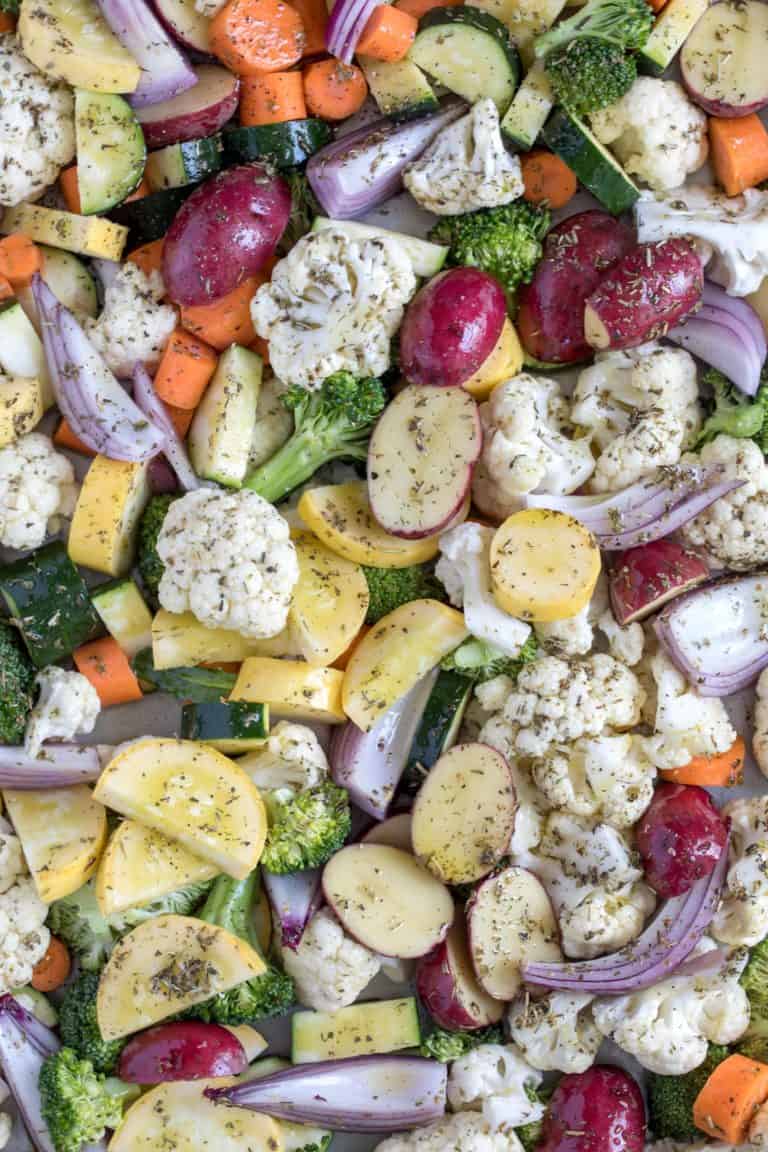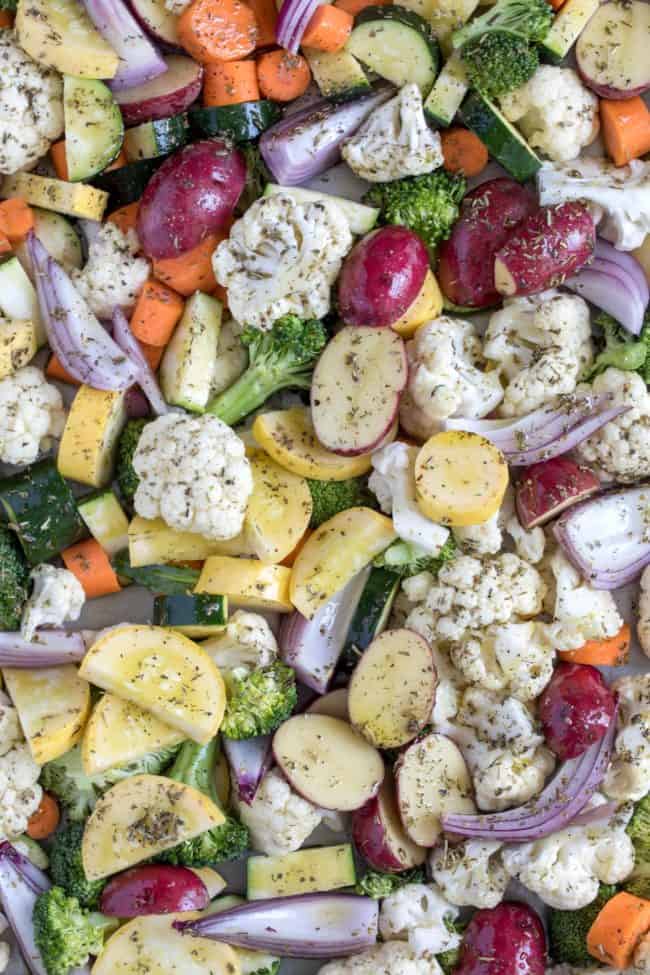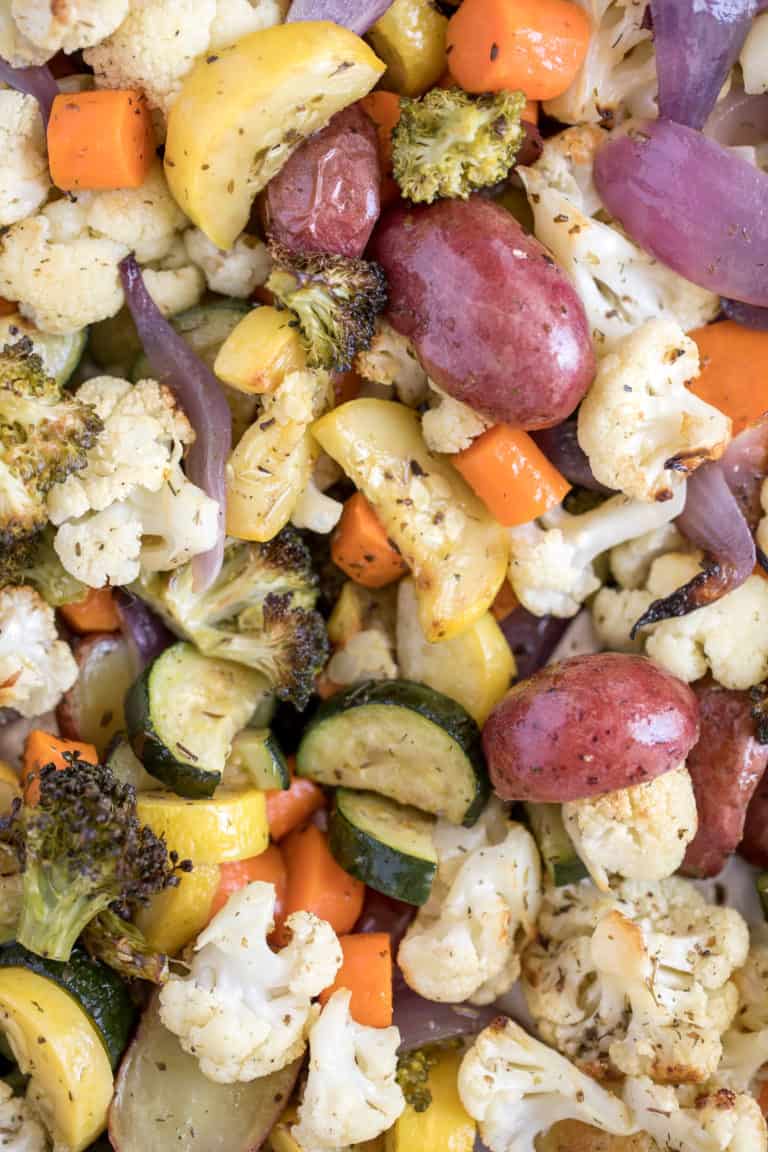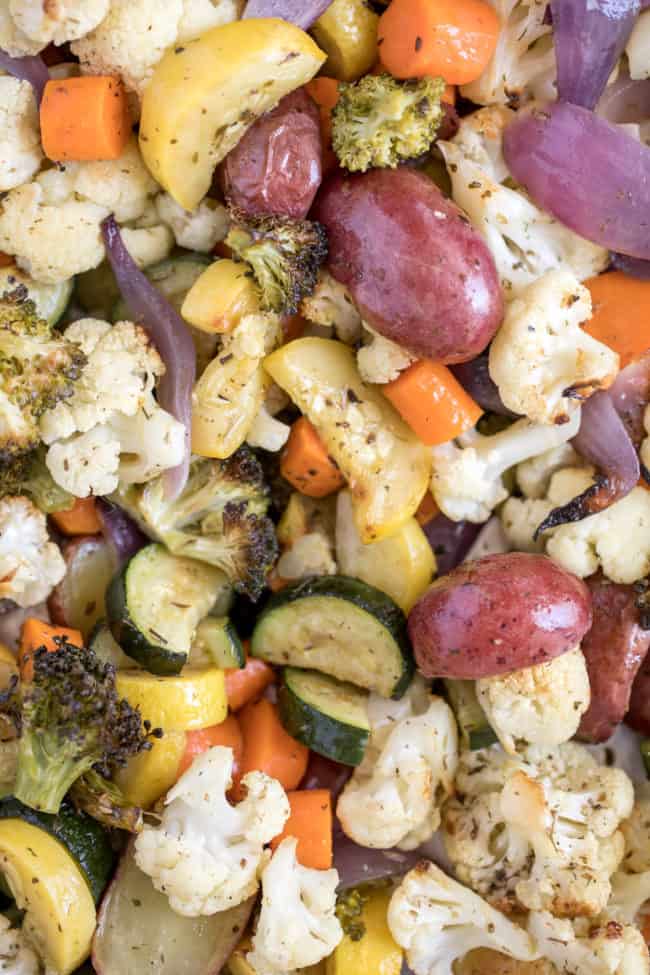 How to Roast Vegetables
These oven roasted vegetables come together in about 15-20 minutes, start-to-finish.
Prepare vegetables: Cut an assortment of mixed vegetables into bite size pieces.
Seasoning: For the roasted vegetables seasoning, we use olive oil, Italian herbs and salt and pepper.
Roast vegetables: Lay the seasoned fresh vegetables in a single layer on baking sheet and roast in the oven for 15-20 minutes, or until the vegetables are just fork tender.
Serve: Remove from the oven and serve while still warm.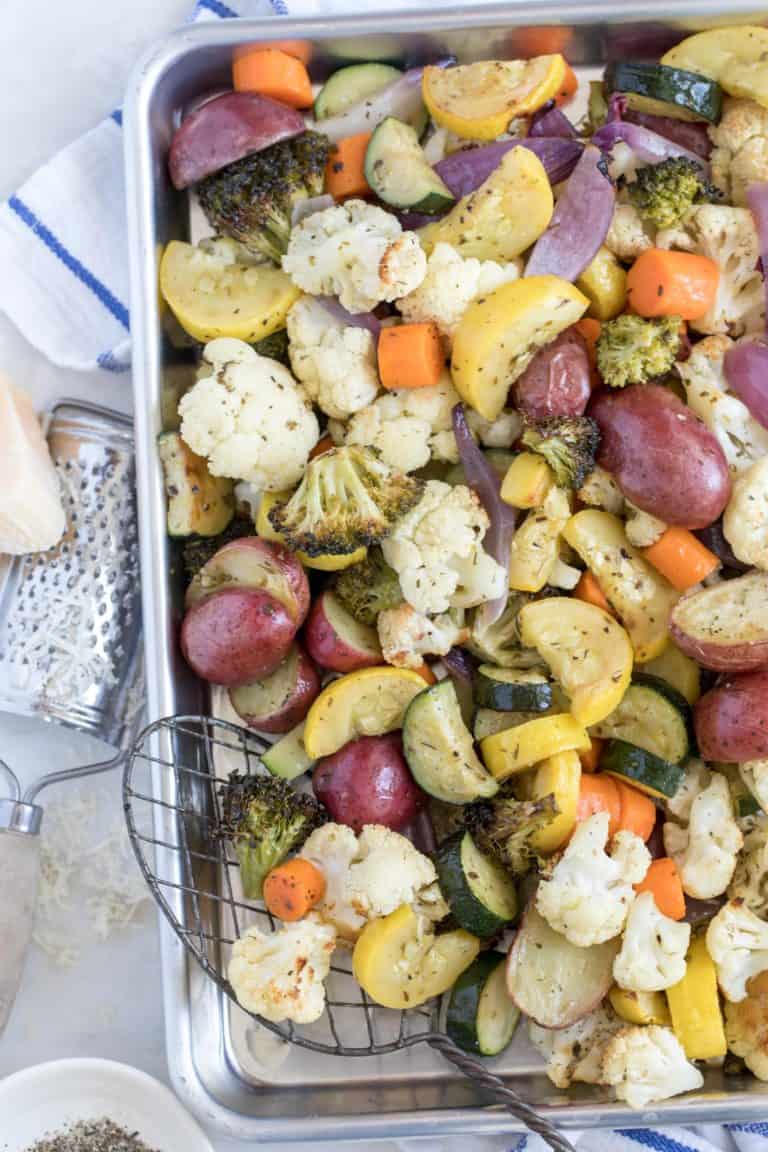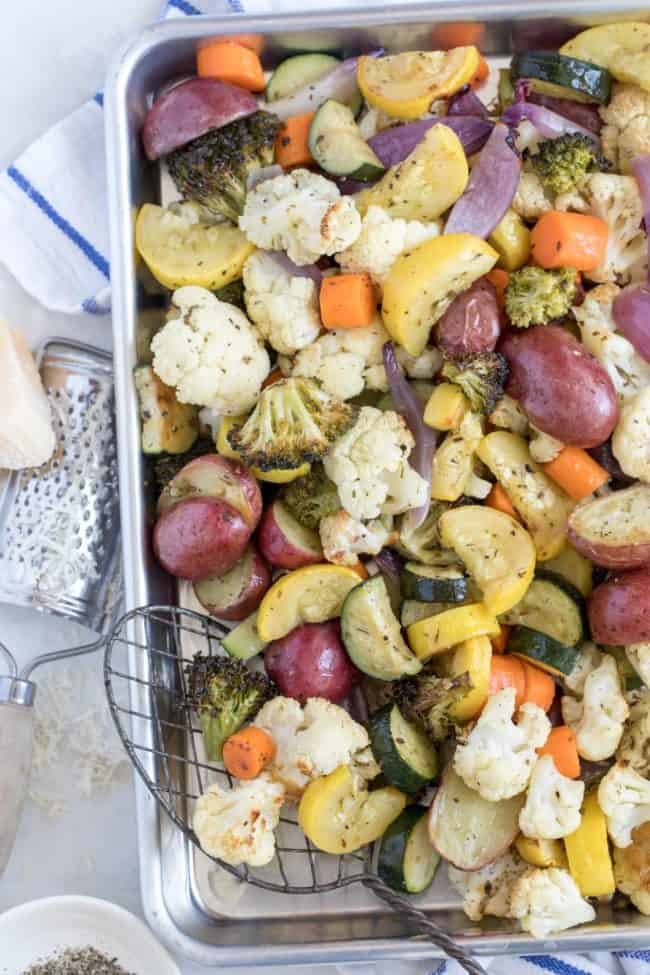 Looking for More Healthy Side Dish Recipes to Make?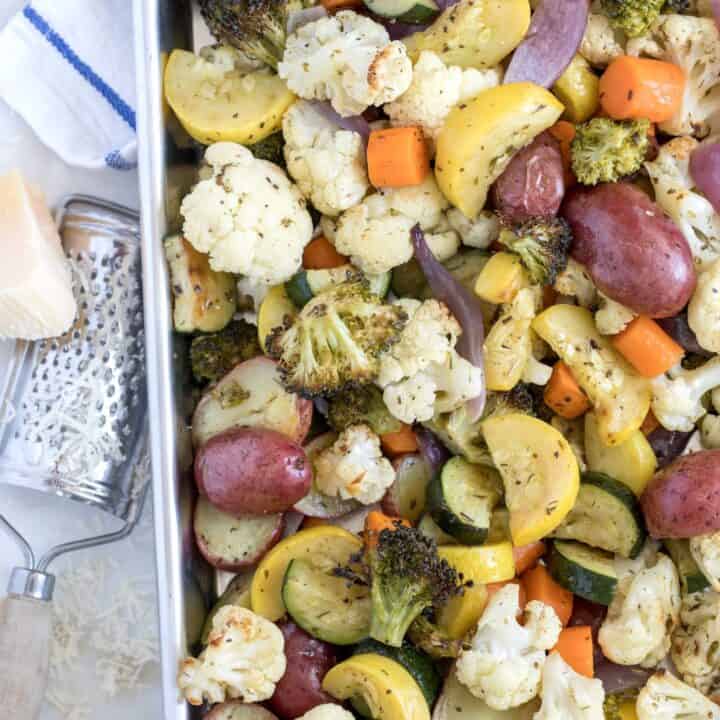 Yield: 6 Servings
Oven Roasted Vegetables
These Oven Roasted Vegetables are made with a mix of fresh vegetables, tossed in olive oil and seasoned with Italian seasoning. This delicious side dish goes perfectly with grilled chicken or fish.
Ingredients
2 cups broccoli florets
2 cups cauliflower florets
1 zucchini, sliced and cut in half
1 yellow squash, slice and cut in half
6-8 baby red potatoes, cut in half
1 red onion, cut in wedges
2-3 tablespoons extra-virgin olive oil
2 teaspoons Italian seasoning
Salt and freshly ground black pepper to taste
3-4 tablespoons Parmesan cheese, grated (optional)
Instructions
Preheat oven to 425 degrees.
Lightly grease baking sheet with avocado oil or olive oil
Add the vegetables to a large mixing bowl.
Drizzle olive oil over the vegetables and toss to coat.
Sprinkle in Italian seasoning and toss again.
Lay the vegetables out on baking sheet in a single layer.
Bake in the pre-heated oven for 15-20 minutes or until fork tender.
Serve.
Notes
VARIATIONS

Feel free to swap out any of the vegetables called for in this recipe for any of your favorites.  Here's some ideas:
Red, yellow and green pepper
Garlic
Asparagus
Brussel sprouts
Sweet Potatoes
Corn on the cob (cut in quarter pieces)
Sprinkle parmesan cheese over the vegetables the last 5 minutes of roasting
Omit potatoes altogether and toss roasted vegetables in red sauce and serve over pasta noodles