Minestrone Soup
Yum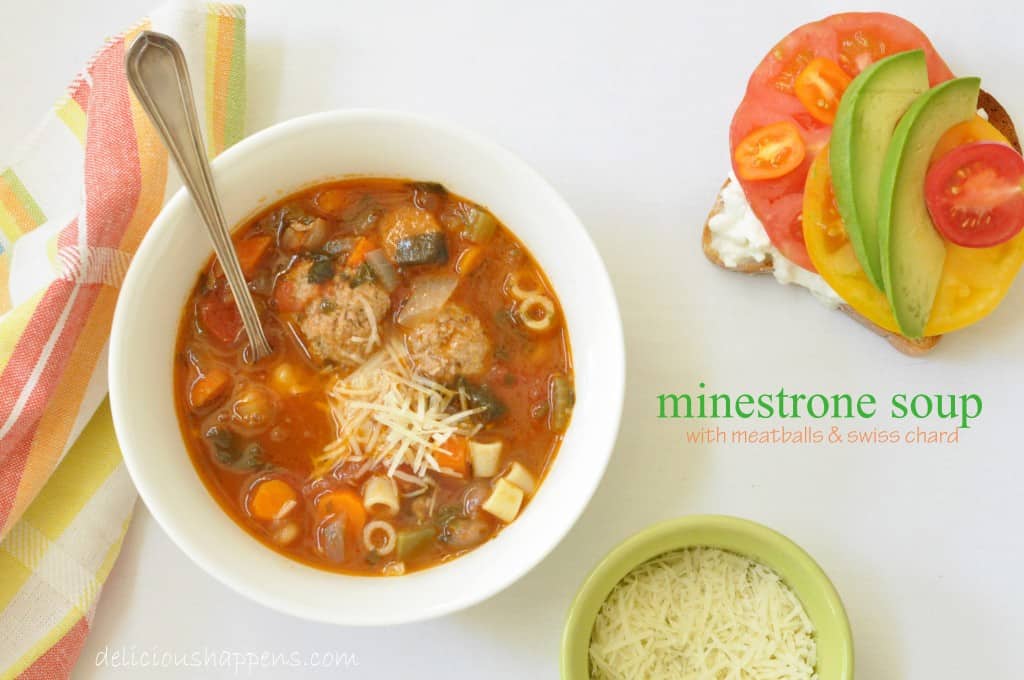 I have to say that autumn is my favorite season.  I love the fresh crispness of fall.  The other day I was hopping around looking at different food blogs – and so many of them wasted no time at all jumping right into the fall with great recipes for pumpkin bread, cupcakes, and muffins…. and one with a gorgeous thick chunky apple pie.   I'm going to jump right into our first week of fall with some minestrone soup.
We'll do the pumpkin thing a little later.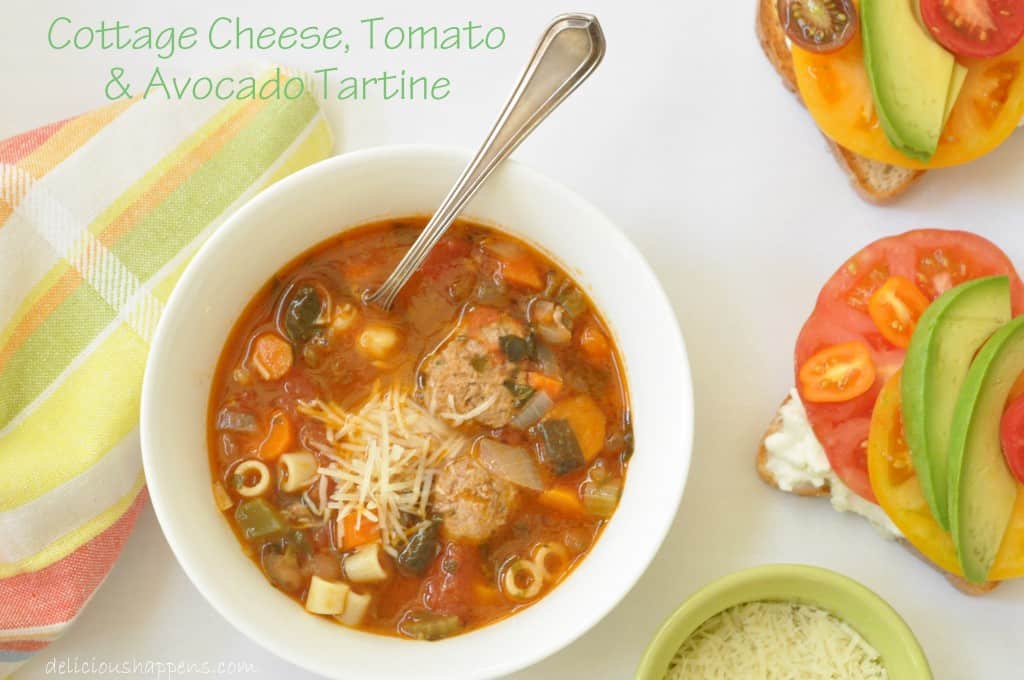 I can honestly say that I have never had a minestrone soup that I liked.  Everywhere I've ordered minestrone soup – they all ended up tasting like (or reminding me of) canned soup.   Too….tomatoey.  Too salty.  And too sweet.  I like the idea of minestrone soup.  I like all of the ingredients that go into minestrone….well,  except for the navy beans.  I don't like navy beans in soup.  Only in chili.  So the other night, I decided to make a minestrone soup that I liked.  One without navy beans – and without a thick, weighty tomato broth.   What I came up with is a soup that I like just as much as my Italian Wedding Soup.  Which is one of my favorites.  This minestrone is a rich, hearty soup, loaded with veges, and tasty meatballs.  The broth has only a hint of tomato.  I think this minestrone soup with meatballs is a perfect soup for a crisp fall-like day!  I had it with a cottage cheese, tomato and avocado tartine, but you can always serve it with a thick slice of pumpkin bread straight from the oven.  Enjoy!!
~  Deb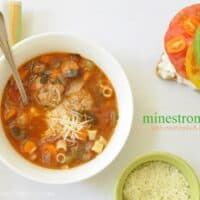 Minestrone Soup with Meatballs
Yield: 4 to 6 servings
Total Time: 1 hour
Ingredients:
For the Soup
3 tablespoons extra-virgin olive oil
1 yellow onion, coarsely chopped
2 carrots, peeled and sliced
2 celery stalks, sliced
2 garlic cloves, minced
2 cups Swiss chard leaves (you can use spinach instead)
1/4 cup red wine
5 cups chicken broth
1/2 cup distilled water
2-1/2 tablespoons tomato paste
1 large Roma tomato, seeded and chopped
1 bay  leaf
1-1/4 cups canned chickpeas, drained
1/4 cup fresh basil, chopped
2 tablespoons flat leaf parsley, minced
1/2 cup cooked pasta (macaroni shells)
Freshly ground black pepper to taste
For the Meatballs
1 pound ground dark turkey meat
1/4 cup bread crumbs
1 teaspoon minced garlic
½ teaspoon fresh sage, minced (or a scant pinch – less than 1/8 teaspoon of ground sage)
4 tablespoons freshly chopped parsley
1/2 cup freshly grated Parmesan (more for serving)
2 tablespoons whole milk
1 egg, lightly beaten
freshly ground black pepper
Directions:
For the Soup
Heat the olive oil in a large pan over mediu-high heat.
Add the onions, carrots, celery and garlic and saute for about 3 to 4 minutes until golden.
Add the red wine, chicken broth, water, Swiss chard, tomato, chickpeas, basil, parsley and bay leaf.
Add the tomato paste and stir until dissolved.
Reduce heat and simmer for an hour.
Increase heat to medium-high and bring to a gentle boil.
Add the meatballs to the soup.
Cover the pot and cook about 10 to 12 minutes, or until the meatballs are cooked through.
Add the pre-cooked pasta and heat through before serving.
For the Meatballs
Combine the ground turkey, bread crumbs, garlic, parsley, sage, Parmesan, milk, egg, and pepper in a bowl and mix gently with a fork.
Make small teaspoon sized meatballs and place onto a plate.
Drop the meatballs one at a time into a pot of boiling soup.
For the Cottage Cheese, Tomato & Avocado Tartine
Toast a slice of bread.
Add two tablespoons of cottage cheese to the toasted bread and top with heirloom tomatoes and avocado slices. Sprinkle with kosher salt and freshly ground black pepper.
The tartines are also good with added slices of cucumber.
Leave a Comment