Italian Chicken Vegetable Soup
This rich, hearty and comforting Italian Chicken Vegetable Soup is packed with Italian flavors and pulls together in about 30 minutes. You will love making this healthy chicken vegetable soup recipe for your family!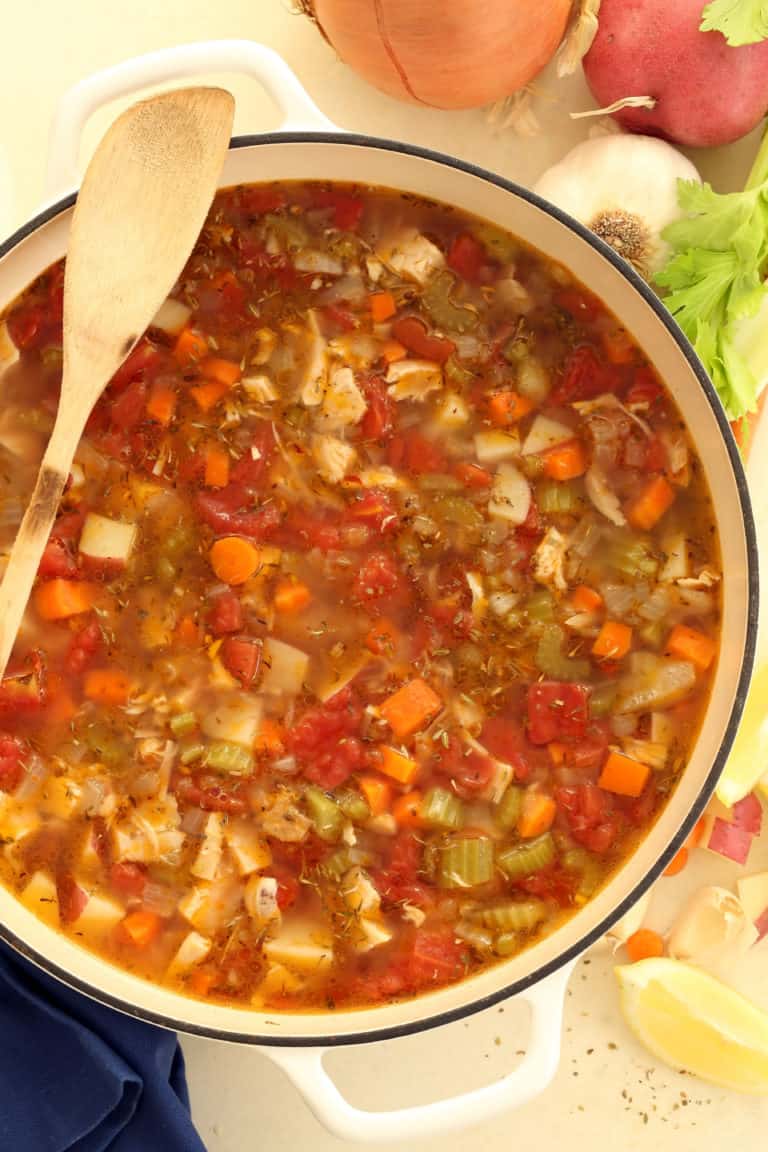 ITALIAN VEGETABLE SOUP
I love everything about this Italian Chicken Vegetable Soup! This is a richly flavored chicken and vegetable soup that is jammed packed with vegetables simmered in a perfectly seasoned broth. It just might become a new favorite for your family!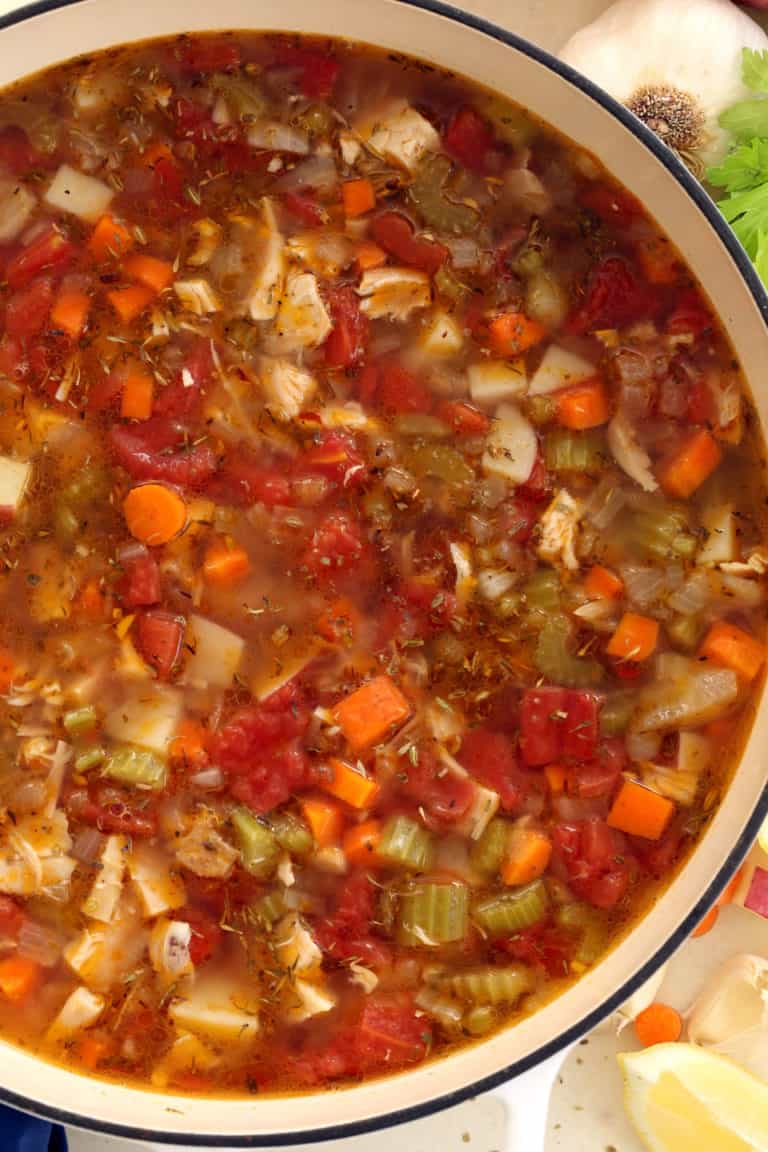 ITALIAN SOUP RECIPE
This healthy chicken vegetable soup recipe is an easy one to pull together. The list is not too long and it comes together in about 30 minutes if you're using store bought rotisserie chicken.
Extra-virgin olive oil
Yellow onion
Carrot
Celery
Red potato
Garlic
Herbs (fennel seeds, thyme, oregano)
Red pepper flakes
Diced tomatoes (low or no salt)
Chicken broth
Parmesan cheese
Cooked chicken breast
Fresh basil and parsley
HOW TO MAKE VEGETABLE SOUP
I think the key to making a good vegetable soup is by stuffing the pot to the brim with a variety of fresh organic vegetables so the soup is rich and filling, and it's a main not a starter. It's also key to have a good broth perfectly seasoned for the vegetables to simmer in.
Saute onion, carrot, celery and potato for 3 to 5 minutes or until the vegetable start to soften.
Add in the garlic and seasoning (fennel, thyme and oregano)
Pour in the tomatoes and the chicken broth and bring to a boil.
Add the Parmesan cheese.
Simmer for 15 minutes.
Add the already cooked chicken and cook for another 5 minutes.
Stir in basil and parsley
Serve with lemon wedges
VARIATIONS
Add zucchini or yellow squash
Make it vegetarian and add cannellini beans instead of chicken
Use fresh chopped tomatoes instead of canned
Add pasta noodles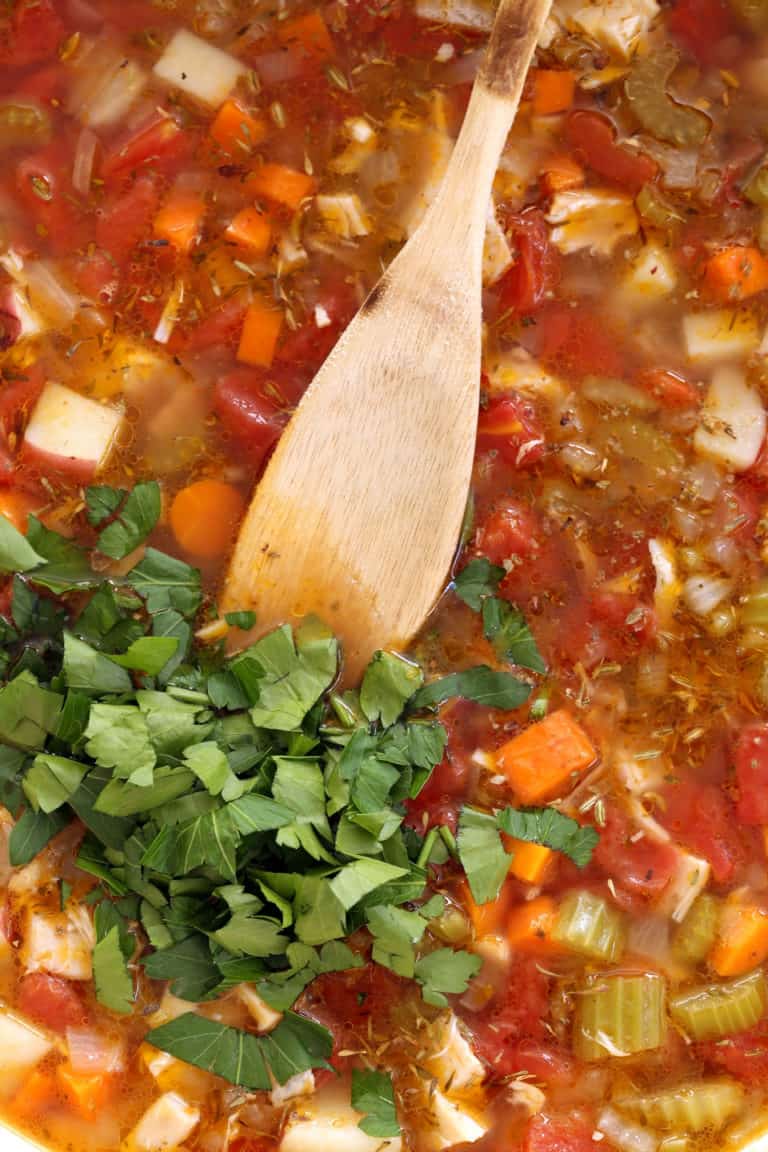 Besides all the fresh vegetables, what makes this a really good soup recipe is the seasoning. Especially the fennel! The fennel adds so much flavor to this soup! And it's super nutritious.
BENEFITS OF FENNEL
Good source of minerals such as potassium, calcium, zinc, manganese
Also good source of Vitamin C, iron, selenium and magnesium
Good source of phytonutrients (the phytonutrients found in fennel seeds help to regulate blood pressure, reduce water retention, aid with digestion, clear sinuses and relieve symptoms of asthma, lower cholesterol and enhance sleep quality)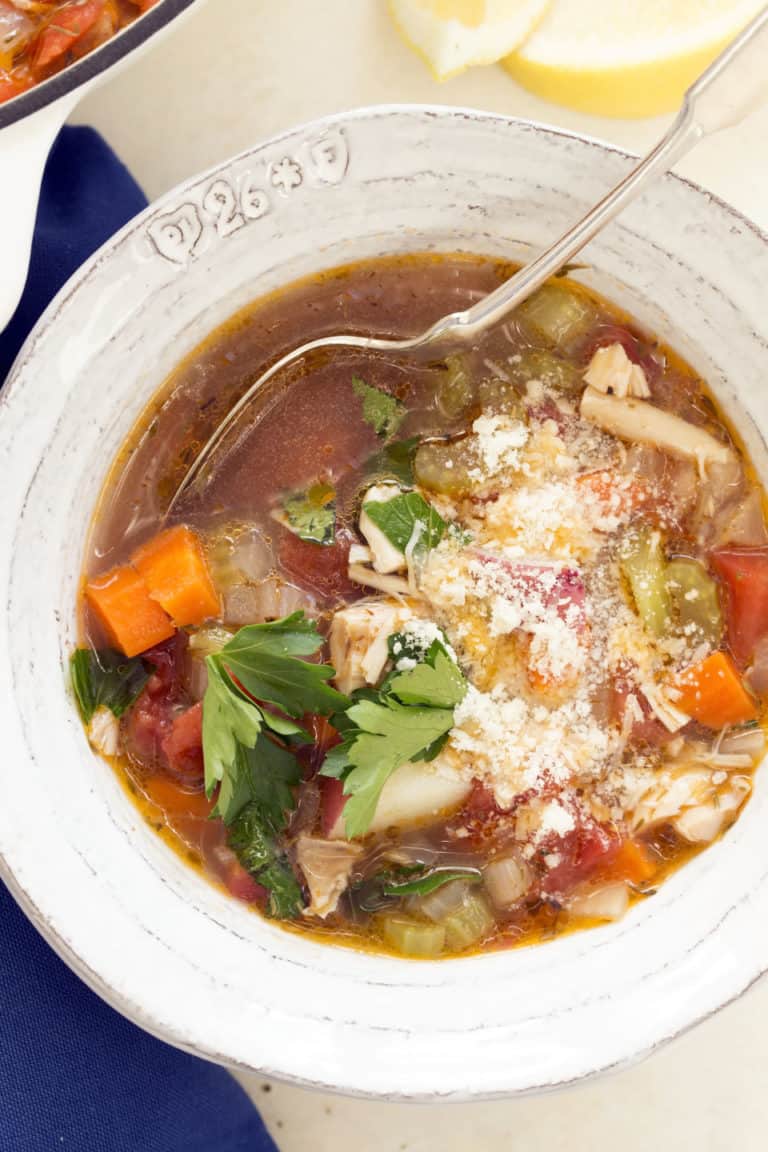 This vegetable soup with chicken broth can easily be made vegan by using cannellini beans instead of chicken, vegetable broth instead of chicken broth, and by omitting the Parmesan cheese altogether. However you decide to make it, you'll want to serve this soup with lemon wedges, fresh parsley and basil… and lots of warm crusty bread.
Follow

THE HARVEST KITCHEN

on Pinterest for more great recipes!
MORE HEALTHY SOUP RECIPES YOU'LL LOVE
Yield: 4 Servings
Italian Chicken Vegetable Soup
Ingredients
3 tablespoons extra-virgin olive oil
1 yellow onion, finely chopped
1 large carrot, peeled and diced
2 large stalks celery, chopped
1 large red potato, chopped
2 cloves garlic, minced
1/2 teaspoon fennel seeds
1/2 teaspoon dried thyme
1/2 teaspoon dried oregano
1/8 teaspoon red pepper flakes
1 14-1/2 ounce can diced tomatoes (low or no salt)
6 cups chicken broth
1-inch piece of Parmesan (about 2 tablespoons shredded)
2 cups chicken breast, chopped (store bought roasted chicken is fine)
salt and freshly ground black pepper to taste
2 tablespoons fresh flat-leaf parsley, chopped
lemon wedges for serving
Instructions
Heat olive oil in large pot over medium-high heat.
Add the onion, carrot, celery and potato to the pot and cook for 3 to 5 minutes or until the vegetable start to soften.
Add the garlic, fennel, thyme and oregano and cook for another minute or two.
Pour in the tomatoes and the chicken broth and bring to a boil.
Add the Parmesan cheese.
Reduce heat and simmer on low for 15 minutes.
Add the chicken and cook for another 5 minutes.
Stir in the basil and parsley
Serve with lemon wedges