Best Italian Wedding Soup
This Best Italian Wedding Soup is one of those Italian soup recipes you'll want to have in your back pocket. It's an amazing soup that's made with ground turkey meatballs and vegetables simmered in an amazing richly flavored broth.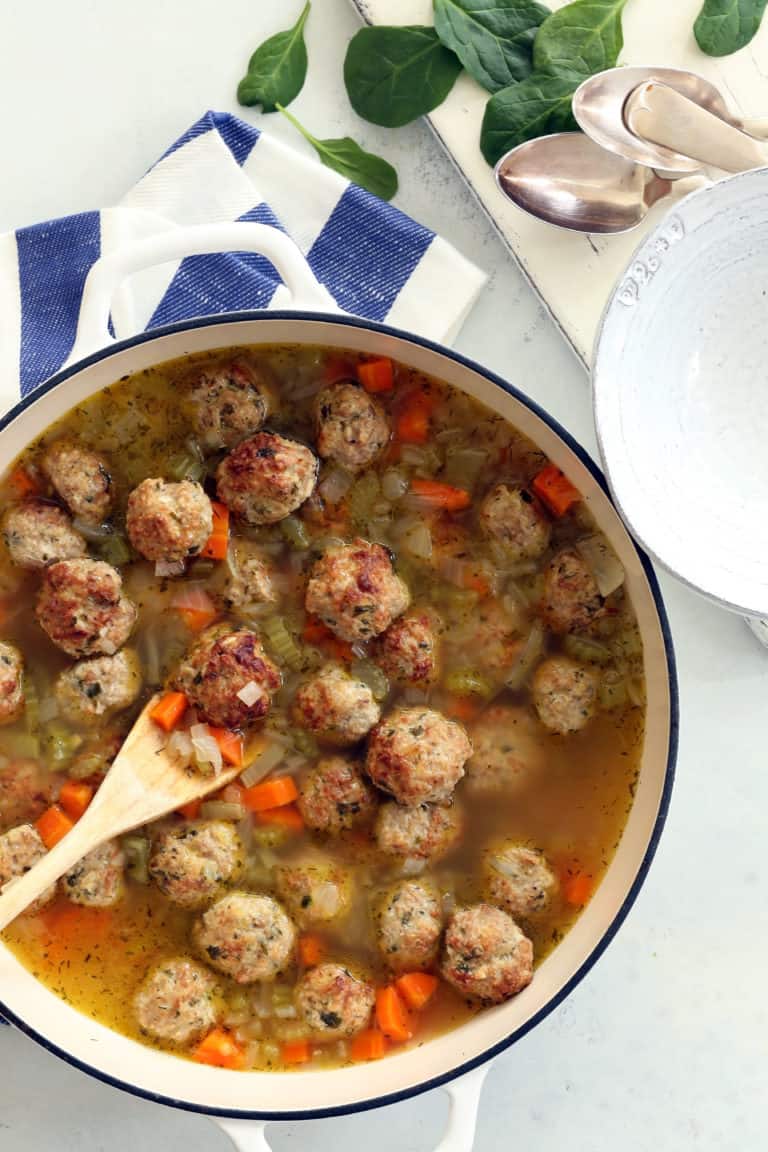 Italian Wedding Soup is a timeless classic soup, and it's one of my favorite Italian soup recipes to make during cold winter months. It's richly flavored and easy enough to make any night of the week. Your whole family will love it!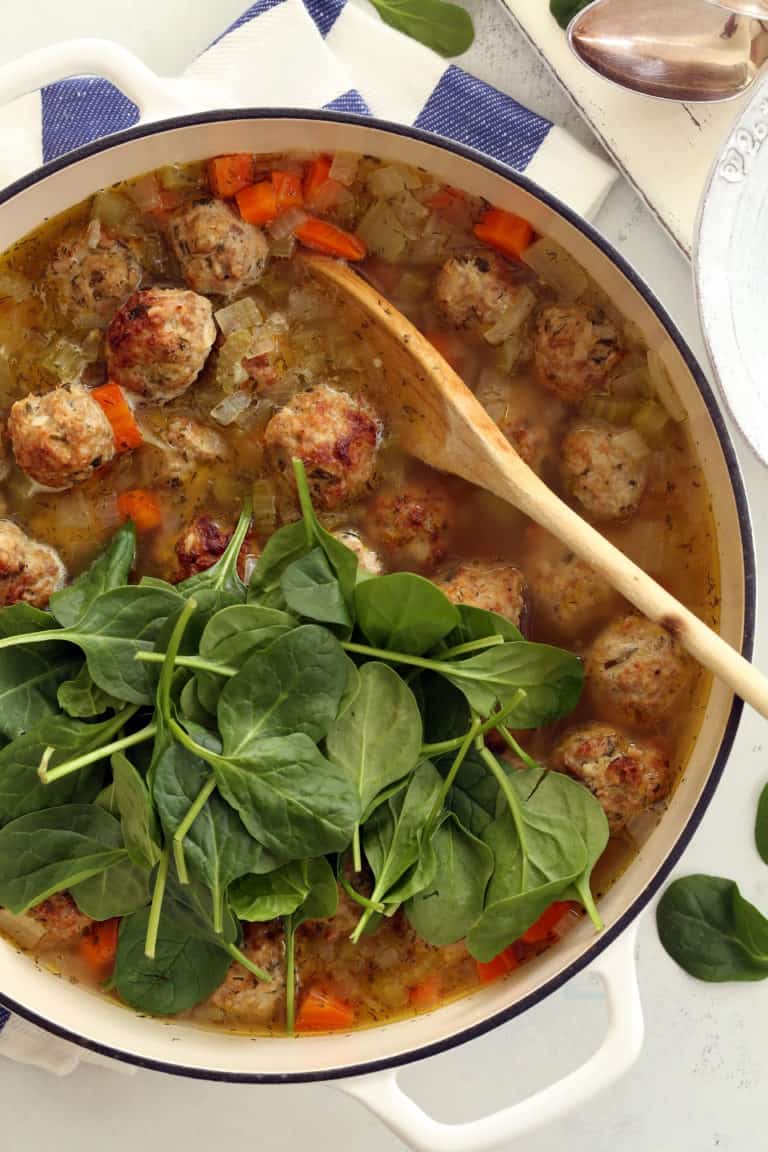 WHAT IS ITALIAN WEDDING SOUP
Italian Wedding Soup is also known as Minestra maritata ("married soup"), which really only means that green vegetables and meat go well together, not that this Italian style wedding soup is served at weddings.
WEDDING SOUP RECIPE
For the ground turkey meatballs
Ground turkey
Italian sweet turkey sausage
Bread crumbs
Minced garlic
Flatleaf parsley
Parmesan (plus more for serving)
Whole milk
Egg
For the soup broth
Olive oil
Yellow onion,
Carrots
Celery
Chicken stock
Water
White wine (or sherry) (optional)
Fresh dill
Spinach (either fresh or frozen spinach)
HOW TO MAKE ITALIAN WEDDING SOUP
How to make turkey meatballs
Preheat oven to 350 degrees. Line a cookie sheet with parchment paper.
Combine the ground turkey, sausage, bread crumbs, garlic, parsley, Parmesan, milk, egg, salt and pepper in a bowl and mix gently with a fork.
Make small teaspoon sized meatballs and place onto the cookie sheet.
Bake for 20 minutes until lightly browned.
How to make chicken broth soup
While the meatballs are baking – heat the olive oil over low heat in a large pot. Add the onion, carrots and celery.
Saute until softened – approximately 5 minutes, stirring frequently.
Stir in the wine and let simmer until it reduces by almost half.
Pour in the chicken stock and water and bring to a boil.
Add the meatballs
Cook for approximately 5-7 minutes.
Add the fresh dill and the spinach and cook just until the spinach barely wilts.
Ladle the soup into bowls and add parmesan cheese
This wedding soup recipe is another family favorite that I make all the time. It was one of my dad's favorites. I remember way back in the day, when I was contemplating making this soup for the first time…I was very apprehensive about making it because it looked like it was a process, but this is one of those pretty straight forward Italian soup recipes comes together in jus tabout 40 minutes.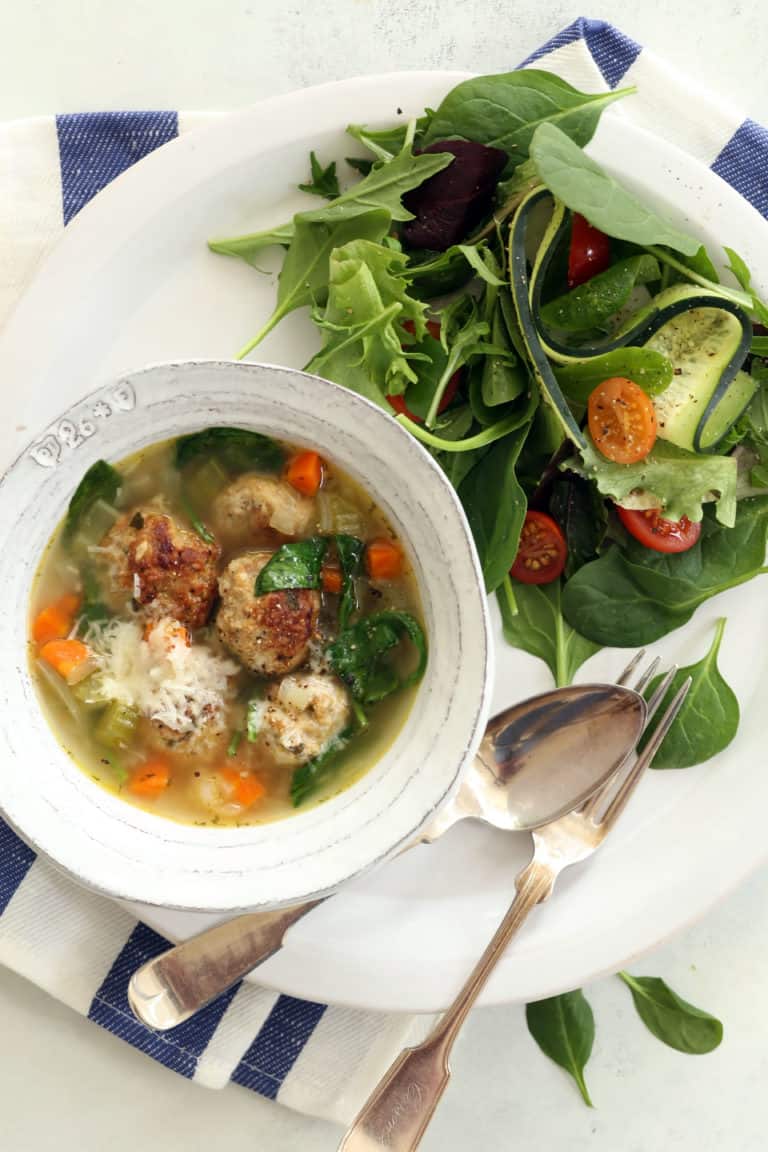 ITALIAN SOUP RECIPES YOU'LL LOVE
This awesome Italian Chopped Salad goes great with any one of these Italian soups.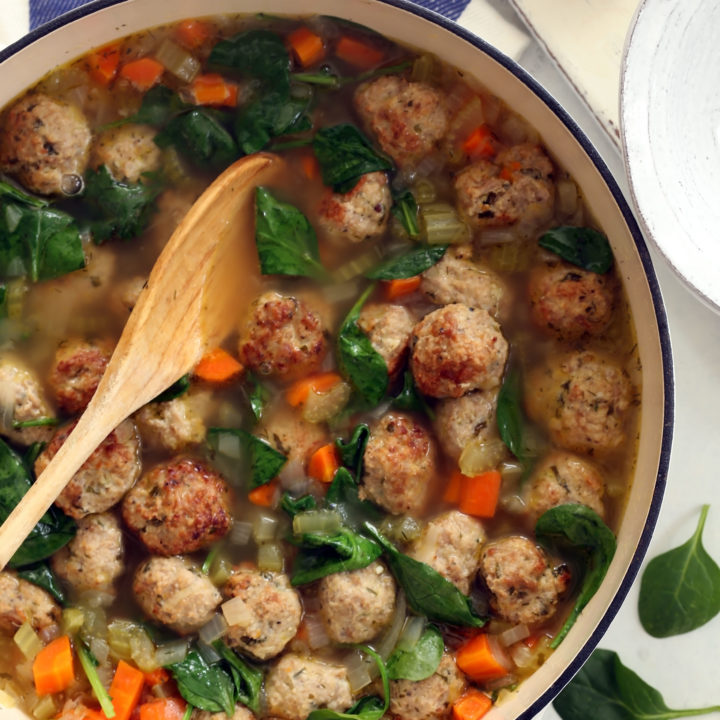 Yield: 6 servings
Best Italian Wedding Soup
According to my family, this is the Best Italian Wedding Soup out there!  This is a gluten-free version, made with gluten-free bread crumbs and without the noodles.
Ingredients
1 pound ground turkey
½ pound Italian sweet turkey sausage
2 teaspoons minced garlic
4 tablespoons freshly chopped parsley
3/4 cup freshly grated Parmesan (more for serving)
4 tablespoons whole milk
1 egg (lightly beaten)
Season with kosher salt and freshly ground black pepper
3 tablespoons olive oil
1 cup chopped yellow or sweet onion
1 cup chopped carrots
1 cup chopped celery
8 cups chicken stock
2 cups water
½ cup white wine (or sherry) (optional)
2 tablespoons chopped fresh dill
3 cups chopped fresh spinach
Instructions
Preheat oven to 350 degrees. Line a cookie sheet with parchment paper.
Combine the ground turkey, sausage, garlic, parsley, Parmesan, milk, egg, salt and pepper in a bowl and mix gently with a fork.
Make small teaspoon sized meatballs and place onto the cookie sheet.
Bake for 20 minutes until lightly browned.
While the meatballs are baking – heat the olive oil over low heat in a large pot. Add the onion, carrots and celery. Saute until softened – approximately 5 minutes, stirring frequently.
Add the wine and let simmer until it reduces by almost half. Add the chicken stock and bring to a boil. Add the meatballs and the pasta.
Cook for approximately 5-7 minutes.
Add the fresh dill and the spinach and cook just until the spinach barely wilts.
Ladle the soup into bowls and add parmesan cheese
Leave a Comment