Jalapeno Hummus
Yum
Have you ever had the Jalapeno Hummus at Pita Jungle?
Have you ever heard of Pita Jungle?
Well, it's a little restaurant near where I work and they serve really incredible, wholesome food.  Not too long ago, I posted a recipe for MEDITERRANEAN CHICKEN, which was my riff on Pita Jungle's Mediterranean Chicken.  If you haven't made it yet – you don't know what you're missing.  Incredible combo of flavors.
So this recipe for Jalapeno Hummus is my riff on Pita Jungle's Jalapeno Hummus.  And it's every bit as good!
This hummus makes a great healthy dip to serve, and you don't have to serve it with pita bread.  Make it fun and serve this creamy bowl of goodness on a platter with tortilla chips, heirloom cherry tomatoes and avocado slices.  And lime wedges.  Don't forget the lime wedges.  A chip dipped in the Jalapeno Hummus with a piece of avocado and cherry tomato piled high on top = a wee bit of heaven!
You can also be good and serve it with veges.  Either way this Jalapeno Hummus is awesome!
The great thing about this hummus is you can alter the heat to your preference.  I don't like things so spicy that it bites your face off…so this is more on the mild side.  Flavor without the trauma.  If you like a little more kick – then just add more of the chilies to the mix.  That ought to get everyone's attention.
If you like hummus – you'll really like this Jalapeno Hummus.  It is hands down my favorite!
~ xo Deb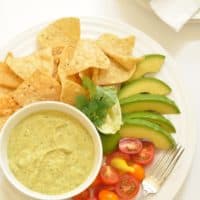 Jalapeno Hummus
Yield: 6 - 8 servings
Total Time: 30 minutes
Ingredients:
1 (15 ounce can of garbanzo beans)
2 tablespoons of chopped mild Ortega chilies (about 1/2 of a 4 ounce can) - add the whole can if you like a little more spice
1 tablespoon tahini
2 tablespoons extra-virgin olive oil
2 tablespoons fresh cilantro, chopped
Juice of 2 - 3 limes
1 clove garlic, minced
1-1/4 teaspoons cumin
1/2 teaspoon Kosher salt
1/4 cup water or more added as needed for desired consistency
Directions:
Place all of the ingredients in a food processor and process until smooth and creamy.
4 Responses to "Jalapeno Hummus"
Trackbacks/Pingbacks

Leave a Comment