Homemade Guacamole
This post may contain affiliate links.
This Homemade Guacamole recipe uses just 5 ingredients and comes together in a snap!
You are going to love just how easy it is to make the best guacamole with this Quick and Easy Guacamole recipe!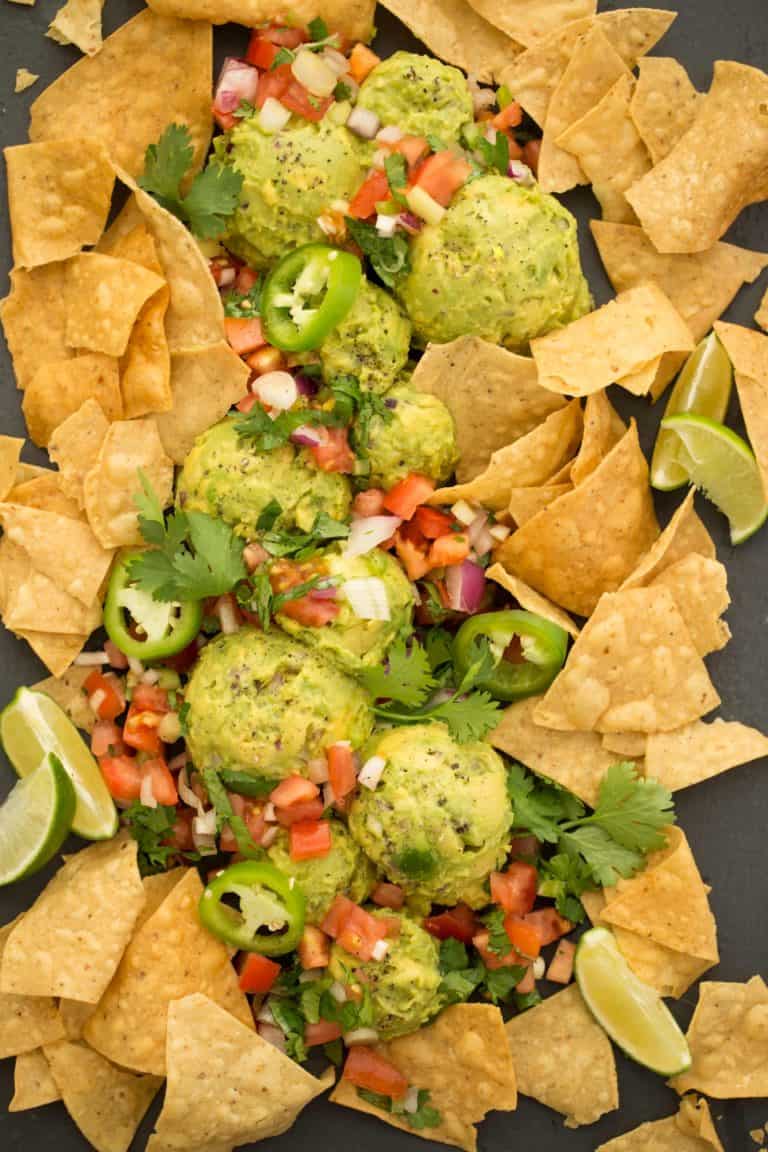 Best Guacamole Recipe
Haas Avocados (3 large ripe ones)
Onion (I use a mix of red and green)
Garlic (2 cloves)
Lemons, or limes (juice of one piece of fruit)
Cilantro (fresh organic)
Variations
This Homemade Guacamole recipe is a versatile one. Here's a few ways you can switch things up.
Add chopped tomato
Toss in minced jalapeno
Add cumin, coriander, chili powder, ancho chili powder
Grilled corn kernels add a nice sweetness
Use lime juice instead of lemon
How to Make Guacamole Dip
If you've ever wondered how to make guacamole, this is a simple Homemade Guacamole recipe is foolproof!
Add the chopped onion, minced garlic and chopped cilantro to a bowl
Cut the avocados in half
Remove the peel and seed
Using a spoon, scoop the meat out and place in a mixing bowl
Cut the avocados into chunks and mash avocado to desired consistency
Pour the lemon juice all over the avocado
Using a fork, fold ingredients together
Season with salt and freshly ground black pepper
How to Keep Guacamole from Turning Brown
By drenching the avocado with lemon juice (or lime juice) immediately after its been chopped will slow down the process of oxidation and the avocado turning brown.
Serving Suggestions
Guacamole dip doesn't always have to go in a bowl! Here's a fun way to serve this Homemade Guacamole. Use different size ice cream scoops and arrange the scoops of guac on a platter. Sprinkle pico de gallo in the crevices and layer in the chips all around it. You can also toss in a veggie or two (celery, carrots, jicama fries, radishes) to make things healthier. Of course you'll want to serve your guacamole with freshly made homemade tortilla chips.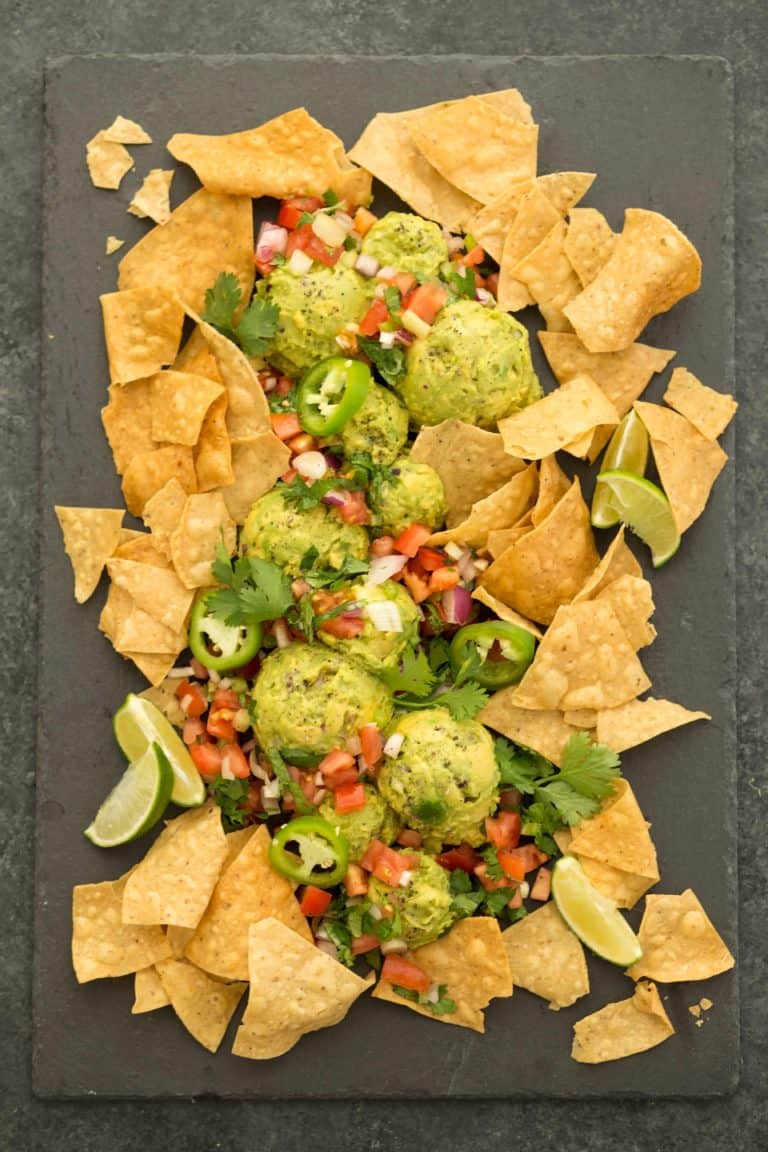 How to Pick Avocados
I always remove the little stem on the end of the avocado where it was attached to the tree. If it's a light green under the stem – then the avocado is good. If it's brown under the stem – then the avocado is going to be too ripe and the flesh will have brown spots. You want the avocado to be relatively firm with a little give when testing it with your hand. If there are soft spots, the avocado is going to be too ripe with brown spots.
Benefits of Avocado
Avocados offer anti-inflammatory and antioxidant benefits. They have significant amounts of vitamin B-6 and folic acid, and monounsaturated fat (which is a good fat that has been linked to a reduced risk of cancer and diabetes). Avocados are great for your eyes, heart and skin! This avocado spread is another great recipe to help you incorporate more avocados into your diet! It's delicious on bread and toast or slathered in wraps. It can also be used as a substitute for regular mayonnaise when making egg salad and chicken salads.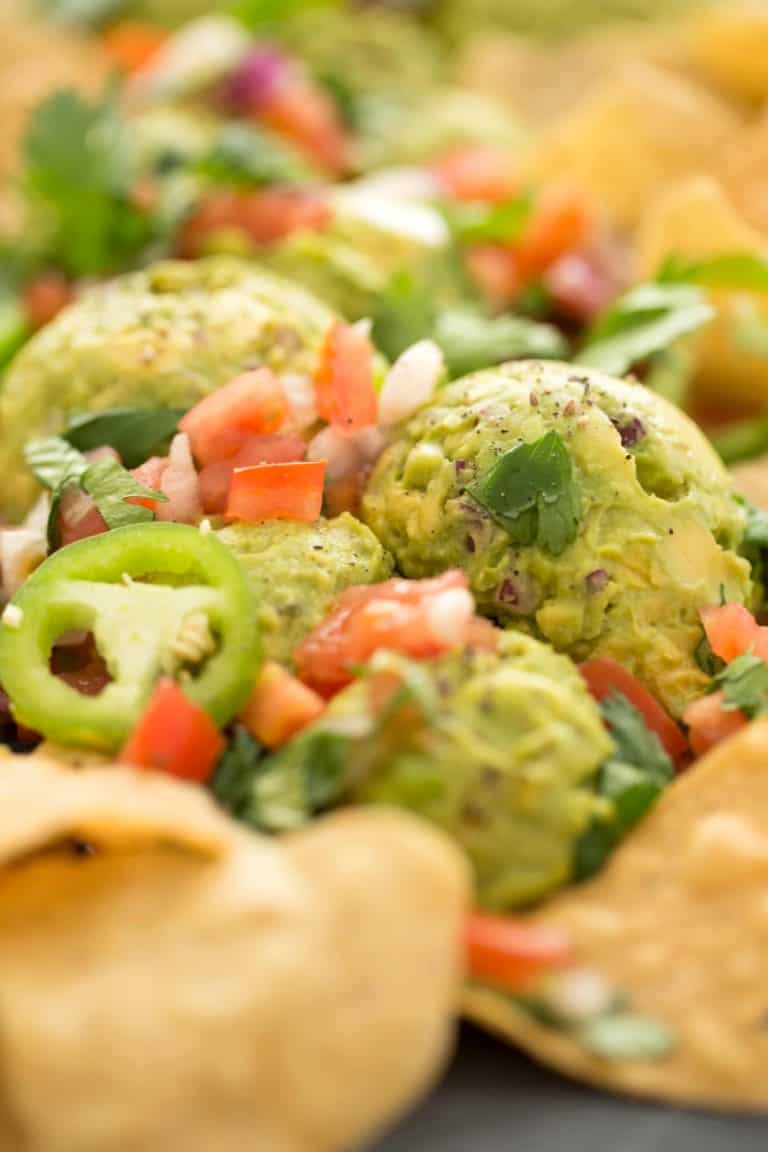 Looking for More Healthy Snack Recipes
Yield: 6 servings
Homemade Quacamole
This Homemade Guacamole recipe uses just 5 ingredients and comes together in a snap!
Ingredients
3 Haas avocados (medium to large in size)
Juice of 1 lemon (or lime)
1/3 cup onion, chopped (mix of red and green onion)
2 cloves garlic, minced
3 tablespoons cilantro, chopped
salt and freshly ground black pepper to taste
Instructions
Add the chopped onion, minced garlic and chopped cilantro to a bowl
Pit the avocados and scoop out the avocado meat using a large spoon.
Place the meat in a mixing bowl.
Chop the avocado into small chunks
Pour the lemon juice over the avocado and stir
Lightly mash the avocado, leaving large chunks
Season with salt and freshly ground black pepper to taste