Hot Oatmeal Cereal
Yum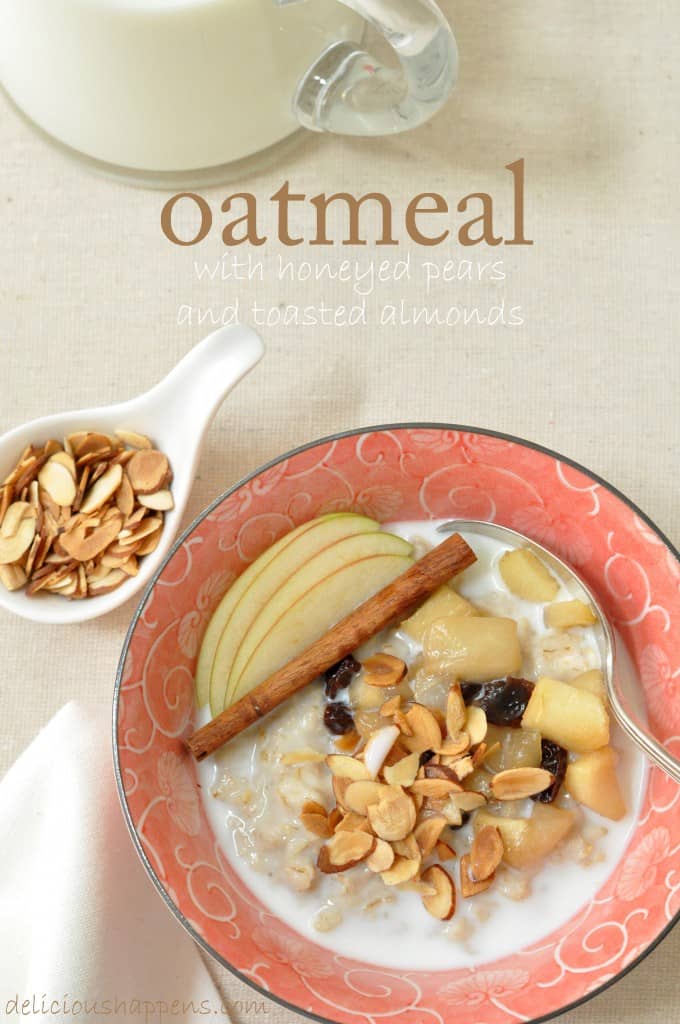 Oatmeal is the quintessential healthy breakfast cereal.  We all know the benefits of eating oatmeal (cholesterol lowering, etc).  When I eat hot oatmeal cereal (which is usually several times a week), I'll toss in a hand-full of fresh blueberries, with a drizzle of honey, a dusting of cinnamon, and a splash of milk.  But sometimes I feel like spiffing it up a bit so I'll make this oatmeal with honeyed pears and toasted almonds.   It takes a few minutes longer to make…but well worth the time and effort!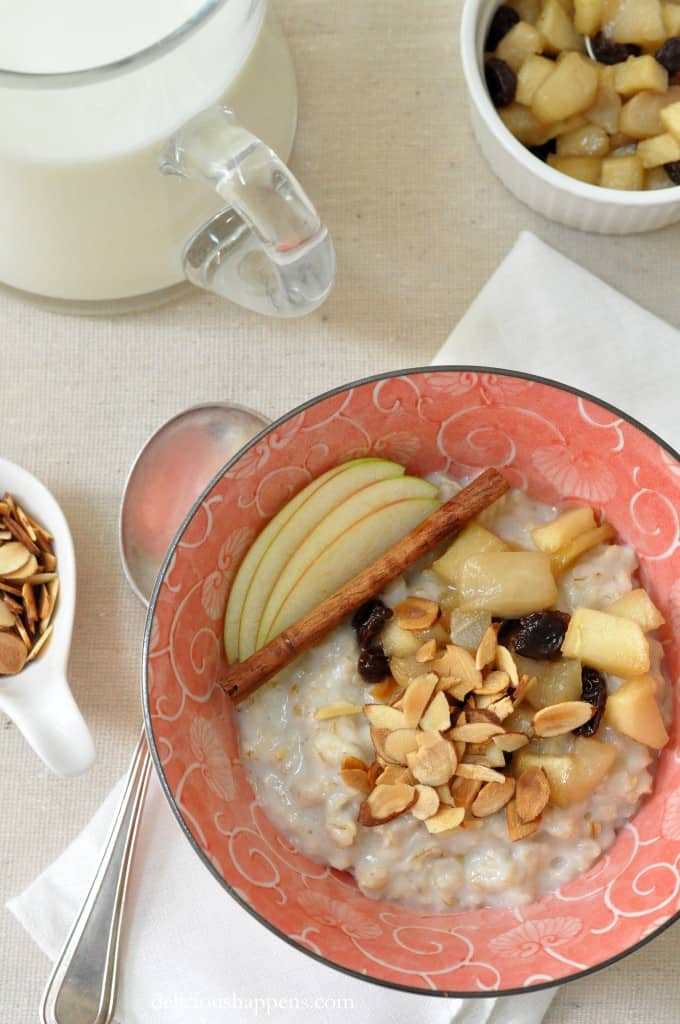 This Oatmeal with Honeyed Pears and Toasted Almonds is a great recipe to make on the weekends (when you have a little more time), or for a special occasion (like a brunch).
I hope everyone had a nice weekend!  I laid low – feeling under the weather with chills and all – no bueno!.  Going to eat a bowl of soup now.  Have a great Monday!
~ Deb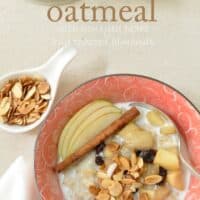 Hot Oatmeal Cereal
Yield: 2 - 4 servings
Total Time: 30 minutes
Ingredients:
3/4 cup low-fat organic milk
1 3-inch cinnamon stick
1-1/2 cups old-fashioned rolled oats
1 tablespoon coconut oil
2 pears (or apples), peeled, cored and chopped (about 2 cups)
2 tablespoons honey
1 tablespoon brown sugar
2 tablespoons raisins
2 tablespoons sliced almonds, toasted (or walnuts if you prefer)
Directions:
Add the milk and cinnamon stick to a small sauce pan and bring to a low boil. Remove from heat, cover with the lid, and let stand for 10 minutes.
In a medium saucepan, bring 3-1/2 cups distilled water to a boil.
Stir in the oats and reduce the heat to low.
Cook for about 10 minutes on low heat. Stir to keep the oats from sticking to the bottom of the pan.
Add the coconut oil to a separate saucepan over low heat. Add the pears, 1 tablespoon of the honey and the brown sugar.
Cook over medium heat until the sugar melts and starts to turn golden, about 2-3 minutes.
Add the raisins and stir. Remove from heat and set aside.
Strain the cinnamon-infused milk into the oatmeal. Add 1 tablespoon of honey and stir to combine.
Serve the oatmeal in bowls and top with the caramelized pears and toasted almonds.
Trackbacks/Pingbacks

Pingback: Friendly Friday #2 …

Leave a Comment