Crunchy Quinoa Tabbouleh Salad
Yum
This Crunchy Quinoa Tabbouleh Salad is loaded with parsley, green onion, mint, cherry tomatoes, cucumber, a bit of apple for sweetness and added crunch, and the typical bulgar is replaced with fluffy protein-packed quinoa.  The ingredients are tossed in a deliciously sweet lemon vinaigrette.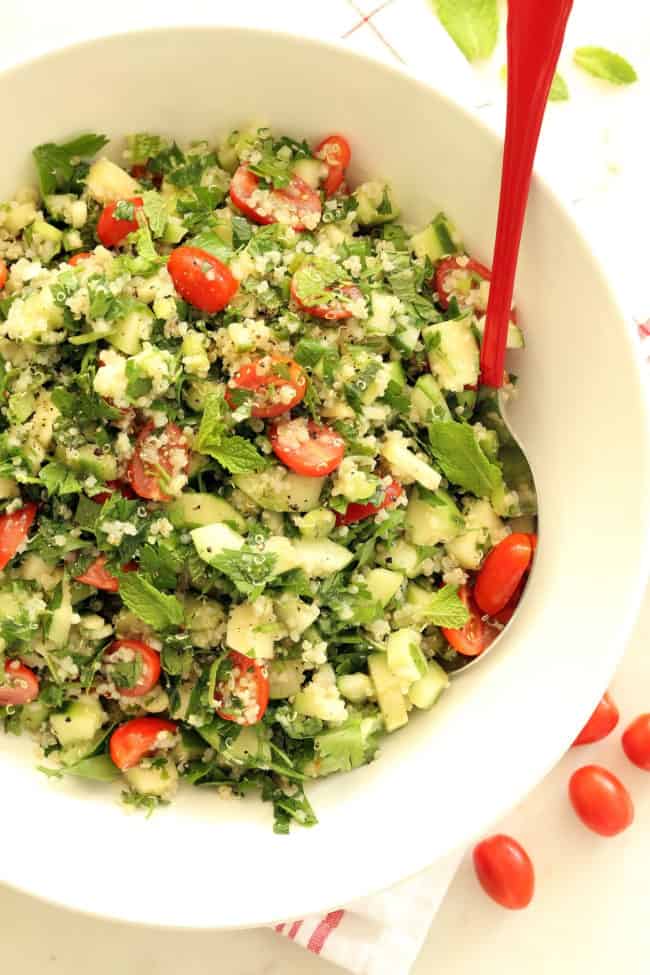 This Crunchy Quinoa Tabbouleh Salad gets an upgrade replacing the traditional bulgar wheat with quinoa.  The ingredients are tossed in a addictive slightly sweet and lemony vinaigrette.  The dish makes a delicious vegetarian meal or a sensational summer salad.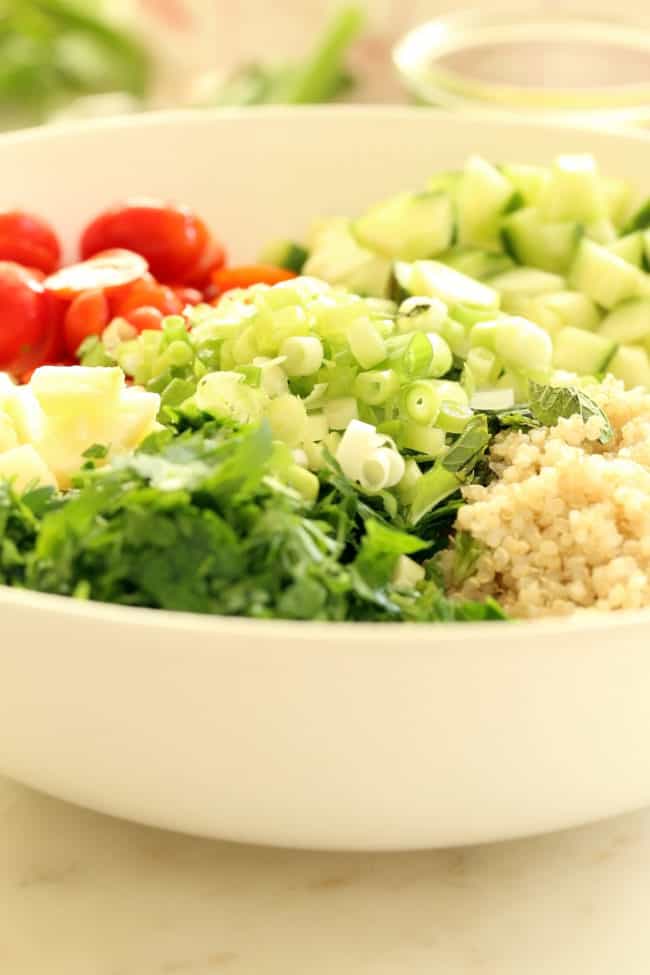 I find most tabbouleh salads to be a tad on the dry and bitter side, tending to taste a bit like what freshly mowed lawn smells like.  But this Quinoa Tabbouleh Salad recipe is made with fluffy quinoa in lieu of the traditional bulgur wheat (so it's gluten free), and I add a little more moistness, sweetness, and crunch to liven things up a bit.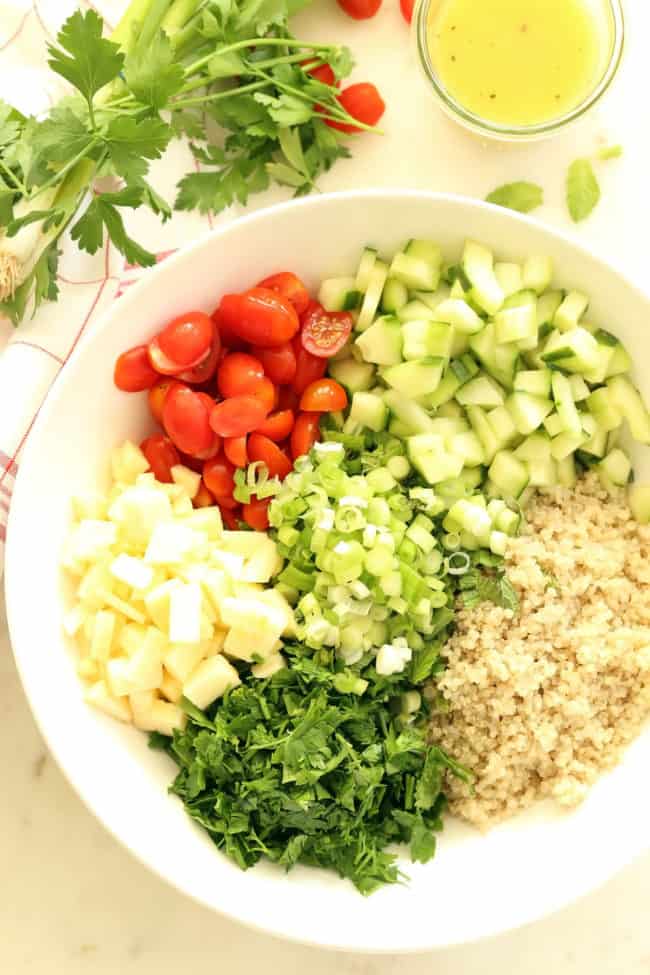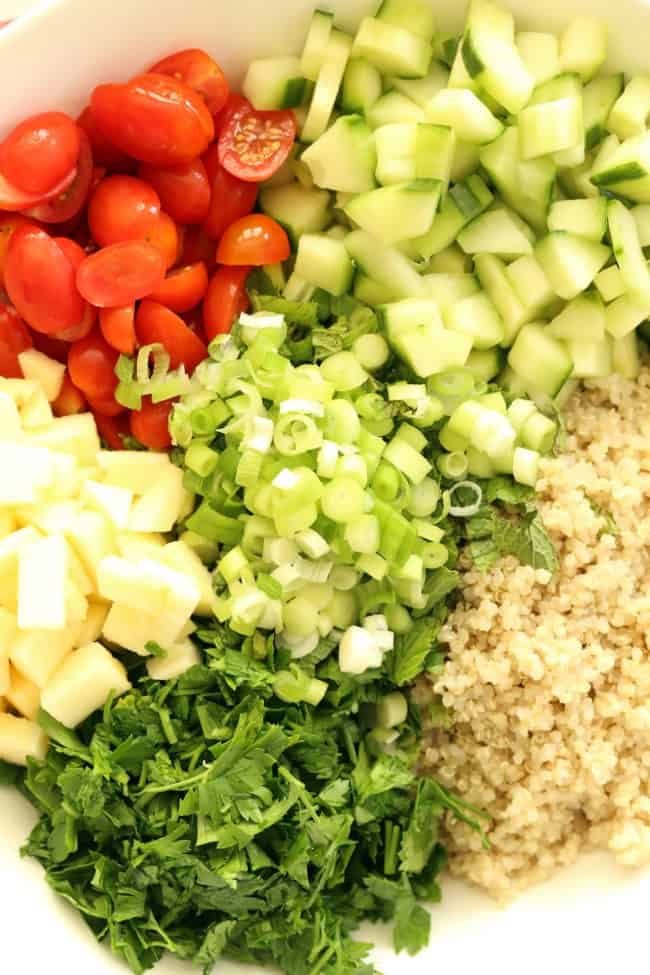 The ingredients in tabbouleh offer many nutritional benefits (anti-inflammatory and rich with antioxidants), but it has to taste good in order for me to reap the rewards.  I decided to add apple to this salad to give it a kiss of sweetness and added crunch, and I add a little honey to the olive oil and lemon making it a slightly sweet dressing to toss the ingredients in.  There's a lot of good reasons to eat tabbouleh. This is a great detox salad recipe that's loaded with parsley which detoxes the kidneys, and the lemon in the dressing draws toxins away from the liver.  You can read more here about the benefits of parsley and here about the benefits of quinoa.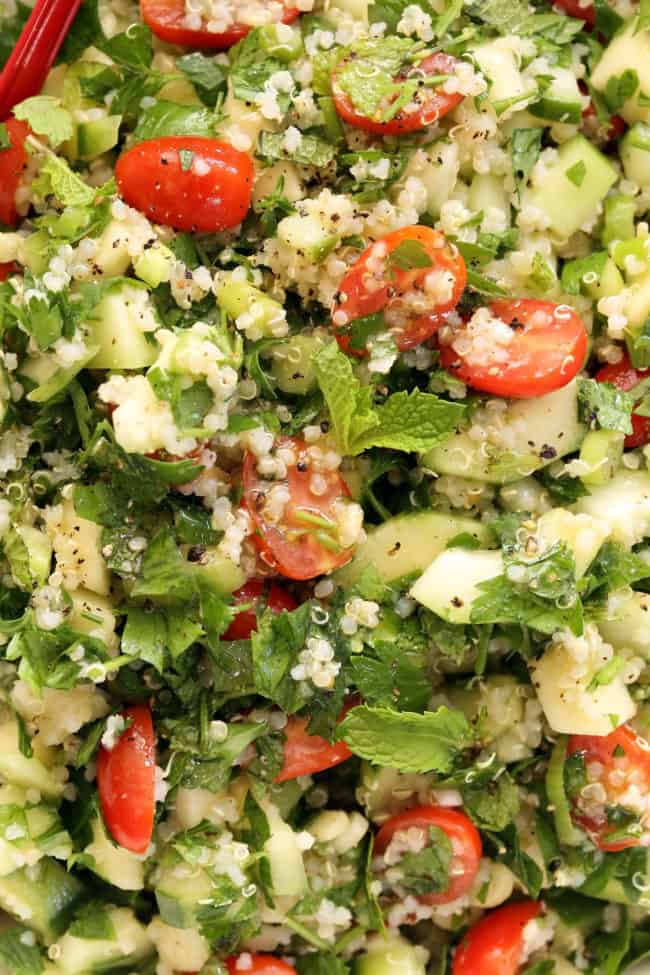 This twist on tabbouleh featuring quinoa rather than bulgar is a protein-packed and gluten-free dish that you can enjoy as a vegetarian meal on its own, or it makes a popular side dish or salad to whip up any night of the week.
~ Deb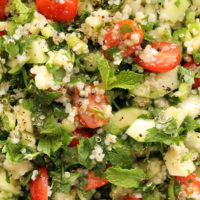 Quinoa Tabbouleh Salad
Yield: Serves 6 - 8
Total Time: 30 minutes
Ingredients:
1 cup cooked quinoa (equal to about 1/2 cup dried quinoa)
1 cup flat-leaf parsley, chopped (about 1 bunch)
2 tablespoons fresh mint, chopped
1 cup cherry, baby heirloom, or teardrop tomatoes, cut in half lengthwise
3 scallions, sliced - white and light green parts only
3/4 cup Persian cucumber, peeled, seeded, and chopped
1 Granny Smith apple, peeled, cored, and chopped
1/2 cup extra-virgin olive oil
1/3 cup freshly squeezed lemon juice
2-3 tablespoons clover honey
1 teaspoon Dijon mustard
1/2 teaspoon sea salt
freshly ground black pepper to taste
Directions:
Cook the quinoa according the package.
After the quinoa has finished cooking and you've turned the heat off, add the minced garlic and put the lid back on the pot.
After the quinoa has cooled, you'll add it to the other ingredients.
In a large bowl, combine the parsley, mint, tomatoes, scallions, cucumber and apple.
In a separate small bowl, mix the olive oil, lemon juice, salt and pepper and mix well.
Add the cooled quinoa to the parsley mixture and toss.
Add the olive oil-lemon mixture to the tabbouleh salad and toss to coat well. Refrigerate for an hour and serve chilled.
Leave a Comment