Creamy Cauliflower White Bean Soup
Yum
This Creamy Cauliflower White Bean Soup is a perfect winter soup that's loaded with cauliflower, carrots, celery and onion.  Blended white beans are used to thicken this soup in lieu of milk or cream.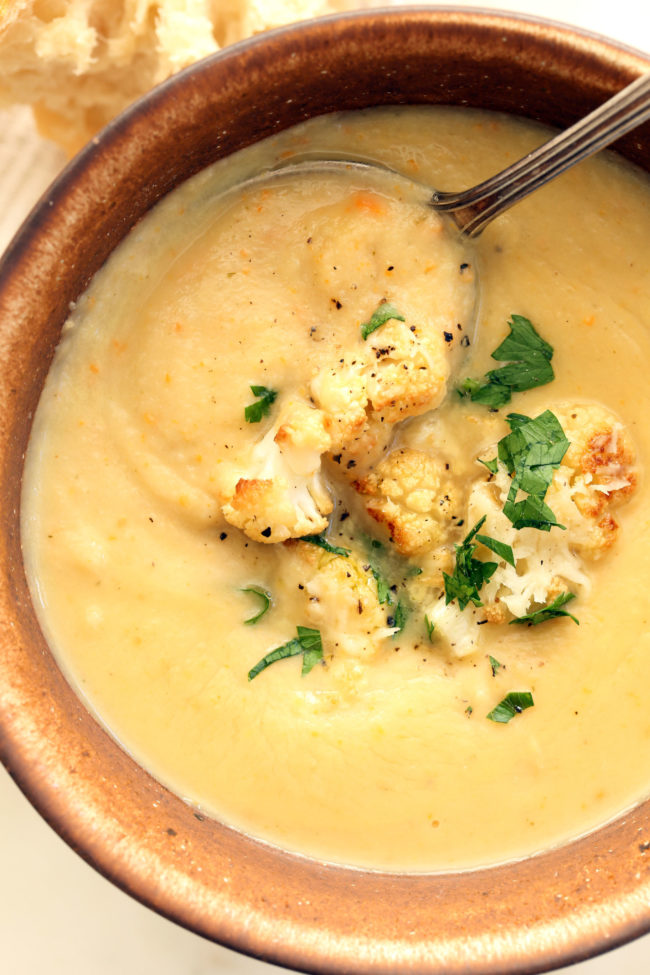 This Creamy Cauliflower White Bean Soup  is a quick and richly flavored pot of soup that makes for a perfect winter meal.  Just serve with warm crusty bread and a big green salad.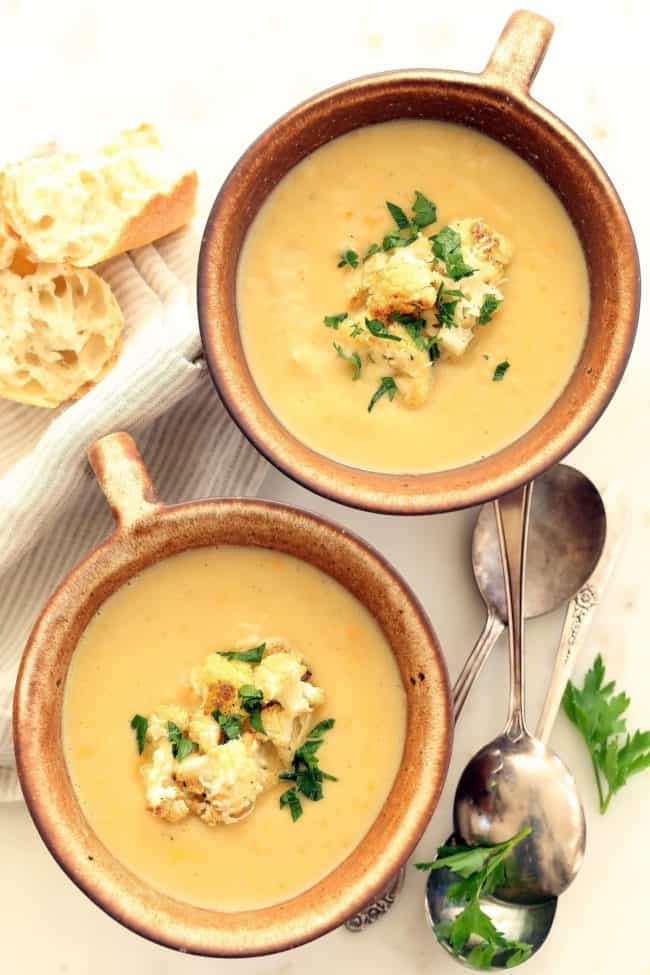 It's officially soup season in my house! Just like I love my salads in summer – I love making a variety of soups in the winter.  They're quick and easy to make.  They're nourishing and comforting.  And I love having a big pot simmering on my stove making my house smell gorgeous!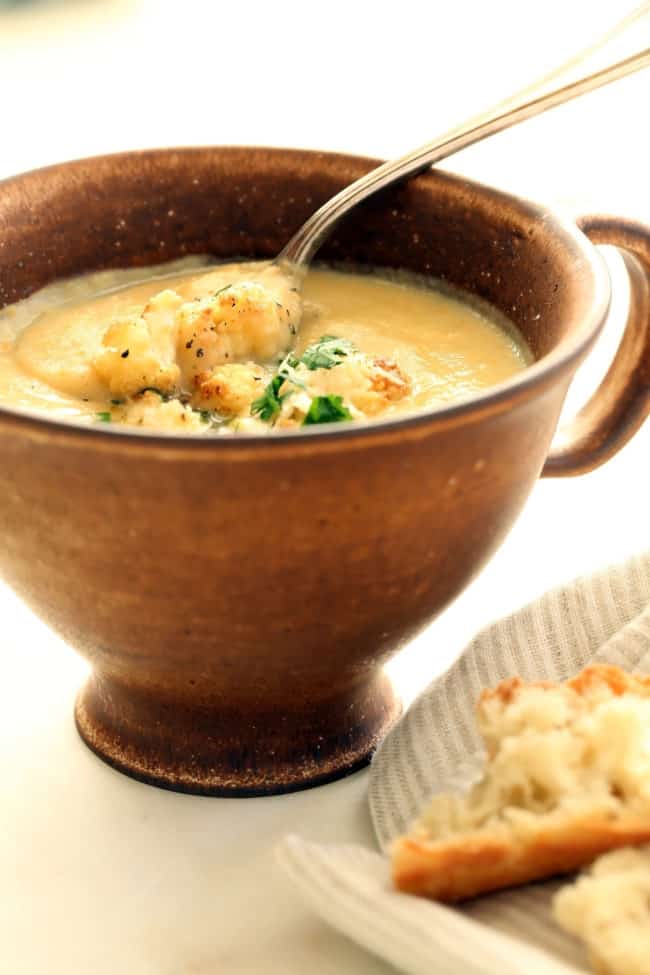 So lets unpack the health benefits of eating beans.  White beans such as cannellini (like other legumes) are an incredible part of a healthy diet because they provide you with a high protein and fiber content without overloading a meal with calories.  Cannellini beans are most often found dried and can be used in a variety of dishes, but I've used canned here for convenience.  Here's just a few good reasons to eat your legumes.
Regulates blood sugar
White beans (like other legumes) help reduce the risk of diabetes due to their fiber content.
Promotes a healthy heart
White beans (like other legumes) are a rich source of folate or folic acid.  Folate reduces the levels of the amino acid homocysteine in the bloodstream.  Elevated levels of homocysteine circulated in our blood increases our risk for heart attack and stroke.
Antioxidants
White beans (like other legumes) are rich in antioxidants.
Rich in Fiber
White beans (like other legumes) contain both soluble and insoluble dietary fiber.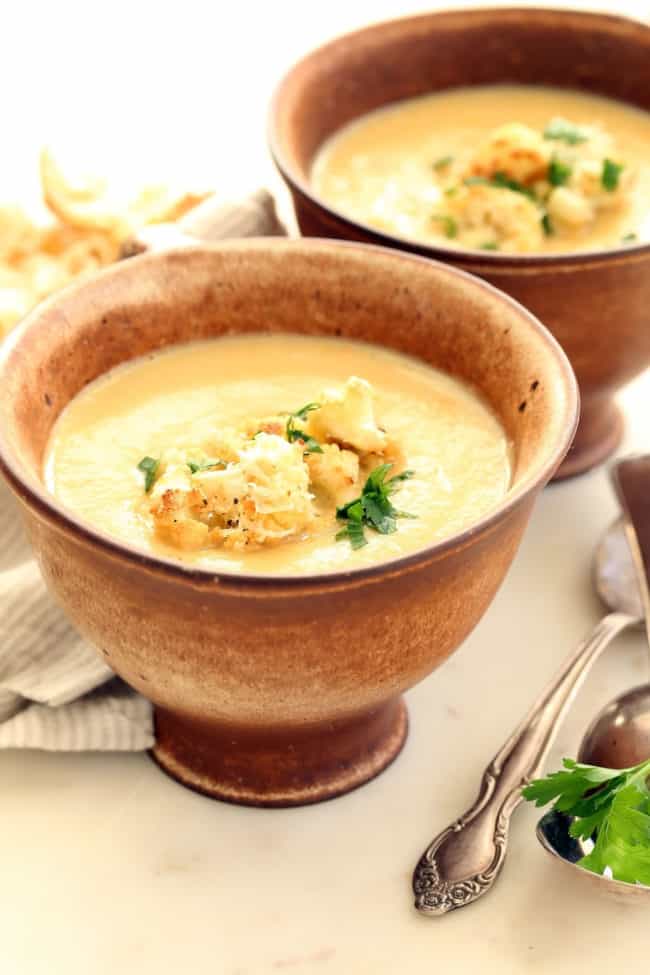 This healthy cauliflower soup is simmered with a small chunk of Parmesan cheese in the pot.  It adds a really nice flavor! Another little tip – I grate the carrot for this soup, rather than chopping.  And I garnish this soup with Parmesan Cauliflower "croutons".  Small pieces of cauliflower are roasted in the oven with a wee bit of olive oil and garlic, then tossed in Parmesan cheese – like Garlic Parmesan Roasted Cauliflower recipe.
I love how humble ingredients like these can pull together to create something so incredibly luscious like this Creamy Cauliflower White Bean Soup!
~ Deb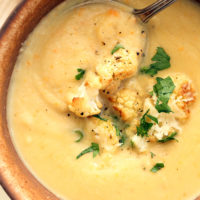 Creamy Cauliflower White Bean Soup
Ingredients:
1 large head cauliflower, florets and stems (about 6 cups), reserve about 1 cup for roasting to garnish
2 tablespoons olive oil
1 onion, peeled and chopped
2 celery stalks, chopped
1 carrot, peeled and grated
2 cloves garlic, peeled and smashed
1 (14.5 ounce) can white beans, rinsed and drained (I use cannellini beans)
1 quart reduced-sodium vegetable broth
1 tablespoon fresh thyme leaves (or 1 teaspoon dried leaves)
1 1-inch chunk Parmesan cheese
salt and freshly ground black pepper to taste
Directions:
Chop the cauliflower into florets into bite-size pieces, keeping some stems and discarding any tough parts.
Heat the olive oil in a medium pot over medium heat. Add onion, celery and carrot.  Saute for about 5 minutes.
Add the cauliflower and garlic, and stir to coat.
Add beans, broth, thyme and Parmesan cheese wedge and bring to a simmer, then reduce heat to low.
Simmer on low for about 15 - 18 minutes, or until cauliflower is soft.
Season with salt and freshly ground black pepper to taste.
Purée with an immersion blender (or slightly cool and blend in a stand blender).
Serve soup topped with roasted Parmesan Cauliflower croutons.
Garnish with freshly chopped parsley.
Leave a Comment