Coconut Curry Soup with Chickpeas
Yum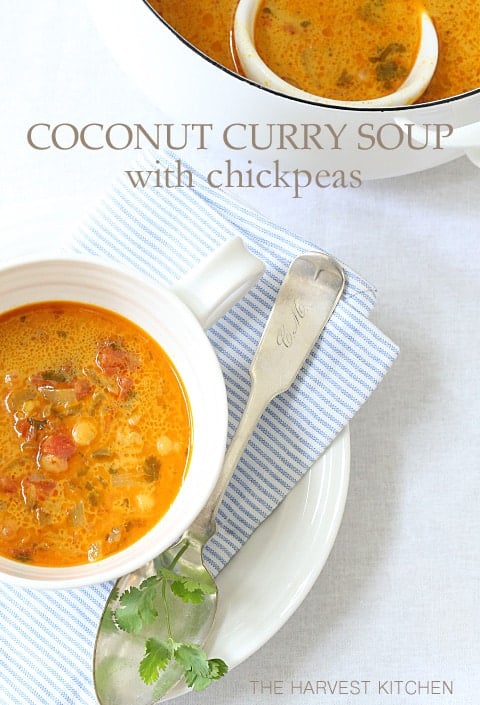 I know….I know.  Another soup recipe.  But….I love soup!  It's one of my favorite things to make…..and it's one of my favorite things to eat.  This coconut Curry Soup with Chickpeas is a riff on Pita Jungle's coconut curry soup recipe.  And it's so easy to make!  You're going to love this soup!!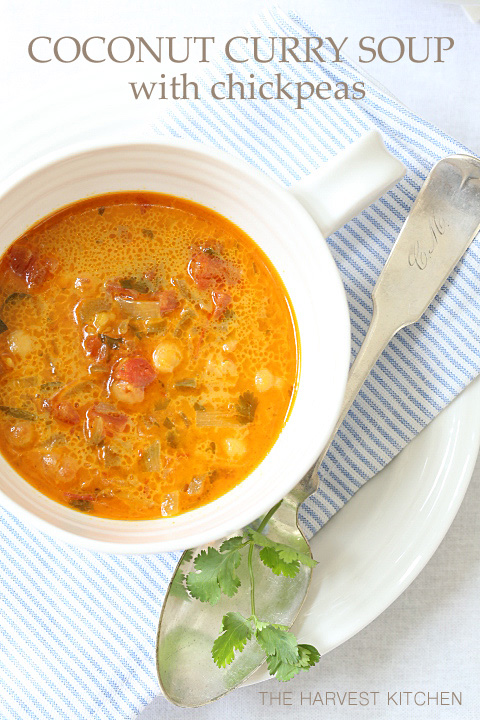 Pita Jungle isn't exactly generous when it comes to rationing out chickpeas in their soup.  But this soup is loaded with goodness that you can sink your teeth into!  This soup is also a great immune support tonic with all of the onions, ginger, turmeric, curry, and tomatoes it's got going for it!  And the flavor.  Oh my goodness….where do I even begin to tell you how wonderful this flavor is!?  But I love coconut curry and this and this are two of my favorites!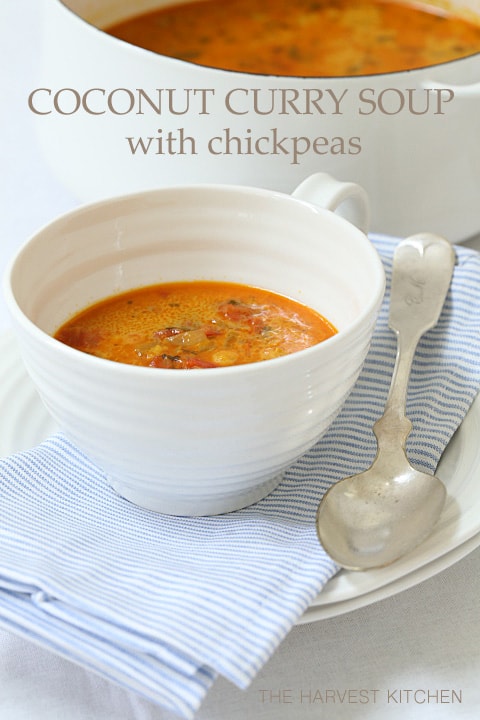 This soup is rich and hearty….it's earthy and comforting, and it has a wee bit of a kick to it.  But just a wee bit!  I'm a wimp when it comes to spicy foods – but I love the added spice to this soup.  If you're not sure you want to add all of the jalapeno, then only add half of it, but the added jalapeno really adds to the depth of flavor in this soup.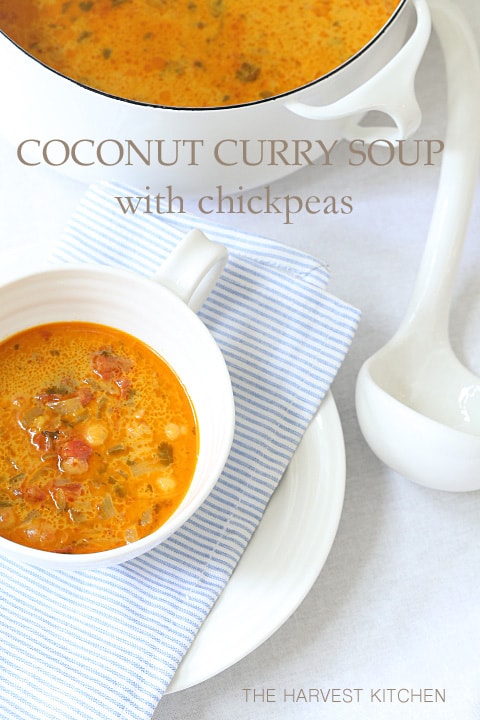 This is such an easy coconut curry soup recipe  (you'll love how quickly it comes together) and it's so worth making!!  I really hope you love this Coconut Curry Soup with Chickpeas as much as I do!!
~ Deb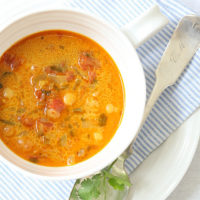 Coconut Curry Soup with Chickpeas
Yield: 4 servings
Total Time: 30 minutes
Ingredients:
3 tablespoons coconut oil or extra-virgin olive oil
1 teaspoon ground cumin
1 teaspoon ground turmeric
1 small onion, finely chopped
1 jalapeño, finely minced
1 heaping tablespoon fresh ginger root (1-inch piece), peeled and finely minced
2-3 tablespoons fresh cilantro, chopped
1 tablespoon red curry paste (add more for taste if desired)
3 Roma tomatoes, seeded and finely chopped
1 14-ounce can chickpeas, rinsed and drained
1 14-ounce can organic coconut milk (regular)
4 cups low sodium vegetable broth
Directions:
Add the oil to a stockpot over medium high heat.
Add the cumin and turmeric and let sizzle for a minute until fragrant.
  Add the onion and jalapeño and saute for 4-5 minutes or until onions turn soft and golden.
Add the ginger, cilantro and curry paste and cook for another minute.
Add the tomatoes, chickpeas, coconut milk and broth.
Bring to a simmer, then lower heat and cook for another 10-15 minutes until the chickpeas turn soft.
7 Responses to "Coconut Curry Soup with Chickpeas"
Leave a Comment