Chicken Chimichurri Cocktail Meatballs
Yum
These crowd-pleasing Chicken Chimichurri Cocktail Meatballs are guaranteed to be a hit at your next party!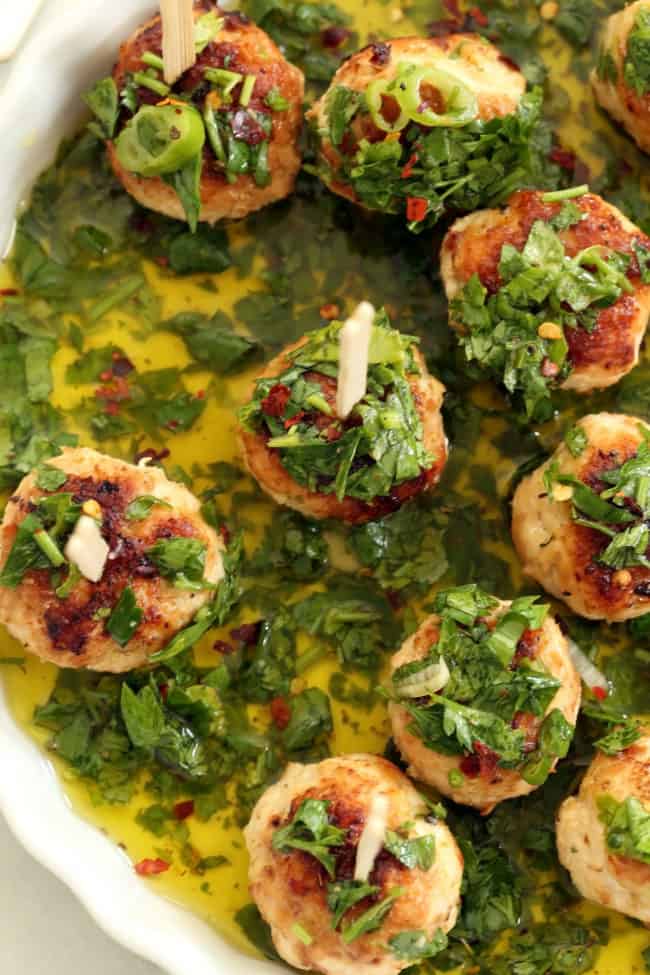 These Chicken Chimichurri Cocktail Meatballs are sure to be a hit at your next party, whether it's an actual holiday cocktail party, an intimate gathering, or to serve the men in your life while watching football on Sundays.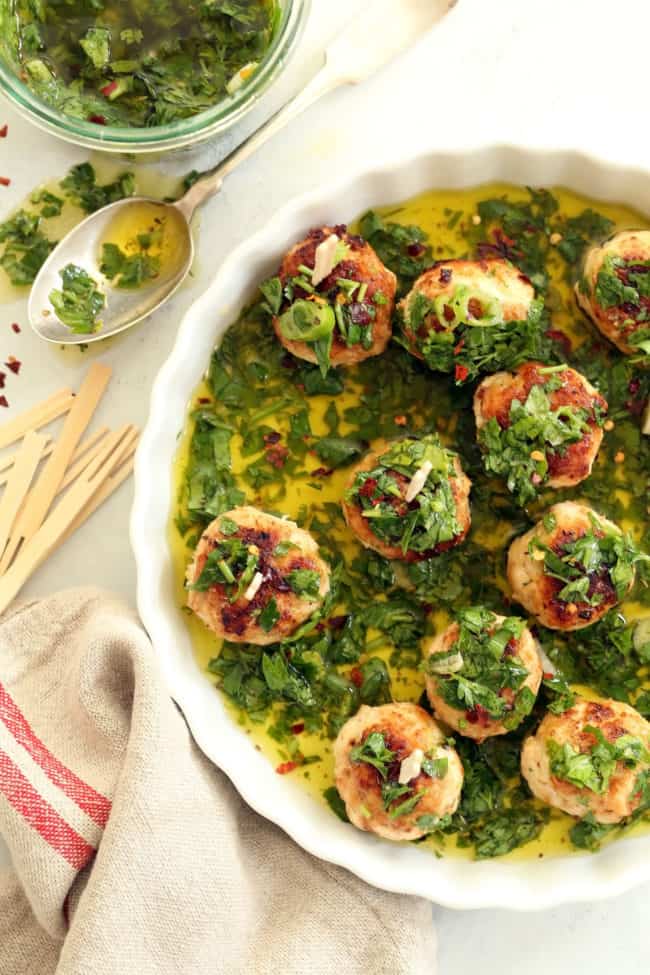 A friend of mine shared this easy cocktail meatball recipe with me, and I've followed it to the t… almost.  I've switched things up just a bit by adding a little cilantro to the chimichurri sauce, only because I love the flavor of cilantro so much that I thought it would be a nice addition.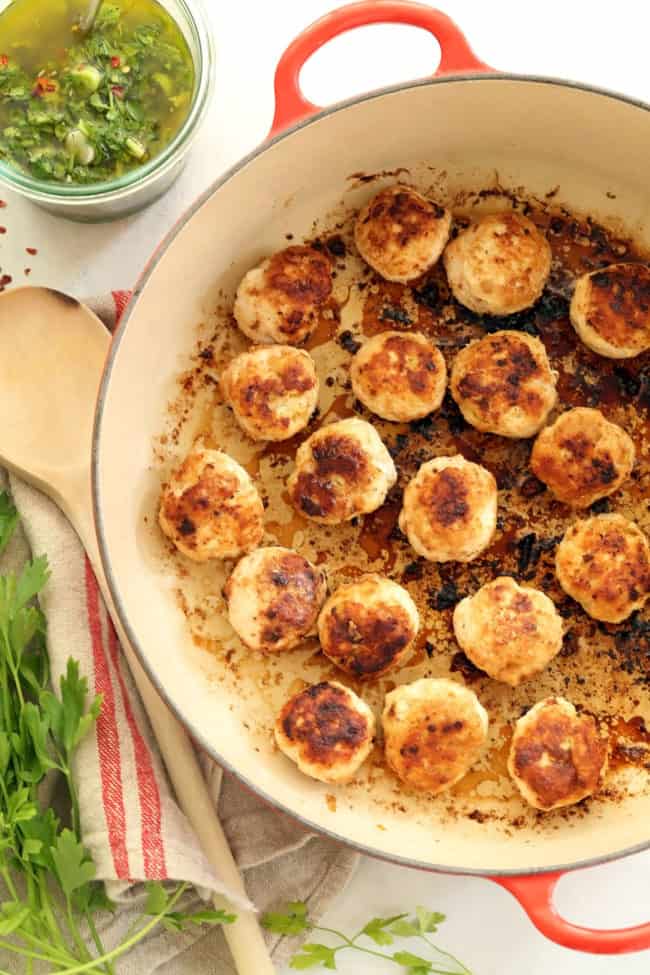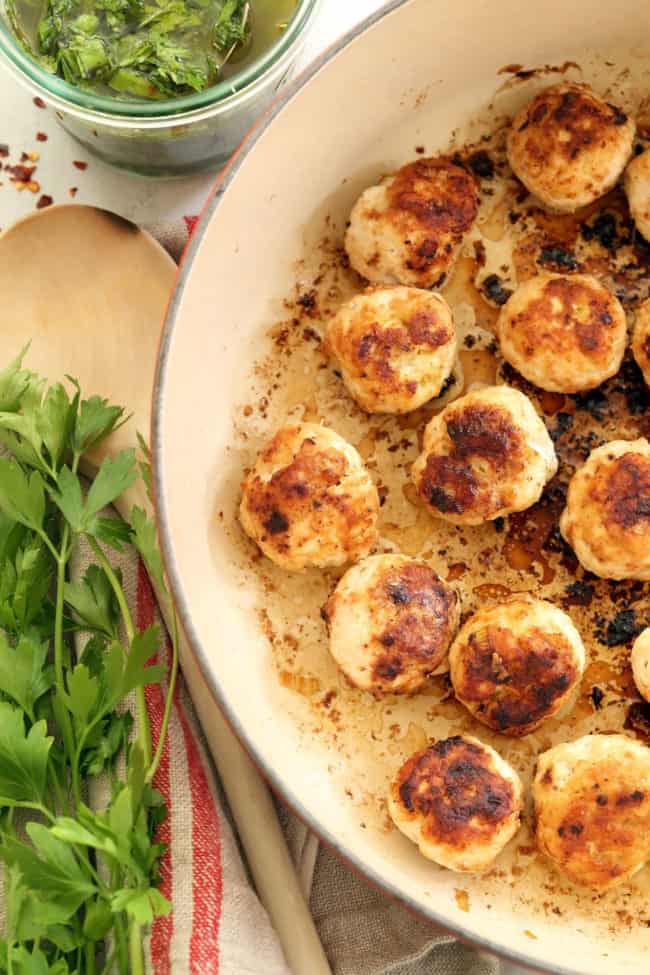 I also sub the sugar that's called for with a touch of honey in the chimichurri sauce. And I've gone with ground chicken in lieu of ground beef or pork to keep things on the healthier side (and besides I don't eat red meat or pork).
These healthy cocktail meatballs are super easy to make, and in my opinion, they're more elegant than the typical sweet and sour syrupy version. The meatballs are light and flavorful and I love the chimichurri sauce!  One of the nice things about these meatballs is you can prepare ahead of time and either store in the fridge or freezer.  Then heat before serving.   
I highly recommend these Chicken Chimichurri Meatballs for your next party, however big or small; casual or formal.
And I apologize for the silence this past week!  My computer got itself stuck in the automatic repair mode.  Thank goodness for Geek Squad!
~ Deb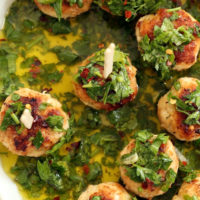 Chicken Chimichurri Cocktail Meatballs
Yield: 4 dozen meatballs
Total Time: 1 hour
Ingredients:
Chimichurri Sauce
1 bunch parsley, finely chopped
1/2 cup cilantro, finely chopped
1 cup extra-virgin olive oil
1/2 cup red wine vinegar
2 teaspoons pure clover honey
1 teaspoon red pepper flakes
juice and zest of 1 lemon
salt and freshly ground black pepper to taste
Chicken Meatballs
1-1/2 pound ground chicken
1/4 cup dried bread crumbs
3 tablespoons scallions, minced
1 clove garlic, finely minced
1 raw egg
1 teaspoon each salt and freshly ground black pepper
Directions:
Chimichurri Sauce
In a medium size bowl, blend all of the ingredients for the chimichurri sauce.
Refrigerate for up to 1 hour before serving.
Chicken Meatballs
Add the ground chicken, bread crumbs, scallions, garlic, and egg to a medium size bowl. Add salt and freshly ground black pepper. Gently blend the meatball ingredients - making sure not to overwork the meat (or you'll have tough meatballs). Form the meat into 1 inch balls. Heat 1-2 tablespoons extra-virgin olive oil in a large skillet or Dutch oven. Add the meatballs and fry on low heat for about 5 - 7 minutes or until lightly browned and cooked through.  Cook in batches. To assemble, pour half of the chimichurri sauce onto a platter.  Transfer the meatballs to the platter and spoon the remaining chimichurri sauce over the meatballs.   Insert toothpicks.
Leave a Comment