BBQ CHICKEN SALAD
Yum
This BBQ Chicken Salad is a crowd-pleaser with tender chunks of BBQ chicken, black beans, avocado, tomatoes, fresh corn cut from the cob, cilantro,  black olives and romaine lettuce all tossed in a delicious light ranch dressing.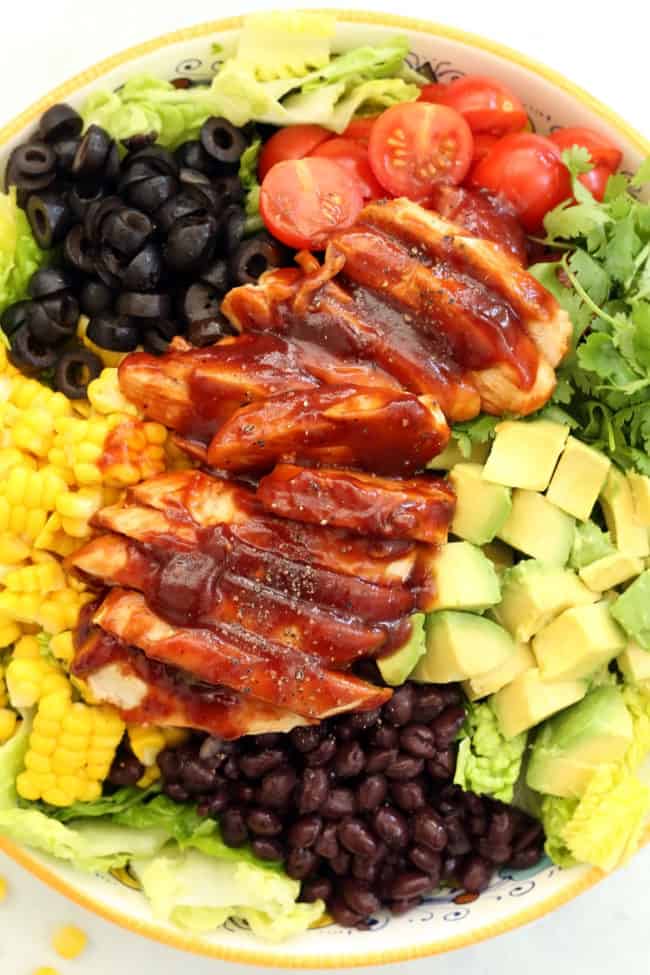 This BBQ Chicken Salad combines crunchy romaine lettuce with BBQ chicken, corn cut from the cob, black beans, avocado, cilantro, cheddar cheese, and black olives, all tossed in a light ranch dressing.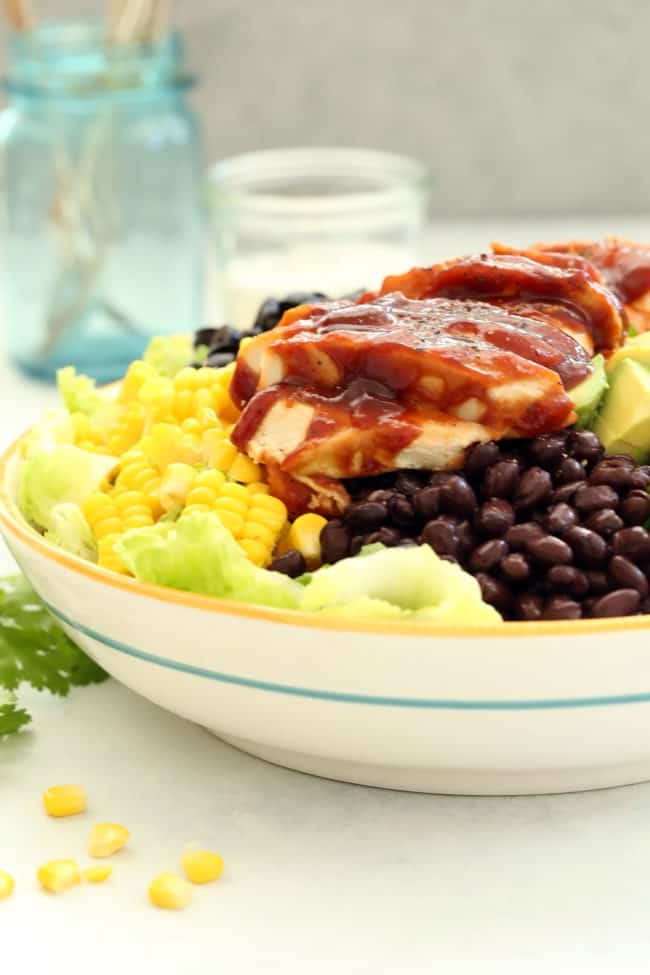 This hearty BBQ Chicken Salad is my family's absolute favorite salad. I love salads like this that are chock-full of fresh, vibrant, and flavorful ingredients that blend beautifully together to make a satisfying meal. In lieu of the chicken with barbecue sauce, you could  go vegetarian and toss some chickpeas in BBQ sauce and mix in the salad.  You can also add some onions, green or red, some tortilla strips, corn bread croutons.  Or instead of the ranch dressing, go with this killer Creamy Cilantro Salad Dressing (my friend, Cathe's and my favorite – a riff on El Tortito Grill's dressing) or this Avocado Citrus Vinaigrette.  My personal favorite though – is with the ranch.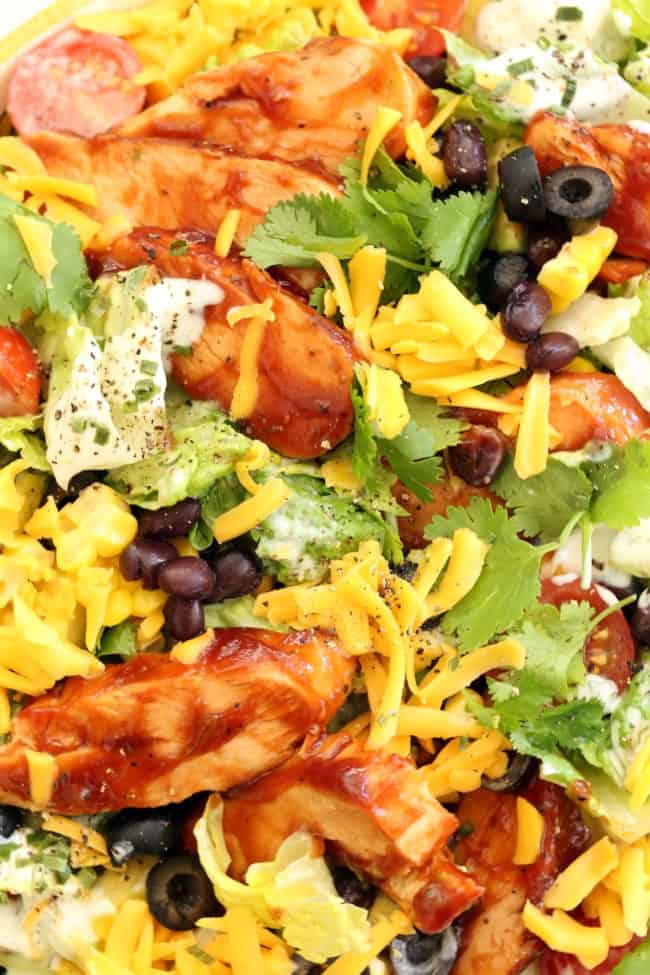 This barbecue chicken salad is easy to put together, and it's a wonderful dish to make when you need to feed a crowd. Just make sure to add the ranch dressing at the last minute before you serve, otherwise your lettuce will turn soggy on you. Serve this southwest barbecue chicken salad with lots of hot, fluffy cornbread.  Or make cornbread croutons to toss in the salad and wow your guests.
This just might be the best BBQ Chicken Salad recipe you've ever tried!
~ Deb
Note:  This recipe was originally published April 16, 2012.  I've tweaked the recipe and added new photos here.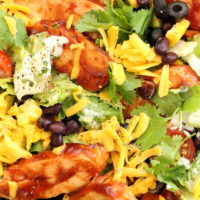 BBQ Chicken Salad
Yield: 4 - 6 Servings
Total Time: 30 minutes
Ingredients:
4 large free-range chicken breasts, grilled, baked or broiled
1 cup barbecue sauce (I like Sweet Baby Rays)
1 cup Ranch Dressing
2 cups corn kernels (fresh or frozen)
1 tablespoon canola oil
2 15-ounce cans black beans
1 cup tomatoes, diced
1 cup cherry tomatoes, sliced in half
2 large heads of romaine lettuce, chopped
2 large ripe avocados, chopped
2 cups black olives
1-1/2 cups medium sharp cheddar cheese, shredded
1-1/2 cups fresh cilantro, coarsely chopped
1 cup homemade ranch dressing
Ranch Dressing
1/2 cup mayonnaise (I use Best Foods olive oil mayo)
1/2 cup plain Greek yogurt
1 cup buttermilk (add more for desired consistency)
1/2 teaspoon dried parsley
1/2 teaspoon dried chives
1/4 teaspoon garlic powder
1/4 teaspoon onion powder
1/8 teaspoon ground black pepper
1/8 teaspoon sea salt
Directions:
In a large bowl, toss the black beans, tomatoes, olives, cheese, cilantro, and Romaine Lettuce. Add the Ranch Dressing a little at a time to lightly coat. Don't drown the salad…you want to serve it with forks, not spoons.
Grill the chicken on a barbecue, grill, or under the broiler, about 20-30 minutes depending on size and thickness. Brush barbecue sauce over the chicken. Remove from heat and set aside. Slice the chicken into strips lengthwise.
Arrange the salad on plates and top with the chicken strips.
Ranch Dressing
In a bowl, whisk together the mayonnaise, herbs and spices. Add the buttermilk and mix well. Refrigerate for 1 hour before serving.
Leave a Comment