Almond Milk Popsicles
Yum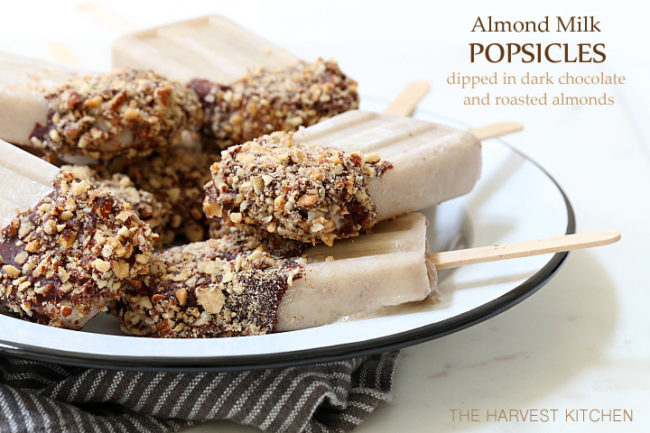 This post is brought to you by Blue Diamond Almond Breeze Almondmilk.
Hellooooo summer!!!  I am so glad you're here!!  And what better way to start the summer off than with Almond Milk Popsicles dipped in dark chocolate and roasted almonds!?
I had breakfast yesterday at the beach with my favorite peeps! We dined on the sand – fed the birds, watched the waves and took in the ocean air. It was a perfect relaxing way to start the weekend!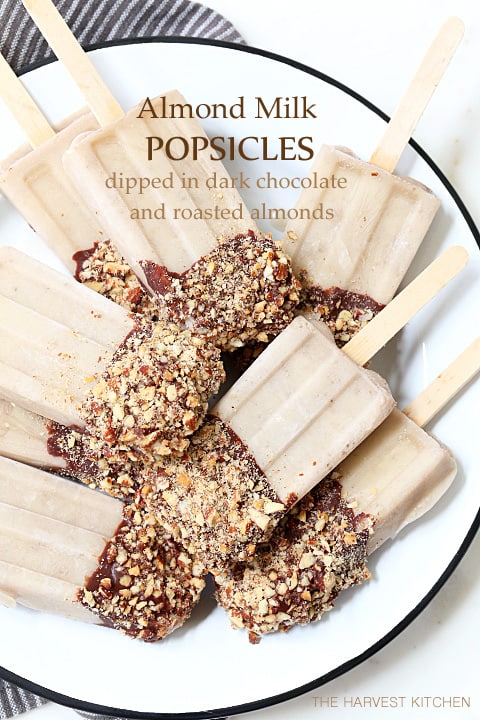 Then I went home and made these popsicles.   When I was growing up – we would spend a lot of time on Balboa Island during the summers…. I always got my bathing suits at a little shop called the Persimmon Tree (which is still there), and we always got either Balboa Bars or frozen bananas. A Balboa Bar is a wedge of vanilla ice cream on a stick – dipped in chocolate – then dipped in your favorite topping (nuts or sprinkles).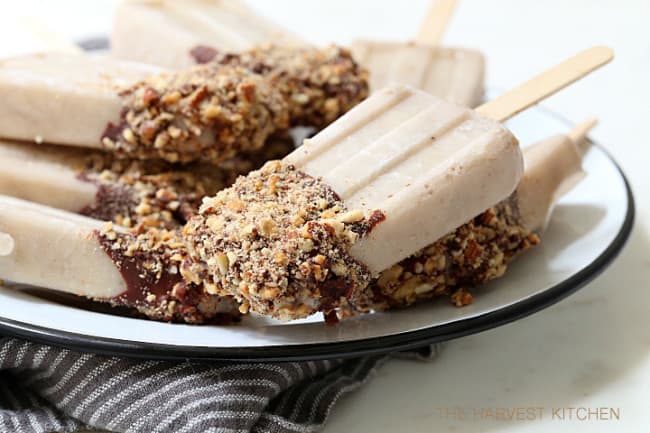 So I wanted to make a healthier version of Balboa Bars to usher in Summer 2016.  These Almond Milk Popsicles are made with Blue Diamond Almond Milk, some almond butter and bananas, then dipped in dark chocolate and roasted almonds.  The thing that's so great about these healthy popsicles – is you can eat as many as you want without an ounce of guilt…. and without losing any sleep over fitting into your swimsuit!
You can puchase the popsicle molds here Progressive Freezer Pop Maker
~ Deb
This is a sponsored post in partnership with Blue Diamond Almond Breeze Almondmilk.  All opinions are my own!  Thank you for continuing to support the brands that help make this site possible!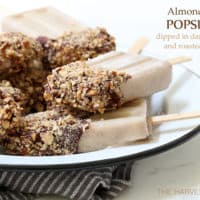 Almond Milk Popsicles
Yield: 8 servings
Prep Time: 10 minutes
Total Time: 4 hours 10 minutes
Ingredients:
For the Popsicles
1-1/2 cups Blue Diamond Almond Milk
1 cup plain Greek yogurt
1/2 cup creamy almond butter
2 ripe bananas
2 teaspoons pure vanilla extract
For the Chocolate Sauce
12 ounces dark chocolate
2 tablespoons coconut oil
1 cup roasted almonds, finely ground in a food processor
Directions:
For the Popsicles
Mix all ingredients in a blender and carefully pour into popsicle molds.
To remove the popsicles from the molds,  run the plastic part of the mold under hot water for a few seconds.
For the Chocolate Sauce
Combine the chocolate and coconut oil in a saucepan over medium-low heat.  Stir frequently to keep from scorching.  When the chocolate has completely melted, remove from heat and set asid.  Cool the chocolate completely before using.
Dip each popsicle in the melted chocolate then dip in the ground nuts.  Place in a freezer bag and return to the freezer.
6 Responses to "Almond Milk Popsicles"
Leave a Comment