Vegetarian Mulligatawny
This post may contain affiliate links.
This Vegetarian Mulligatawny is a rich and hearty soup. It's a quick and easy coconut curry soup recipe you can make any night of the week.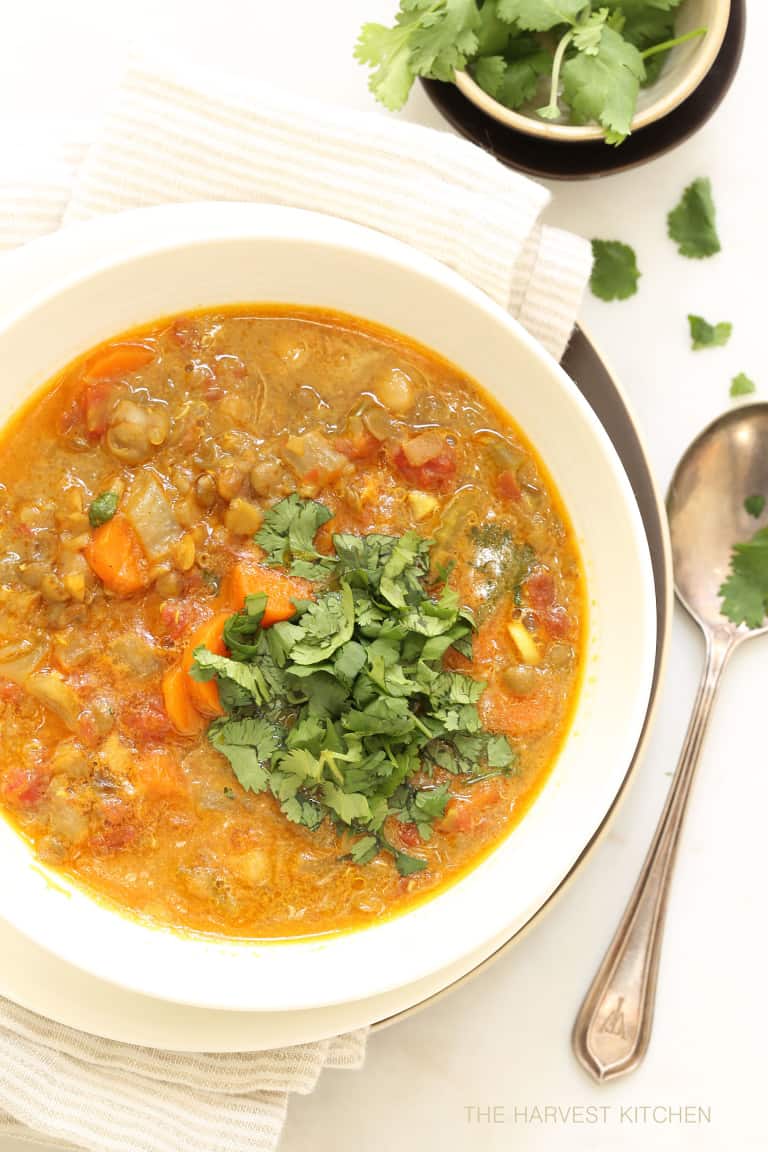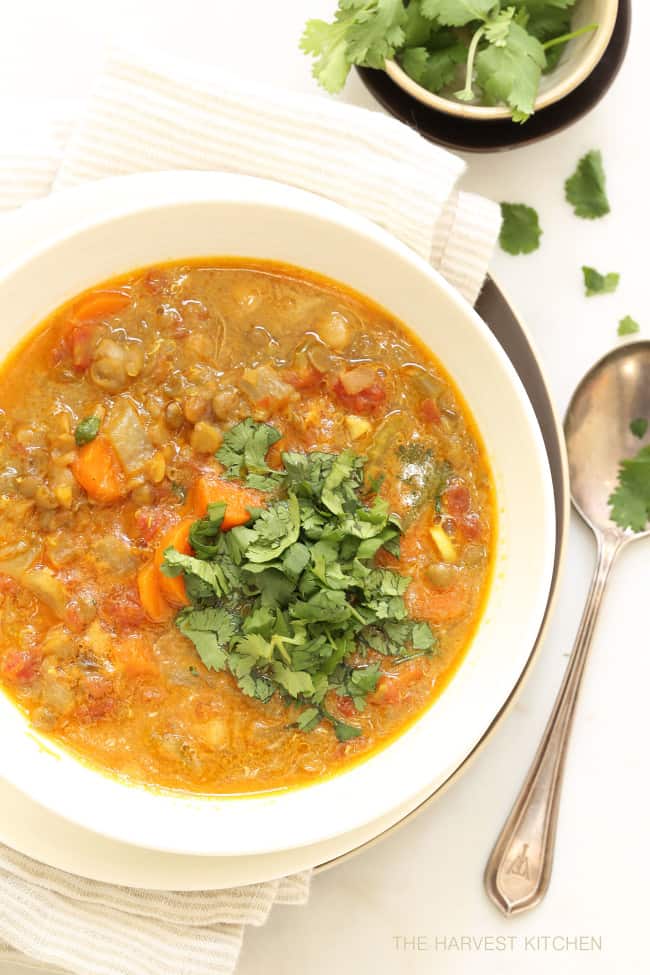 CURRY LENTIL SOUP
Mulligatawny Soup is a good, hearty, stick-to-your-ribs curry lentil soup that has an amazing combo of flavors.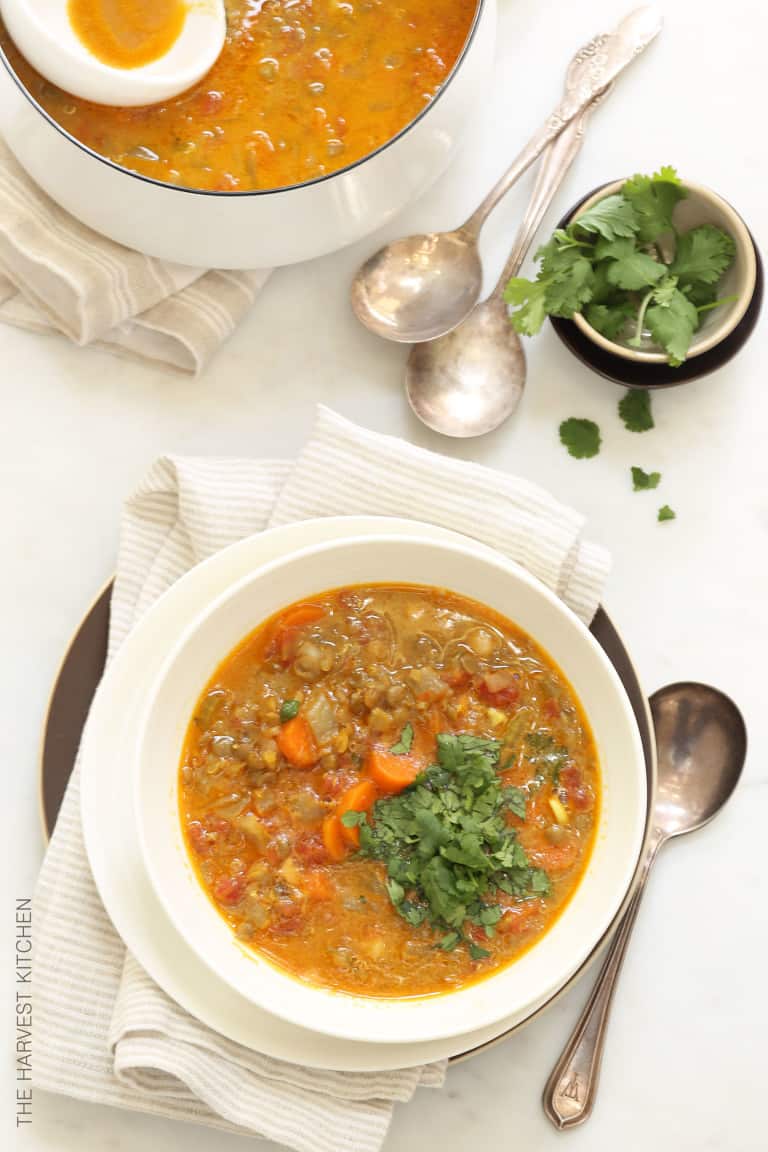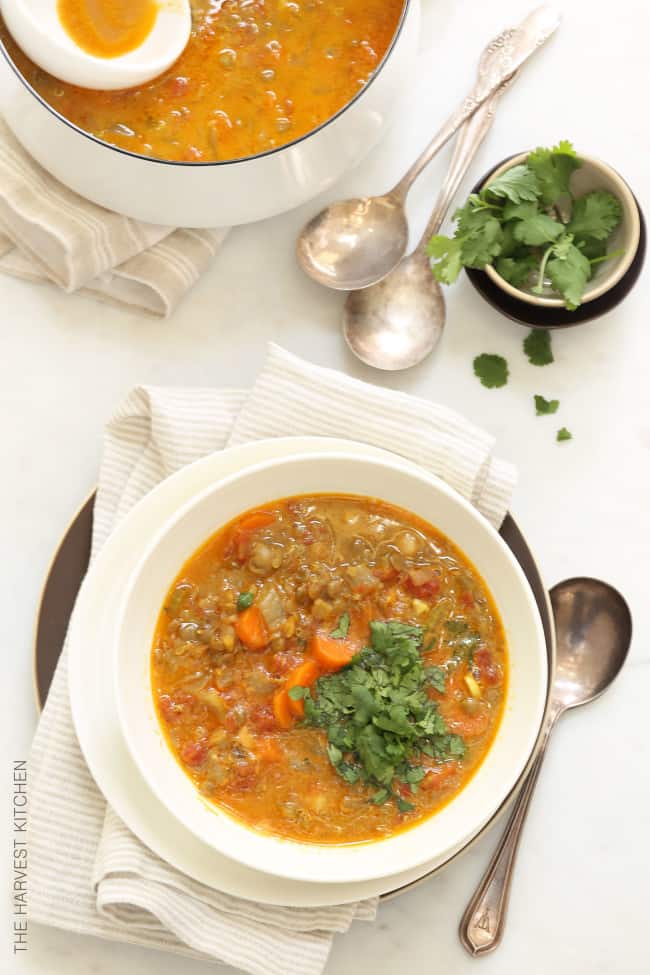 Mulligatawny is an Indian inspired curry soup that's typically made with chicken and rice and chopped pieces of apple. At first, the apple notion caused a little pause and head-scratching on my part. But for this recipe, I went with grated apples instead of chopped. The grated pieces of apple blend-in better with all of the other ingredients and they provide a subtle kiss of sweetness.
CURRY LENTIL SOUP RECIPE
Instead of the usual chicken and rice found in most Mulligatawny Soup recipes, we use a can of chickpeas, dried lentils, cooked quinoa and lots of fresh organic vegetables for this Indian lentil soup.
3 tablespoons extra virgin olive oil (you can use coconut oil)
1 yellow onion, peeled and diced
4 cloves garlic, minced
2 celery stalks, sliced
2 large carrots, sliced (or chopped)
Seasoning (1 tablespoon curry powder, 2 teaspoons ground cumin, 1 teaspoon ground coriander, 1/4 teaspoon cayenne pepper)
1 cup brown lentils, uncooked
2 cups canned chopped tomatoes, drained
1 14-5 ounce can of chickpeas, rinsed and drained
8 cups vegetable broth
1/2 red apple, peeled and grated
1 cup cooked quinoa
1/3 cup cilantro, chopped, plus extra for garnish
1 14.5 ounce can coconut milk (full fat)
salt and freshly ground black pepper to taste
HOW TO MAKE MULLIGATAWNY SOUP
This curry lentil soup takes about 60 minutes to make start-to-finish.
Heat the oil in a large pot
Saute onions, garlic, celery and carrot for 5 to 7 minutes
Add curry powder, cumin, coriander and cayenne pepper, stir to blend
Add lentils, chickpeas, tomatoes and broth
Bring to a boil, then reduce heat and simmer for about 30 minutes
Add apple, quinoa, cilantro and coconut milk
Continue to simmer for another 15 minutes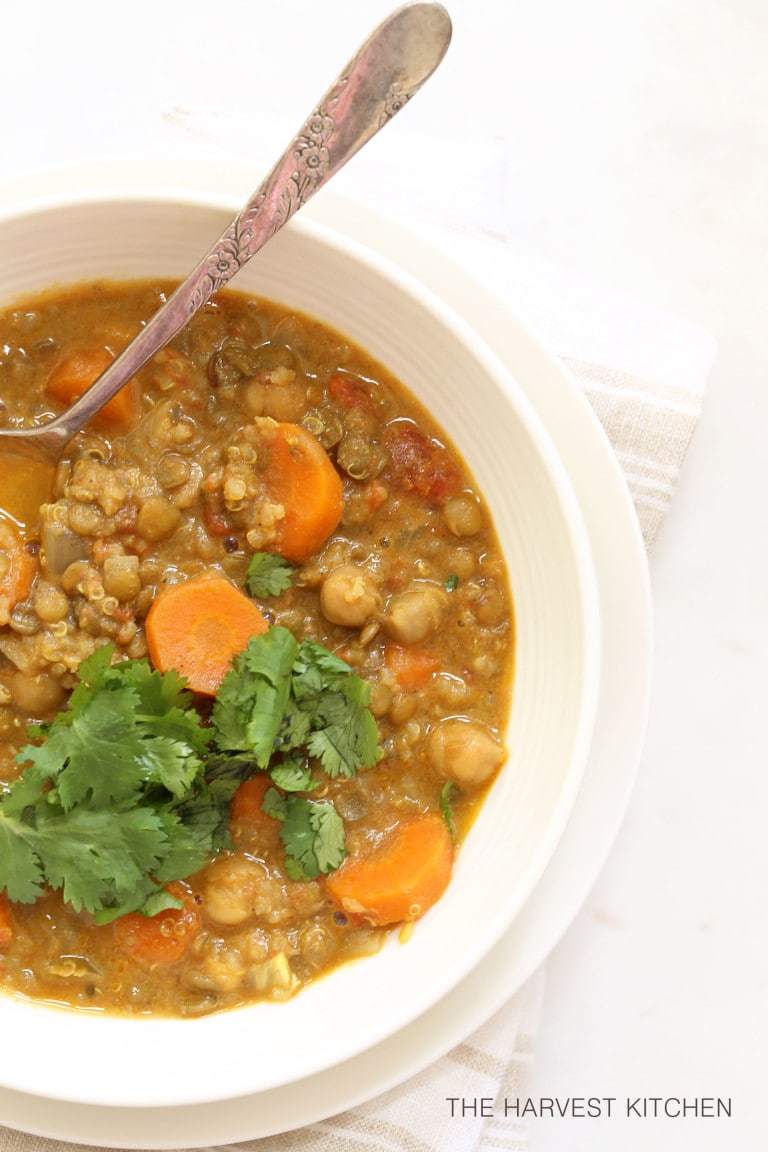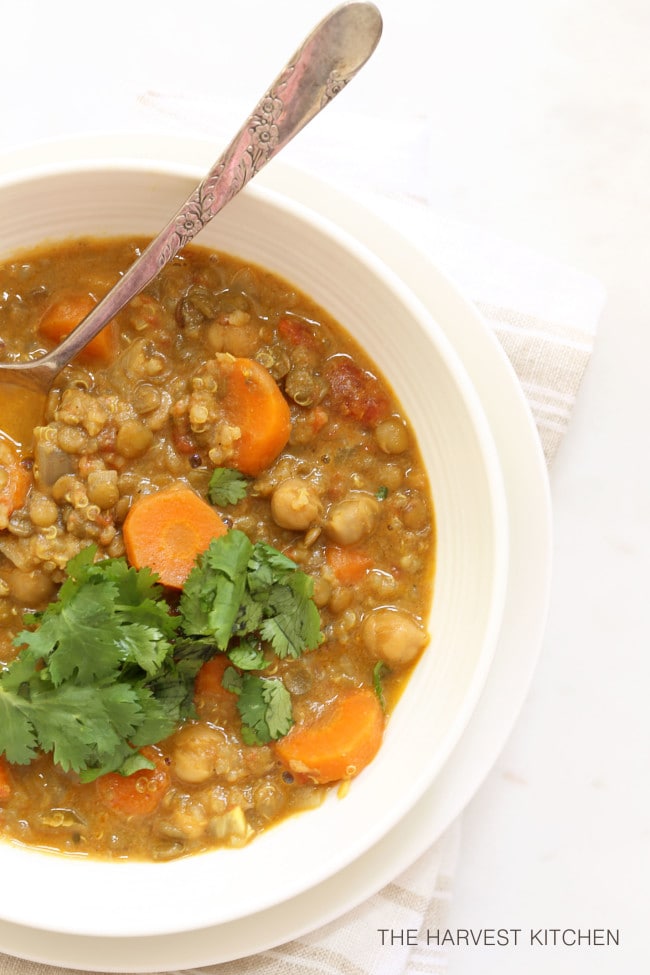 CURRY SOUP RECIPES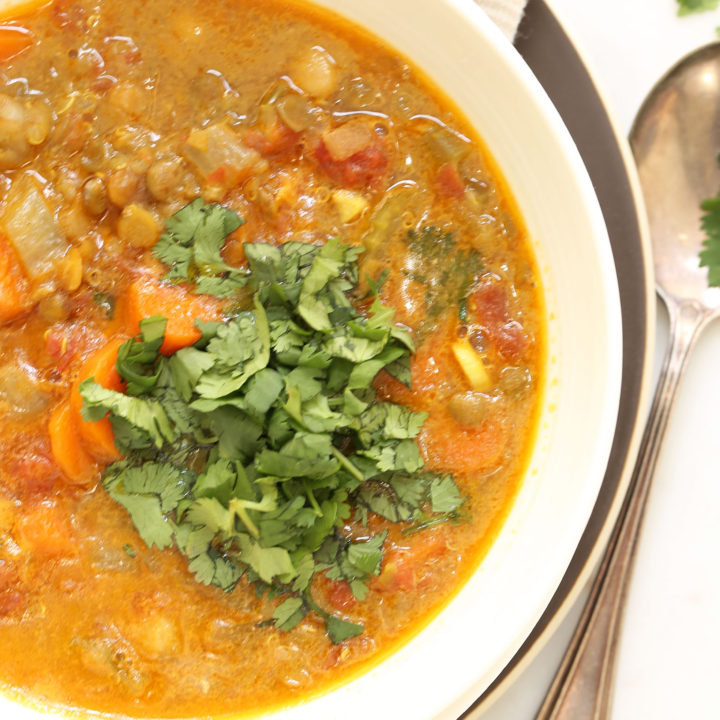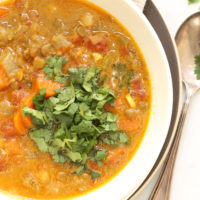 Yield: 6 servings
Vegetarian Mulligatawny
Total Time
1 hour
1 minute
This Vegetarian Mulligatawny is made with chickpeas, dried lentils, cooked quinoa, lots of fresh organic vegetables and seasoned with coconut curry.
Ingredients
3 tablespoons extra virgin olive oil (you can use coconut oil)
4 cloves garlic, minced
1 yellow onion, peeled and diced
2 celery stalks, sliced
2 large carrots, sliced (or chopped)
3 teaspoons curry powder
2 teaspoons ground cumin
1 teaspoon ground coriander
1/4 teaspoon cayenne pepper
1 cup brown lentils, uncooked
2 cups canned chopped tomatoes, drained
1 14-5 ounce can chickpeas, rinsed and drained
8 cups vegetable broth
1/2 red apple, peeled and grated
1 cup cooked quinoa
1/3 cup cilantro, chopped, plus extra for garnish
1 14.5  ounce can coconut milk (full fat)
salt and freshly ground black pepper to taste
Instructions
Heat the oil in a large pot
Saute onions, garlic, celery and carrot for 5 to 7 minutes
Add curry powder, cumin, coriander and cayenne pepper, stir to blend
Add lentils, chickpeas, tomatoes and broth
Bring to a boil, then reduce heat and simmer for about 30 minutes
Add apple, quinoa, cilantro and coconut milk
Continue to simmer for another 15 minutes