Mexican Chicken Posole
Yum
Posole is a  rich Mexican style soup that's typically made with hominy, garlic, onion,  cilantro and pork, though I've used chicken for this easy Mexican Chicken Posole recipe.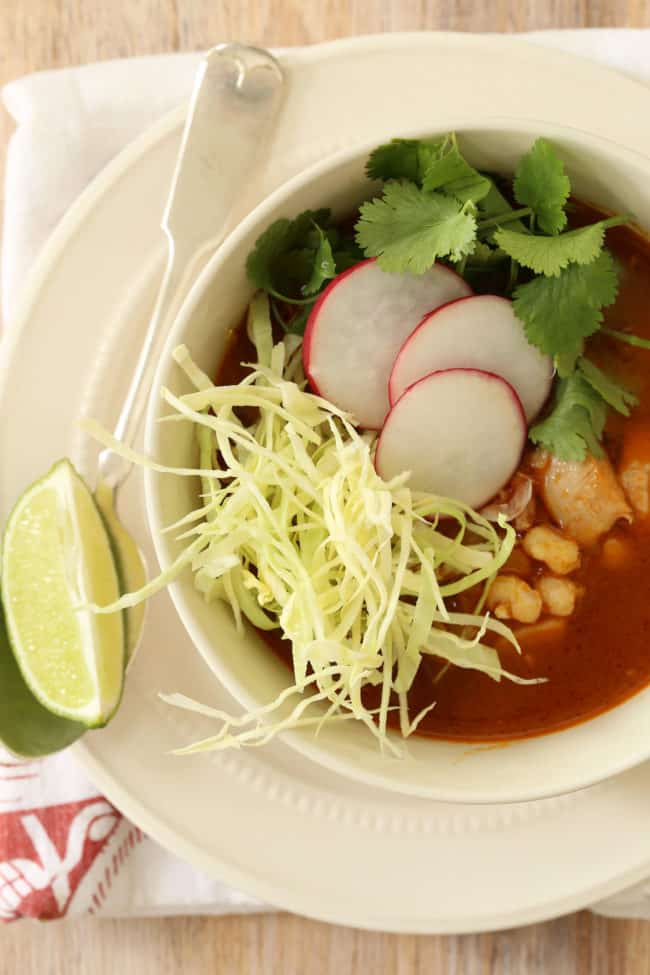 Posole is a common Mexican stew like dish that is typically made with pork and dried hominy, but I've used chicken for this dish and thanks to canned hominy, this dish comes together quickly.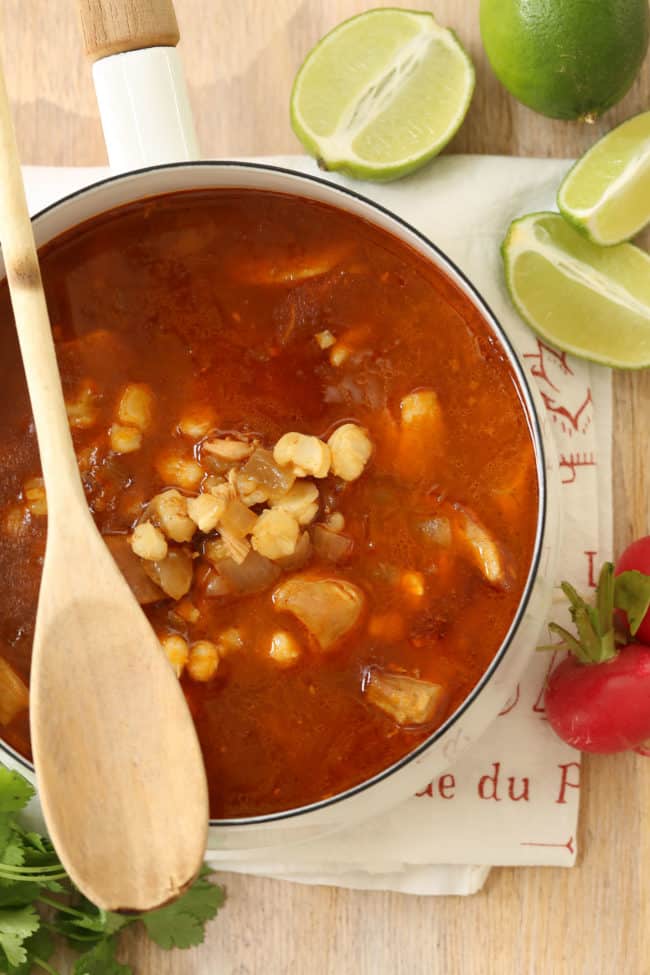 One of my favorite things about this dish are the fresh vegetables that are added to the bowl at the end.  Feel free to garnish generously with shredded cabbage, radish slices, sprigs of cilantro, chopped onion (green or purple), chilies, and avocado.  Kyle and I both agree…we like this Mexican Chicken Posole even better than tortilla soup.. And we're big tortilla soup fans (especially El Torito Grill tortilla soup).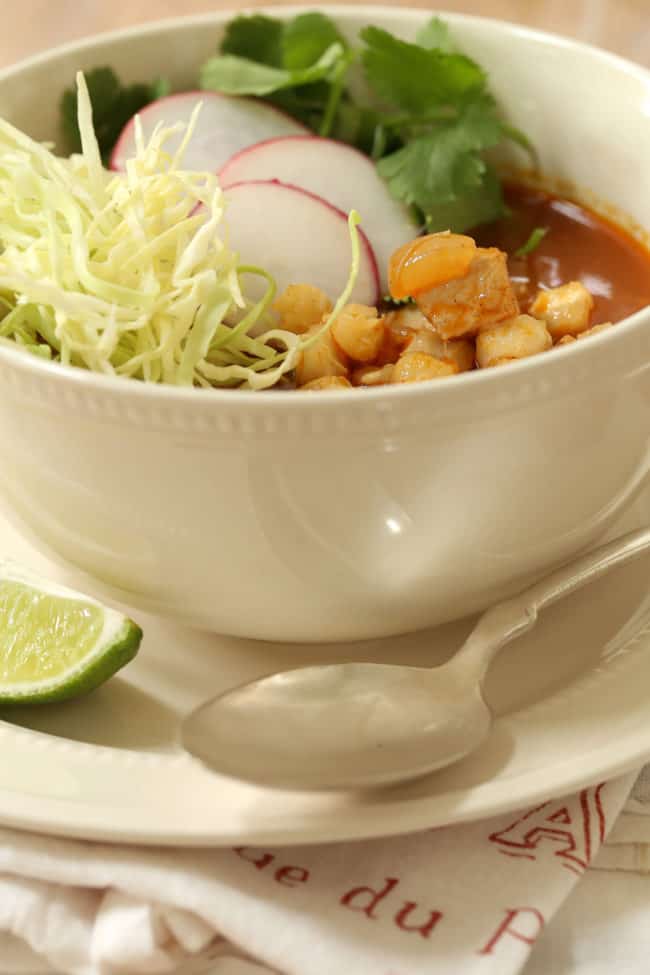 Is there anything more comforting that a big bowl of piping hot soup on a cold winter day?  But honestly, I can eat soup if it's 100 degrees outside.  The weather matters not.  I love to get up early on Sunday mornings to chop all of the ingredients so I can get a large pot of soup simmering on my stove.  It's kind of a centering thing for me.
This post is a re-post from a recipe I shared quite awhile ago that I felt worthy enough of reposting with a few new photos and simplified recipe.  The original recipe called for dried hominy, which means there's soaking and a longer cooking time.  This version uses canned hominy, so this dish comes together in just about 40 minutes.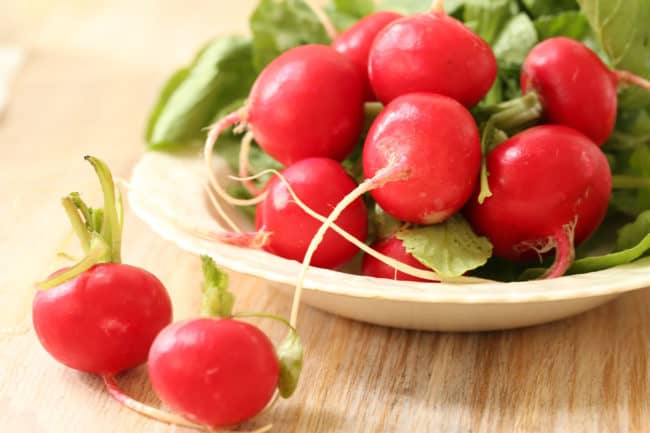 This Mexican Posole has a lot going for it!!!  It has a really great combo of flavors and it's  garnished with an assortment of beautiful fresh vegetables!!  It's rich and hearty, comforting and delicious, and , it's super easy to make!  It delivers a lot!!!
If you like this recipe, you might like these as well:
Chicken Tortilla Soup
Caldo de Pollo
Spicy Chicken Tortilla Soup
~ Deb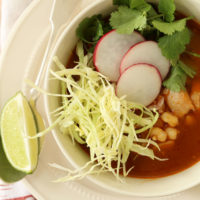 Mexican Chicken Posole
Yield: 4 servings
Prep Time: 10 minutes
Cook Time: 30 minutes
Ingredients:
2 tablespoons olive oil
1 28-ounce can of hominy rinsed and drained
2 pounds boneless, skinless chicken thighs, cut into 1/2-inch cubes
1 medium yellow onion, diced
2 cloves garlic, minced
1 tablespoon mild chili powder
1 tablespoon dried Mexican oregano
1 teaspoon ground cumin
7 cups chicken broth
Directions:
Heat the olive oil in a large Dutch oven over medium heat, add the chicken and cook on all sides for about 5 minutes.
Remove the chicken with a slotted spoon and set aside.
Add the onion and garlic to the pot and saute for about 3 to 4 minutes.
Add the chili powder, oregano, and cumin.
Add the hominy and the chicken broth. Bring to a boil, then reduce the heat to low.
Add the chicken to the pot.
Simmer for 30 minutes with the lid on the pot.
Season with salt and freshly ground black pepper.Garnish with coarsely chopped cilantro, shredded green cabbage, chopped green onions, sliced radishes, chopped roasted jalapeno chilies, lime wedges. Serve with warm corn tortillas.
2 Responses to "Mexican Chicken Posole"
Leave a Comment