Healthy Dark Chocolate Bark
Yum
This Healthy Dark Chocolate Bark is made with dark chocolate, peanut butter, chopped pretzels and chopped roasted nuts.  This recipe is quick,  easy, and super fun to make.  It's also highly addictive!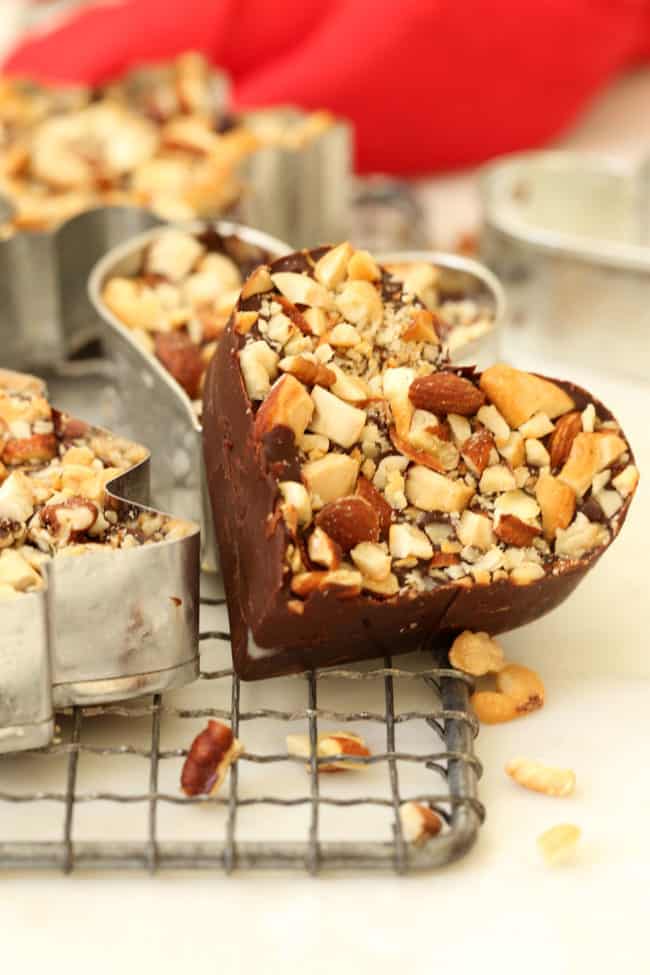 This Healthy Dark Chocolate Bark is super quick and easy to make.  You can either spread the ingredients out onto a cookie sheet and break it into pieces once it has set, or you can pour the melted chocolate into your favorite cookie cutter shapes for a really fun twist on things.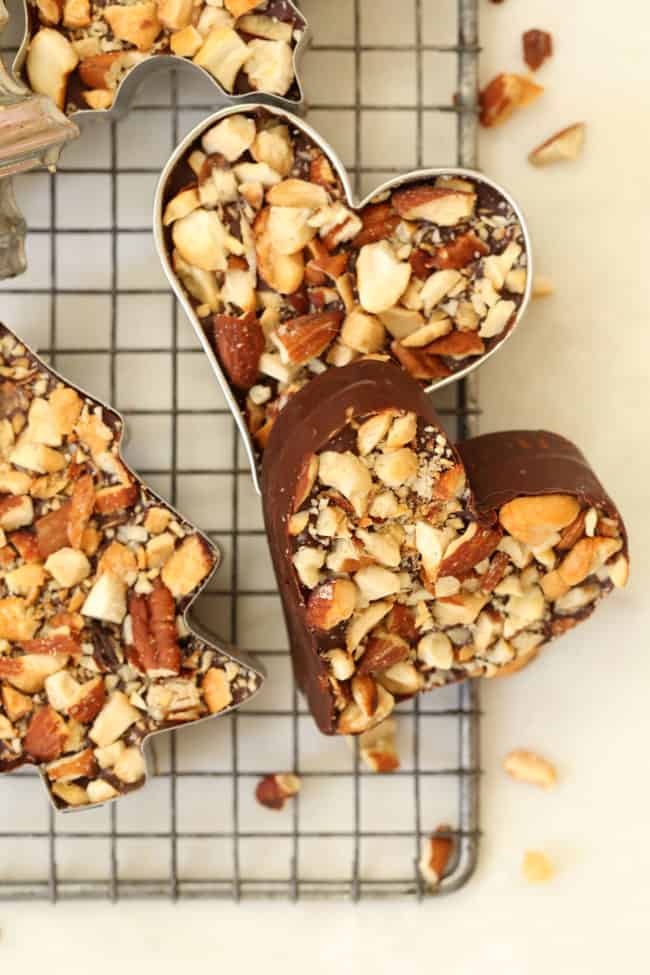 This bark has a few layers of flavors going for it.  The first layer is a simple layer of melted dark chocolate chips (2 cups).  Don't break the bank, but try to use a good dark chocolate for this recipe.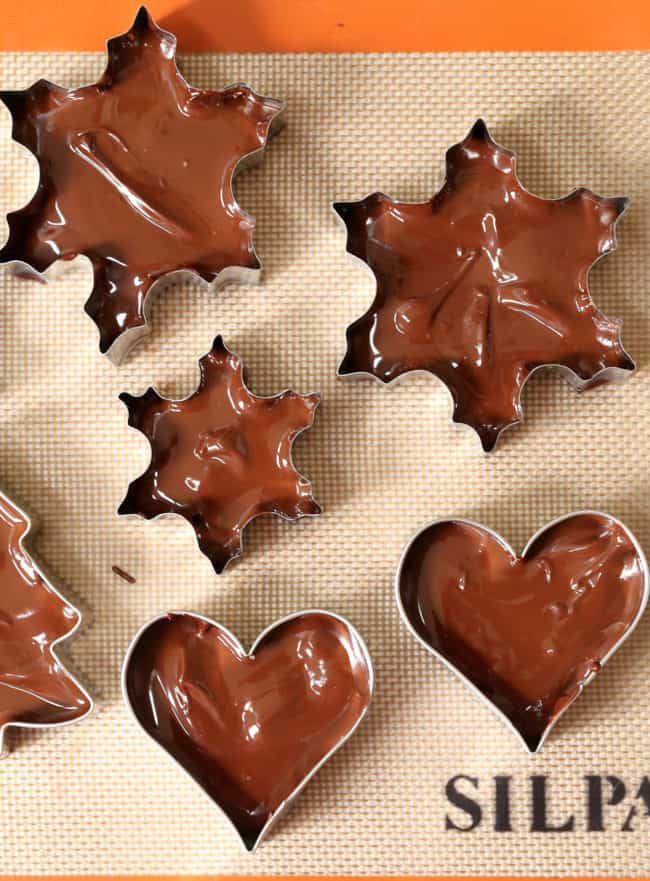 Then you'll sprinkle in some crushed pretzels (I use Newman's Own) and a few flecks of kosher salt to the  top of the melted chocolate.  Then you'll put them in the refrigerator for a few to set.  Are we having fun yet?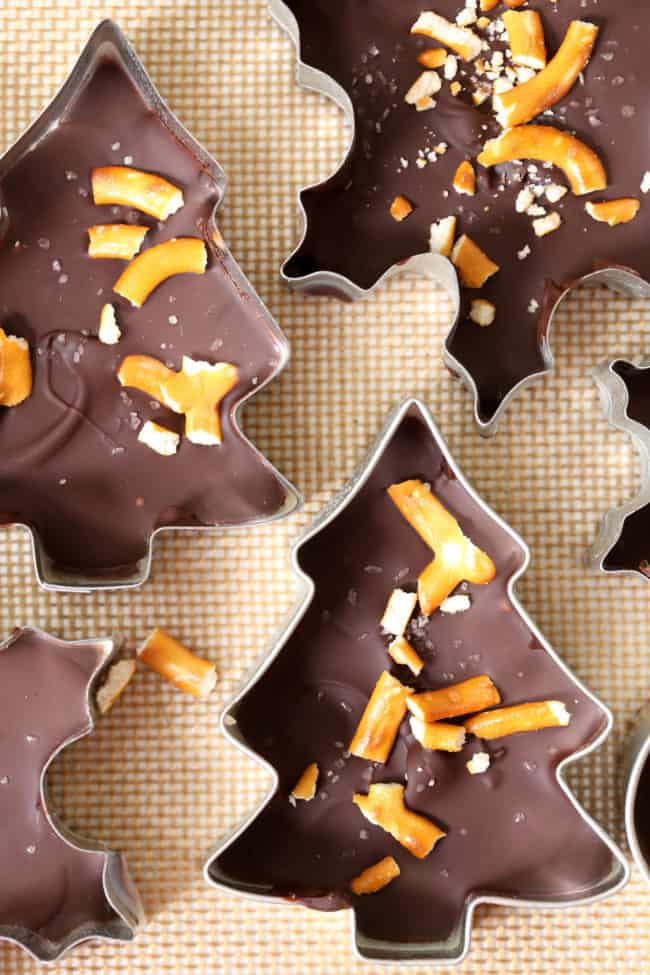 Then we come to  my favorite layer.  This  layer has a blend of melted dark chocolate chips (1 cup)  mixed with all natural creamy peanut butter (1/4 cup).  There's a fair amount of taste-testing that goes on with this layer, but don't use a spoon – use your leftover pretzels for this task!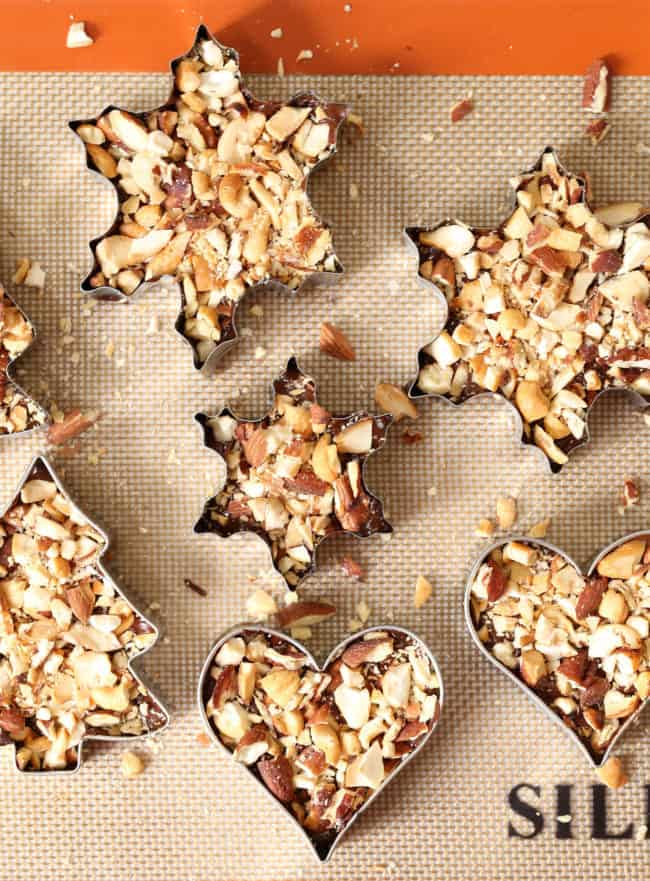 Then for the last layer – you'll sprinkle the top of the chocolate-peanut butter layer with 1 cup of your favorite mix of nuts, roasted and chopped.  Then it all goes back in the refrigerator again for a few to set.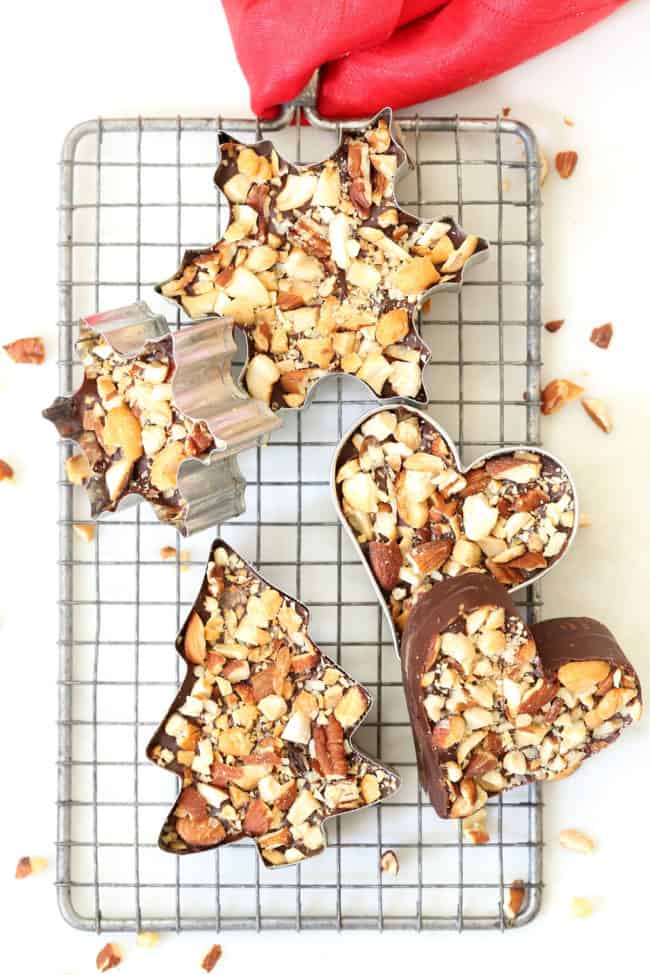 You can either remove the chocolate bark from the cookie cutters and serve on a dish,  or keep things together and wrap in clear plastic bags with bows and give as gifts, party favors,  or use as place settings, etc.  They're super festive, and like I said – they are really fun to make (both because they're so quick and easy to make and because they taste so good)!
It all sounds pretty simple, right!?!  It is!!  You can whip these up in just 30 minutes!!
If you don't like nuts, or want to mix things up a bit – just add more chopped pretzels to the top, or some dried fruit (like cherries),  or drizzle the tops with white chocolate.  Get creative and have fun with it!  Depending on the size of your cookie cutters, this recipe should yield 8 – 10 pieces.
~ Deb
Healthy Dark Chocolate Bark
Yield: 8 - 10 pieces
Total Time: 30 minutes
Ingredients:
coconut oil spray
3 cups dark chocolate chips, divided (I use Guittard)
1/4 cup all-natural unsweetened creamy peanut butter
1/4 cup pretzels, chopped
1/2 teaspoon kosher salt
1 cup toasted mix nuts, chopped
Directions:
Line a 9X12 inch rimmed cookie sheet with a Silpat or wax paper
Lightly spray the insides of each cookie cutter with coconut oil spray and arrange on the cookie sheet.
Melt the 2 cups of the chocolate chips in a saucepan over a double broiler.
Spoon the melted chocolate into the cookie cutters (divide evenly).
Sprinkle the tops with crushed pretzels and a sprinkle of kosher salt.
Set in the refrigerator for 10 minutes or until the chocolate has set.
Add the last cup of chocolate chips and peanut butter back to the pan and melt over a double broiler.  Stir to blend well.
Spoon the chocolate peanut-butter mix over the pretzels, divide evenly.
Sprinkle the chocolate with chopped nuts.
Refrigerate for 15 minutes or until the chocolate has completely set.
Leave a Comment