No Bake Chocolate Oat Bars
These No Bake Chocolate Oat Bars make a wholesome snack or healthy dessert! They're vegan, gluten-free and dairy-free. Your whole family will love them!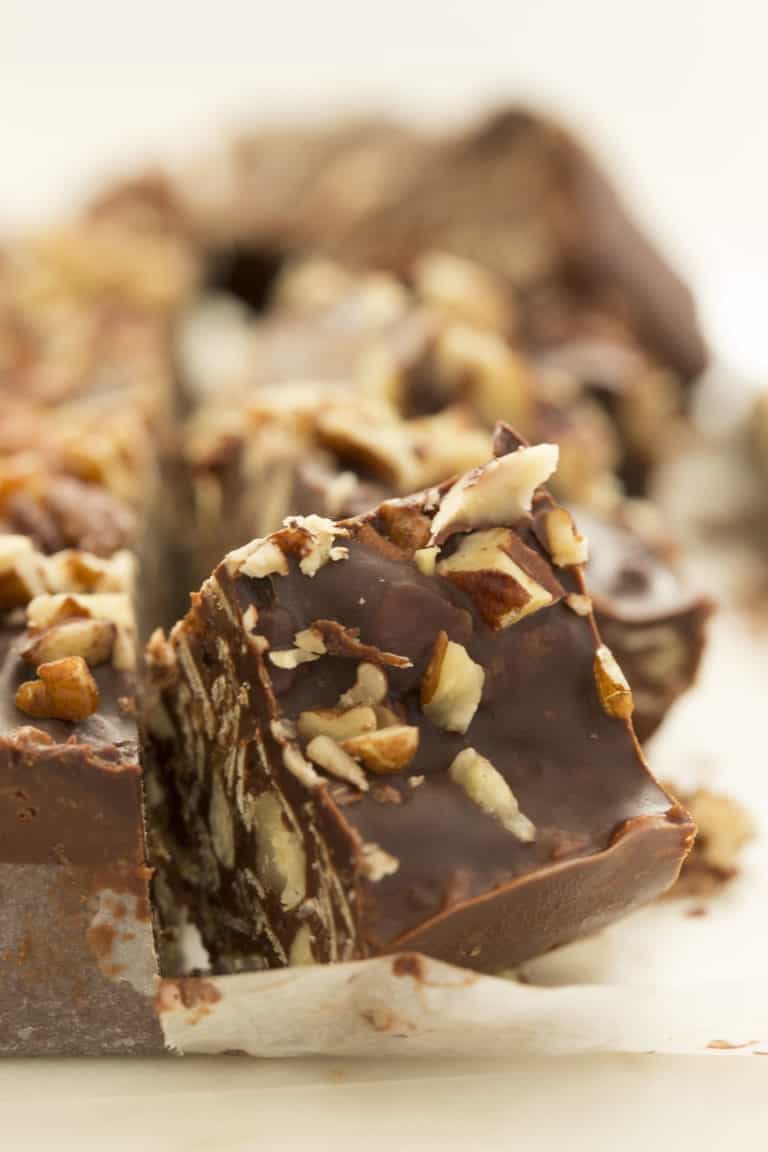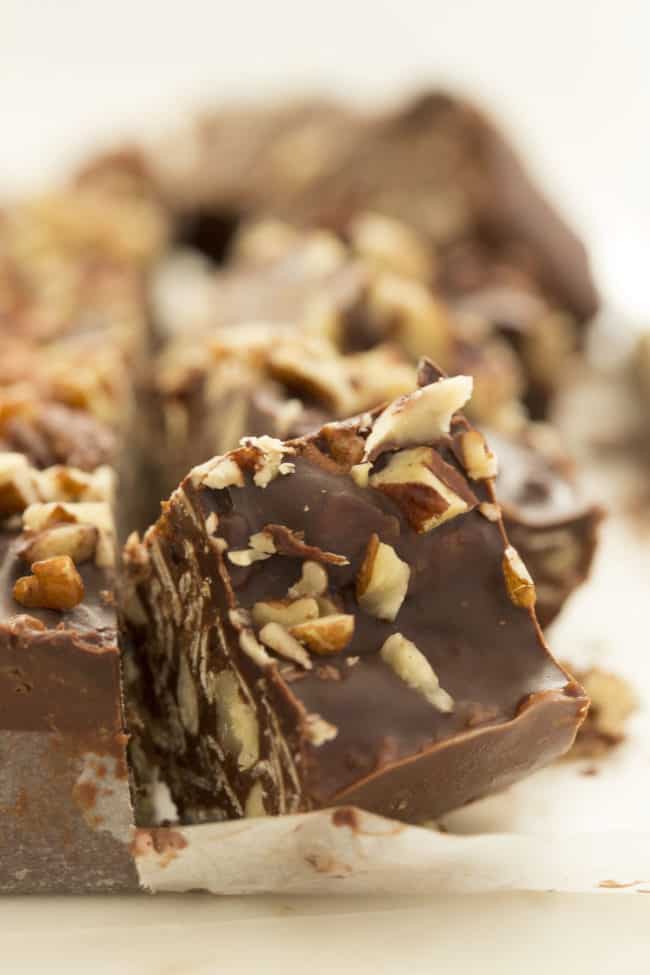 These No Bake Chocolate Oat Bars are completely addictive! They're made with dark chocolate, peanut butter, oats, coconut oil, coconut, raisins and lots of walnuts.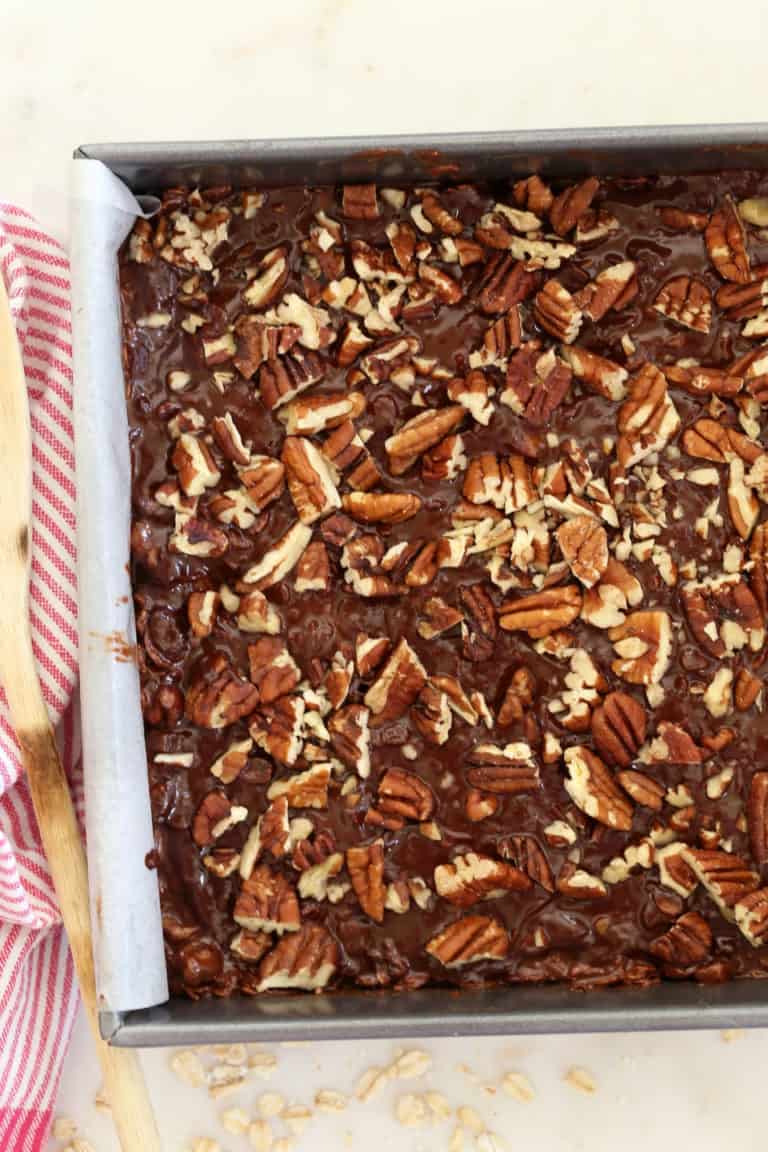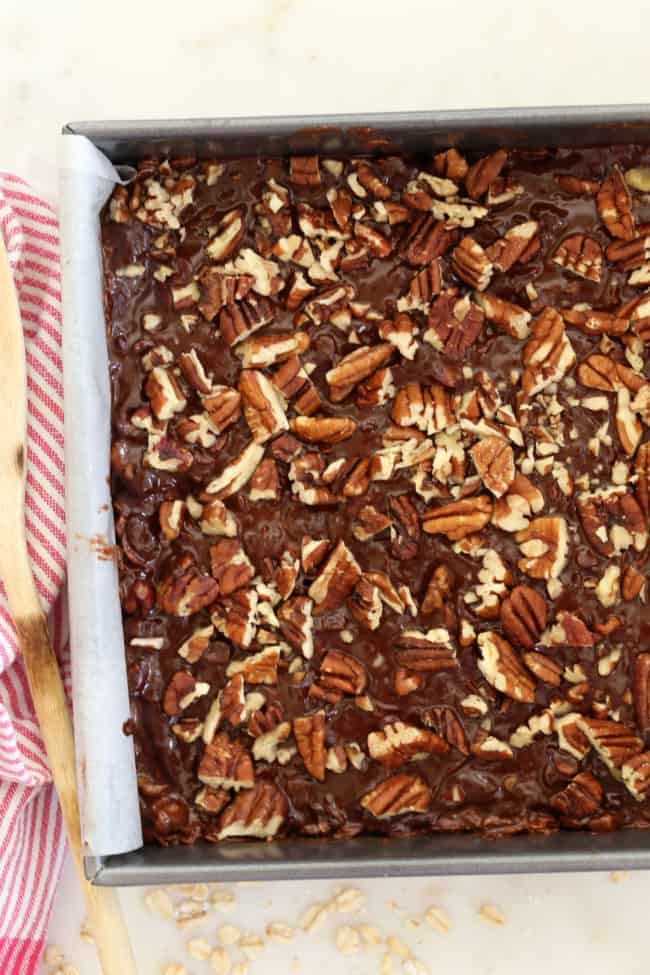 I love easy no bake desserts
I especially love everything about these No Bake Chocolate Oat Bars
The creamy texture of the chocolate and peanut butter
the crunch of the nuts
the heart-healthy oats
and the nutritional perks that come with these wholesome ingredients.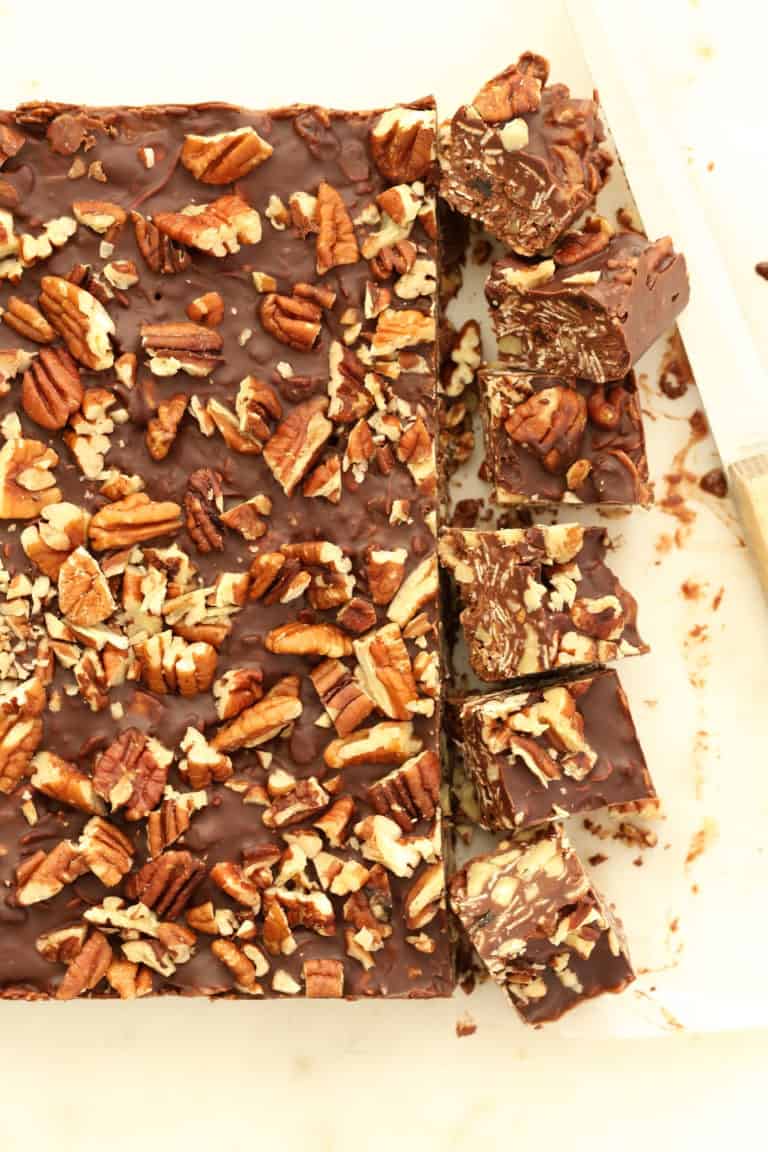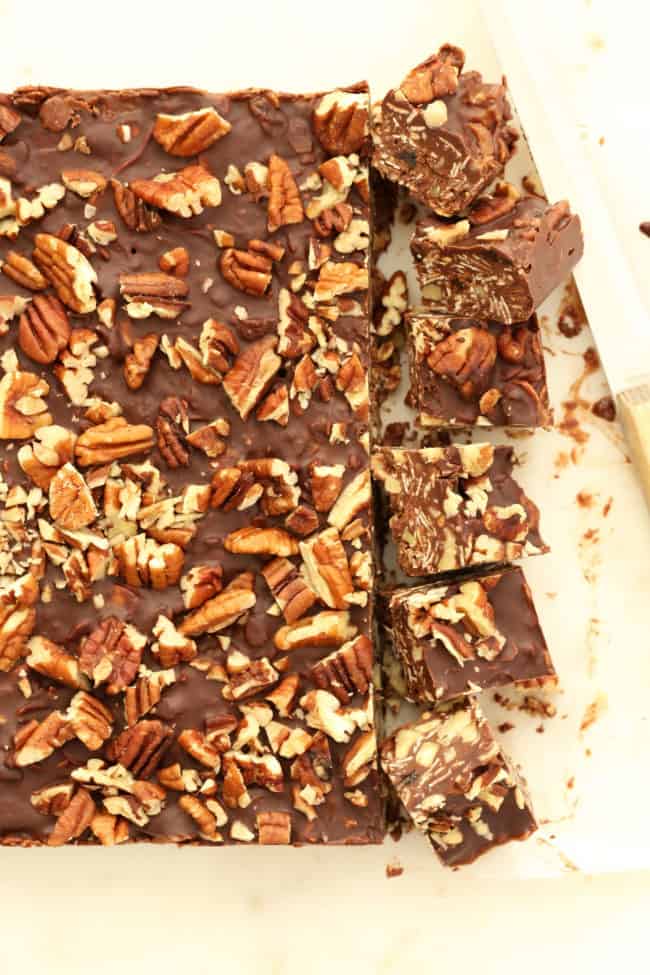 These No Bake Chocolate Oat Bars are a great healthy, not-too-sweet treat to have in the fridge when you're in the mood for a chocolate fix. They come together on the stovetop in just minutes, but they need to sit in the fridge for an hour or two to completely set. Well worth the anticipation!!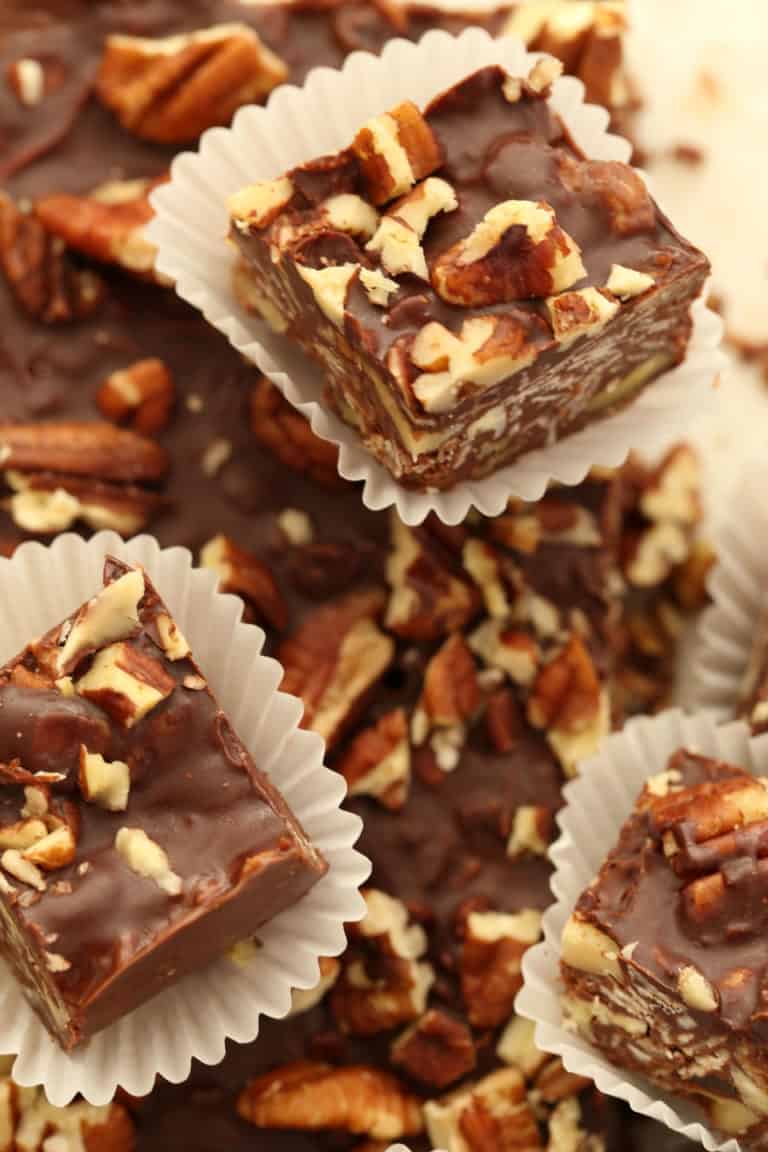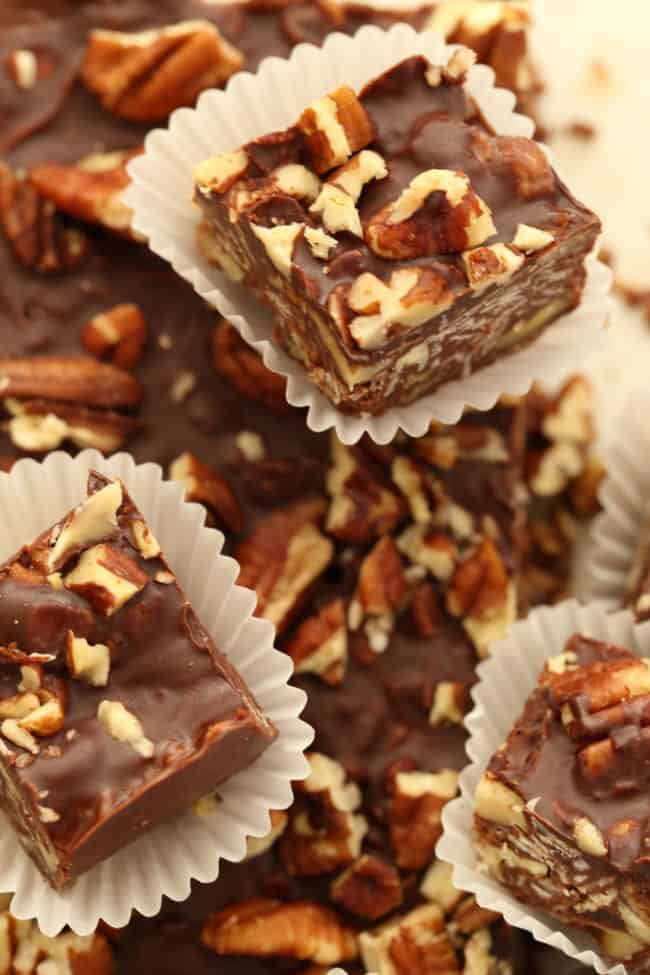 Follow

THE HARVEST KITCHEN

on Pinterest for more great recipes!
Let's unpack the nutritional reasons to make these. Just in case you need some convincing.
Benefits of Dark Chocolate
Dark chocolate contains powerful antioxidants which may help to improve blood flow, lower blood pressure, increase HDL (good cholesterol) and lower LDL (bad cholesterol). The flavanols found in dark chocolate dilates blood vessels, allowing more oxygen and blood to reach key areas of the brain, which can help you ward off the afternoon sleepiness.
Benefits of Oats
Oats contain a specific type of fiber known as beta-glucan. Beta-glucan helps to lower LDL cholesterol levels and to stabilize blood sugar. Oats also contain polyphenols which play a role in lowering cholesterol and blood pressure, improving arterial flexibility and preventing platelet clumping.
Walnuts are rich with with antioxidants, which help protect your body from cellular damage, heart disease, cancer, and premature aging. They are also rich in omega-3 fatty acids, vitamin E, folate and melatonin.
Guys…I garnished this batch with pecans because they look prettier than walnuts in photos. For the recipe – use either walnuts or pecans. Whichever you prefer.
If you like this recipe, you might also like these other dessert recipes
Healthy Dark Chocolate Coconut Bites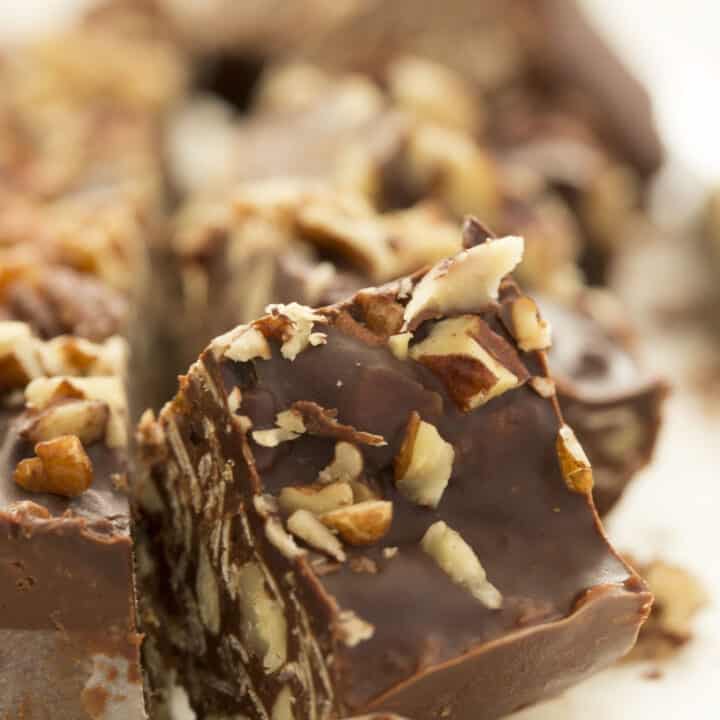 Yield: 2 dozen servings
No Bake Chocolate Oat Bars
Total Time
2 hours
10 minutes
These Healthy Dark Chocolate Coconut Bites are little squares of pure chocolate and coconut bliss. They're made with unsweetened coconut flakes, brown rice syrup and a wee bit of vanilla, and they come together in about 10 minutes.
Ingredients
1 cup peanut butter
1/4 cup honey
1/2 cup coconut oil
2 cups gluten-free old fashioned oats
1 cup shredded coconut
1-1/2 cup walnuts, coarsely chopped (or use pecans)
1/2 cup raisins
1-1/4 cups bittersweet chocolate, chopped (use no less than 70%)
1 teaspoon pure vanilla extract
Fleur de Sel (optional)
Instructions
Line an 8 x 10 baking pan with parchment and spray the parchment with coconut oil (you'll be able to grab hold of the ends of the paper to lift the chocolate out of the pan after its hardened).
Melt the peanut butter, honey, and coconut oil in a saucepan over medium-low heat.
Add the chocolate. Stir frequently until the chocolate is completely melted.
Turn off the heat.
Add the vanilla, oats, coconut, raisins and half of the nuts.
Pour into your prepared pan and top with the remaining nuts.
Slightly press the remaining nuts into the chocolate.
Place in the refrigerator to cool. After the mixture has hardened completely (after 2 hours or so), remove from the pan and cut into squares.
Sprinkle with Fleur de Sel if you like salty-sweet.
Keep stored in air-tight container in the refrigerator.
Leave a Comment