Gluten Free Magic Cookie Bars
These Gluten Free Magic Cookie Bars are a healthy twist to a timeless classic.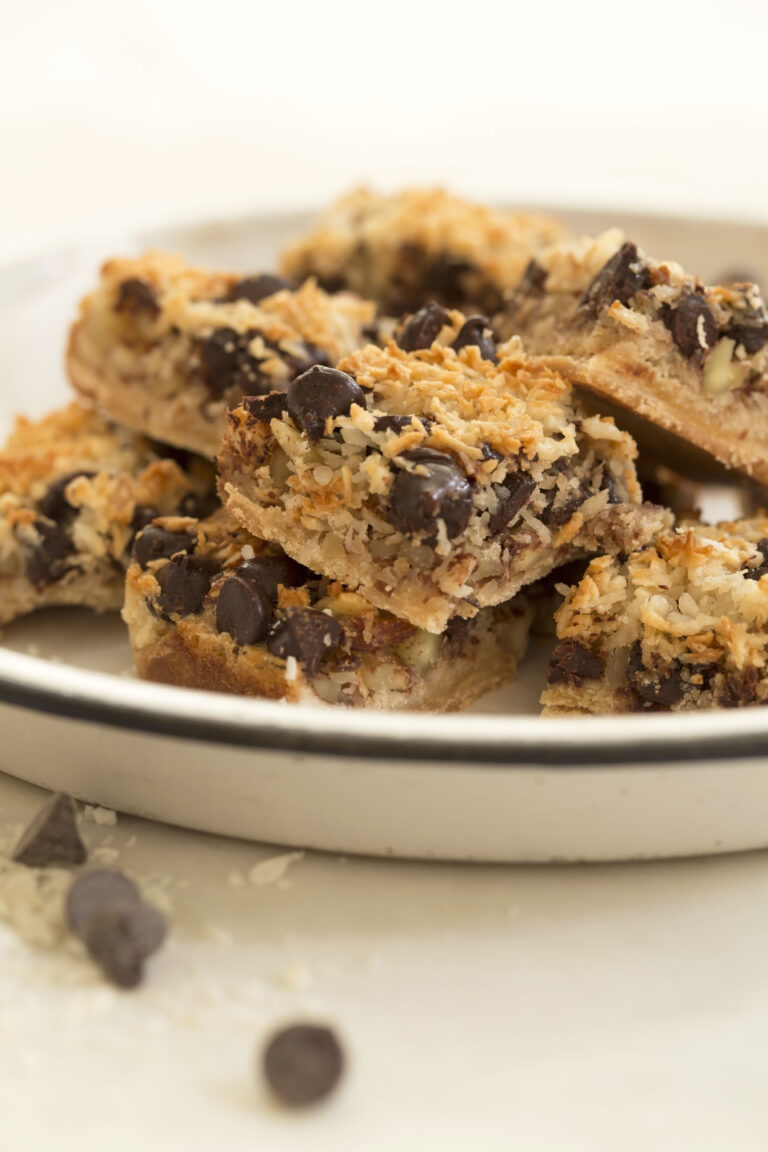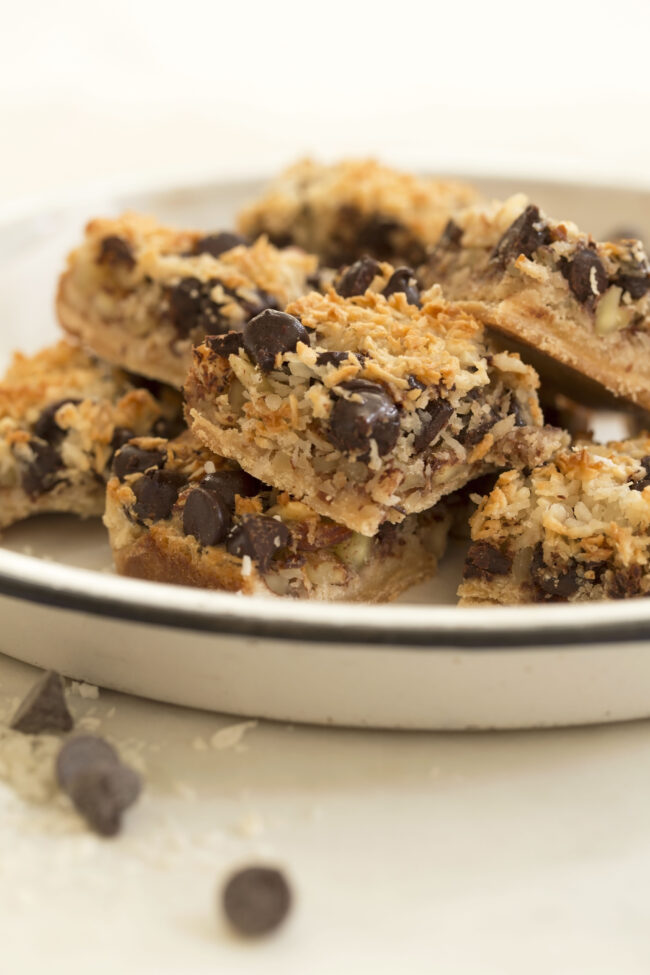 To start things off, can I just say that I love everything about these Gluten Free Magic Cookie Bars! They're a healthier version of a cozy classic. They're made with coconut flour, dark chocolate chips, almonds, shredded coconut, coconut milk and pure maple syrup.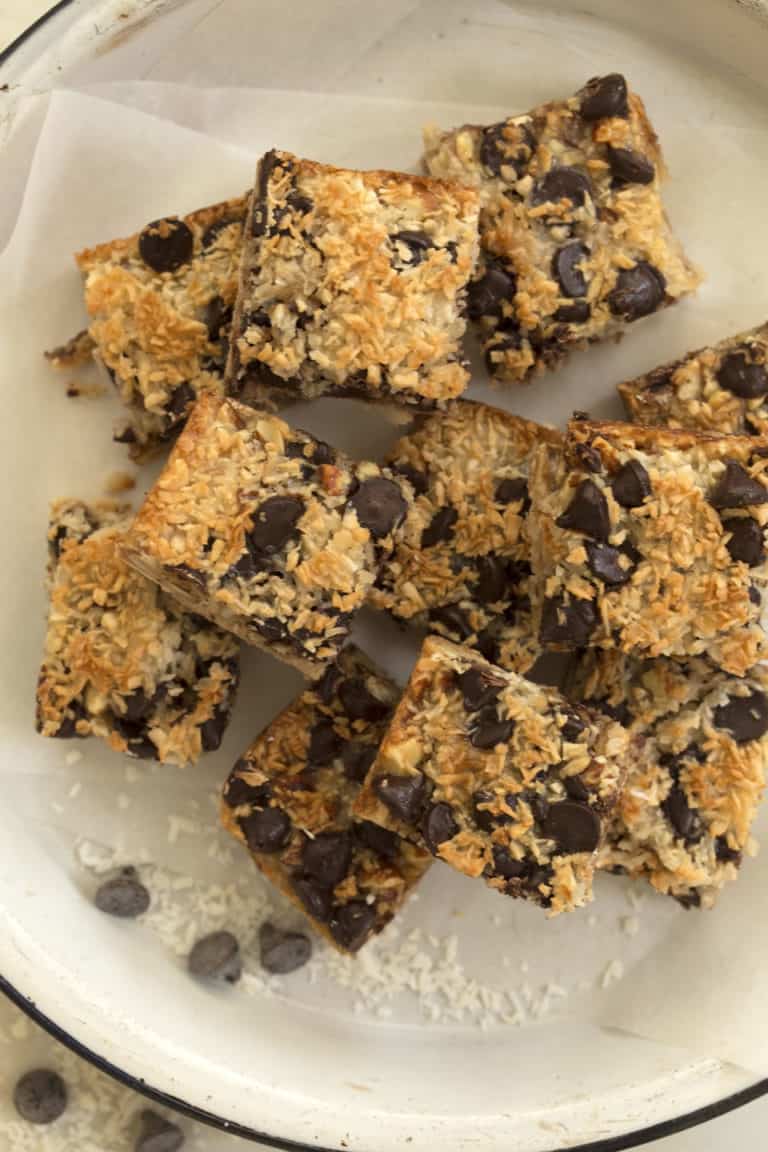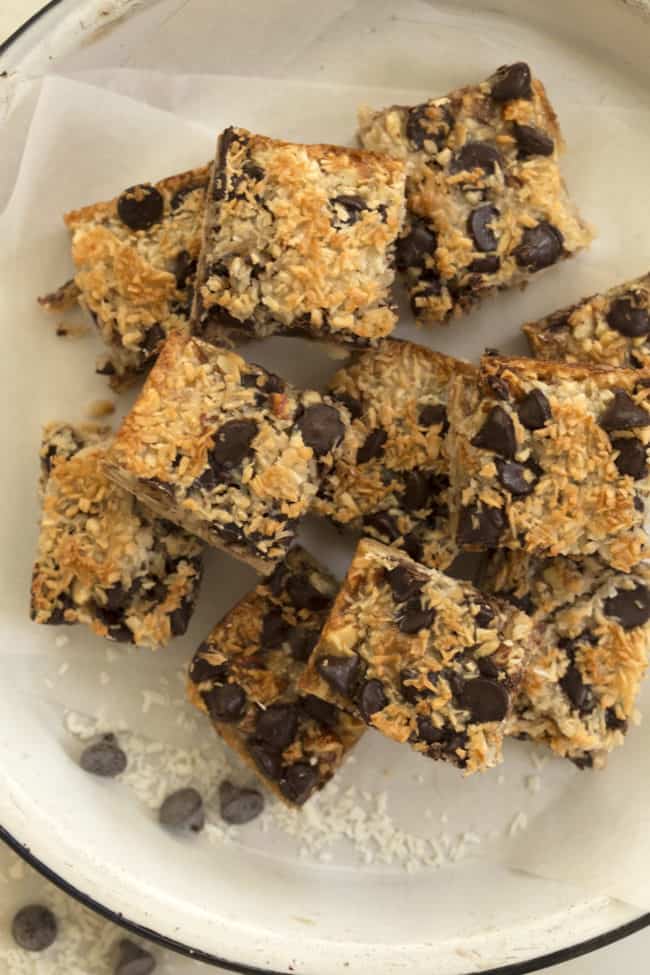 When I was growing up, there were four standard Christmas desserts that my mom would always make. Snowballs, blueberry cheesecake, fudge (two batches – one with nuts and one without), and magic cookie bars. A classic Magic Cookie Bar recipe calls for sweetened condensed milk, but the sweetened condensed milk is replaced with coconut milk and pure maple syrup for this recipe.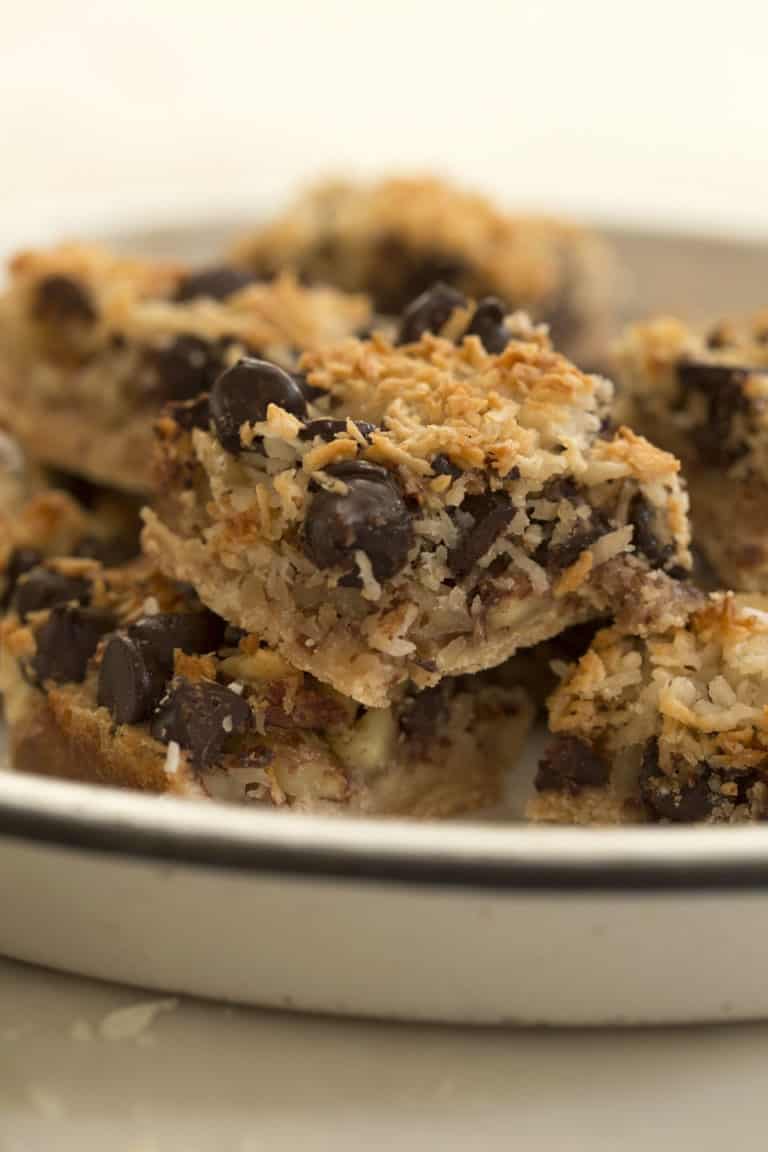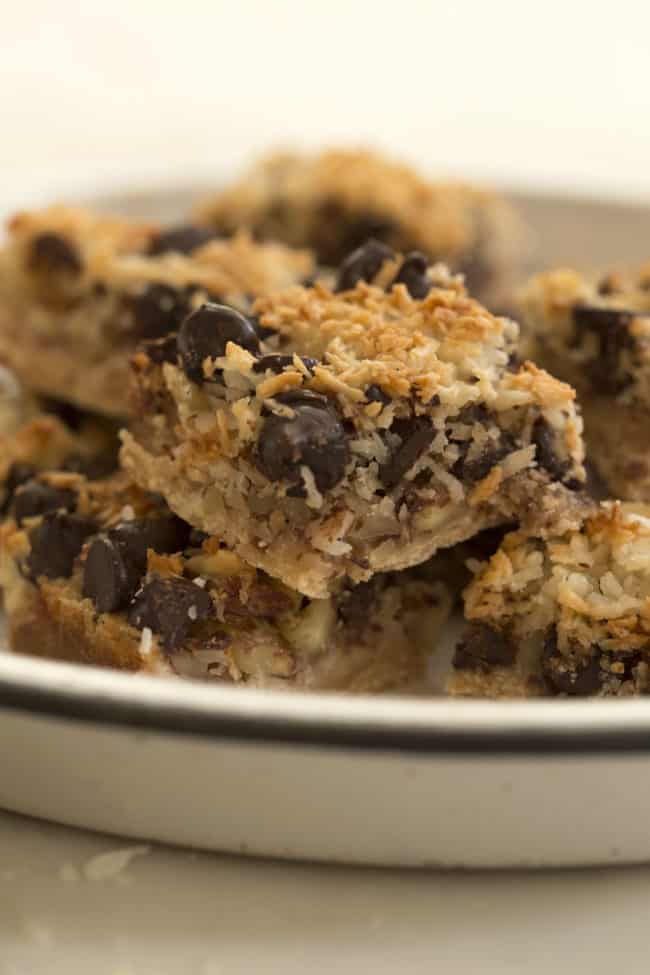 Follow

THE HARVEST KITCHEN

on Pinterest for more great recipes!
When the coconut milk and pure maple syrup simmer on low for a bit, the mixture slightly thickens and turns deliciously sweet and caramel-like. You'll likely find yourself habitually dirtying a few spoons while sampling this potion.
So you guys, here we are just days away from Christmas. Can you believe it? I'm still blinking my eyes at how quickly this year seemed to have come to a close. I still have a few presents and gift cards to pick up and some wrapping to do. But for the most part, I'm ready for Christmas! If you're looking for an easy Christmas dessert recipe to pull together last minute – I've got you covered with these Gluten Free Magic Cookie Bars. They're sure to be a hit! If you find enough willpower to share!
And if you like this recipe, you might also like these easy dessert recipes
~ Deb
Yield: 1 dozen
Gluten-Free Magic Cookie Bars
Total Time
1 hour
15 minutes
Ingredients
1 15 ounce can Coconut Milk (full fat)
1/2 cup + 3 tablespoons pure maple syrup
1 teaspoon pure maple syrup
1/3 cup coconut oil, melted
3/4 cup coconut flour
2/3 cups raw almonds, finely chopped
3/4 cup dark chocolate chips
1/2 cup unsweetened shredded coconut
Instructions
Preheat oven to 350 degree
Finely chop the almonds in a food processor, set aside.
Line an 8 x 8 inch square baking pan with either aluminum foil or parchment paper and spray with coconut oil.
In a medium size bowl, mix the coconut oil and 3 tablespoons pure maple syrup.
Sprinkle in the coconut flour and mix well.
Press the dough into the prepared baking pan so it covers the bottom evenly.
Bake for about 6-7 minutes or until just lightly golden.
Remove from oven and sprinkle the top with the chopped almonds, pressing into the crust slightly. Sprinkle the top with chocolate chips and then the coconut flakes. Set aside.
In a large pot over medium-high heat, mix the coconut milk and pure maple syrup with a wire whisk.
Bring the mixture to a boil, then reduce heat to low and simmer for 20 minutes until the sauce is reduced by almost half.
Remove from heat and pour 1 cup of the sauce over the ingredients.
Bake in the oven for about 28-30 minutes or until golden brown on top.
Remove from the oven and cool at room temperature. Cover with foil and refrigerate until you're ready to serve.