Dill Pickle Potato Salad
Yum
This creamy Dill Pickle Potato Salad goes hand-in-hand with summertime barbecues, picnics and pot-lucks.  It comes together in a pinch and it's always a hit!!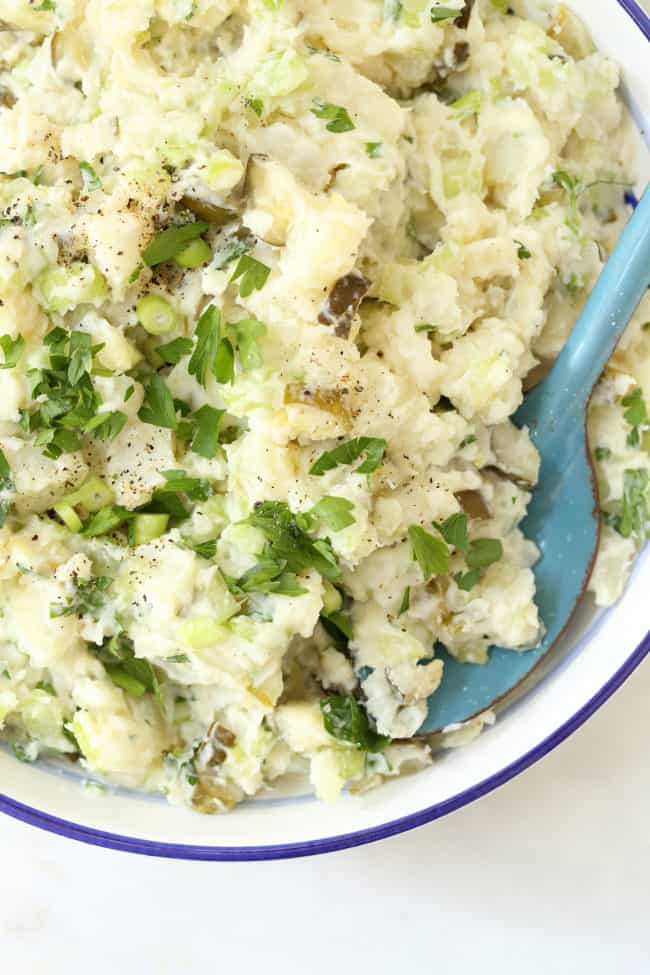 This creamy Dill Pickle Potato Salad is made with potatoes, celery, green onion, parsley and dill pickles. It's lightened up a bit using mayo and a little yogurt. Some of the potatoes are mashed up a bit using a wooden spoon adding to the creaminess of this completely addictive potato salad.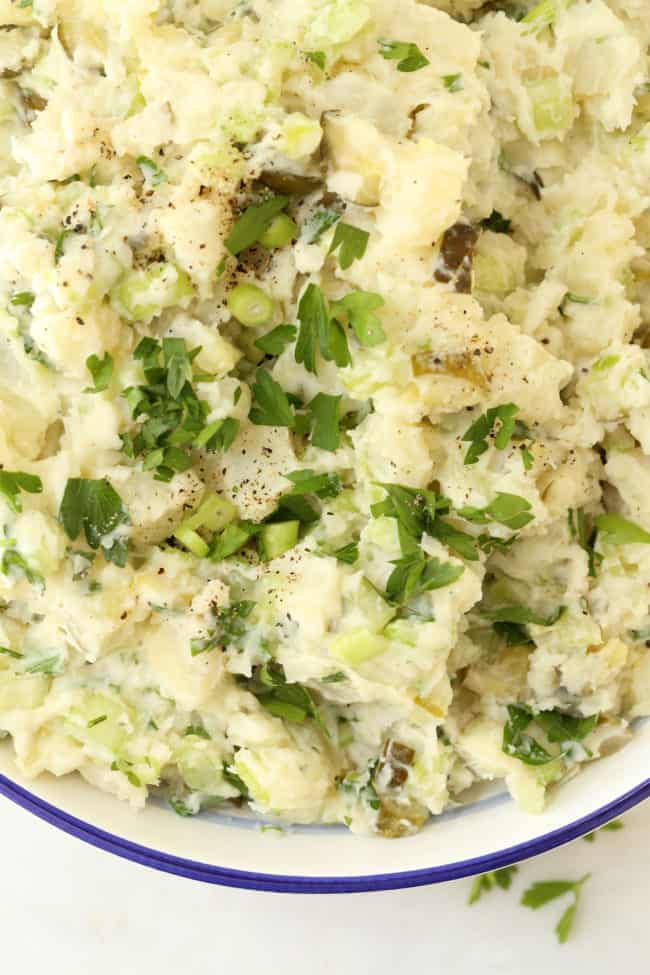 This recipe originated with my ex-step-mother-in-law.  She used to own a small restaurant and she would serve a generous portion of her signature potato salad with all of her sandwiches.  It was always a hit with the daily crowd of customers, and it's always a hit with my family and every guest I've ever served it to.  This creamy potato salad is a nice simple homemade potato salad that goes well with just about anything you would serve it with at a barbecue or picnic.  It's a perfect  to have chilling in the fridge with sandwiches on triple-digit days.  A quintessential potato salad to make all summer long!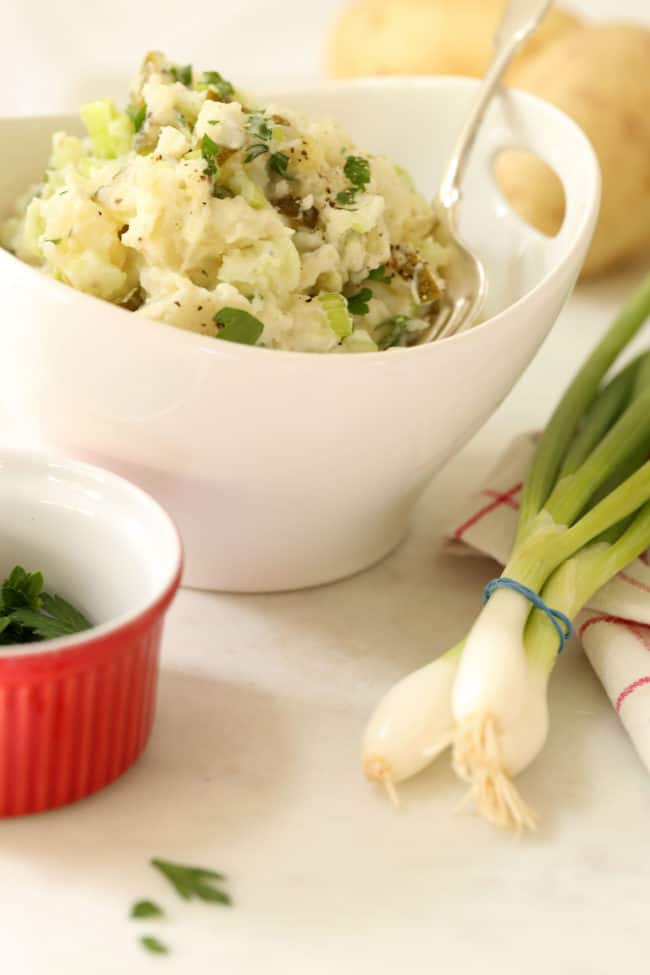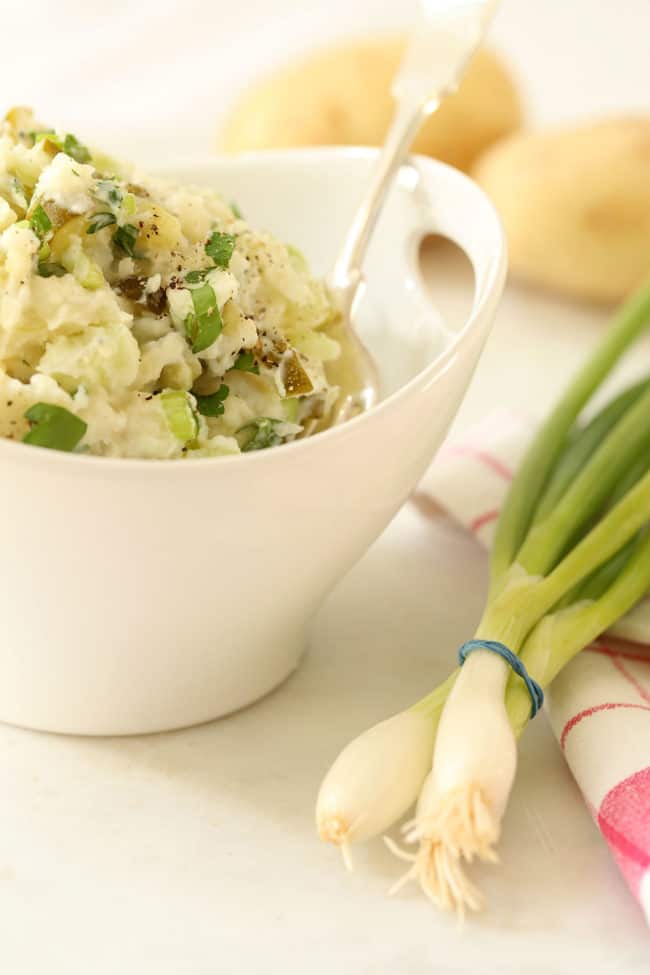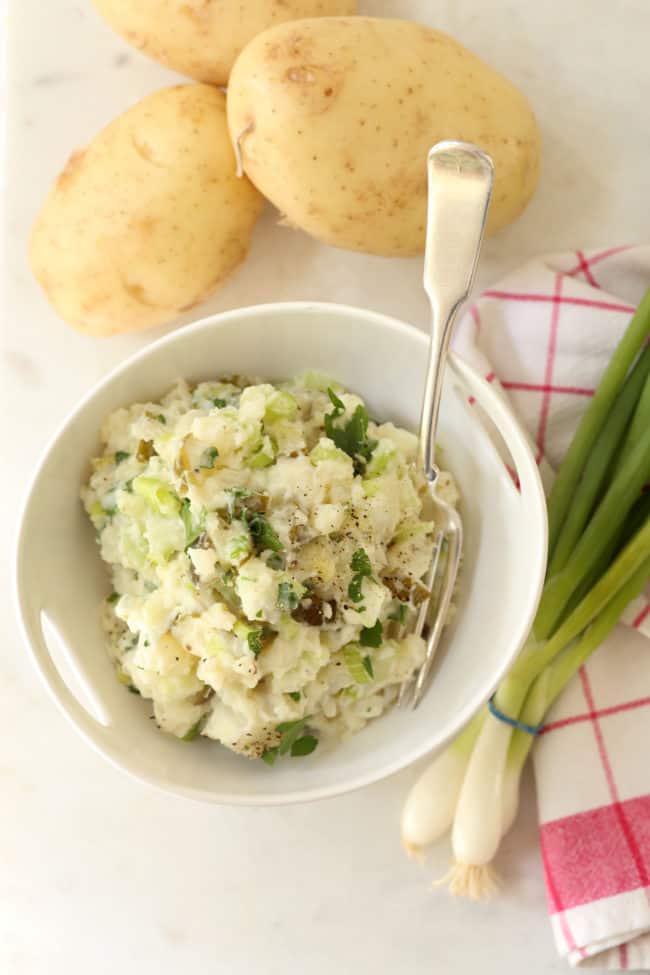 This post is an updated post from one of the earlier recipes that I've shared here. I wanted to freshen things up a bit with some new photos, and a slight tweaking of the recipe.  I've subbed out some of the mayo for plain Greek yogurt to make things a tad healthier.

Obviously I'm not pushing hot dogs and sodas these days (next photo is from earlier post).
If you're looking for a creamy potato salad recipe that is quick and easy to toss together for your next barbecue, picnic or just because, it doesn't come much easier, or delicious, than this Dill Pickle Potato Salad.
~ Deb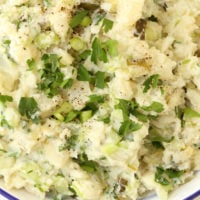 Dill Pickle Potato Salad
Yield: 8 servings
Total Time: 30 minutes
Ingredients:
6 large russet potatoes, cleaned and cut in half
2 cups celery, chopped
1-1/2 cups claussen dill pickles, chopped (from the refrigerator section)
1/2 cup green onion chopped
1/4 cup flat leaf parsley, finely chopped
3/4 cup  real mayonnaise
1/4 cup plain Greek yogurt
2-3 tablespoons water to thin out the mayo and yogurt
1 teaspoon onion powder
1 teaspoon kosher salt
freshly ground black pepper to taste
Directions:
Boil the potatoes in a large pot for approximately 20 minutes or until a fork tender.
Drain the potatoes and set aside to cool for approximately 5 minutes.
Remove the skins from the potatoes (the potatoes will still be warm to the touch when you peel them), and place the skinned potatoes in a large bowl.
Run a knife through the potatoes to coarsely chop them.
Using a wooden spoon slightly breakup and mash about 1/4 to 1/2 of the potatoes.
Add the chopped celery, pickles, onions, parsley, salt and pepper to the potatoes and toss.
Fold in the mayonnaise, yogurt and water to coat well.
You'll end up with a creamy potato salad that still has some soft chunks of potatoes.
2 Responses to "Dill Pickle Potato Salad"
Leave a Comment