Mexican Potato Salad
This post may contain affiliate links.
If you love potato salad, you'll love this crowd-pleasing Mexican Potato Salad! It's loaded with potatoes and fresh vegetables. This is a vegan potato salad that's tossed in a light cilantro vinaigrette rather than a mayo dressing.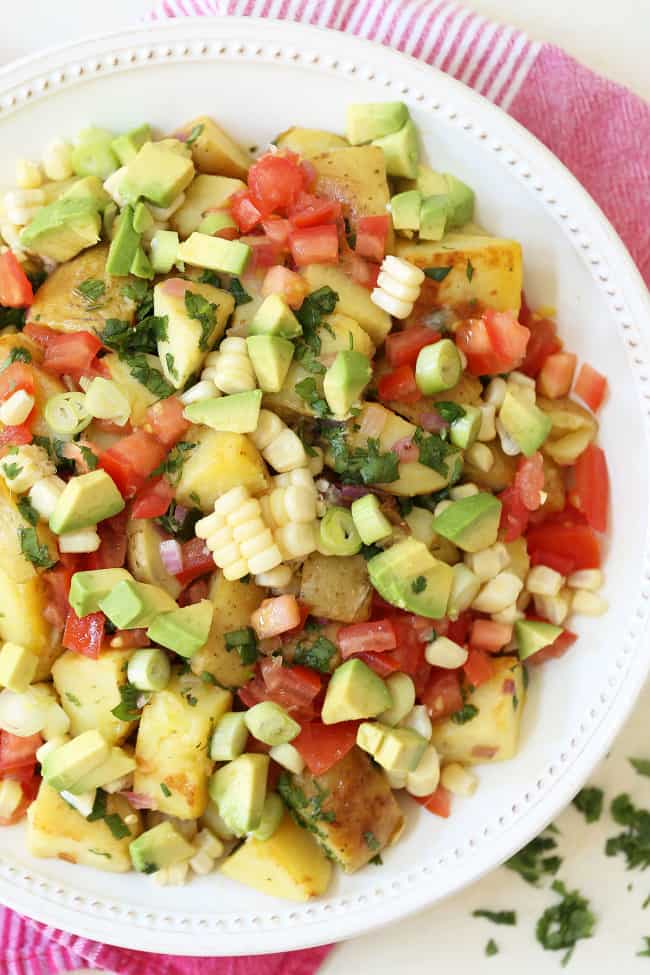 This colorful Mexican Potato Salad is loaded with fresh crunchy corn, tender juicy ripe tomatoes, buttery avocado and perky green onions, then the whole ensemble is perfectly dressed in a delicious cilantro lime vinaigrette. You could also add a little minced jalapeño to the mix if you want to add a little spice. This healthy potato salad recipe is versatile and super easy to pull together!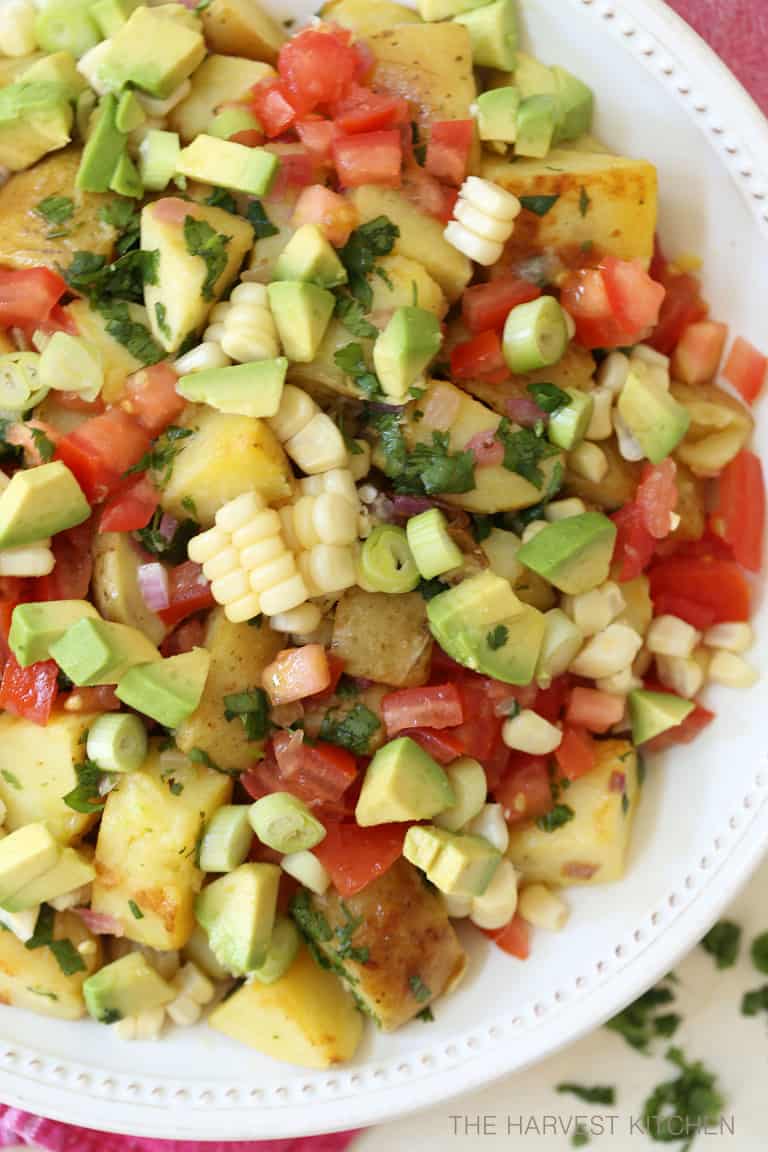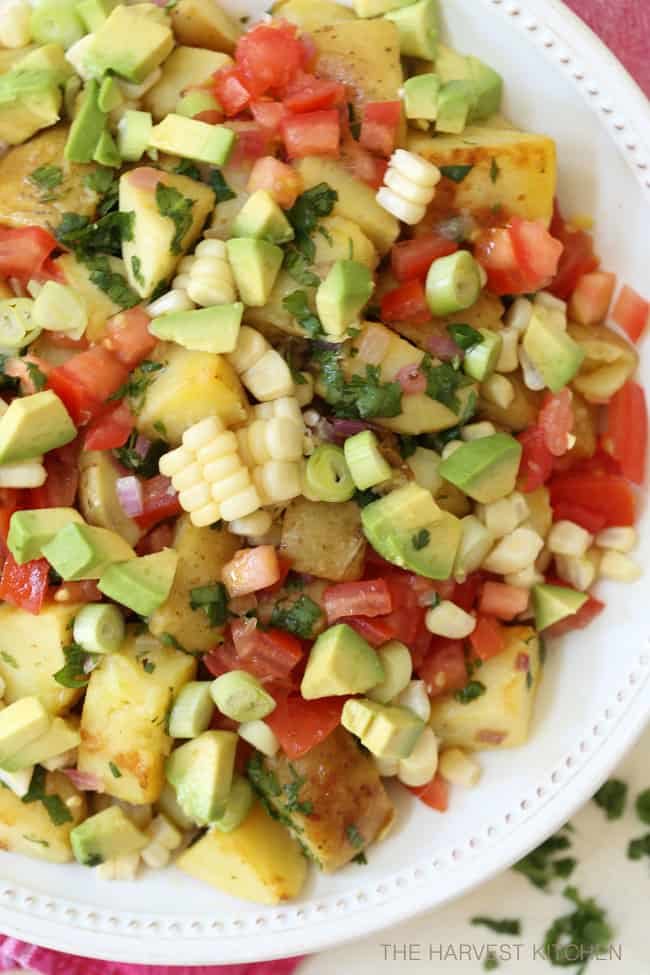 WHAT ARE THE BEST POTATOES TO USE FOR POTATO SALAD
There are two main kinds of potatoes – baking and boiling. Baking potatoes such as russets have a higher starch content than boiling potatoes and they're a little fluffier in texture and fall apart when they're cooked. Russets make the best baked and mashed potatoes. Boiling potatoes tend to hold their shape a little better when cooked.
A lot of potato salad recipes use russets for a creamier texture, like this Dill Pickle Potato Salad. But for this potato salad recipe, we're going with white boiling potatoes so the potatoes will hold their texture better. You could also use red potatoes for this salad. This potato salad recipe doesn't call for any mayo so we're not going for creamy here – we're going for chunky and tender and loaded with fresh vegetables.
HEALTHY POTATO SALAD RECIPE
Potatoes
Extra-virgin olive oil
Fresh white corn (you can use frozen, but thawed)
Plum tomatoes, finely diced
Avocado
Cilantro
Green onions, sliced
For the Cilantro Vinaigrette
Lime juice
Orange juice
Extra virgin olive oil
Fresh cilantro, finely chopped
Directions:
Roast potatoes: Roast potatoes on a cookie sheet in oven for 30-35 minutes
Add vegetables: add the corn, green onions, tomatoes and avocado to the potatoes
Drizzle in vinaigrette: Gently fold in the vinaigrette to lightly coat ingredients
Season: season with freshly ground black pepper and sea salt to taste
Chill: chill salad in the refrigerator for up to an hour before serving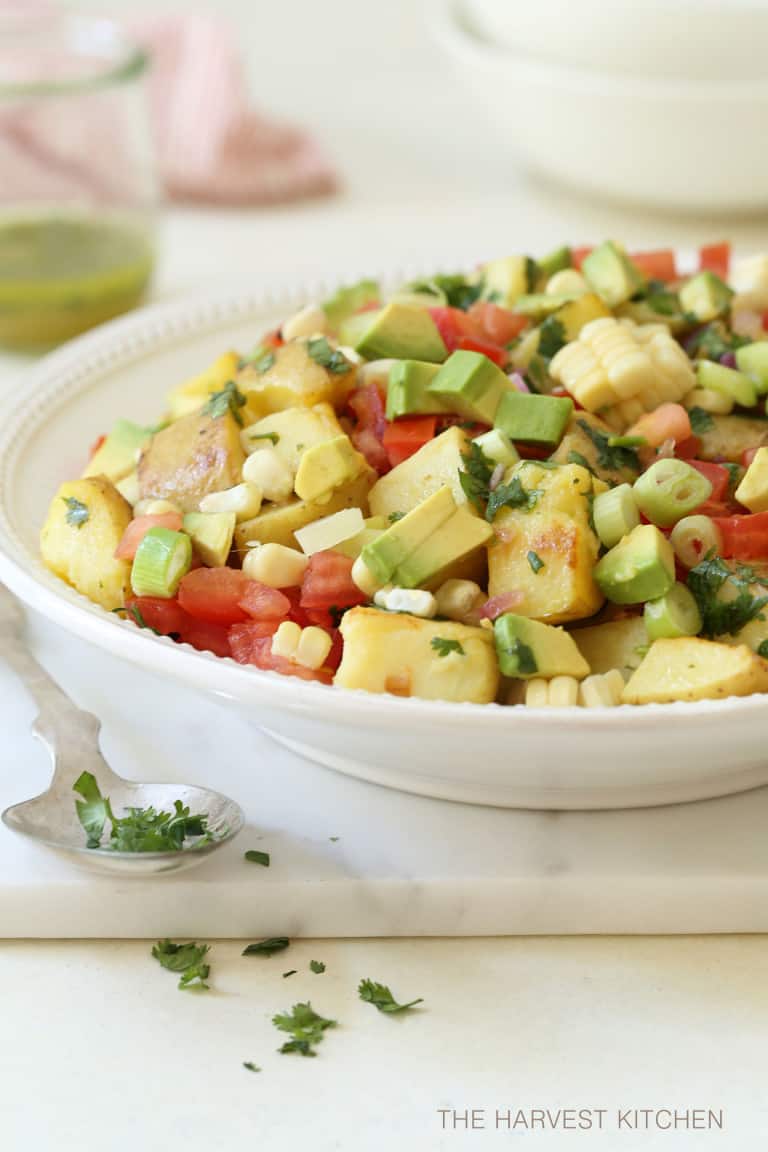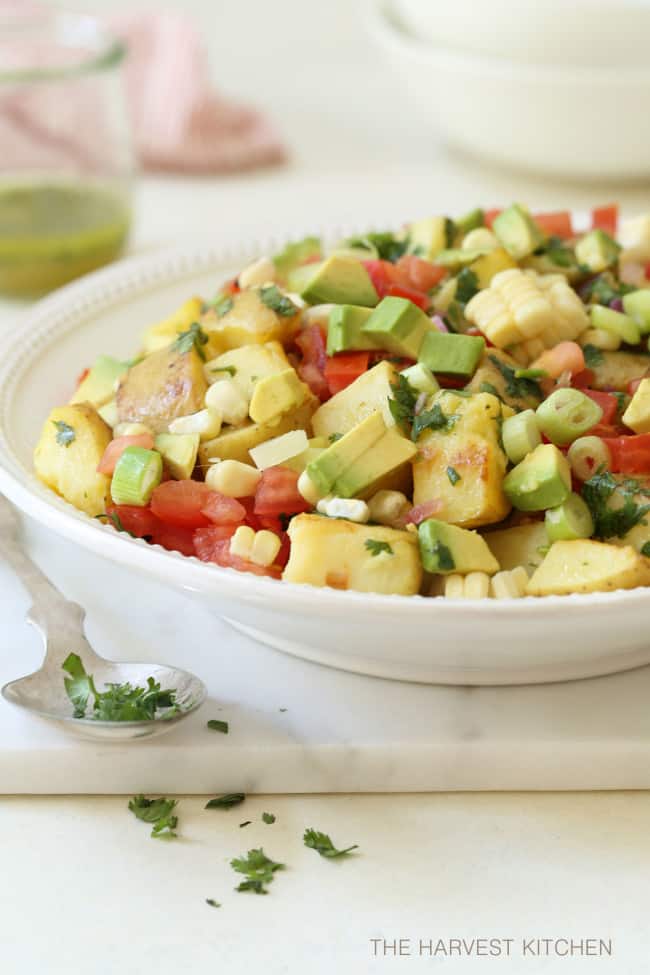 This vegan potato salad makes a delicious side dish to serve with just about anything! It's perfect for potlucks, picnics and backyard barbecues!
MORE POTATO SALAD RECIPES YOU'LL LOVE
Low-carb Cauliflower Potato Salad
Follow

THE HARVEST KITCHEN

on Pinterest for more great recipes!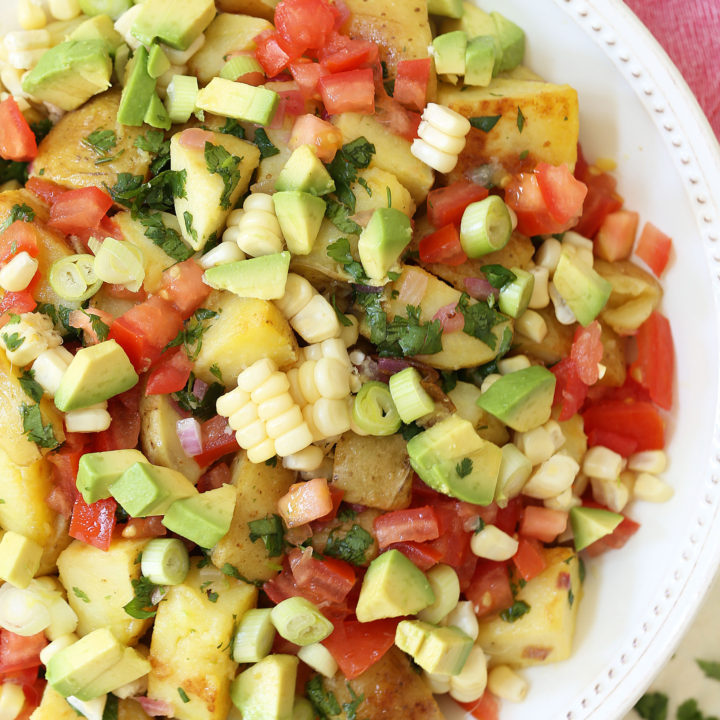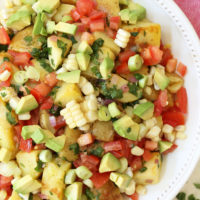 Yield: 6 - 8 servings
Mexican Potato Salad
Ingredients
3 pounds potatos (6 cups)
1/4 cup purple onion, minced
3 tablespoons extra-virgin olive oil
1 cup fresh white corn (you can use frozen, but thawed)
2 plum tomatoes, finely diced
1 small avocado, peeled and finely minced
2 green onions, sliced
1/4 cup lime juice
1/4 cup orange juice
1/2 cup extra virgin olive oil
1/4 cup fresh cilantro, finely chopped
Instructions
Preheat oven to 425
Wash potatoes and cut into 1″ cubes
Add cut potatoes to a large bowl and toss in olive oil, salt and freshly ground black pepper
Place potatoes on a baking sheet and bake for 30-35 minutes until they turn golden and are fork tender
Set potatoes aside to cool completely
Add completely cooled potatoes to a large bowl
Add corn, green onions, tomatoes, cilantro and avocado
Add the vinaigrette and carefully fold into the ingredients
Season with freshly ground black pepper and sea salt to taste
Chill one hour or until ready to serve
For the Vinaigrette
Add all of the ingredients to a mason jar and seal the lid tightly.
Shake until well blended.