Cantaloupe Lime Slush
Yum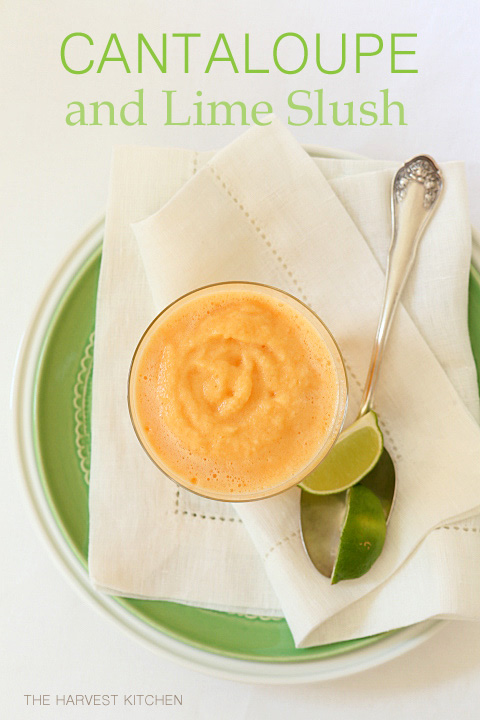 Instead of bringing you a plethora of recipes to make for a barbecue this holiday weekend,  I'm sharing a simple Cantaloupe Lime Slush recipe.  You see, I've spent the past 2 days cleaning out closets and organizing my garage, so I haven't been spending any good quality time in the kitchen. So I'll keep this post short, sweet (naturally so) and simple, then I'm heading straight up to my loft to weed through and organize the hundreds of cookbooks that are stacked on the floor.  Spring cleaning on steroids!!
Growing up – it seems my mom served cantaloupe and tomatoes whenever we'd have fried eggs and hash browns for breakfast. Rarely would we have bacon with breakfast – I could probably count the times on one hand. And I don't think my mom has ever purchased a package of sausage in her life. Nope… big ripe juicy tomatoes and chunky pieces of cantaloupe were served up for breakfast instead of sides of salty processed meats.
This refreshing Cantaloupe Lime Slush makes a great addition to any breakfast or brunch table.   As far as favorites go…it's right up there in my book next to this Melon Salad with Honey Lime Dressing (which is also perfect for a hot summer night), this Mexican Gazpacho Fruit Salad (great to serve for dinner too) and this absolutely luscious and completely addicting Papaya Salad (I could eat this all day long).
A few reasons you might want to incorporate more cantaloupe into your diet is because it's loaded with Vitamin C, beta-carotene and vitamin A, and it's incredibly hydrating to the skin.  Keeps that skin of yours plump and glowing!!
To make this recipe, I used my NutriBullet, this Glass Juicer, and one of these Knives.
Have a safe and happy Memorial Day as we honor those who gave the ultimate sacrifice for this great country of ours!
~ Deb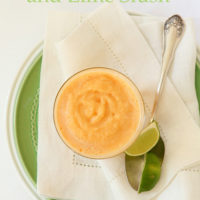 Cantaloupe Lime Slush
Yield: 2 servings
Total Time: 5 minutes
Ingredients:
3 cups frozen cantaloupe chunks (or use a mix of melons chunks)
1/2 - 3/4 cups coconut water (more for desired consistency)
juice of 1 lime (or peel and seed and toss in the flesh of one whole lime)
1/4 teaspoon honey (optional)
Directions:
Toss all of the ingredients in your NutriBullet and blend.  Add a little more coconut water if it's too thick.
Leave a Comment