Baked Parmesan Zucchini Rounds
Yum
Follow my blog with Bloglovin
These gluten-free Baked Parmesan Zucchini Rounds are downright addicting!  Make a batch to serve as an appetizer for your next get-together with friends and watch them disappear!  .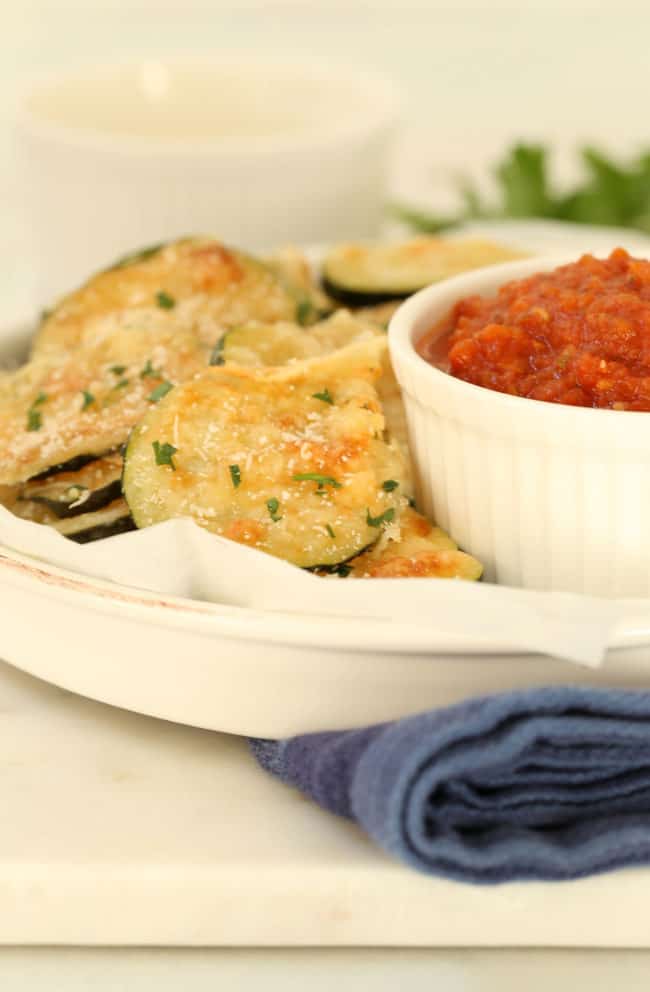 This recipe is a  lightened up version of the popular breadcrumb-coated fried zucchini that many restaurants serve. And they couldn't be easier to make!  You'll only need 2 ingredients for this recipe.  Zucchini and parmesan cheese.  And maybe a little parsley for garnish if you'd like.
And they're super easy to make!!   The slices of zucchini are lightly seasoned with salt, then they're lined out on paper towels for about 15 minutes to draw out the moisture from the zucchini.  Then the zucchini slices are placed on a cookie sheet lined with parchment paper, sprinkled with parmesan cheese, and baked for 15 to 20 minutes or until they turn a luscious golden color.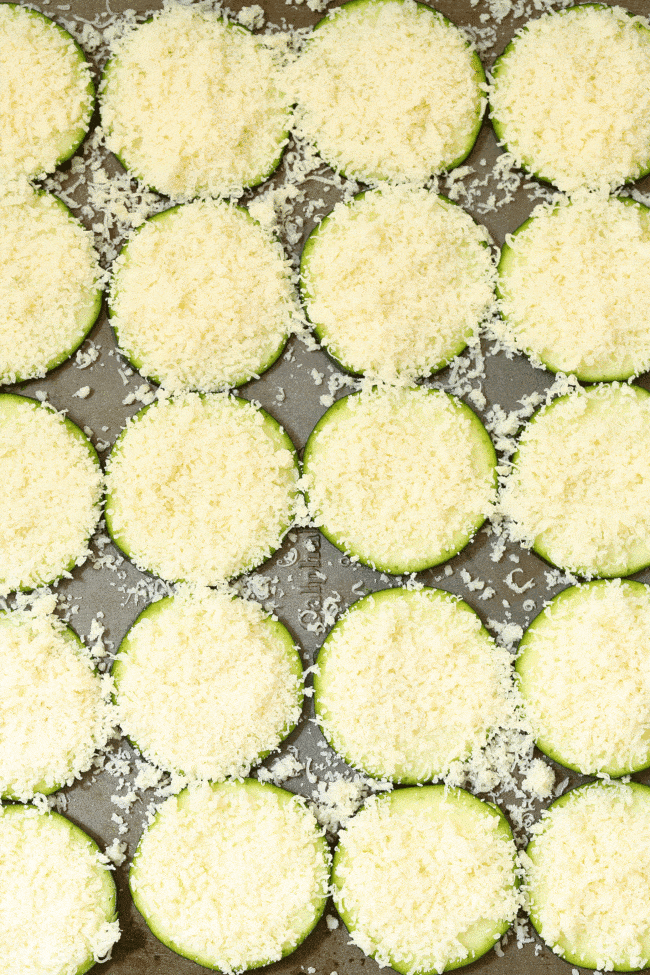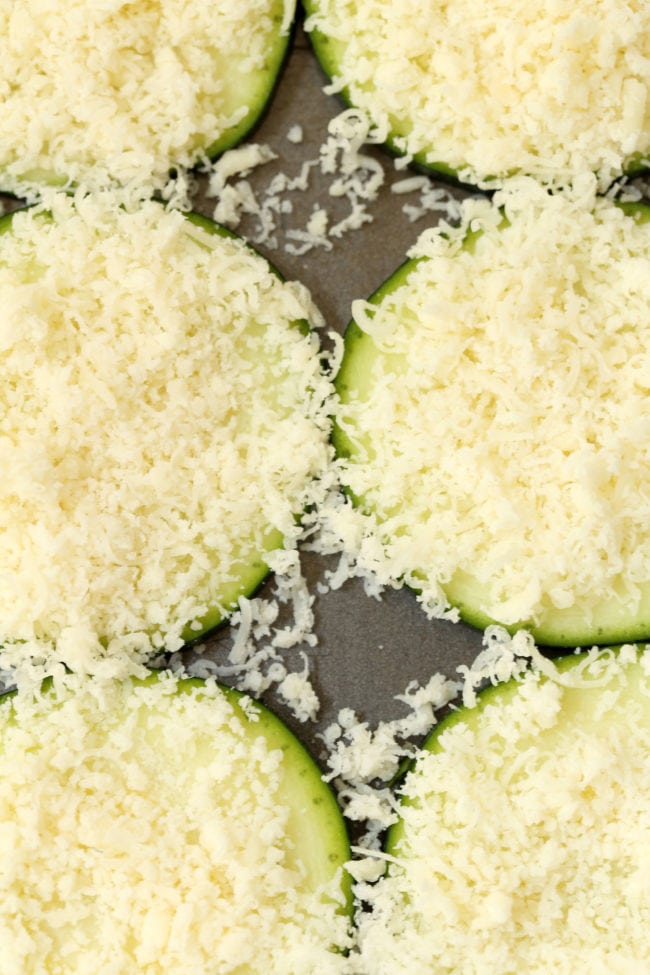 These zucchini chips are delicious on their own, but I think they're best when served with warm Classic Marinara Sauce for dipping.  They're also equally incredible dipped in Ranch Dressing. But what isn't!?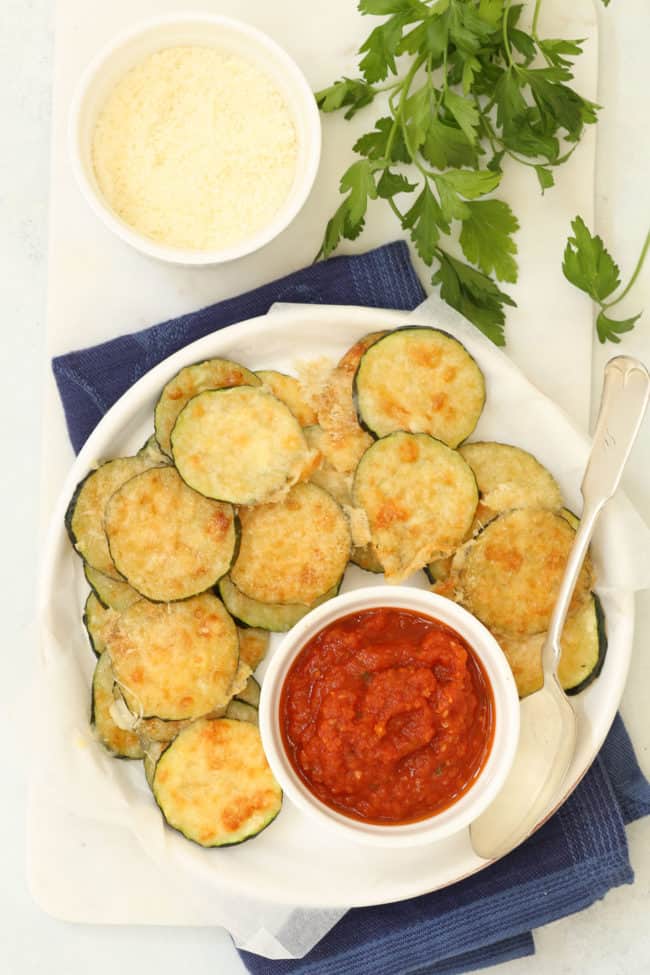 Zucchini is in peak season between the summer moths of June through August. But it can also be found in markets in some regions all year long. Right now is a perfect time to make this delicious healthy appetizer.
~ Deb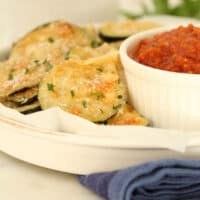 Baked Parmesan Zucchini Rounds
Yield: Serves 4
Total Time: 30 minutes
Ingredients:
2 medium-sized zucchini, sliced in 1/4 inch pieces
1/2 cup Parmesan cheese, finely grated
2 tablespoons parsley, finely chopped
Extra Parmesan cheese for dusting
Directions:
Place oven rack in center position of oven. Preheat to 425°F.
Line a baking sheet with parchment paper (or you can use foil).
Rinse and pat  dry zucchini.
Cut into slices not larger than 1/4 inch thick
Arrange zucchini rounds on prepared baking sheet.
Sprinkle Parmesan cheese on each piece of zucchini.,
Bake for 15 to 20 minutes, or until Parmesan turns a light golden brown.
Using a spatula, remove the zucchini rounds from the baking sheet and place on a cooling rack or plate to cool.
Place the baked zucchini on a serving dish and lightly dust with Parmesan cheese and finely chopped parsley.
Serve warm with Classic Marinara Sauce
Leave a Comment