Antioxidant Trail Mix
Yum
This Antioxidant Trail Mix is a balanced blend of nuts (walnuts, pistachios, hazelnuts and almonds), seeds (pumpkin and sunflower) and dried fruits (cranberries, blueberries, goji berries and cherries).  This is one powerful superfood trail mix that is  both nourishing and energizing, and it makes a great snack to pack when you're on the go. Healthy snacking never tasted so good!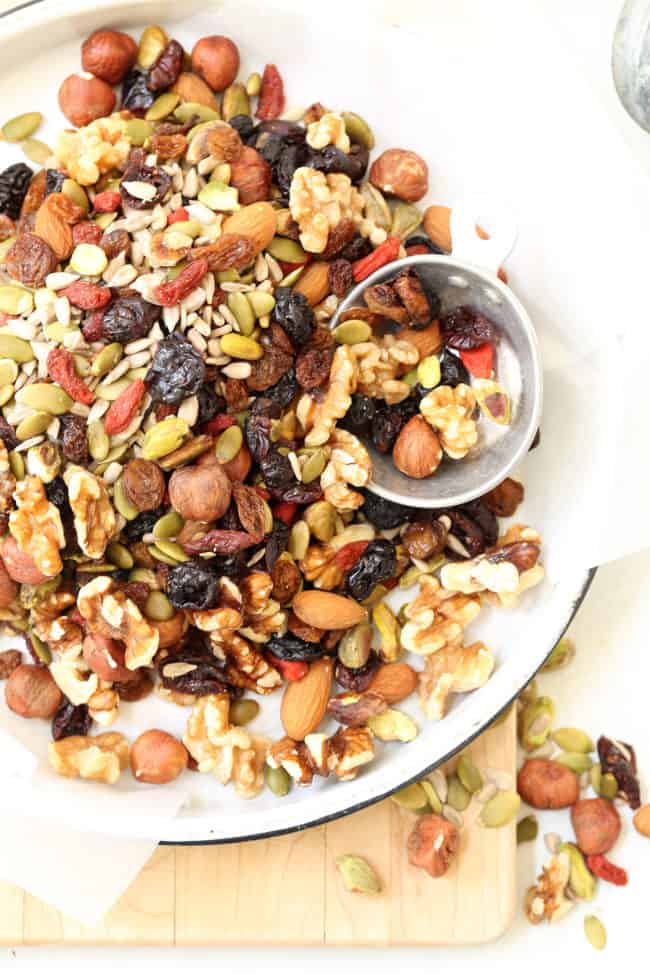 This Antioxidant Trail Mix is a great blend of nuts, seeds and dried fruit, and provides tremendous nutritional value.  And it's a great way to celebrate  National Trail Mix Day which is on August 31st.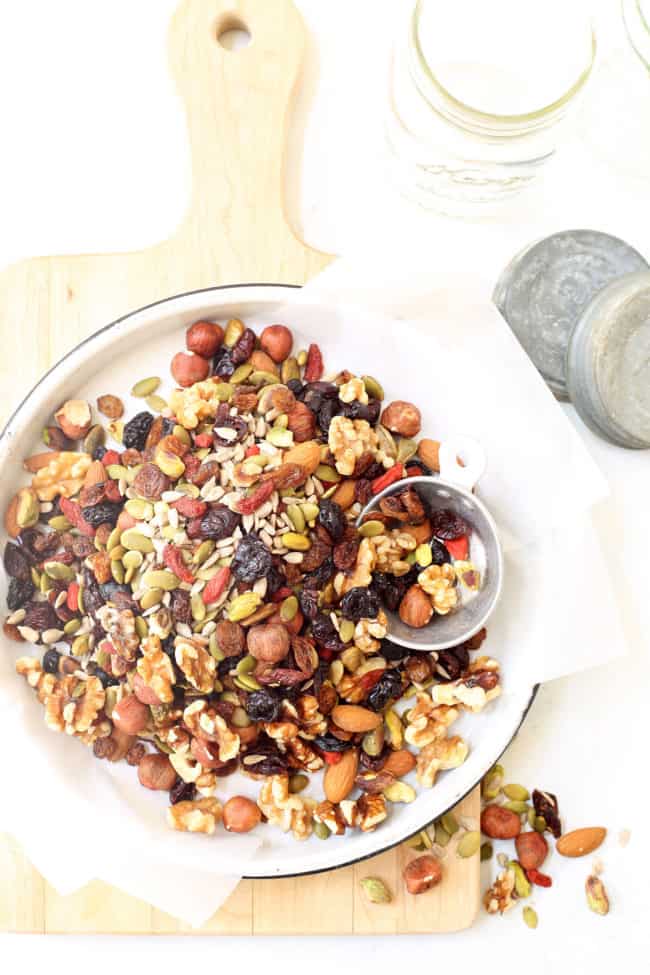 I solicited the help of my dear friend, Malcolm, in coming up with what could be considered the ultimate trail mix in the eyes of a national champion cyclist.  Malcolm is a fit athlete (yes he really is a national champion who races for Amgen Breakaway from Cancer masters cycling team) who adheres to a fairly strict and mostly vegetarian diet.  He's big on protein (some salmon, chicken and plant-based), greens (makes a mean kale salad) and berries (preferring the blue ones). At the end of our conversation, where I'm sure I overthought things, we concluded that he prefers a high protein and antioxidant-rich trail mix.  He would have been fine had I added a small amount of dark chocolate (for the antioxidant benefits), but I opted to leave it on the table thinking the fruit makes this mix sweet enough.  So this Antioxidant Trail Mix is a blend of his preferences and a bit of my own.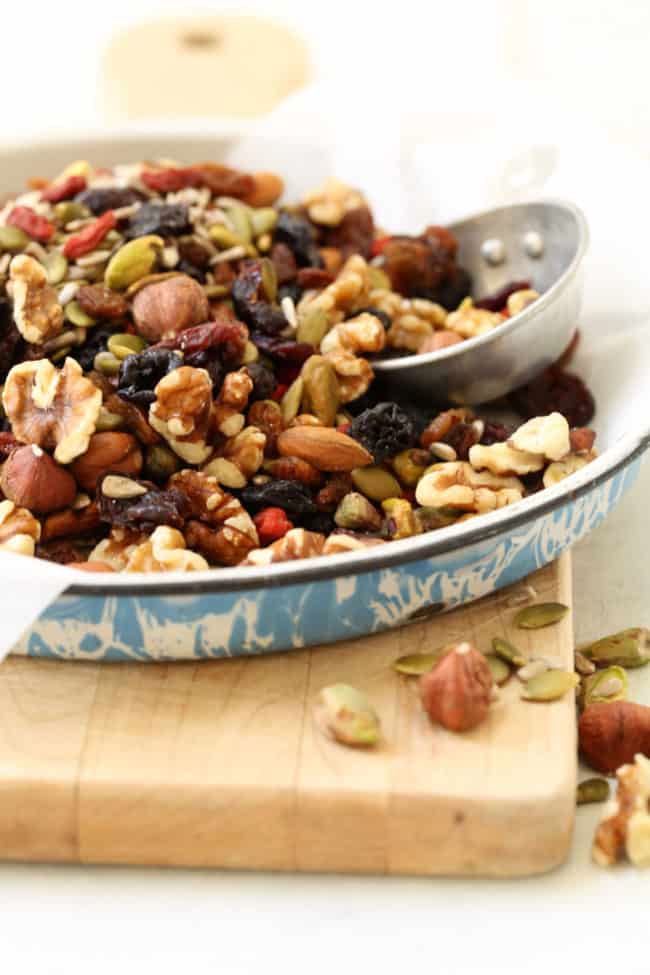 Let's unpack all of the nutritional benefits going on in this colorful trail mix.
Dried fruits are high in fiber and they're an excellent source of antioxidants, especially phenols.  They contain little to no fat, yet provide a significant amount of calories per serving,  making them a natural source of energy for athletes.  Plant polyphenols are good for warding off heart disease, cancer, osteoporosis, diabetes, and degenerative diseases of the brain.  Dried fruits are also a great source of fiber, which keeps our digestive systems healthy which may help prevent heart disease and some forms of cancer.
Pumpkin Seeds are a nutritional powerhouse, rich with heart-healthy magnesium, manganese, copper, protein and immune-supporting zinc.  They're also an excellent source of Omega-3s healthy fats, tryptophan (mood boosting and aids in restful sleep) and anti-inflammatory benefits   The nutrients found in pumpkins seeds help support prostate health and regulate insulin levels.
Sunflower seeds are a healthy source of essential fatty acids,  Vitamin E, copper, B Vitamins, and selenium.  I like to sprinkle these delicate tasting seeds over my salads and oatmeal, and they're a great add to sandwiches and wraps.  You can also soak them in water overnight, then blend them to make sunflower seed butter for your toast in the morning.
Nuts are a great source of omega-3 fatty acids, vitamins, antioxidants and fiber.  Heart-healthy nuts can help lower bad cholesterol (LDL) and elevate the good (HDL).  Nuts may strengthen and improve the health of the lining of your arteries.  Some nuts, such as walnuts also offer anti-cancer benefits, especially in breast and prostate.
When buying the ingredients for this Antioxidant Trail Mix, try to find organic ingredients and unsweetened dried fruits.
Here's a short video of Malcolm's rock-star team Amgen Breakaway from Cancer.  The team races for a great cause!!  There are pics of Malcolm throughout this video.  He's the one at the end with his hand in the air. It's always so fun to watch him race, and of course to win!
Thank you my friend for your help with this recipe!!
~ Deb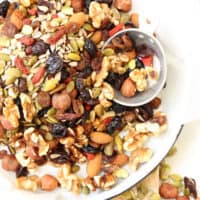 Antioxidant Trail Mix
Yield: 4 cups
Total Time: 5 minutes
Ingredients:
1/2 cup almonds
1/2 cup walnuts
1/2 cup pistachios
1/2 cup hazelnuts
1/3 cup pumpkin seeds
1/3 cup sunflower seeds
1/4 cup dried cranberries
1/4 cup dried blueberries
1/4 cup dried goji berries
1/4 cup dried cherries
Directions:
Add all of the ingredients to a large mixing bowl.
Gently toss the ingredients to mix things up.
Store in tightly sealed containers.
Leave a Comment