Agua Frescas
Yum
Agua Frescas are an exotic blend of fresh fruit (such as mango, pineapple, and melon), water (sparkling or plain) and lime juice.  They make a perfect refreshing thirst-quencing drink to sip on all summer long.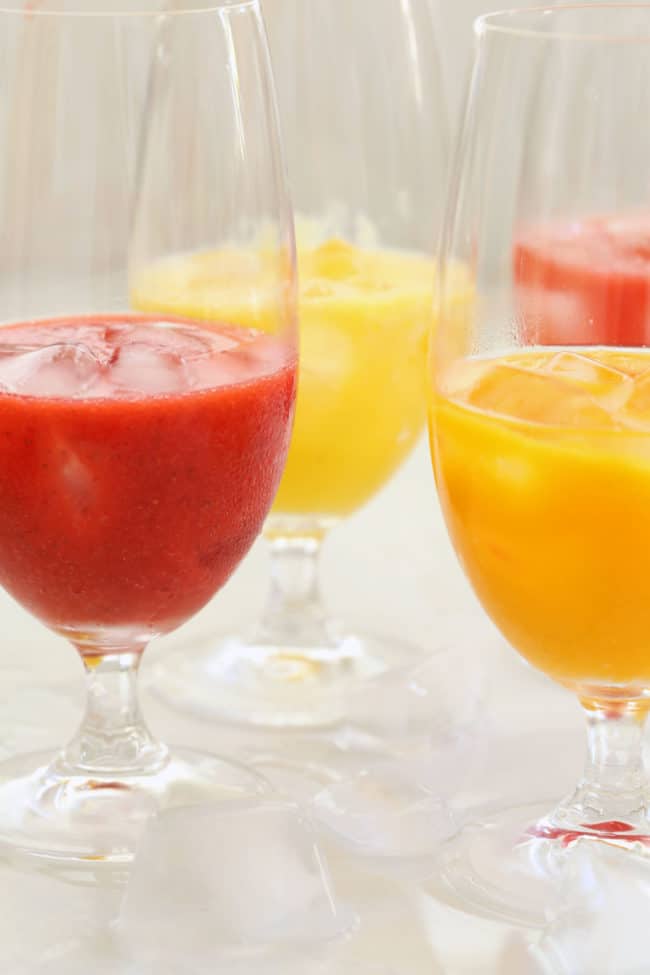 Cool and refreshing Agua Frescas are an exotic fruit drink made with fresh fruit, water and lime juice.

I have always like to add just a splash of cranberry juice or pineapple juice to my glass of drinking water. Just that little hint of flavor makes the water taste so much more refreshing, and it makes it easier for me to drink the 6-8 glasses of water that we need daily to stay hydrated.
Sometimes I want a little something extra….something with just a hint of sweetness without all the sugar. Sometimes I really want something…. besides water. That's where these Agua Frescas (fresh fruit water) come in. It's a great way to spiff up your drinking water.
These Agua Frescas are a refreshing fruit drink. They're also a great way to help you get your fruit consumption accomplished for the day. We're supposed to consume between 3-5 servings of fruit each day. One serving of fruit is equal to 1/2 cup fresh fruit, 1/4 cup dried fruit, or 1/2 cup 100% fruit juice. I like to keep a couple of mason jars filled with fresh fruit puree in my refrigerator so I can add tablespoons of the fruit to a few glasses of my water during the day. It's a handy habit to get into.
Agua Fresca literally translates to "fresh water".  Water is needed for every single metabolic process in the body. Staying well hydrated protects your heart. Water is necessary for our bodies to absorb nutrients and vitamins. Water can improve energy, increase mental and physical performance and remove waste and toxins from our bodies. It keeps our skin healthy and glowing. Water helps to keep our joints and muscles lubricated, protecting them from shock and damage.  Adding a few tablespoons of exotic fruit to you water adds flavor, fun and nutrition to an otherwise bland drink.

Pictured are Watermelon Agua Fresca, Strawberry Agua Fresca, Pineapple Agua Fresca, and Mango Agua Fresca.
Note this is a repost of a recipe published on April 22, 2012.  I've update it here with a few new photos for you to pin on Pinterest.
~ Deb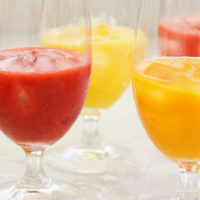 Agua Frescas
Yield: 4- 6 servings
Total Time: 5 minutes
Ingredients:
1 cup of fruit, peeled, seeded and chopped (you can use mango, papaya, pineapple, melons, peaches, pears, strawberries and kiwis, etc).
2 tablespoons lime juice (1-2 limes)
1-1/2 cups carbonated water (you can use distilled or mountain spring if you prefer)
sliced lime for garnish
Directions:
In a blender or food processor, process the fruit and lime juice until smooth. You should have 1 cup fruit puree.
Pour into a mason jar and store in the refrigerator.
Add 3-4 spoonfuls of the fruit puree to a chilled glass and add the water and stir to blend well.
Add ice and garnish with a slice of lime.
Adjust the amount of water and fruit puree to your personal taste. Be creative!
One Response to "Agua Frescas"
Leave a Comment