Nourishing Vegetarian Bean Soup
This Vegetarian Bean Soup is soothing and delicious. We use canned white beans and simple vegetables for this recipe so it's a quick and easy white bean soup to pull together.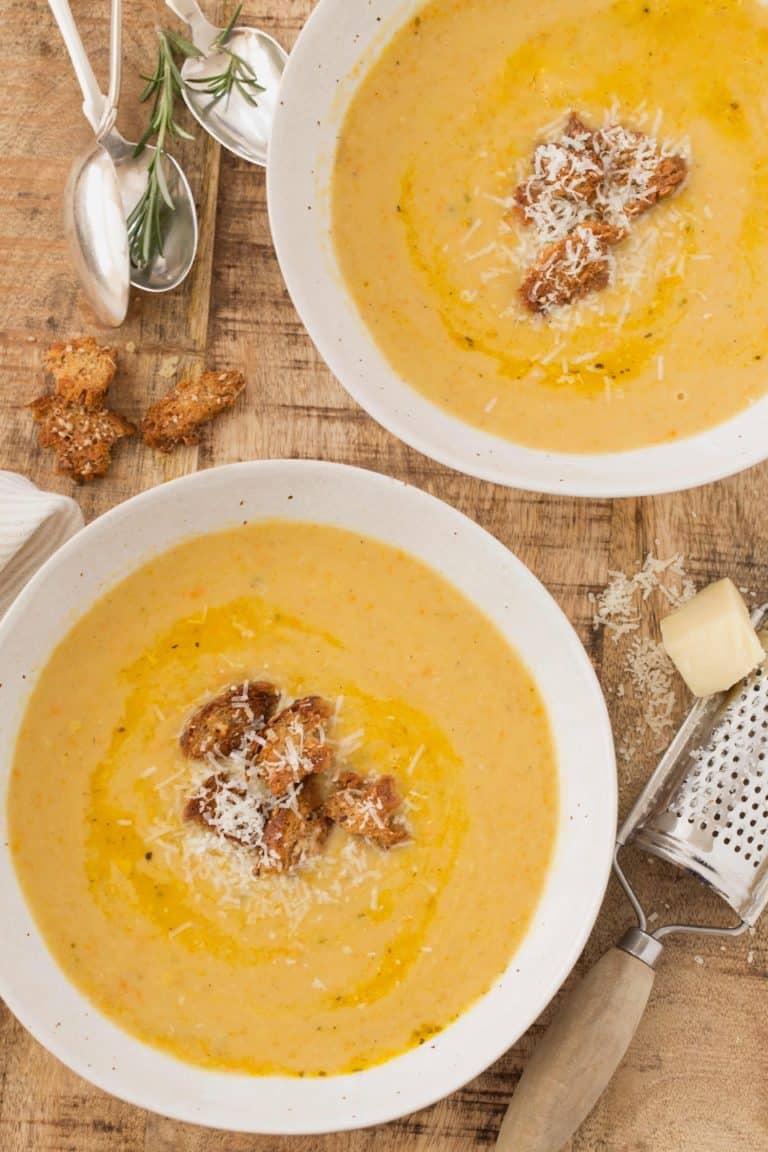 My ex mother-in-law used to serve a delicious creamy bean soup at her little restaurant in Los Angeles. This nourishing bean soup recipe is my healthy riff on her bean soup.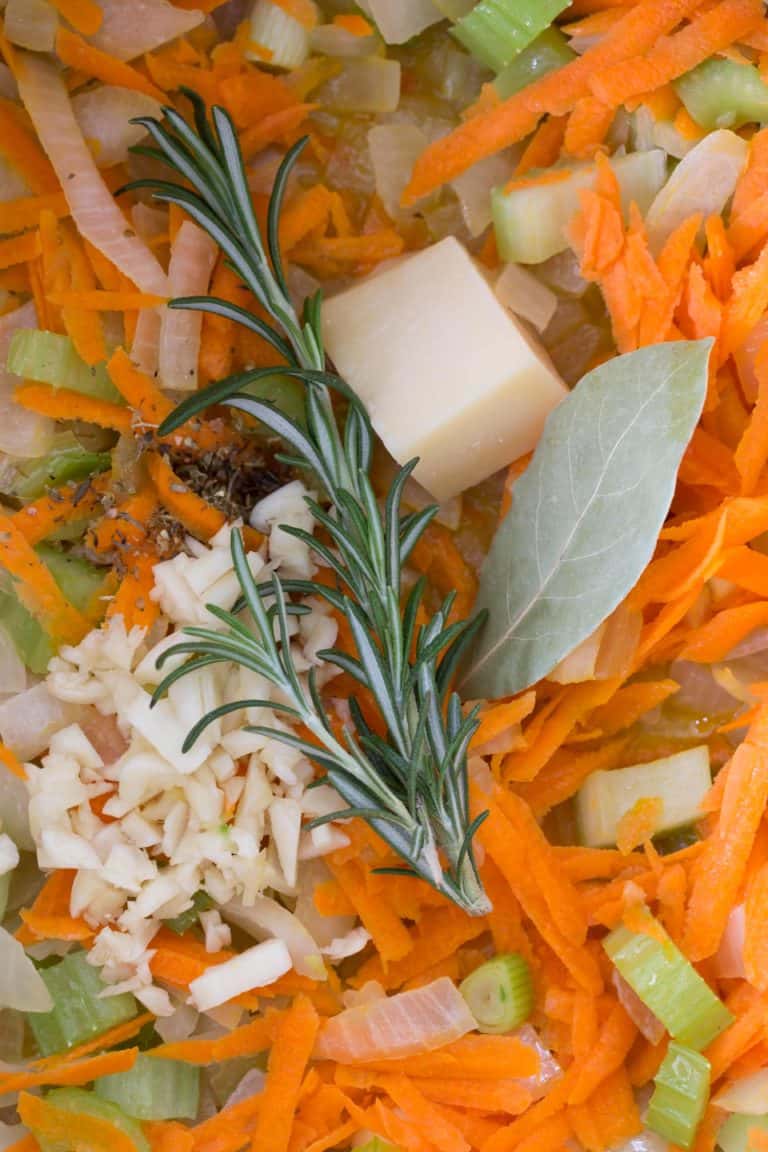 BEAN SOUP INGREDIENTS
This is an easy white bean soup to pull together using simple ingredients that you might already have on hand. Despite the simple ingredients, this Vegetarian Bean Soup is rich, nourishing and flavorful.
Beans – we use 2 cans of canned cannellini beans – I like the creamy texture of cannellini beans, but you can also use navy beans for this recipe
Celery – I typically chop up the celery leaves of one stalk to add to my soups – it adds a really nice flavor
Carrots – we grate the carrots rather than chopping them (which is how my ex-mother-in-law made her soup) After the soup is blended, you'll see little flecks of carrot in the soup
Onion – yellow and green onion are added to this soup
Garlic – minced garlic is added to this soup, but mashed roasted garlic swirled into this soup is amazing too
Bay leaf – just one to add to the rich flavor of this soup
Rosemary – we just add a sprig or two of fresh rosemary
Italian herbs – I use an organic Italian blend
Parmesan cheese – if you want to make this white bean soup vegan, then omit the Parmesan cheese, but it adds a nice rich flavor to the soup
Vegetable broth – you can use chicken broth if you're not a vegetarian or vegan
HOW TO MAKE BEAN SOUP
This vegetarian bean soup comes together in about 30 minutes start to finish.
Saute – saute onion, garlic, celery and tomatoes in olive oil
Seasoning – add Italian herbs, rosemary sprig and bay leaf
Beans – pour in the beans and vegetable broth
Simmer – simmer the soup for about 20 minutes, discard bay leaf and rosemary sprig
Blend – blend the soup using a stick blender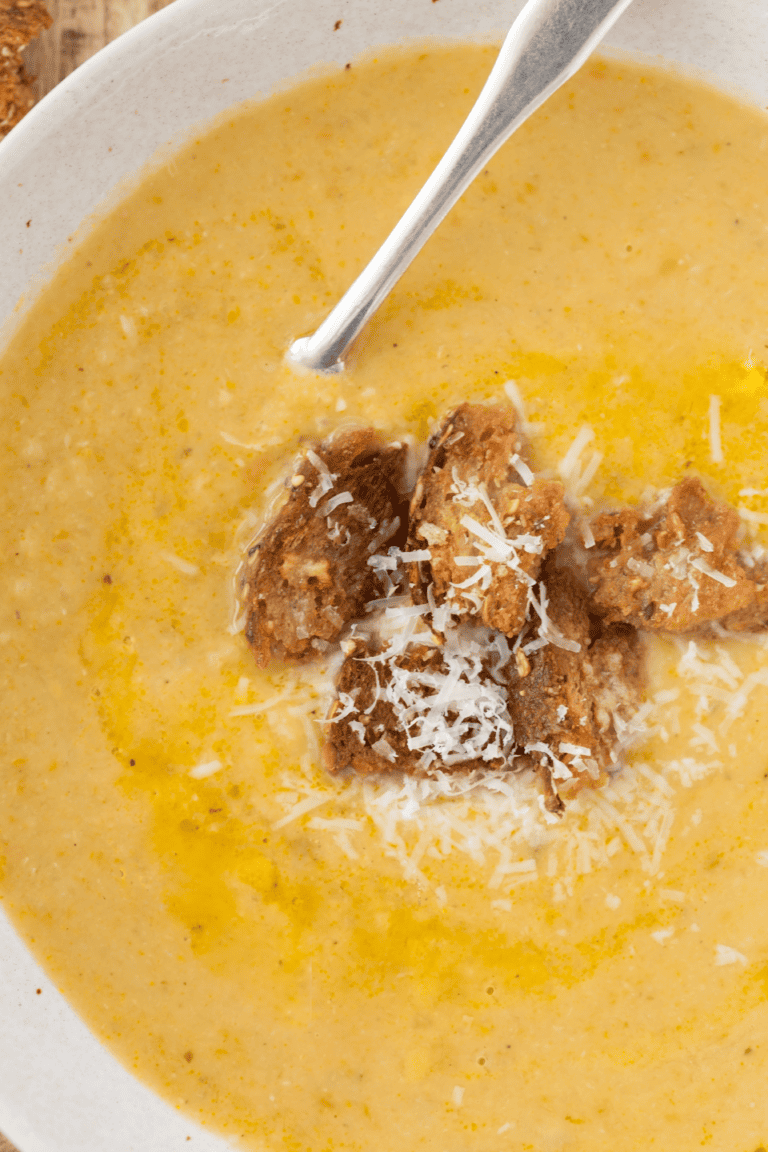 HOW TO SERVE THIS BEAN SOUP
With a drizzle of extra-virgin olive oil
Pesto stirred into soup is always a win in my house
Grated Parmesan cheese
Lazy torn croutons – these croutons were made by tearing pieces of bread and tossing them in olive oil, then sprinkling Parmesan cheese over them and popping them in the oven to bake for about 5-7 minutes.
Warm crusty bread with a big garden salad.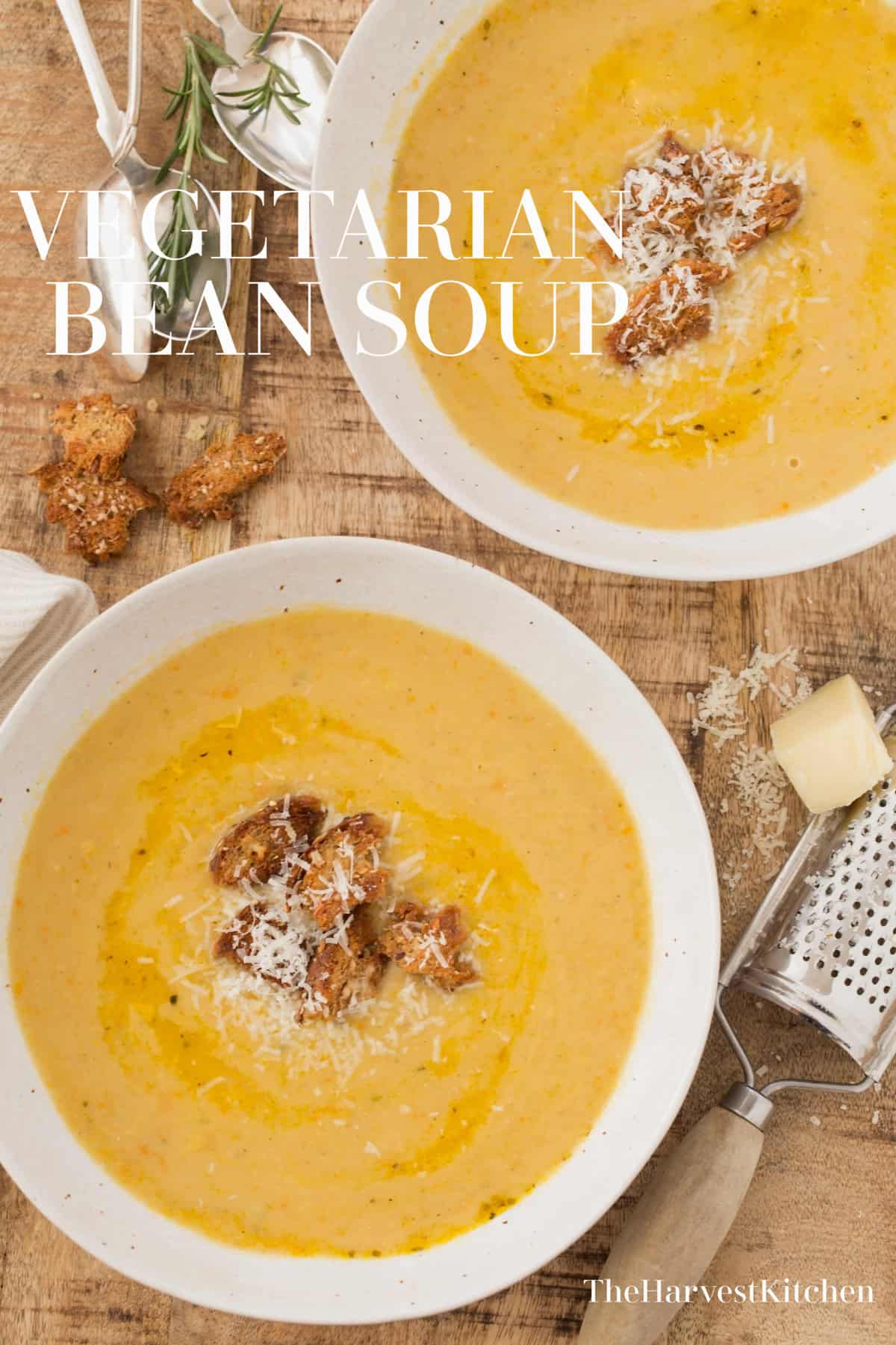 VEGETARIAN SOUP RECIPES
Yield: 4-6
Nourishing White Bean Soup
This vegetarian White Bean Soup is soothing and delicious.  We use canned white beans for this recipe so it's a quick and easy soup to pull together.
Ingredients
3 tablespoons extra virgin olive oil
1 onion, chopped
2 green onions, chopped
4 cloves garlic, minced
2 carrots, grated on a box grater
2 celery stalks, chopped
2 15 ounce cans cannellini beans, drained
1 fresh rosemary sprig (or 1/2 teaspoon dried)
1 bay leaf
2-1/2 teaspoons Italian herbs
1 1-inch piece Parmesan cheese
4 cups low-sodium vegetable broth
salt and ground black pepper to taste
Instructions
Het the olive oil in a large Dutch oven.
Add the onion, carrots and celery and sauté for about 5 minutes until softened. Add the garlic and sauté for another minute or two.
Stir in the Italian herbs
Add the beans, rosemary sprig and bay leaf
Pour in the vegetable broth.
Cover and simmer on low heat for about 20 minutes.
Discard bay leaf and rosemary sprig
Using a stick blender blend the soup until it's smooth and creamy.
Season with freshly ground black pepper and sea salt.
Serve with a drizzle of olive oil, some parmesan cheese and torn croutons.
Leave a Comment