Skinny Greek Yogurt Ranch Dip
Yum
This Skinny Greek Yogurt Ranch Dip is low in both calories and fat, but it's very big on flavor.  It's the perfect dip to serve with an assortment of your favorite fresh vegetables.
This Skinny Greek Yogurt Ranch Dip is quick and easy to make, and it has that rich bold ranch flavor that everyone loves.  Serve it with a big bowl of your favorite fresh veggies for healthy snacking.
Healthy snacking can be habit forming if you plan ahead.  I'll typically make my healthy soups, salads and snacks on Sundays to last me well into the following week.  I'm not a big fan of coming home after a long day at work and rattling a bunch of pots and pans around to get something going for dinner.  I like to effortlessly pull out a soup, stew or salad that I made ahead of time and reheat if necessary.  And I'm usually famished when I walk through the door and looking for something to snack on while I get dinner going.  If I've been good and planned and prepared ahead of time, then I'll have something healthy to snack on.  Chips used to be my weakness…I just don't buy them anymore.  I can't be trusted!   But if I have veggies prepared, then it's veggies that I'll eat.  And everyone loves a good dip, including me, so if I have a good healthy dip on hand, then the more veggies I'll consume.
Some of my favorite veggies to serve with this low fat ranch dip are cucumbers (super hydrating), carrots (loaded with antioxidants), celery (a natural diuretic), broccoli (has cancer fighting properties), and cauliflower (immune boosting and anti-inflammatory benefits).
This healthy ranch dip is perfect to have on hand with a big bowl of assorted veggies as we head into the warmer months when we tend to eat less, lighter, and healthier in order to squeeze into our bathing suits.
~ Deb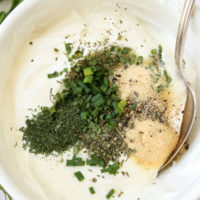 Skinny Greek Yogurt Ranch Dip
Yield: Serves 4 - 6
Total Time: 1 hour
Ingredients:
1/4  cup olive oil mayonnaise
3/4 cup Greek yogurt
1/2 teaspoon dried dill weed
1/2 teaspoon dried parsley
1/2 teaspoon dried chives
1/4 teaspoon garlic powder
1/4 teaspoon onion powder
1/8 teaspoon ground black pepper
1/8 teaspoon sea salt
juice from 1/2 lemon
Directions:
In a bowl, whisk together the mayonnaise, Greek yogurt, herbs, spices and lemon juice.
Refrigerate for at least 1 hour before serving.  It's best if refrigerated for several hours for the flavors to blend.
Leave a Comment