Roasted Garlic Chicken Soup
Yum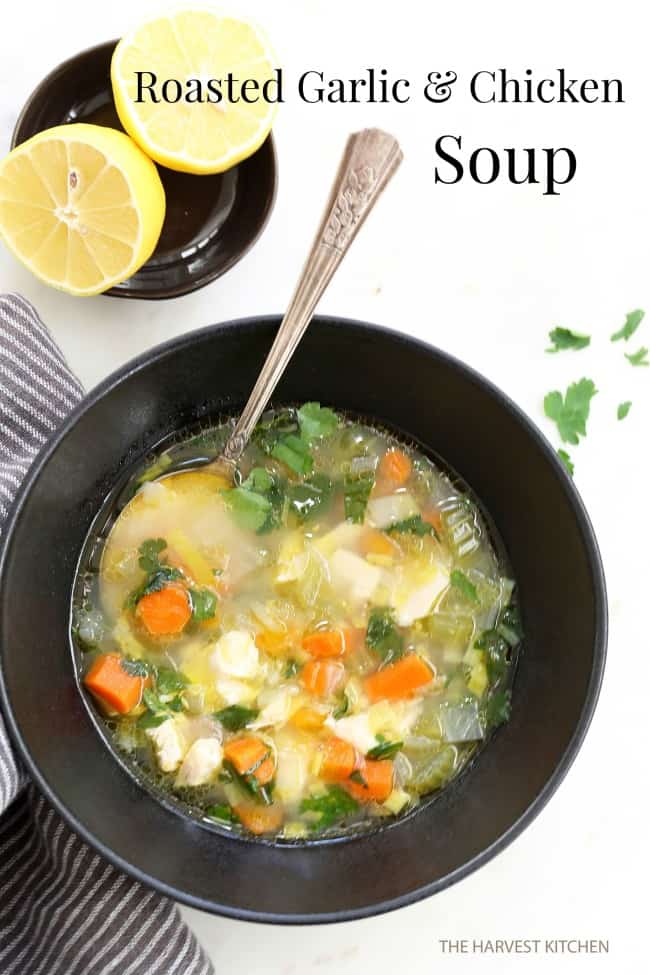 This Roasted Garlic Chicken Soup has been the only thing I've made in over a week.  Just too much going on in life which left me feeling a bit raw and like I was in need of something warm, soothing, and comforting for my soul.  Too much to share right now….in time.  Just not ready yet.  A major loss in my life.  When I was home alone one evening, I decided to dust off my favorite Dutch oven and make this wonderfully satisfying and nourishing Roasted Garlic Chicken Soup.  It's both soothing and comforting and it's perfect to sip on when you're feeling  run down or under the weather.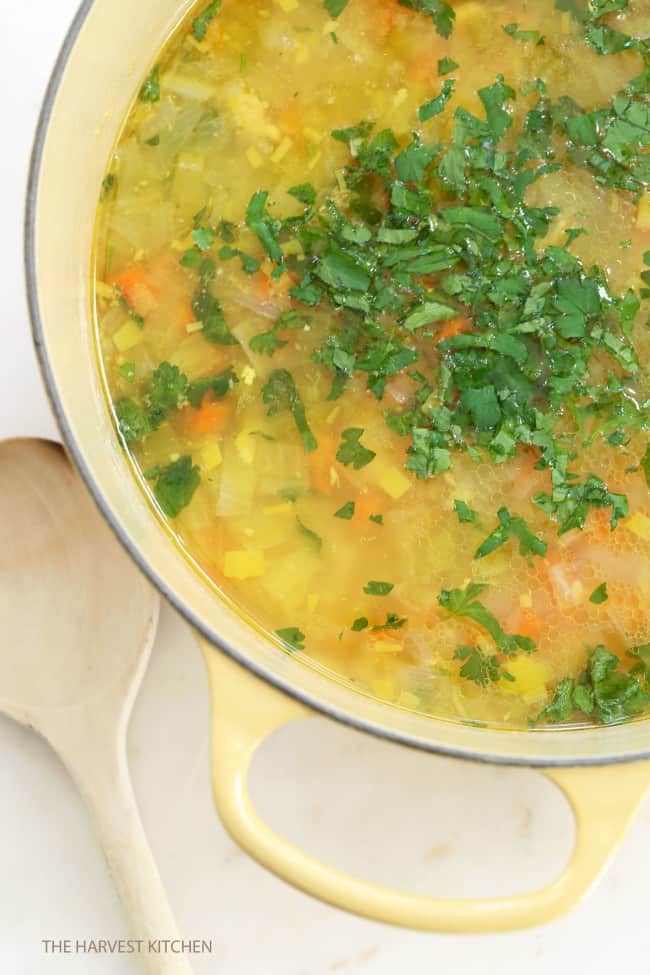 I make this soup often, mostly because I love the flavor, but it's a great immunity booster during trying times.  Whether it's a major change or a major loss in a persons life or just the day to day stresses that we all deal with, it's important to take care of our immune system by nourishing our bodies well.  This soup really is all about the broth.  The chicken and veggies are fillers…but what makes this a notable bowl of soup is the broth.  Roasted garlic is blended into the liquid, rendering a mellow yet distinctive and slightly elegant flavor.  Oh and there's a back note of ginger here as well, which I really love.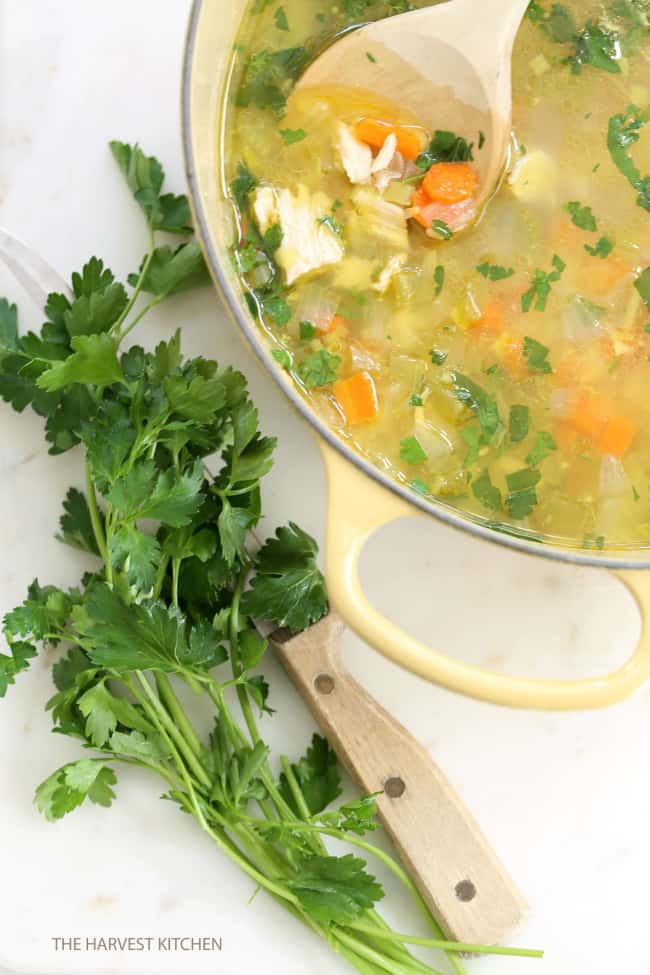 I've added the juice of one small lemon here for the added flavor and for immunity boosting properties.  I also serve this soup with extra wedges of lemon, because some of us like to add a little extra squeeze to our bowls along with a few extra parsley sprigs.   More detox power!!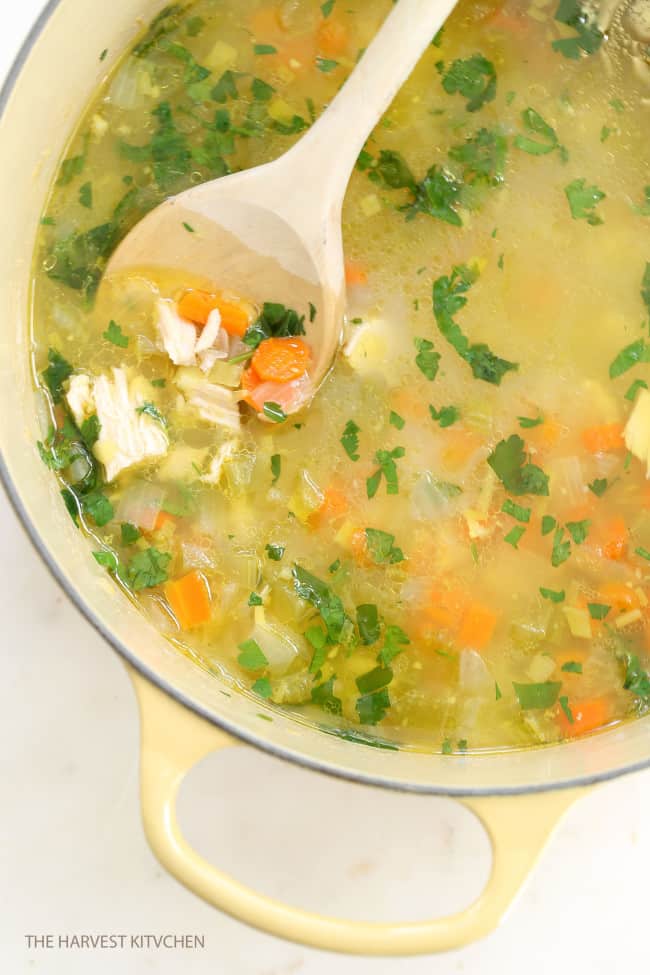 In my book, there's nothing better than a big, brothy, nourishing bowl of soup for whatever ails you.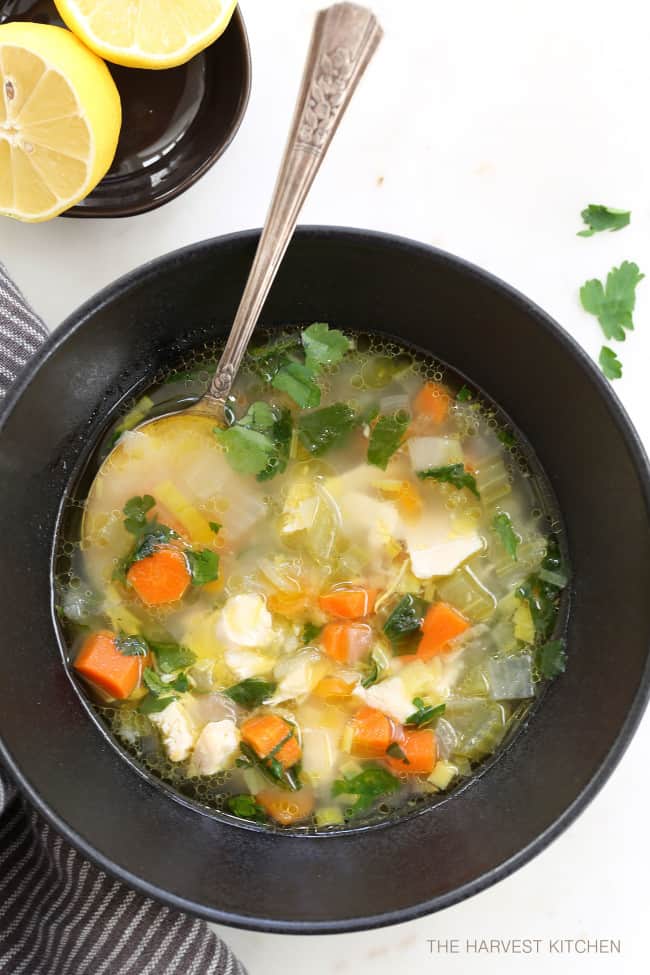 This is one of those simple soups to pull together with the most humble of ingredients.
Enjoy!
~ Deb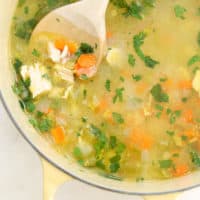 Roasted Garlic Chicken Soup
Yield: 4 servings
Total Time: 45 minutes
Ingredients:
2 heads garlic
5 tablespoons extra virgin olive oil, divided
Pinch of salt
6 cups chicken broth
1 yellow onion, diced
1 large leek, chopped (light and light green parts only)
2 large carrots, peeled and chopped
2 large celery stalks, chopped
1-inch piece fresh ginger, peeled and minced
2 cups cooked chopped chicken (rotisserie works fine)
1/4 cup fresh organic parsley, chopped
Juice of one lemon
Directions:
Preheat oven to 400 degrees F. Cut the tops off of the garlic bulbs, exposing the cloves.
Place the whole garlic bulbs on a piece of aluminum foil and drizzle the tops with olive oil and a pinch of salt.
Wrap the edges of aluminum together enclosing the garlic bulbs.
Bake for 30 minutes.
Add the broth to a large bowl.
Remove garlic from oven and carefully open up package. Garlic cloves should be soft and golden. Squeeze out the softened cloves from the bulb, discarding skins, directly into the broth. Blend garlic into the broth using an immersion blender or traditional blender.
Heat 2 tablespoons of olive oil in a large skillet.  Sauté the onion, carrots, and celery for about 5 - 6 minutes or until soft and translucent.
Add the ginger and cook just until fragrant, another 1-2 minutes.
Add the vegetables to the chicken broth and cook for about 5 more minutes.
Add the chopped pieces of chicken and cook for another 5 minutes.
Add the chopped parsley and lemon juice.
Serve with lemon wedges.
One Response to "Roasted Garlic Chicken Soup"
Leave a Comment