Nourishing Lemon Chicken Quinoa Soup
Yum
This Nourishing Lemon Chicken Quinoa Soup is loaded with tender bites of chicken, protein packed quinoa, and some fresh vegetables, all simmered in a cozy lemony chicken broth seasoned with thyme.  Pure comfort food!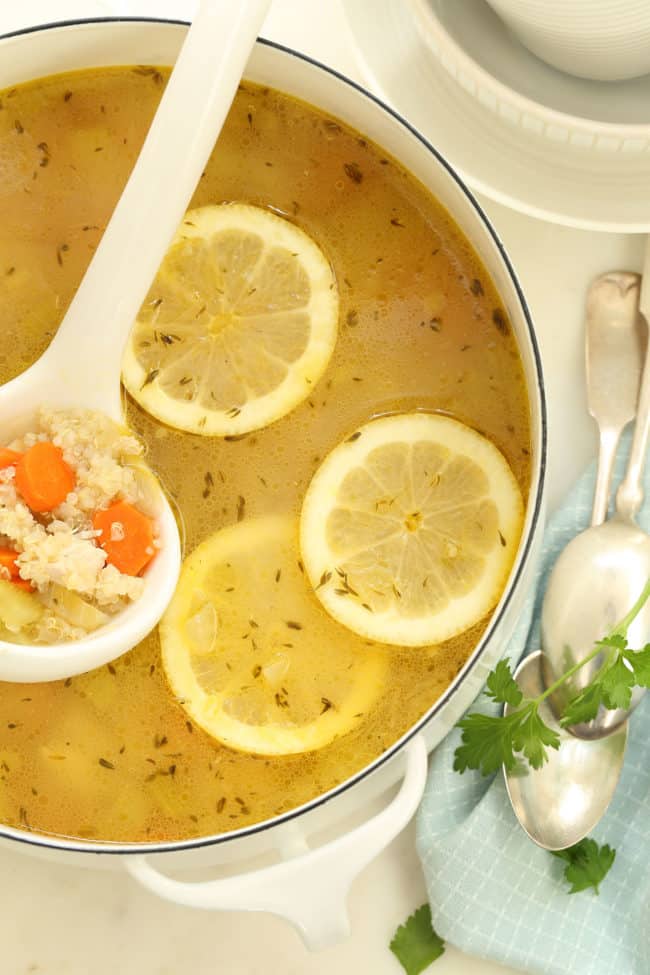 This Nourishing Lemon Chicken Quinoa Soup is deliciously rich and flavorful and it's perfect for a chilly winter day.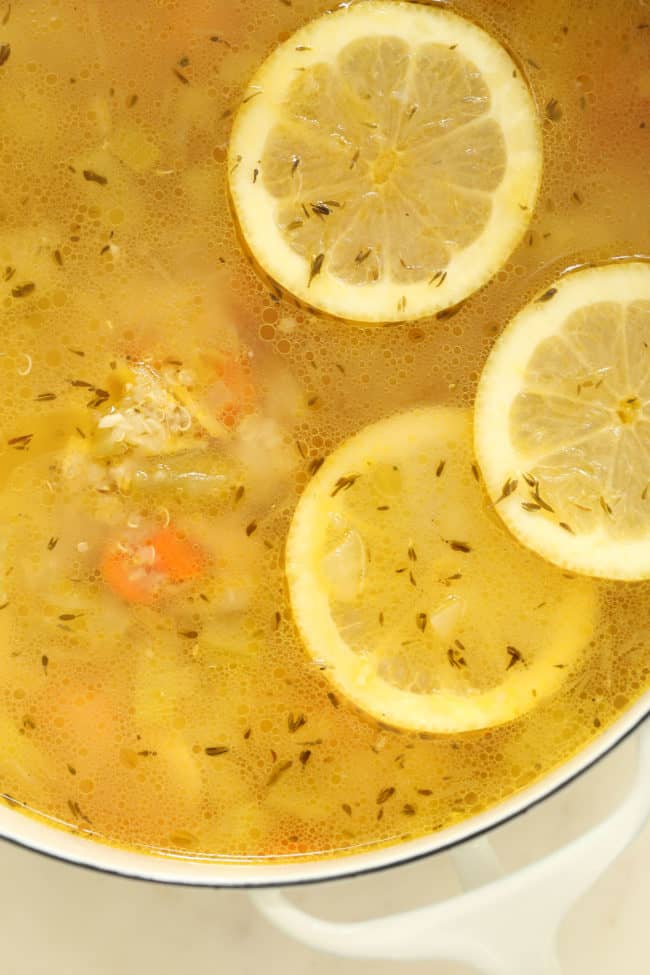 This lemony chicken soup is a soup that I'll make if I'm feeling a  little under the weather.  It's also a soup that I'll make as an insurance policy when I'm finger-crossing that I don't catch the latest virus floating  around my office.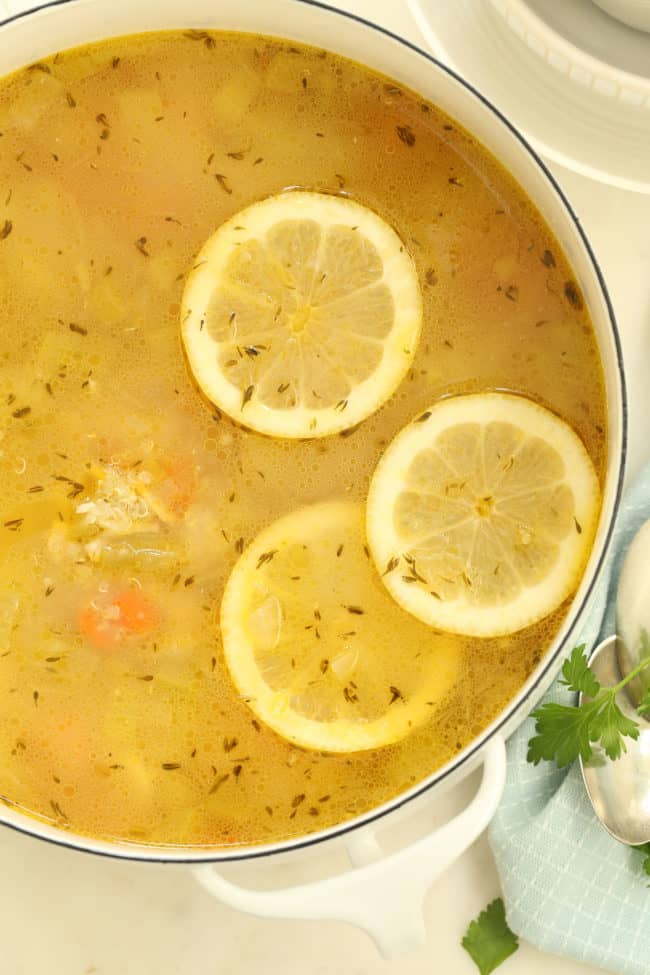 When I was a little girl, chicken noodle soup used to be my favorite.  And for many years as an adult, it remained pretty much the same.  But now I have so many favorite soup recipes.  And when I make a chicken soup recipe these days, I tend to swap out the noodles for either quinoa or white beans.  Which, this was hard at first,  because this girl has never met a noodle she didn't love.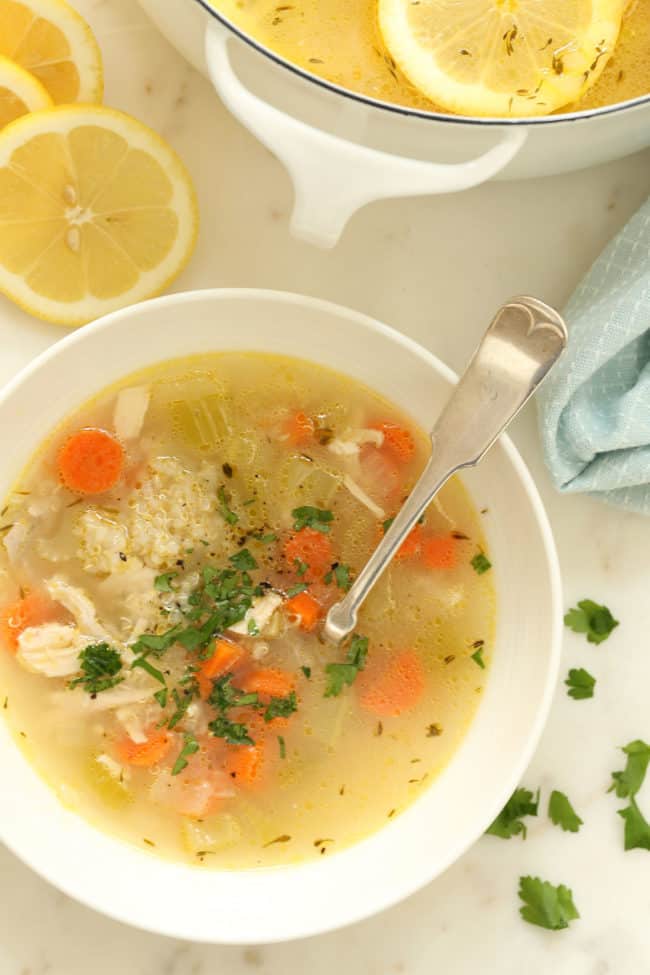 You can make the broth for this soup with a good long simmer, until the meat practically falls from the bones.  A good long simmer provides a broth rich with immune-boosting nutrients pulled from the bone.   Or you can whip this soup together in no time by quickly sautéing the chicken and vegetables, then adding the broth and simmering  just until the veggies are tender, and the quinoa is done.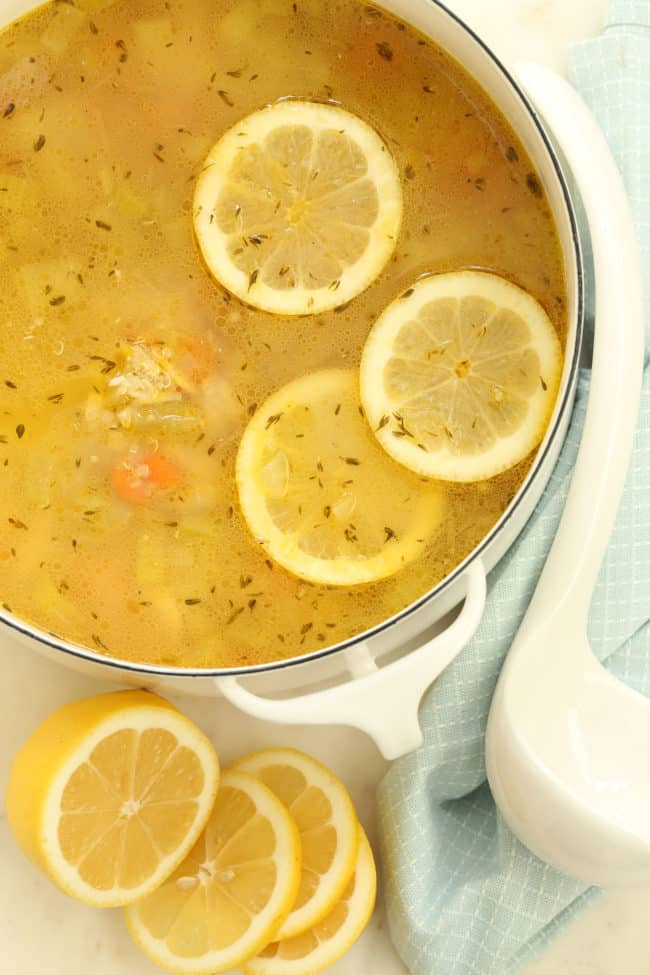 I personally love a good long simmering soup on my stovetop.  If I have the time!  But if I'm exhausted after a long day at work, I'll go for quick and easy soup any day!
~ Deb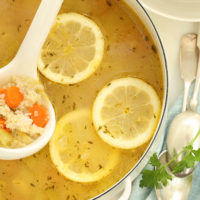 Nourishing Lemon Chicken Quinoa Soup
Yield: 6 servings
Total Time: 30 minutes
Ingredients:
2 tablespoons olive oil, divided
1 pound boneless, skinless chicken breast, cut into 1-inch chunks
2 cloves garlic, minced
1 yellow onion, chopped
3 carrots, peeled and copped
3 stalks celery, chopped
1/2 teaspoon dried thyme
4 cups low-sodium chicken stock
1 cup mountain spring water
2 bay leaves
1/2 cup uncooked quinoa, rinsed and drained
Juice of 1 lemon
2 tablespoons flat leaf parsley, chopped
Note:  Instead of chopping the chicken, you can simmer the whole chicken breasts with bone in the chicken broth for about 40 minutes or until the meat falls from the bone.  Then chop the meat and return it to the soup after the vegetables and quinoa are tender.
Directions:
Heat 1 tablespoon olive oil in a large Dutch oven over medium-low heat.
Add chicken to the pot and cook for about 2-3 minutes on each side until golden and cooked through.
Remove from the pot and set aside.
Add the remaining oil to the pot.  Add the garlic, onion, carrots and celery.
 Cook for about 3-4 minutes or until barely tender,
Add the thyme and cook for another minute.
Pour in the chicken stock, water, and bay leaves.  Bring to a boil.
Add the chicken and quinoa.
Reduce heat to low, place the lid on the pot and simmer for about 20 minutes or until the quinoa is cooked and tender
Stir in lemon juice and parsley.
Season with salt and pepper to taste.
Leave a Comment