Healthy Dark Chocolate Coconut Bites
Yum
These Healthy Dark Chocolate Coconut Bites are little squares of pure chocolate and coconut bliss.  They're made with unsweetened coconut flakes, brown rice syrup and a wee bit of vanilla, and they come together in about 10 minutes.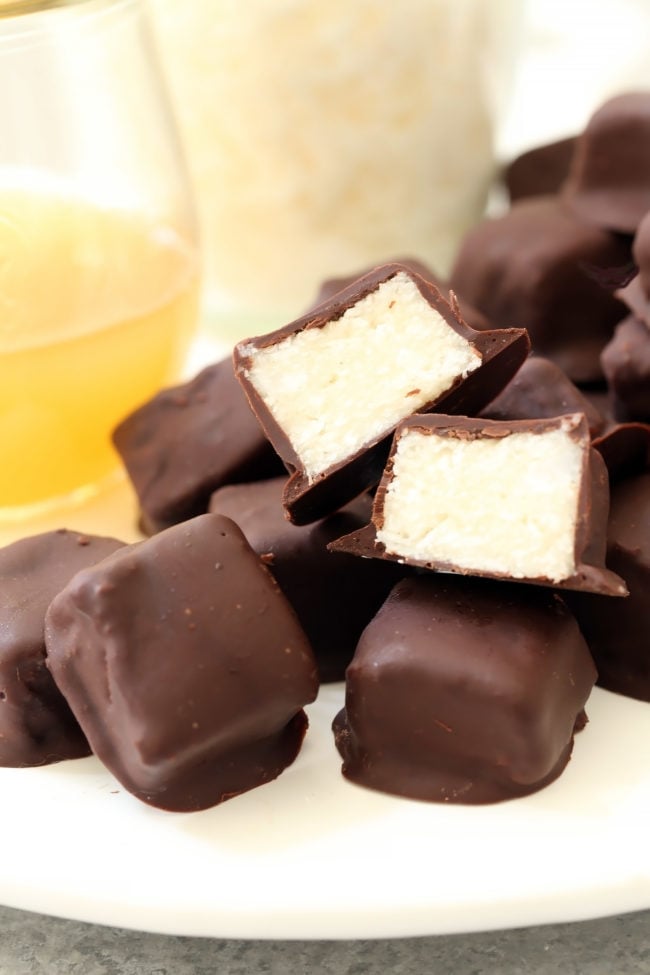 Shredded coconut, brown rice syrup and pure vanilla extract are all you need to make these easy and decadent treats.  These Healthy Dark Chocolate Coconut Bites come together in about 10 minutes, and they offer a healthy dose of good fats (coconut oil), antioxidants (dark chocolate) and iron and fiber (coconut).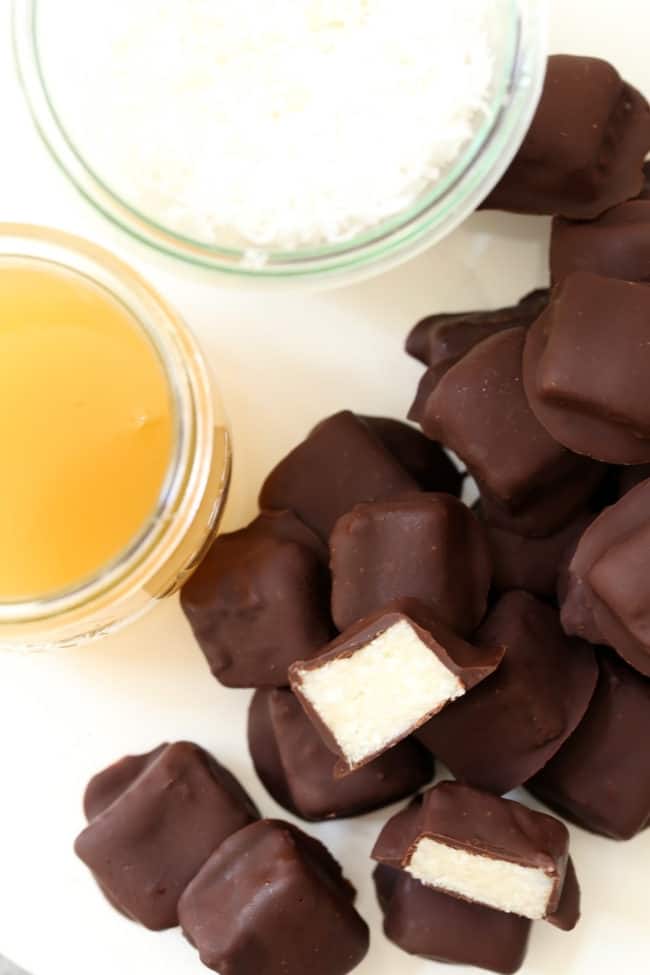 These coconut candy bites are amazing plain. They're light and chewy and have a rich coconut flavor.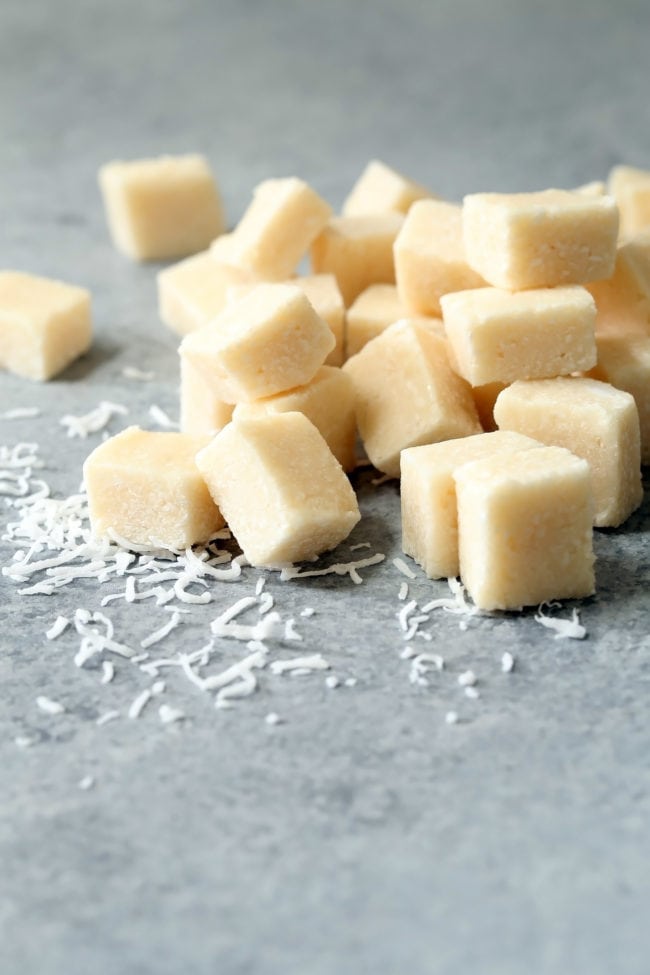 But for those of us who are dark chocolate-lovers, you're going to want to dunk these morsels is a pot of silky melted dark chocolate. Then pop them in the fridge to chill and set for a bit and then you can enjoy to your heart's content.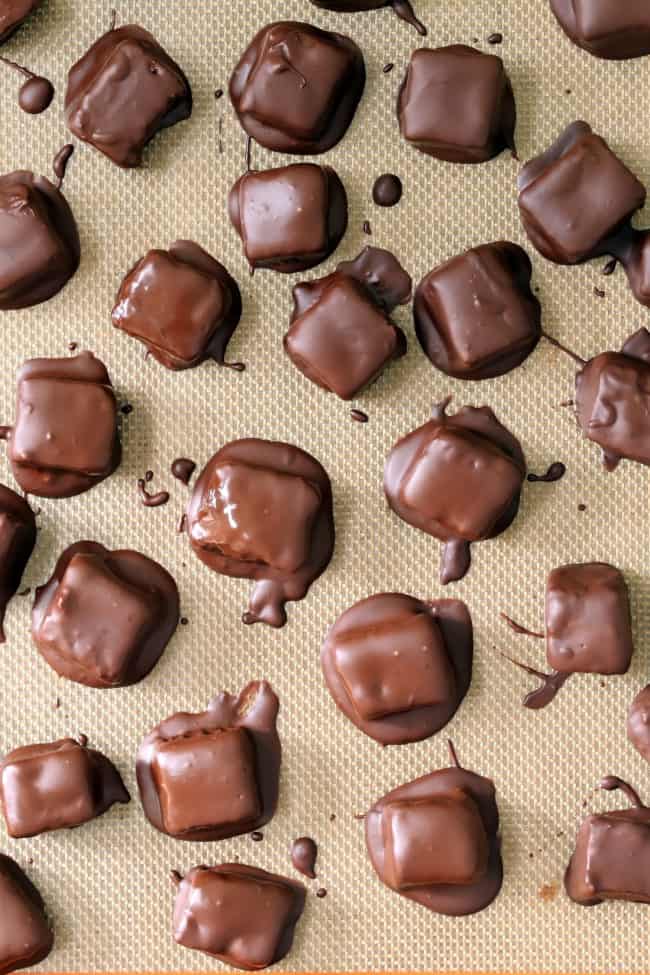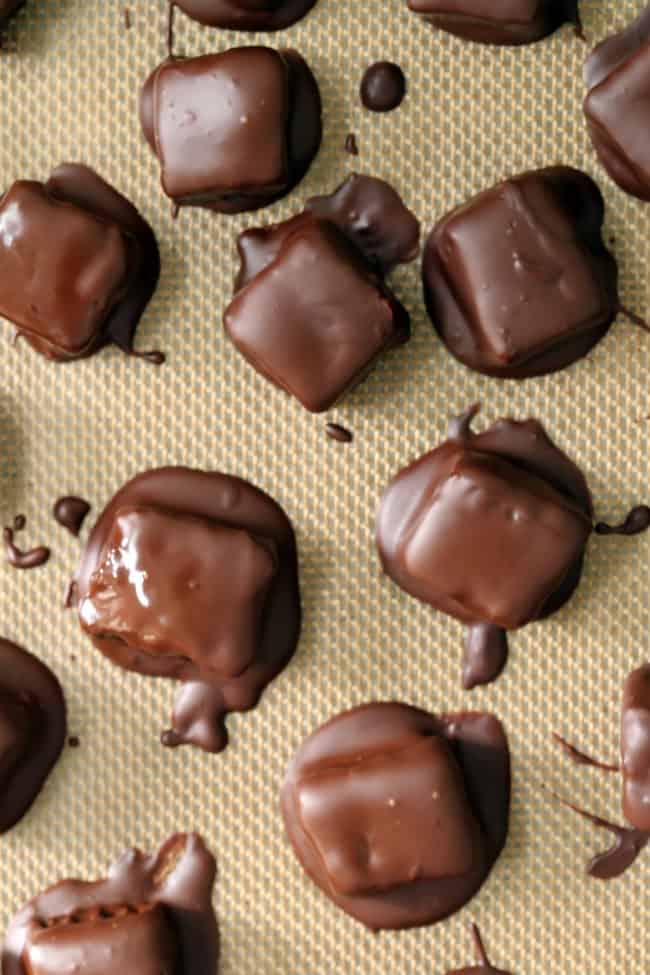 Dark chocolate has a higher concentration of cacao than milk chocolate, and that alone makes dark chocolate healthier. The higher concentration of cacao means the more flavonoids and antioxidants and this is good because it helps to strengthen blood vessels, lower cholesterol and lower blood pressure.  Coconuts helps support the immune system because of its anti-viral, bacterial, fungal and parasite properties, and dried coconut is a decent source of fiber and iron.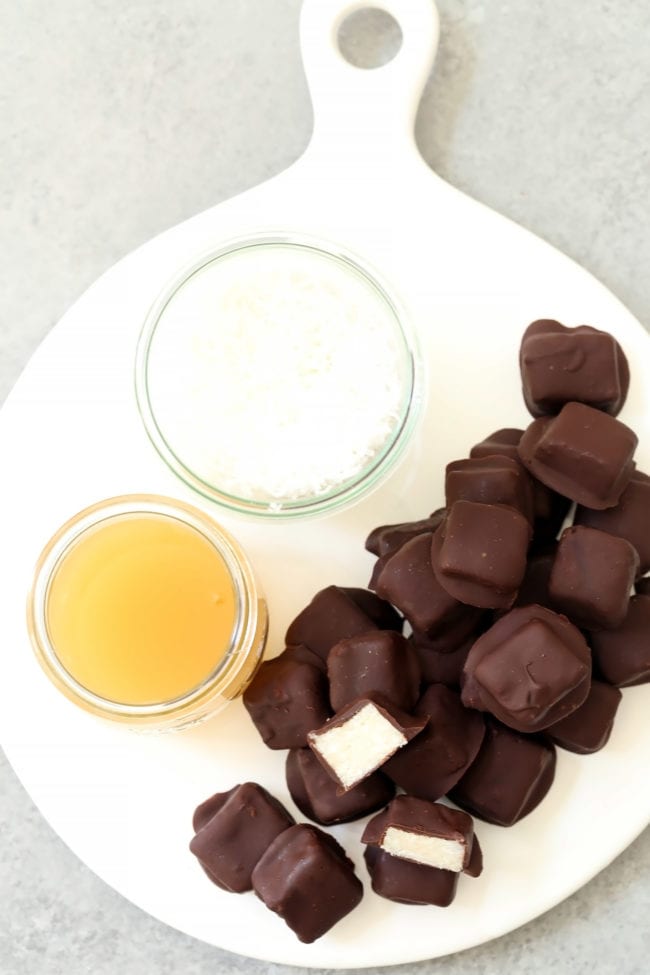 I originally fell in love with chocolate coconut bites from the ones I've recently started buying at my local health food store (Mother's Market).  I'm typically not a sweets person (preferring savory over sweet), but these little bites are just the right size and have just the right amount of sweetness.  They're made with brown rice syrup, but you can use pure maple syrup or honey if you prefer.  Brown rice syrup is a light syrup that doesn't have a demanding flavor, so the coconut flavor gets to really shine through.  If you use honey of maple syrup, the coconut flavor will have some competition.  But they'll taste amazing either way!
DON'T FORGET TO PIN THIS RECIPE FOR LATER
I hope you make this healthy candy recipe! Each little square is a two-bite piece of heaven!
~ Deb
Healthy Dark Chocolate Coconut Bites
Yield: 12 servings
Total Time: 30 minutes
Ingredients:
For the Coconut Bites
3 cups unsweetened finely shredded coconut
1/3 cup brown rice syrup (you can use honey or maple syrup as well)
1 teaspoon pure vanilla extract
pinch of sea salt
For the Chocolate Sauce
1 cup dark chocolate chips (or 1 cup chopped dark chocolate from a bar like Scharffen Berger)
1 tablespoon coconut oil
Directions:
For the Coconut Bites
Line a loaf pan or an 8 x 8 cake pan with parchment paper.  Spray the parchment paper with coconut spray.
Add the coconut to a food processor and process for a few seconds to process the coconut into finer pieces.
With the processor running, add the rice syrup, vanilla and salt.
Process for about a minute or until the ingredients are blended.
Pour the coconut mixture into the prepared pan and spread out.  Form into an even rectangle shape of about 1/2 inch thickness.
Place in the freezer and freeze for about 30 - 45 minutes or until the coconut bar has set.
Remove from freezer and cut the coconut bar into approximately 24 bite-size pieces.
For the Dark Chocolate Sauce
Heat the chocolate chips and coconut oil in a small sauce pan over a double broiler.  Stir until the chips have completely melted.  Remove from heat.
Dip each coconut piece of candy in the chocolate and set on a cookie sheet lined with a Silpat.
Place the chocolate covered coconut bites either in the freezer for about 10 minutes to set, or set them in the refrigerator for 30 - 45 minutes to set.
4 Responses to "Healthy Dark Chocolate Coconut Bites"
Leave a Comment