French Chicken Stew
Yum
Poulet Mijote a la Moutarde is a classic French Chicken Stew.  This is a quick and easy one-pot chicken recipe that you to can pull it together any night of the week.  
This French Chicken Stew is quick and easy to make and requires little hand-holding.  Just place all of the ingredients in a Le Creuset, check back in about 45 minutes, and you'll have a hot, delicious soul-satisfying meal waiting for you.
This Provencal stew gets its flavors from a splash of wine and a sprinkling of Herbes de Provence.  Herbes de Provence is  an aromatic mix of dried herbs such as thyme, lavender, rosemary, and sage.  You can find it in the spice section of the grocery store.  I also add some fresh sprigs of thyme and parsley for the added flavor.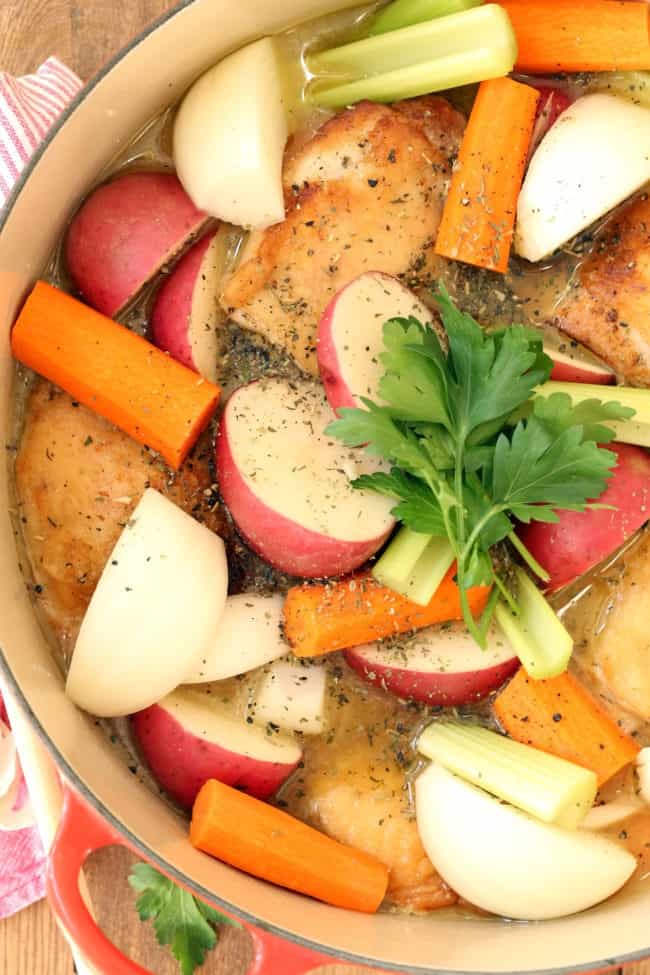 Typically Dijon mustard is added directly into the pot and blended into the rich broth, coating the chicken, but I prefer to serve this classic chicken stew with the mustard on the side, as you would with Pot Au Feu, so people can add as much or as little as they like.  It's so incredibly good!!!  This is one of my all-time favorite Dutch oven recipes!
Serve this classic French Chicken Stew with plenty of warm crusty bread to soak up the delicious mustard broth. I hope you enjoy!!
~ Deb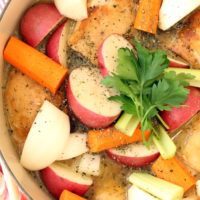 French Chicken Stew
Yield: 4 - 6 servings
Total Time: 1 hour
Ingredients:
5-6 free-range chicken thighs (skin left on)
3 tablespoons extra virgin olive oil
2 cloves garlic, finely minced
1 large yellow onion, peeled and quartered
1 large leek, sliced (white and light green parts only)
3 carrots, chopped into large pieces
2 celery stalks, cut into large pieces
4 - 6 small red potatoes, cut in half
1 teaspoon Herbes de Provence
1/3 cup white wine or sherry
2 cups chicken broth
salt and freshly ground black pepper to taste
Directions:
Heat the olive oil over medium heat in a large dutch oven.
Arrange the chicken in the pot, skin side down in a single layer and cook for 3-4 minutes until golden brown.
Add the wine and let simmer for a minute.
Turn the chicken to the other side and cook for another minute.
Add the garlic
Arrange the onion, leeks, carrots, celery, and potatoes around the chicken.
Sprinkle Herbes de Provence over the stew and add salt and freshly ground pepper.
Add the chicken broth
Place the lid on the dutch oven and cook over medium-low heat for 45-50 minutes, stirring occasionally to ensure the bottom doesn't get burned.
Serve on plates with a spoonful of Dijon Mustard to stir into the broth.
2 Responses to "French Chicken Stew"
Leave a Comment