Easy Turkey Enchilada Casserole
Yum
This Easy Turkey Enchilada Casserole is loaded with ground turkey, corn, pinto beans, tortillas and an easy homemade enchilada sauce. This delicious stacked enchilada casserole is sure to be a hit at your dinner table!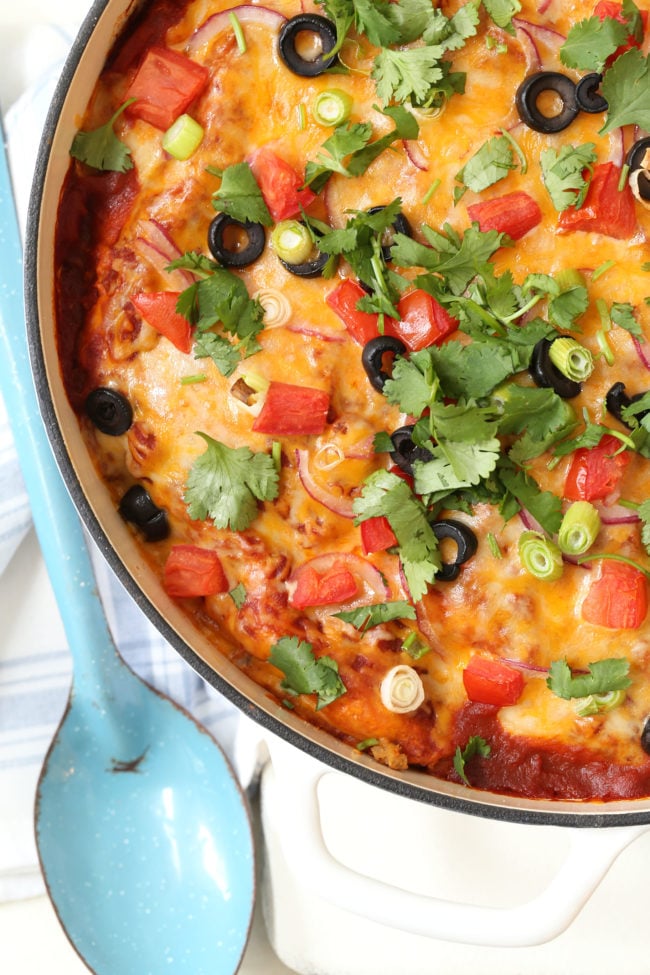 This Easy Turkey Enchilada Casserole is a crowd-pleaser!  Forget about rolling tortillas here… the enchilada ingredients are stacked in a casserole dish, or you can use your favorite dutch oven like I do.  Like one big happy family, everything blends together beautifully in a delicious  enchilada sauce.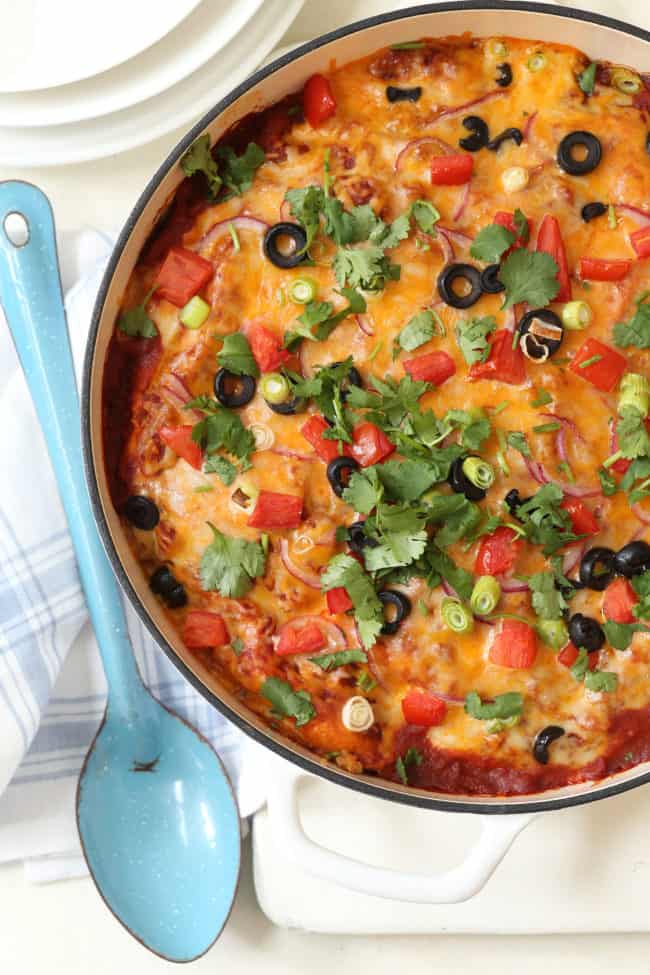 This is one of those versatile recipes. You can switch the ingredients up however you like. If you want to cut down on time, use a store-bought rotisserie chicken and chop into bite-size pieces, or use shredded turkey meat if you have leftovers.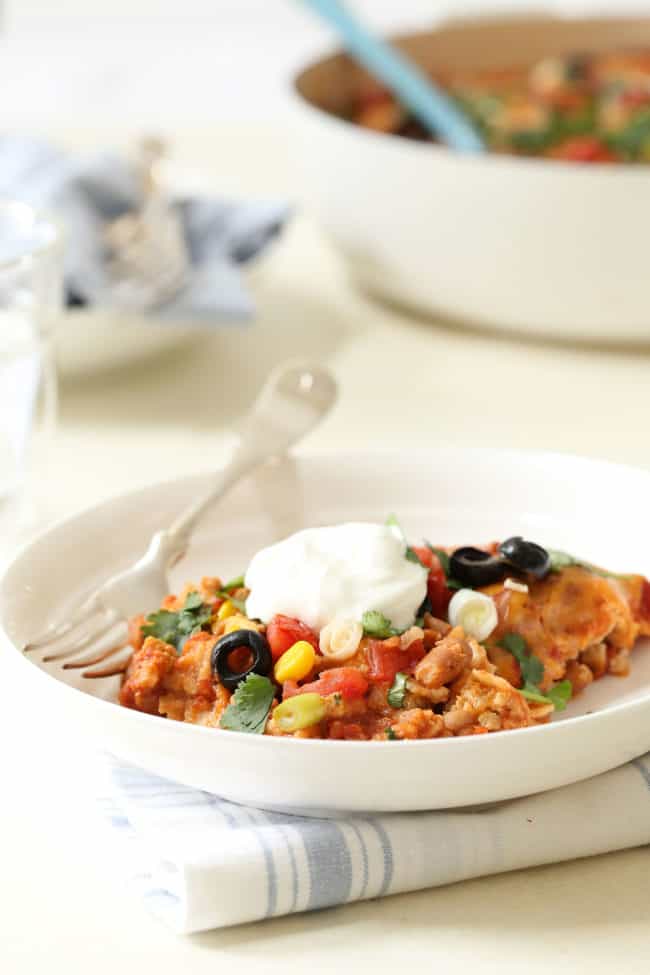 You can also keep things simple and vegetarian and skip the meat altogether.  You really won't miss it at all.  As for the enchilada sauce, yes store-bought will also cut down on time (and mess), but this homemade enchilada sauce is easy to make and will simmer on your stove for just a bit while you prep everything else.  I used these Borracho Beans in lieu of black beans (just because I had a batch made), but black beans work here just as well.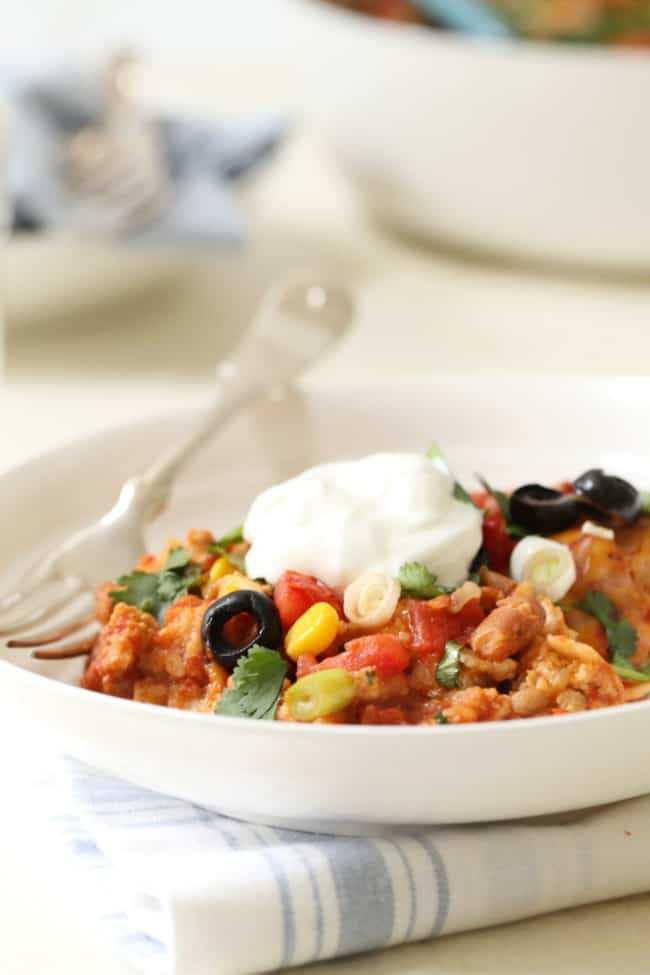 Cheese…I know this is a very delicate subject with many people and their Mexican food.  You know those people who ascribe to the belief that the more the merrier.  They usually feel the same about chocolate!  However, I use little cheese here. Just 1-1/2 to 2 cups tops.  So, if you're a person who can't get enough of the melting goodness of cheese overload, then by all means pile it on (not naming names).   Just make sure to eat your heart healthy oatmeal for breakfast the next day to balance things out. 🙂
~ Deb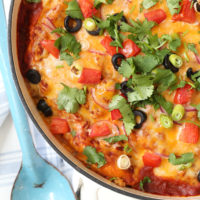 Easy Turkey Enchilada Casserole
Yield: About 8 servings
Total Time: 45 minutes
Ingredients:
Enchilada Sauce
4 tablespoons olive oil or canola oil
1/2 cup yellow onion, finely chopped
3 cloves garlic, minced
1 jalapeno pepper, seeded and minced
3 tablespoons chili powder
2 teaspoons ground cumin
1/2 teaspoon ground oregano
1 28-oz can crushed tomatoes
1 8-oz can low sodium tomato sauce
1 cup chicken broth
Easy Turkey Enchilada Casserole
3 cups red enchilada sauce
16 corn tortillas
2 15-ounce cans pinto beans, rinsed and drained
3/4 cup frozen corn kernels
1 pound ground turkey
1-1/2 to 2  cups shredded Monterrey Jack or Mexican blend cheese
1 Roma tomato, chopped
2 green onions, sliced
1/8 cup purple onions, slivered
1/4 cup black olives, sliced
1/4 cup cilantro, coarsely chopped
Directions:
Enchilada Sauce
Add the  olive oil (or canola oil) to a large pot.
Over medium high heat cook the onion, jalapeno and garlic for about 8 to 10 minutes or until soft and cooked evenly.
Stir in the chili powder, cumin and oregano.
Add the crushed tomatoes, tomato sauce and chicken broth.
Blend well and bring the sauce to a simmer.
Lower the heat and cook for about 5 to 7 minutes or until the sauce has slightly thickened. Season the sauce with additional salt and pepper to taste.
Easy Turkey Enchilada Casserole
Heat oven to 350 degrees.
Lightly coat a 9 x 13-inch baking dish with olive oil.
Pour 1 cup enchilada sauce in the bottom of the baking dish and spread evenly.
Add a layer of  4 tortillas to the top of the sauce.
Sprinkle 1 cup pinto beans and 1/2 cup corn and distribute evenly over the tortillas.
Add 1/2 of the cooked ground turkey meat and 1/2 cup cheese to the top of the beans and corn.
Repeat with another layer of tortillas, sauce, beans and corn, turkey and cheese.
Add a final layer of tortillas.  Spread the remaining sauce over the tortillas.  Sprinkle the cheese to the top of the sauce.
Cover the pan with aluminum foil, then bake for 20 minutes.
Remove pan and remove aluminum foil. Sprinkle the top of the enchiladas with chopped tomato, sliced green onion, slivered purple onion and olives.
Return to oven and bake for another 10 minutes.
Cool for about 10 minutes before serving.  Garnish with chopped cilantro.
Leave a Comment