Dark Chocolate Antioxidant Bark
Yum
This Dark Chocolate Antioxidant Bark is loaded with mixed nuts, sunflower seeds, goji berries, raisins, hemp seeds, and of course dark chocolate.  It's completely addicting!!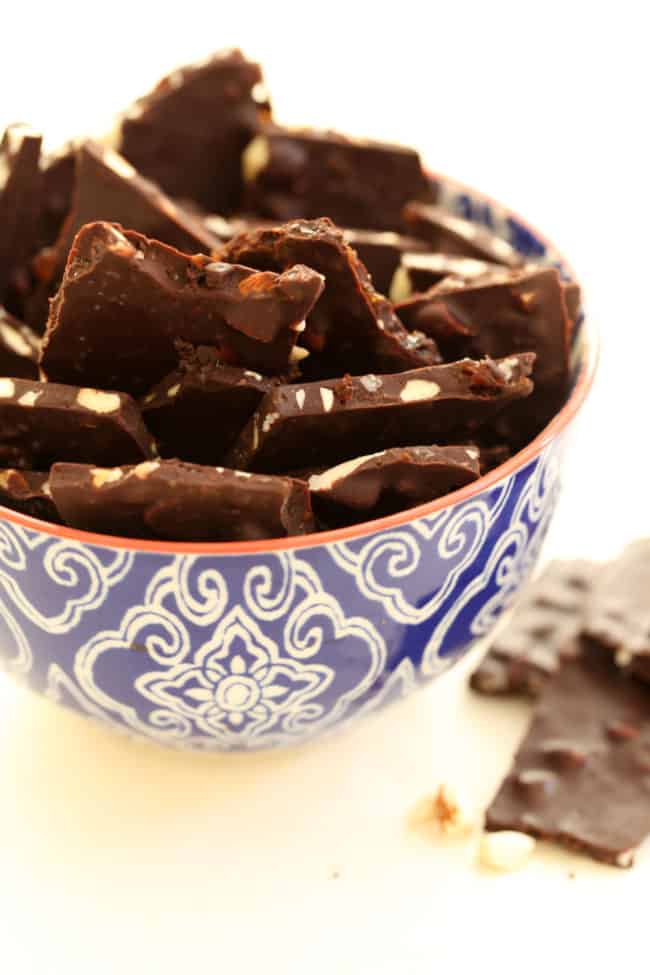 This Dark Chocolate Antioxidant Bark is salty, sweet, slightly crunchy, a little chewy, and gives you something to sink your teeth into.  It's also chock full of nutritional benefits!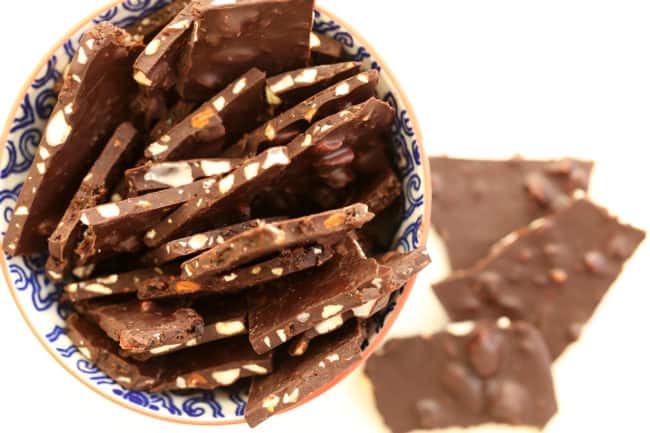 This Dark Chocolate Antioxidant Bark might remind you a little of barkTHINS. Have you tried them yet? They can be found at the market, Target and health food stores. They're really good!! I thought I'd create my own healthier and richer version for you to make at home.  This dark chocolate bark is rich with antioxidants (from the dark chocolate), omega-3 fatty acids (from the hemp seeds),  protein, fiber and healthy fats (from the mixed nuts and sunflower seeds), antioxidant and anti-inflammatory benefits (from goji berries), iron (from raisins) and trace minerals (from Hymilayan salt).

Be sure to use chocolate that is at least 70 percent cacao as the base of the bark to reap the full rewards.  When selecting chocolate, look for higher cacao and lower sugar content. In general, the darker the chocolate, the higher the cacao content.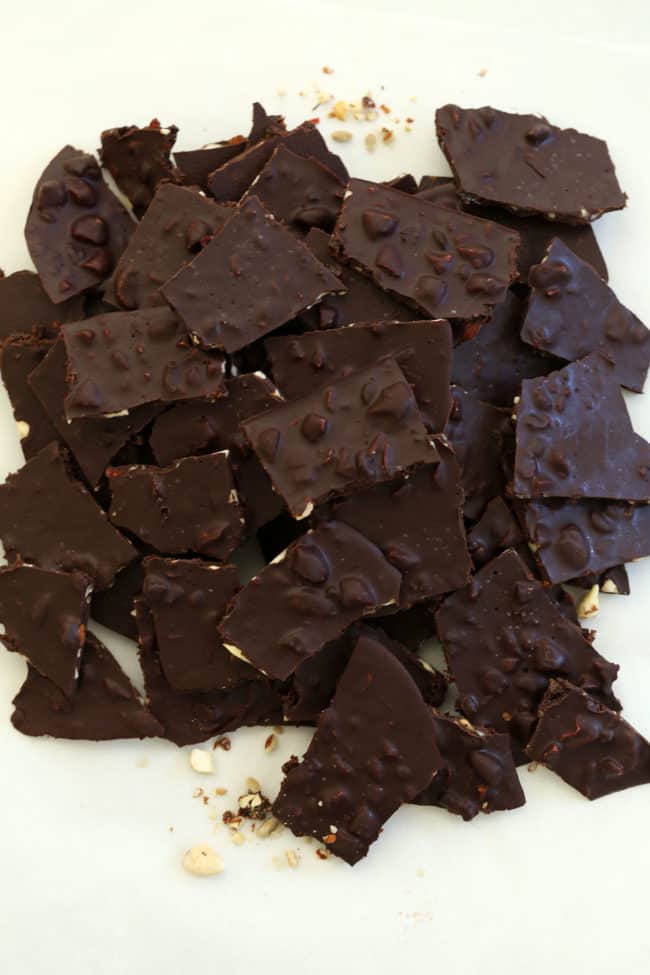 Dark chocolate has a number of health benefits. It may improve blood flow and lower blood pressure. It may raise HDL (good cholesterol). It may lower risk of cardiovascular disease. It also may help improve cognitive function in elderly people.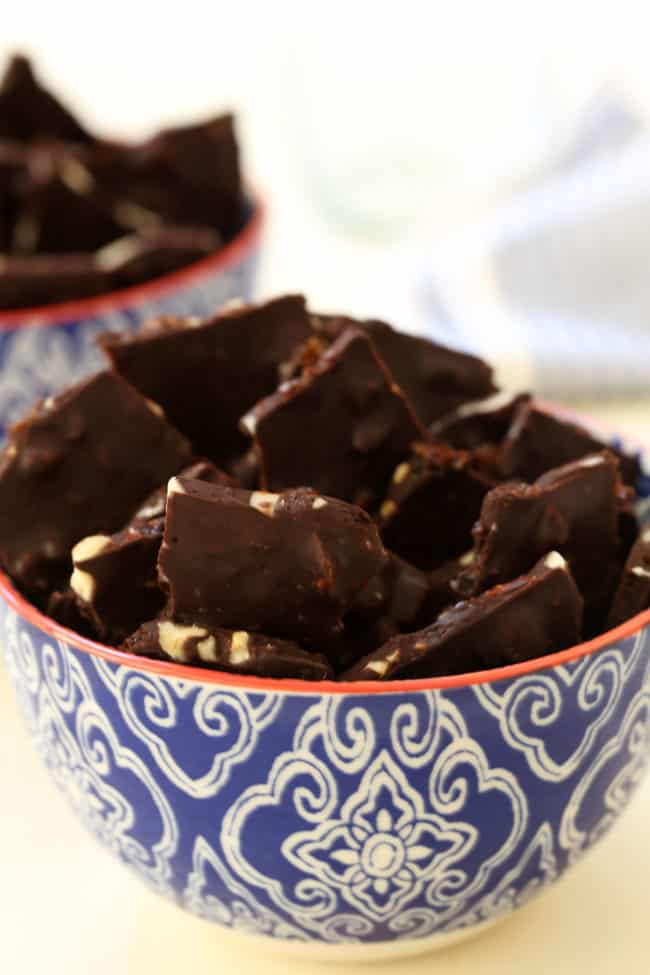 This dark chocolate bark recipe is a versatile one.  No hard rules here.  Sub in whatever ingredients you prefer.  You could add toasted coconut, or go with chia seeds in lieu of hemp seeds.  Add dried cherries or cranberries in lieu of raisins.  Or use agave or maple syrup in lieu of honey.  Get creative and have fun making this chocolate bliss!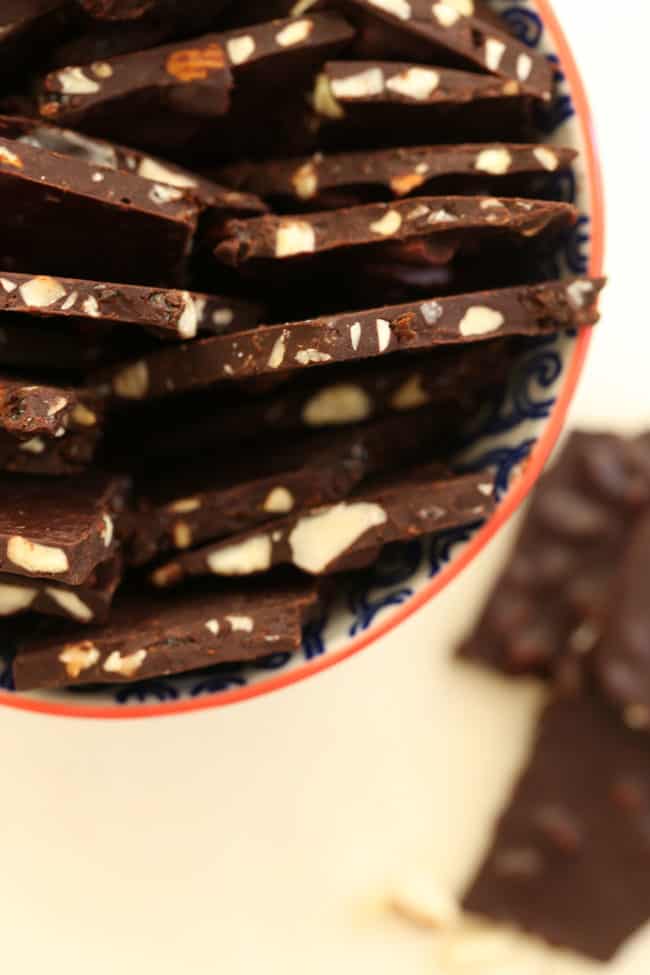 This recipe is an easy one to make. The dark chocolate is melted. The nuts and sunflower seeds are lightly toasted. We add a little vanilla. A touch of honey. Then mix everything up and spread out thinly on a rimmed baking sheet lined with a Silpat or parchment. Sprinkle with Hymilayan salt then put in the fridge to chill for a bit.  After it has hardened in the fridge, break it up into pieces and serve.  It's best stored in the fridge and will keep for a week or so.
~ Deb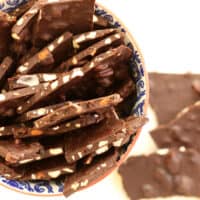 Dark Chocolate Antioxidant Bark
Ingredients:
16 ounces dark chocolate, at least 70% cacao
2 tablespoons raw clover honey (optional)
3 tablespoons hemp seeds
3 tablespoons sunflower seeds
1-1/4 cups mixed nuts of choice, finely chopped (almonds, filberts, cashews, pistachios, walnuts)
1/4 cup gogi berries, finely minced
1/4 cup raisins, finely minced
1-1/2 teaspoons pure vanilla extract
1 teaspoon Hymilayan salt
Directions:
Line a 9×12-inch rimmed baking sheet with parchment paper.
Melt the chocolate over a double broiler, whisking until smooth.
Place the nuts on the parchment lined baking sheet and toast in the oven for 5 - 7 minutes or until lightly golden brown.
Melt the chocolate over a double broiler, whisking until smooth.
Add the nuts, seeds, chopped goji berries, raisins, honey and vanilla to the melted chocolate.  Stir until well blended.
Pour into the baking sheet and use a spatula to spread into an even, thin layer.
Sprinkle with the Hymylian salt.
Place in the refrigerator until set, about 30 minutes.
Remove from the baking sheet and break into squares to serve. Store in the refrigerator.
Leave a Comment