Coconut Curry Scalloped Sweet Potatoes
Yum
These skillet Coconut Curry Scalloped Sweet Potatoes are made with layers of sweet potatoes and sautéed onion and garlic simmered in a richly flavored coconut curry sauce. Pure comfort food with a delicious exotic twist.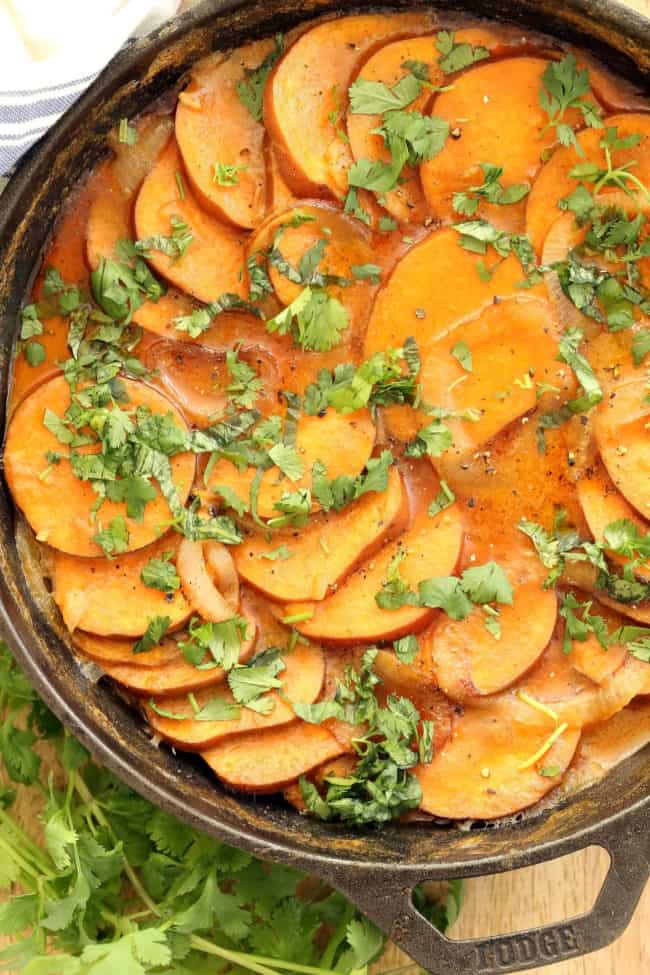 These skillet Coconut Curry Scalloped Sweet Potatoes are simmered on the stovetop in a decadent coconut curry sauce.  They're rich and creamy and out of this world delicious!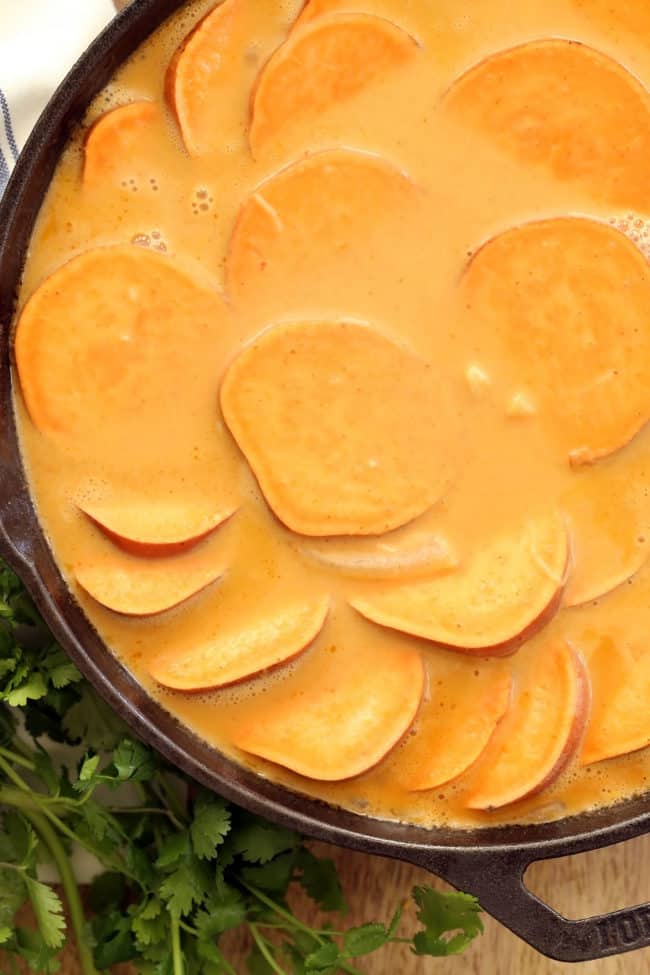 Not only are these coconut curry sweet potatoes quick and easy to make, but they make a great side dish to grilled chicken,  fish or a pot of lentils.  The key to this classic comfort food recipe is by starting with organic sweet potatoes and slicing them nice and thin.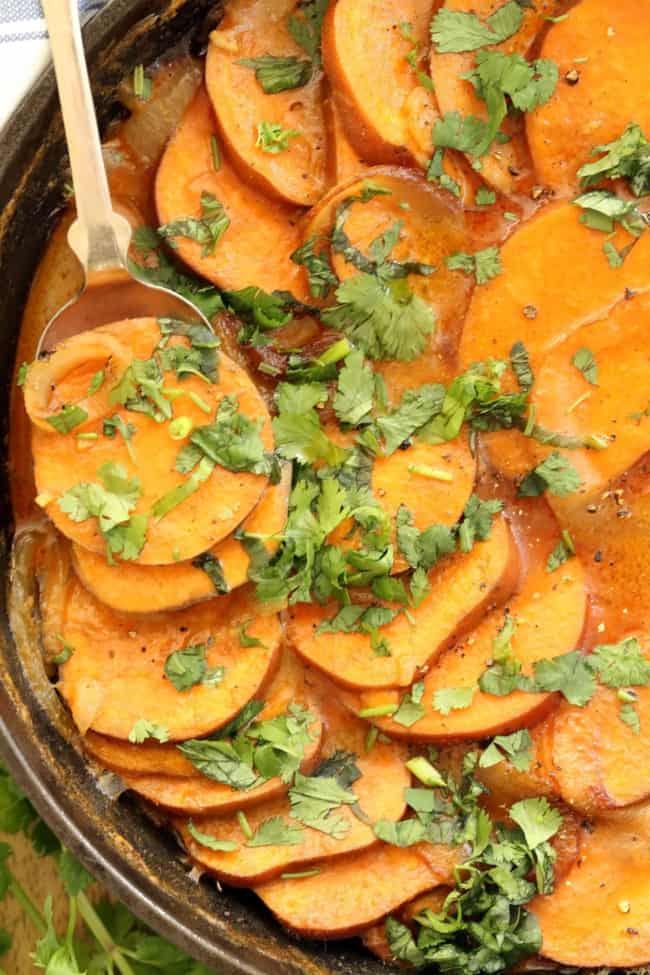 If you have a mandolin, go ahead and use it, but it's really not necessary.  Just slice the potatoes thinly so all the slices are approximately the same thickness so they cook evenly.  This dish is a rustic one, and meant to be easy and fuss-free with little clean up afterwards.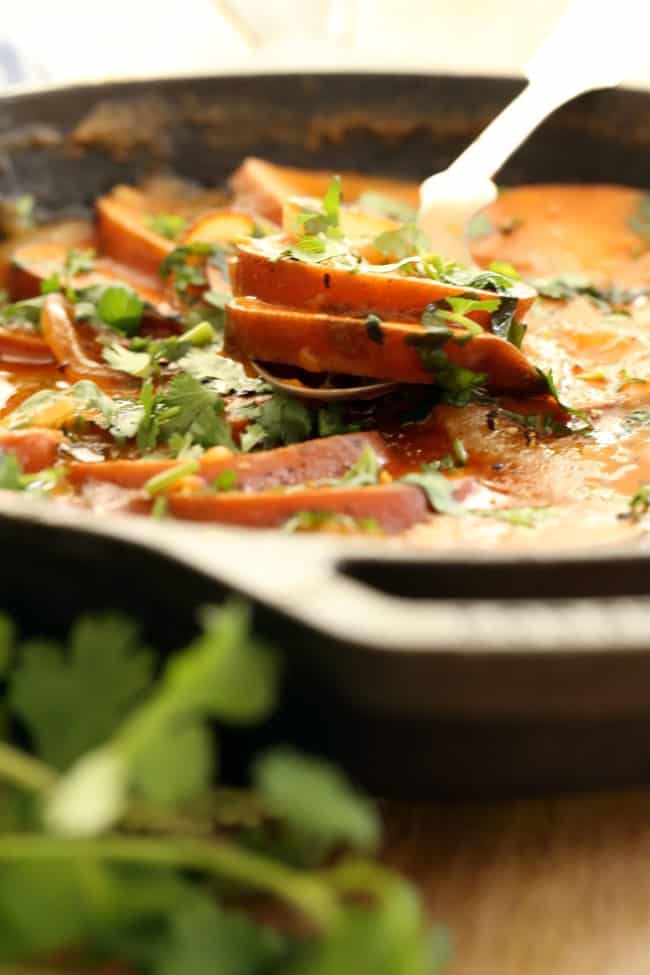 And you can pop them in the oven to broil them for a few minutes to make the tops golden and a little crispy, but also, not necessary.  These vegan scalloped potatoes are deliciously tender, so why bother turning on the oven.  This recipe cooks up quickly so you can be sitting down to dinner without breaking a sweat.
This sauce is so silky rich and decadent, that you'll be taste-testing it by the spoonfuls before this dish can hit the table.  These dairy free scalloped potatoes are on the mild side, so feel free to add more curry if you prefer.
~ Deb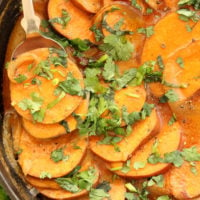 Coconut Curry Scalloped Sweet Potatoes
Yield: 6 - 8 servings
Prep Time: 10 minutes
Cook Time: 15-20 minutes
Total Time: 40 minutes
Ingredients:
4 pounds whole sweet potatoes (about 3 large potatoes - peels and all), sliced thin
2 tablespoons coconut oil
1 large yellow onion, cut in half and sliced
1-1/2 tablespoons garlic, minced
3-4 heaping tablespoons red curry paste
1 teaspoon curry powder (add more if you want more heat)
2 13.5-ounce cans coconut milk (full fat or low fat - your choice)
1 tablespoon pure maple syrup
1 teaspoon sea salt
1/2 teaspoon allspice
1/4 cup fresh basil or cilantro for garnish
Directions:
Heat the coconut oil in a large skillet over medium high heat.
Add the onions and sauté until they are soft and golden.  Remove from pan and set aside.
Add the garlic to the skillet and cook for about a minute or until aromatic.
Add the curry paste and stir.
Add 1 can of coconut milk and bring to a simmer.
Stir well to incorporate the curry paste.
Add the curry powder, sea salt and allspice
Add the second can of coconut milk and blend well.
Layer the sweet potatoes around in the skillet, submerging in the coconut sauce.  Alternating laying the potatoes and the cooked onions.
Place a lid on the skillet and cook the potatoes for about 15-20 minutes, or until fork tender.  Don't over cook.
Stir in either basil or cilantro, or a mix of both.
Leave a Comment