Chicken Udon Soup
Yum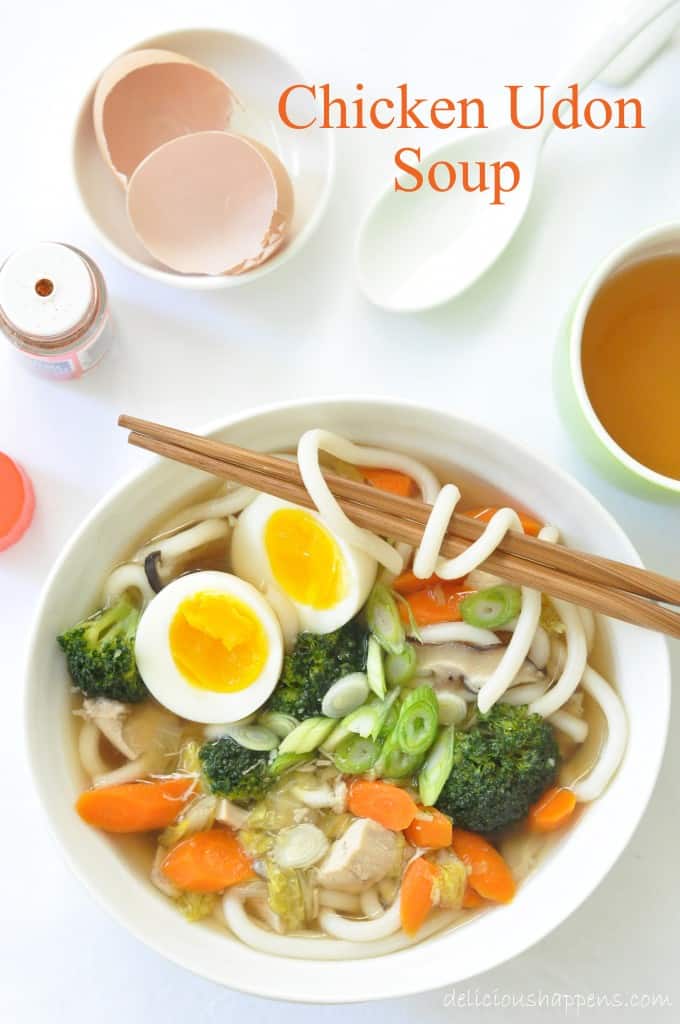 I never met a noodle that I didn't love.  When I was little – good old fashioned chicken noodle soup was my favorite.  And…as I've gotten a little….ahem….older….I still love a good chicken noodle soup.   When my son was little, a very good guy friend of mine took Kyle and I skiing at Snow Summit.  It was one of those perfect days.  The weather was great.  The views gorgeous.  Kyle had a fun and memorable time.  And I didn't break a single body part.  On our way home – we stopped at a Japanese restaurant for dinner and ordered bowls of Nabeyaki Udon.   Nabeyaki Udon is one of the best soups ever….with chicken…vegetables…and pieces of shrimp tempura all soaking in an incredibly flavorful broth.
Today…whenever Kyle and I go out to dinner for Japanese food….he'll typically order a bowl of udon soup of some sort.
This Chicken Udon Soup is loaded with chicken, veges, and udon noodles in a rich broth.  It's super easy to make and it hits the spot when you're in the mood for a hearty Japanese soup.  If you want to make it extra special….add a few pieces of shrimp tempura to the bowl.  You'll be hooked for sure!!
I hope you enjoy this Chicken Udon Soup!
~ xo Deb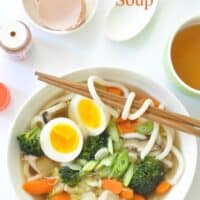 Chicken Udon Soup
Yield: 4 servings
Total Time: 1 hour
Ingredients:
6 cups low sodium chicken broth
2 cups cooked chicken, chopped (boiled or store bought roasted)
2 tablespoons fresh ginger, minced
1-1/2 tablespoons low sodium soy sauce
2 teaspoons mirin
1/2 cup carrot, diced
1 cup napa cabbage, sliced
6 shitake mushrooms, sliced
3/4 cup broccoli florets
1/2 cup green onion, diced
6 ounces fresh udon noodles (you can find them at Asian markets, some grocery stores, and Costco)
4 soft-boiled eggs
Directions:
Place the eggs in a small pan and add enough water to cover. Bring to a boil over medium-high heat - then reduce to medium-low. Gently boil for about 4-5 minutes.
Remove the eggs from the pan and place in a bowl of ice water until cool enough to handle.
Peel the eggs under running water. Cut the eggs in half and set aside.
Add the broth to a large sauce pan, add the ginger, soy sauce, and mirin and bring to a boil over medium-high heat. Reduce the heat to medium-low and simmer for 3-4 minutes.
Add the carrots and simmer for 3 minutes.
Add the chicken, cabbage, mushrooms, and broccoli. Return to a simmer and gently simmer for about 5 minutes.
Meanwhile, cook the noodles in a large pot of boiling according to the directions on the package. If you're using dried noodles - you'll need to cook the noodles a little longer than fresh noodles.
Pile the noodles in the center of a bowl. Pour the soup over the noodles. Arrange the eggs around the noodles and garnish with green onion.
Leave a Comment