Quinoa Power Bites
Yum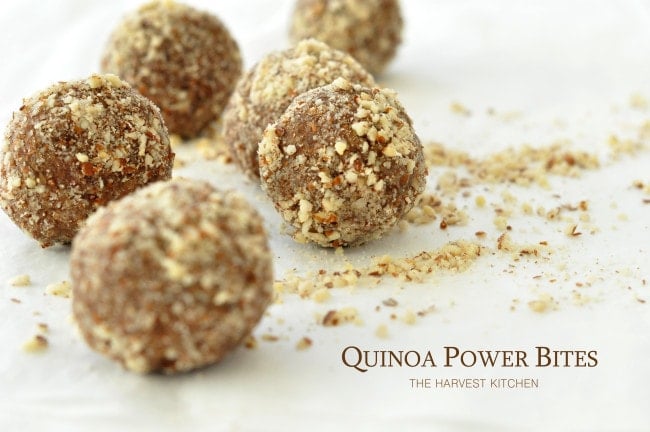 These Quinoa Power Bites are a moist, nutty, chocolatey ball of nutritional goodness!!   The thing that holds them together are little flecks of gluten-free quinoa flakes.  You can find the quinoa flakes in the cereal section of your local health food store (where oatmeal, buckwheat, and other hot cereals are located).  The brand I use is called Ancient Harvest.     These no bake energy bites will likely find huge favor with my athlete friends and readers, but whether you're an athlete or not…I think you'll find these to be a really great tasting guilt-free healthy snack!!!
Kyle loves them!!!

Quinoa contains large amounts of flavonoids (plant pigments/antioxidants), including Quercetin.  Quercetin is a potent flavonoid which is found in many plants and foods, such as red wine, onions, green tea, apples and berries.  Quecertin is good for treating high cholesterol, diabetes, cataracts and inflammation.  And…  Quercetin is also used to increase endurance and improve athletic performance.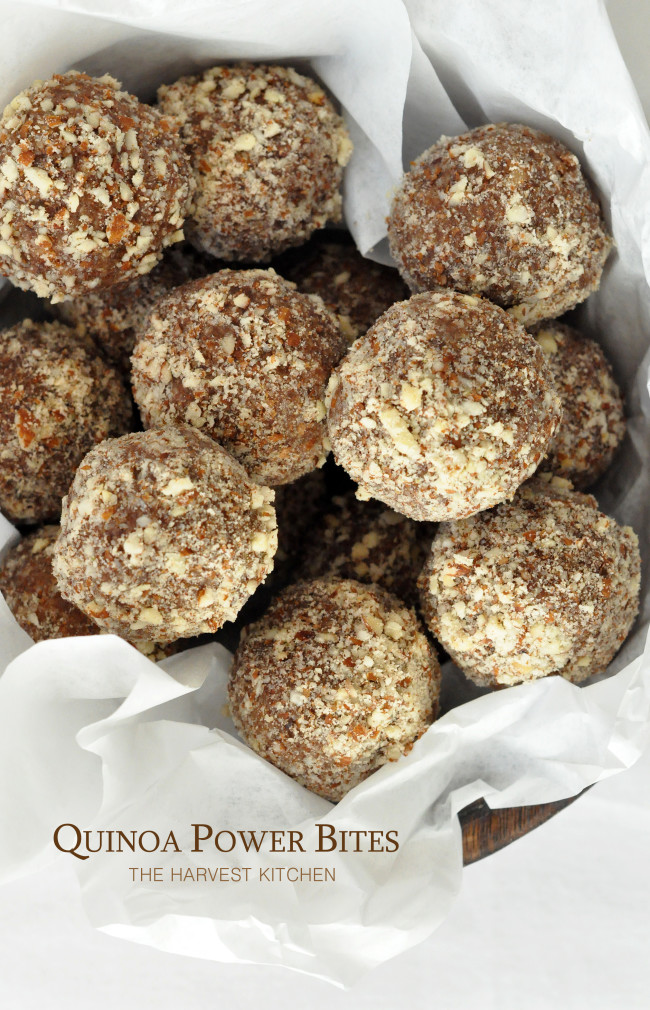 Quinoa is one of the most protein rich foods we can eat. It's high in fiber and contains all 9 essential amino acids. Quinoa also contains magnesium, potassium, zinc, iron, and lysine (which is needed for tissue repair).  Needless to say, these quinoa energy bites pack a big nutrient punch.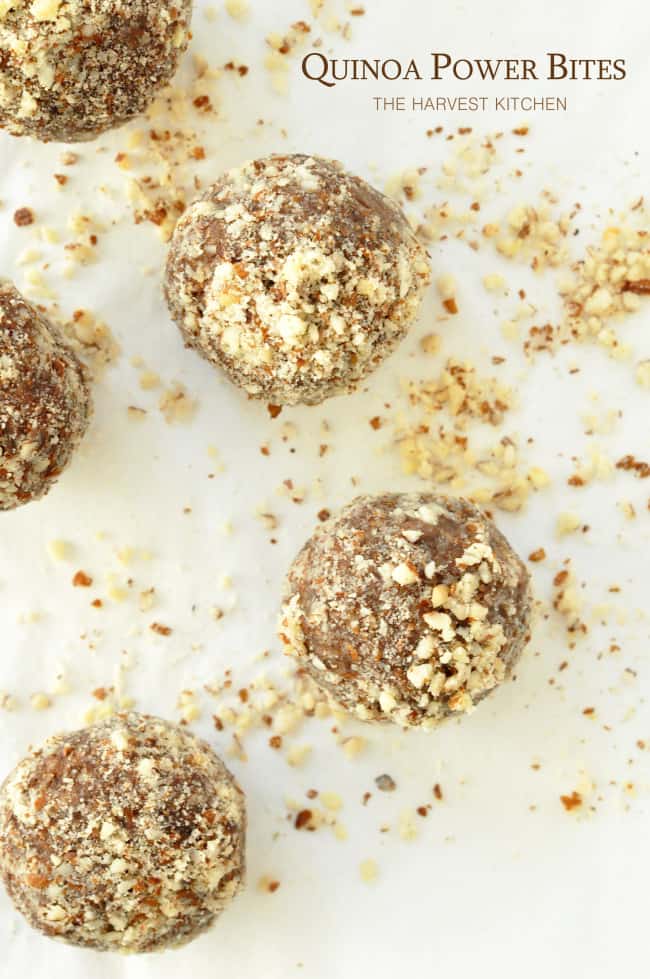 These tasty Quinoa Power Balls  are super easy to make and they're so worth making!!!
~ Deb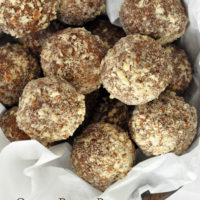 Quinoa Power Bites
Yield: 16 servings
Total Time: 1 hour and 15 minutes
Ingredients:
1 cup Medjool dates, pitted
1/2 cup distilled water
1/4 cup crunchy almond butter or another nut butter (pollinator friendly)
1/2 teaspoon Kosher salt
1/4 cup cocoa powder
1 tablespoon coconut oil
1 teaspoon pure vanilla extract
1/4 cup cashew nut milk (or another nut milk)
1-1/2 cup quinoa flakes
1/4 cup raw almonds, chopped
For the Topping
1/2 cup almonds, finely blended into crumbs in a food processor
Directions:
In a food processor blend 1/2 cup almonds until finely crushed and powder-like.
Pour into a shallow bowl and set aside.
Wipe the processor clean.
Blend the dates and water in a food processor or blender until smooth and makes a paste.
Transfer the date paste to a medium size saucepan.  Heat over medium-low heat and add the almond butter, salt, cocoa powder and coconut oil.
Stir for a minute or two just until well blended and heated through.  Remove from heat.
Add the vanilla extract and cashew milk to the mixture and stir until blended.
Fold in the quinoa flakes and 1/4 cup chopped almonds until completely incorporated.
Either transfer the mixture to a bowl or leave in the pan and cover.
Refrigerate the mixture for a least an hour until chilled and set before rolling into balls.
Using an 1-inch ice cream scoop, roll into 1-inch balls.
Roll the balls in the crushed almonds until lightly covered all over.
Store in a tightly covered container in the refrigerator.
Leave a Comment