Gluten Free Berry Crisp
Yum
This Gluten Free Berry Crisp is made with a mix of blueberries, raspberries and blackberries.  The sweetness comes from the delicate crisp topping, which is sweetened only with pure maple syrup.   This healthy berry crisp makes a perfect summer dessert!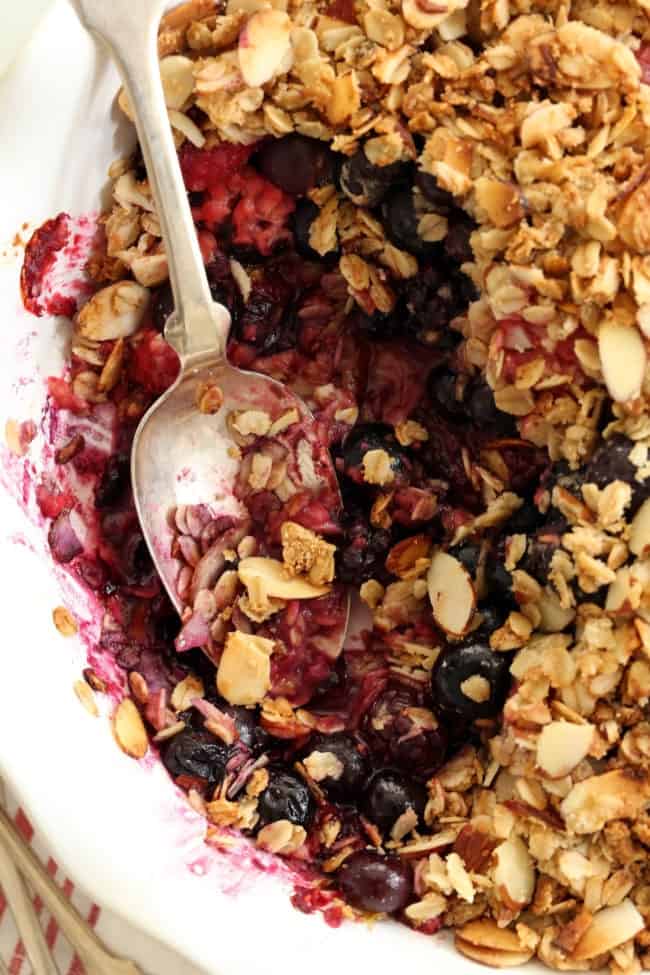 This Gluten Free Berry Crisp is a perfect summer dessert recipe for serving a crowd.  The oat crumble on top  bakes up beautiful, golden and crispy and hides beneath it a luscious syrupy berry mixture.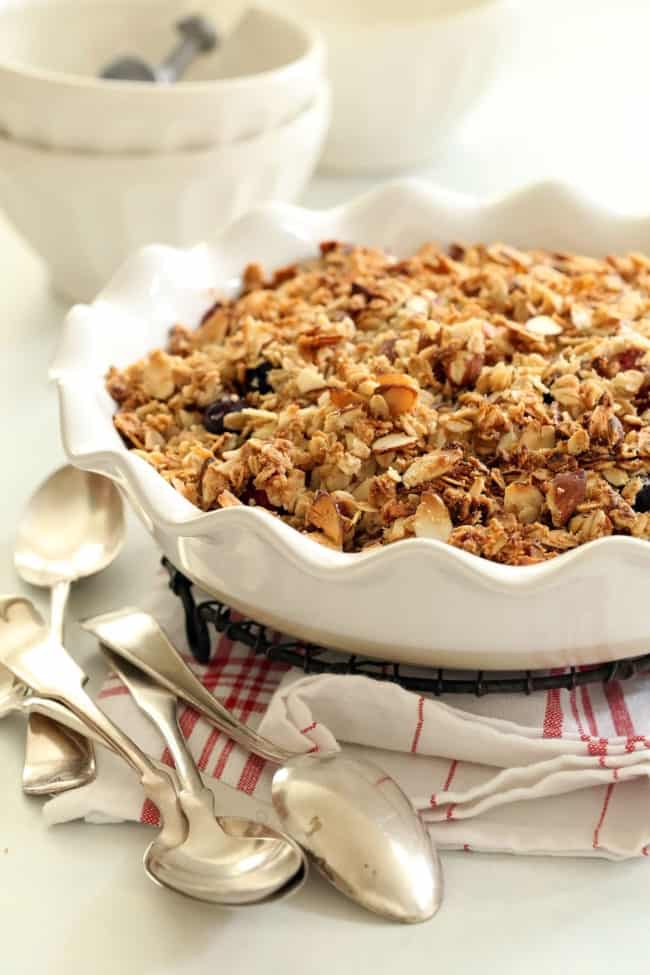 This Gluten Free Berry Crisp is one of my favorite desserts to make. In part because it's so easy to make….
but also because I love fruit desserts and I love warm berries
and I love the crisp oat-almond topping.
I also love it because it has just a hint of sweetness  (so many crisps make me cringe because they're so sugary).
In lieu of ice cream – I serve it with Wallaby's low-fat vanilla yogurt. It's a thinner yogurt…you can pretend it's melted ice cream.  You can also serve it with almond milk ice cream or frozen yogurt.
I guess I really love this dessert because it's guilt-free….and so good!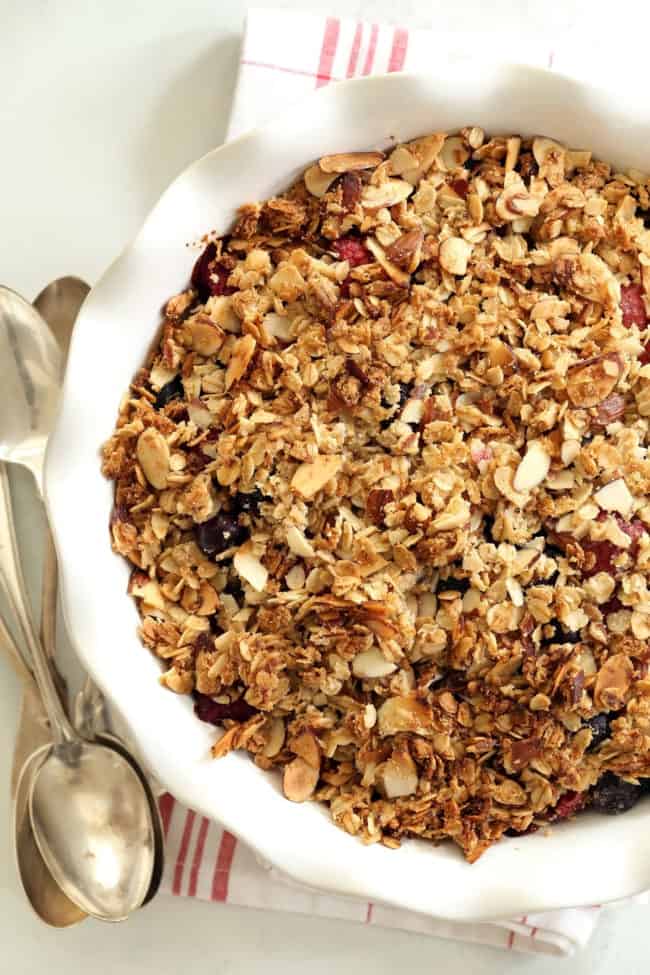 This healthy berry crisp looks somewhat neat and composed at first glance, but really – it's kind of a hot mess beneath the surface.  The berries soften and release their juices to make a really vibrant (and really messy) syrup.  Trust me.  No one will complain!
This easy summer dessert recipe is an easy one to make.  The berries are lightly dusted with brown rice flour and lemon zest and the crispy crust is a simple concotion made of gluten free oats, a little almond flour, some sliced almonds, coconut oil, and a drizzle of pure maple syrup.  And that's it.  You could add a little pure vanilla extract and a sprinkle of cinnamon, but I've kept things simple here, giving the natural flavors some elbow room.  The coconut oil gives the topping its extra crispiness and delicate flavor.  Trust me, you'll be eating the topping before it can hit the oven.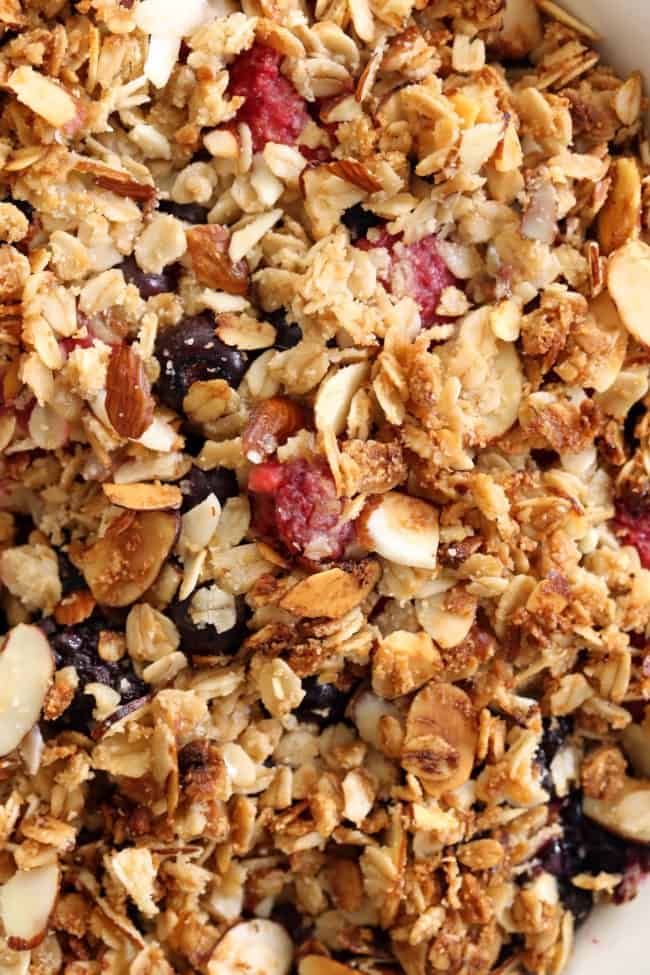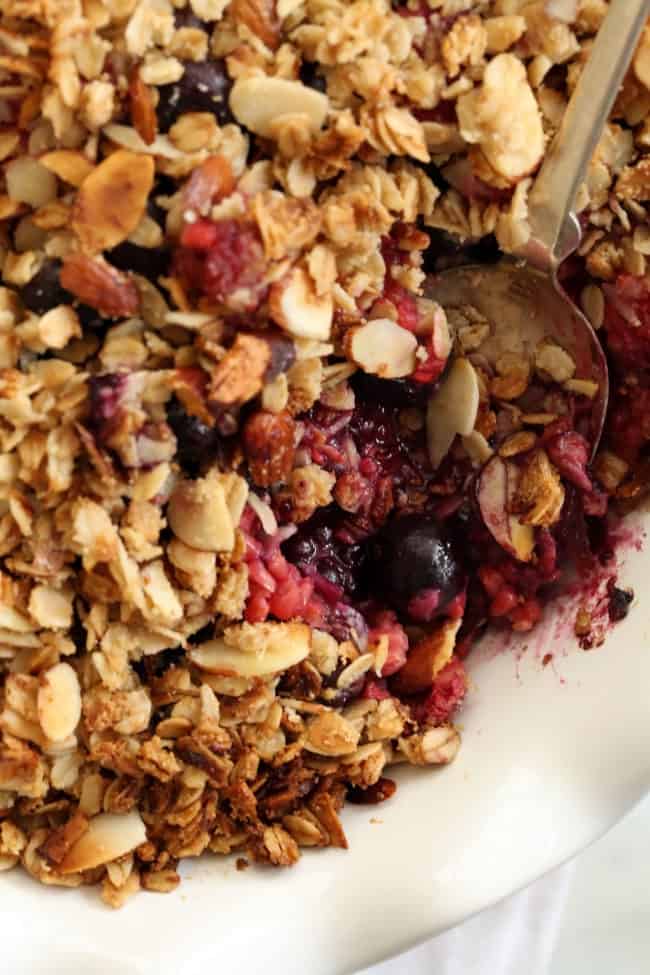 This simple berry crisp can be baked in a pie dish or go for a more rustic look and bake it in a medium size iron skillet.
Enjoy!
~ Deb
This recipe was originally published February 19, 2014.  I've updated the recipe and photos here.
Gluten Free Berry Crisp
Yield: 4 - 6 servings
Total Time: 45 minutes
Ingredients:
1 cup organic blueberries
1 cup organic raspberries
1 cup organic blackberries
1 tablespoon pure maple syrup
1 tablespoon brown rice flour
1 teaspoon grated lemon zest (Meyer lemon is best)
For the Crisp Topping
2 tablespoons almond flour
3 tablespoons pure maple syrup
1/2 cup gluten-free oatmeal
3 tablespoons coconut oil
2-1/2 tablespoons sliced almonds
Directions:
Preheat the oven to 350 degrees.
Combine the berries in a bowl. Add 1 tablespoon pure maple syrup, the brown rice flour and the lemon zest.
Gently stir to blend so the berries are evenly coated.
Place the berries in a 9 inch pie dish. Sprinkle any remaining flour mixture over the top of the berries and gently
Gently blend in with the berries using a spoon.
For the Crisp Topping
In a small bowl, combine the oatmeal, almond flour, 3 tablespoons pure maple syrup, coconut oil and the almonds.
Blend the ingredients using your fingertips (or a fork) so all is coated well with the coconut oil.
Sprinkle evenly over the top of the berries.
Bake for 30 minutes or until the top is browned and the berries are bubbling.
Leave a Comment