Chicken Chili Without Beans
Yum
You'll enjoy the change of pace from the  traditional chili recipe when you take your first bite of this richly flavored  Chicken Chili without Beans.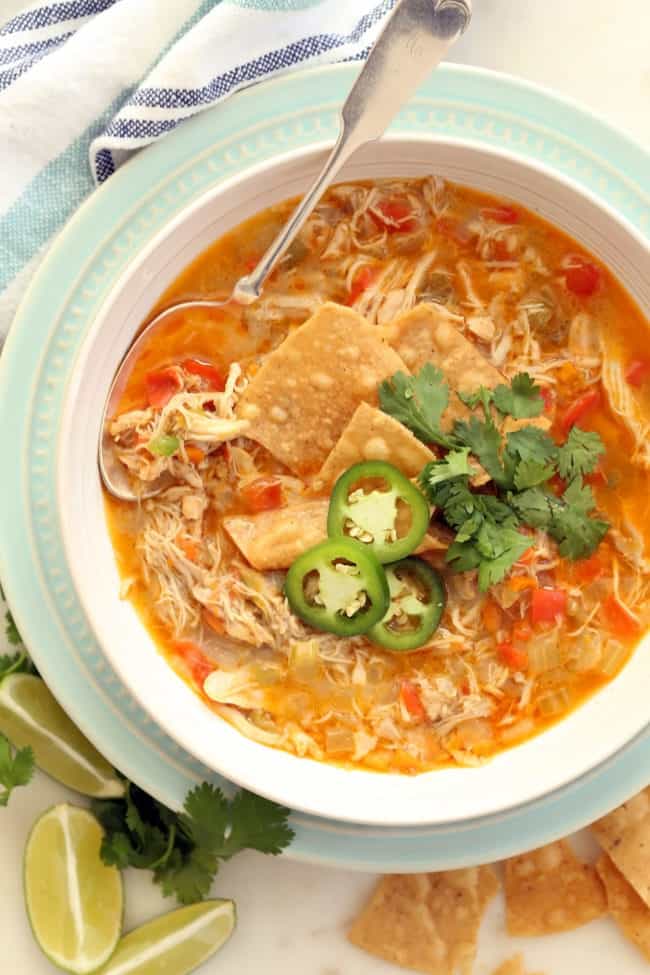 This Chicken Chili without Beans is super easy to make any night of the week.  It's loaded with tender bites of chicken simmered in a richly flavored broth.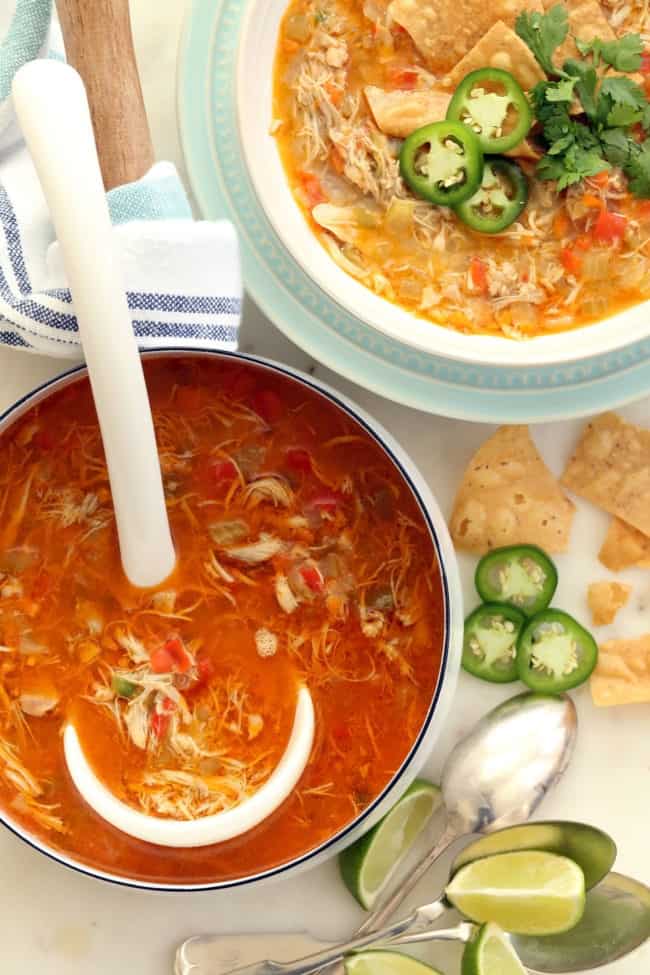 My family loves a good bowl of chili and we've made so many different versions over the years.  A couple of them have made it here as well.     Like this Turkey Chili with White Beans, and this Almost Chasens Chili.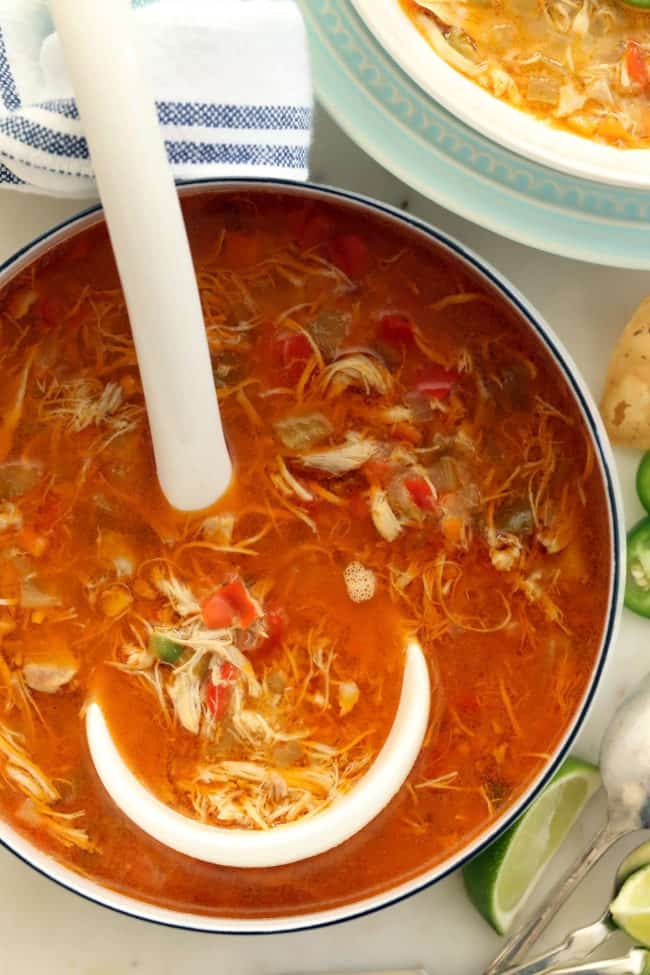 But I'd have to say I don't know that we have a particular favorite. If it's loaded with flavor but not so spicy it makes you sweat, it's a win with us. Though I'd personally say that my favorite chili was whatever the latest chili rendition my dad would make. I don't know if the love of chili originated with my grandpa (mom's dad) or with my dad, but we do love our chili,  My dad would find a chili recipe (or fish or soup recipe) in the paper and tear it out to make it for my mom and I. Both my grandpa and my dad were really good cooks.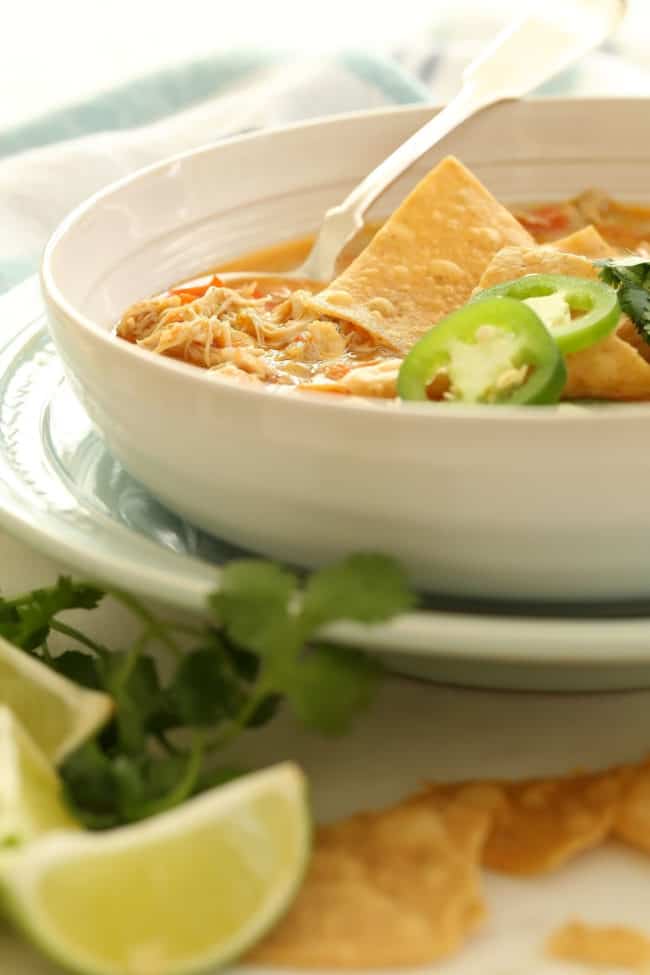 I  made this easy chili recipe in my Dutch oven, but you can just as easily use your favorite cock pot.  It's loaded with tender bites of chicken and some coconut milk has added to make it extra creamy good.  Don't be put off by the added coconut milk, you can't taste coconut in this chili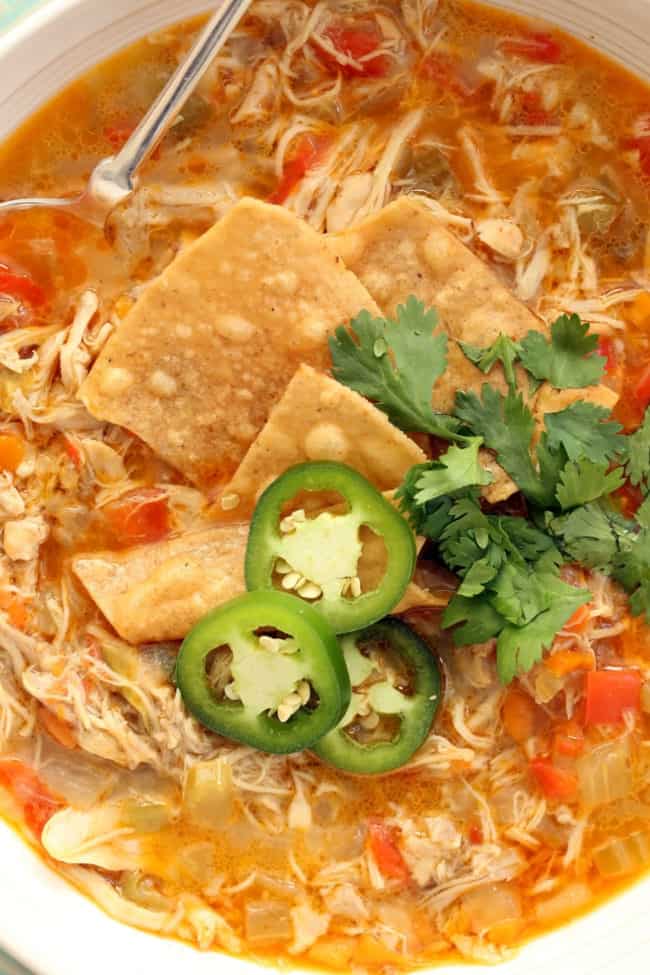 This beanless chili recipe is quick and easy to make for game day, and it's pure comfort food to make for cooler months.
I hope you enjoy this healthy chicken chili as much as my family does!!
~ Deb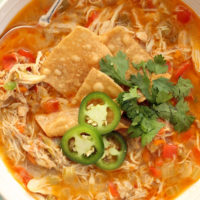 Chicken Chili Without Beans
Ingredients:
1-1/2 pounds, boneless chicken (breast, thighs or a mix of both)
2 tablespoons extra-virgin olive oil
1 medium onion, diced
1 medium red bell pepper, diced
1 carrot, peeled and minced
1 celery stalk, minced
2 cloves garlic. minced
1 teaspoon fresh jalapeño, finely minced
2 teaspoons ground cumin
1 teaspoon ground oregano
2 teaspoons chili powder
4 cups organic chicken broth
1 14-ounce can full-fat coconut milk
juice from half of a lime
½ cup fresh cilantro, chopped
Fresh cilantro and lime wedges for garnish, optional
Directions:
Heat the oil in a Dutch oven over medium heat.
Add onions, peppers, celery and carrot.
Saute for 5-6 minutes, stirring occasionally, until onion and peppers starts to soften.
Add garlic, cumin, oregano, chili powder, salt and pepper. Continue to cook an additional 30-60 seconds or until fragrant.
Lay chicken in pan over the onion and pepper mixture. Add 2 cups broth and bring just to a boil. Reduce heat, cover and simmer for 10-12 minutes or until chicken is cooked through.
Remove the chicken from the pan and place on a cutting board.  Shred the chicken and return it back to the Dutch oven.
Add remaining 2 cups of broth and coconut milk and return to a simmer. Cover pan and allow chili to simmer over low heat for an additional 10 - 15 minutes.
Remove from heat and stir in lime juice and cilantro. Taste and adjust seasonings as desired.
Serve in bowls garnished with chopped parsley and lime wedges, if desired.
Leave a Comment