How to Freeze Bananas for Smoothies
This post may contain affiliate links.
Can you freeze bananas? The short answer is – yep, you sure can! And here's an easy hack on How to Freeze Bananas for Smoothies, oatmeal, banana nut bread and muffins and more.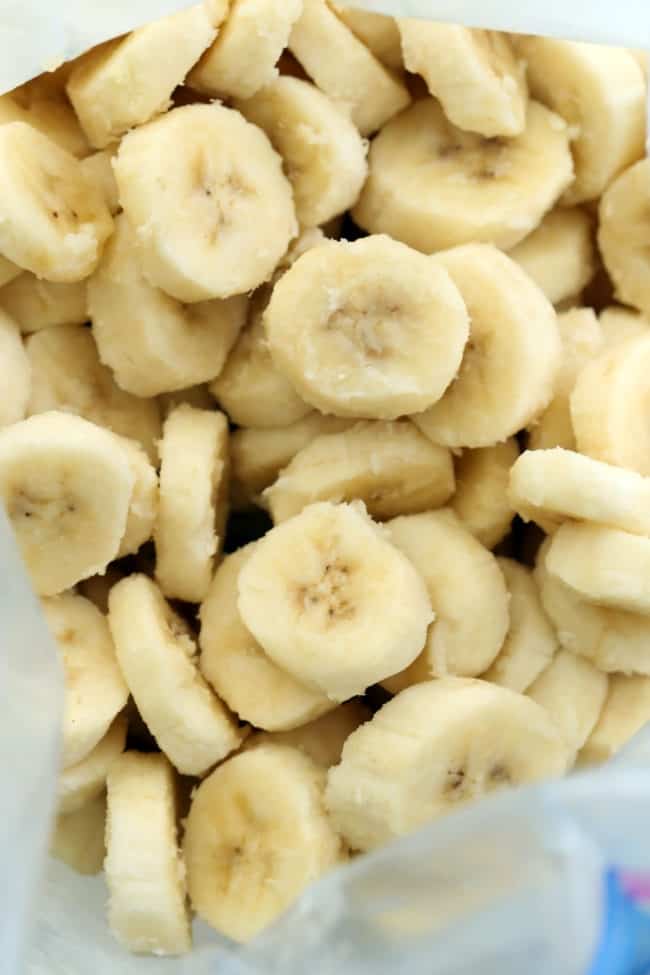 Freezing bananas is super easy and it's great to have them on hand to toss into smoothies. Frozen bananas make smoothies ultra rich and creamy!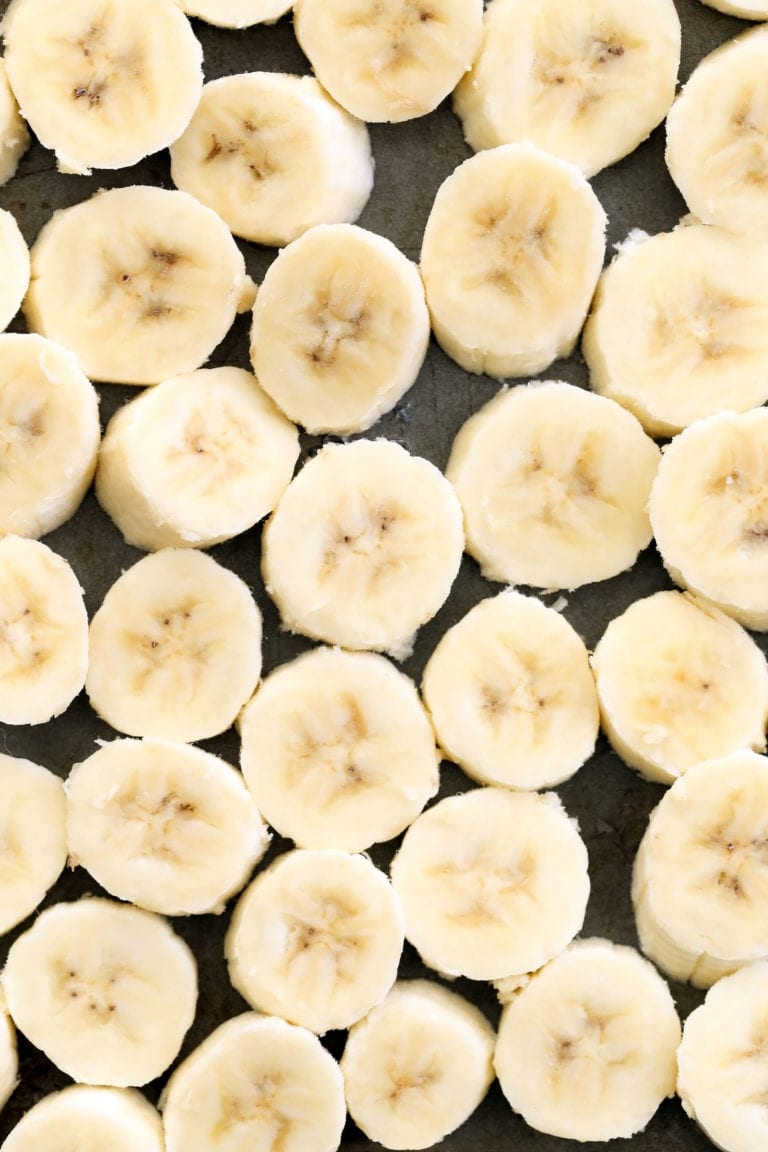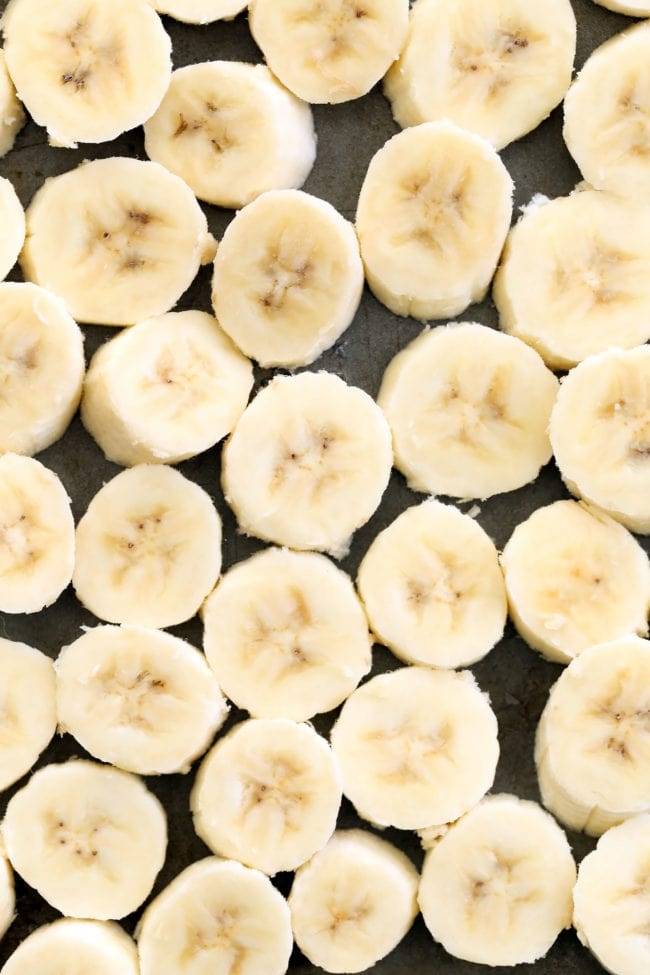 Can You Freeze Bananas
Yes!! You absolutely can! You'll want to use organic bananas that are fully ripe with a little browning. These add so much flavor and just the right amount of sweetness to smoothies, oatmeal, banana bread and more.
Freezing Bananas for Smoothies
Freezing bananas for smoothies is so simple!! If you don't add frozen bananas to your smoothies, you don't know what you're missing out on! They give smoothies a thick and creamy milkshake like texture, plus they're a rich source of heart-healthy potassium.
How to Freeze Bananas
This is the best way to freeze bananas so your bananas won't clump together.
Peel the bananas: Peel ripe organic bananas and discard the peel
Slice bananas: Slice bananas into in 1/2 – 1-1/2 inch pieces (they don't have to be perfectly sized)
Cookie sheet: Lay the banana slices in a single layer on a cookie sheet (you can lay down a piece of parchment paper first if you want).
Freeze: Put the cookie sheet with the banana slices in the freezer for 2o minutes
Loosen banana slices: After 20 minutes lift the banana pieces up from the baking sheet with a spatula so they won't stick during the remaining freeze time. Then pop them back in the freezer to freeze for about 2 hours
Transfer to freezer bag: Use a spatula to loosen the frozen banana slices from the cookie sheet and transfer them to a plastic freezer bag
Store in freezer: Store the frozen bananas (in a freezer bag) in the freezer for up to 6 months.
How Long Does it Take to Freeze a Banana
All in – it takes about 2 hours and 20 minutes to freeze them.
20 minutes initial freeze time
2 hour additional freeze time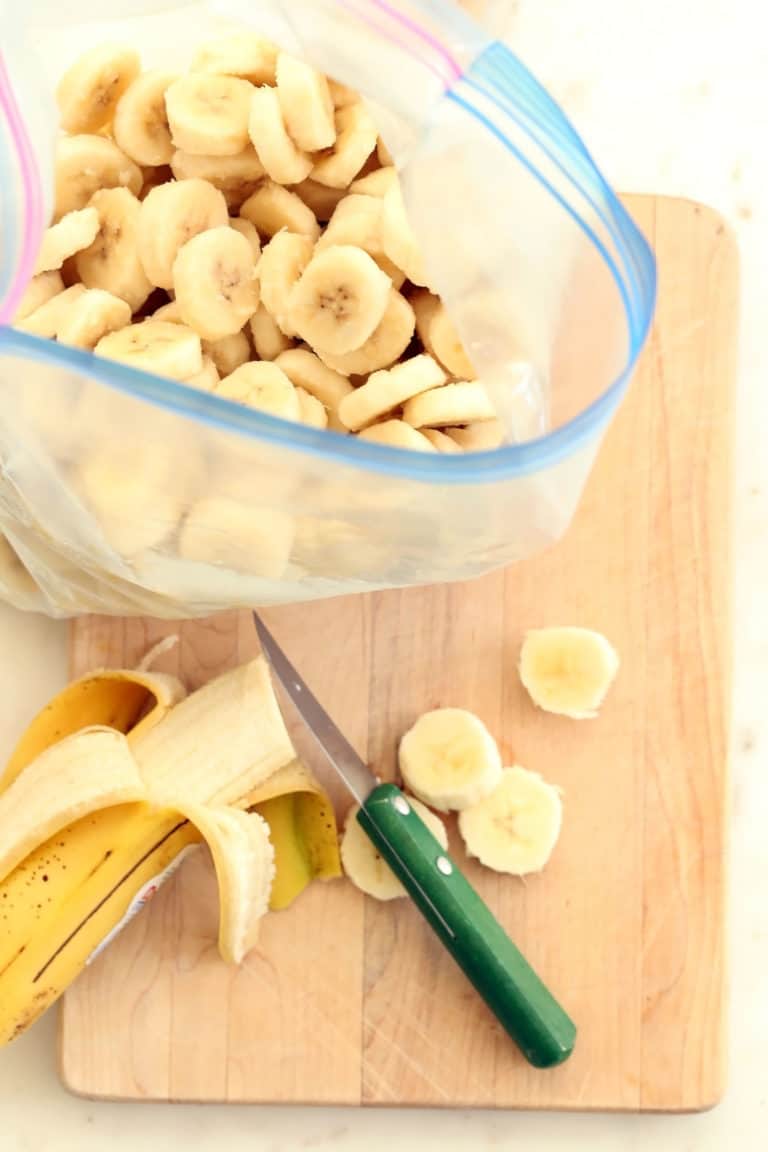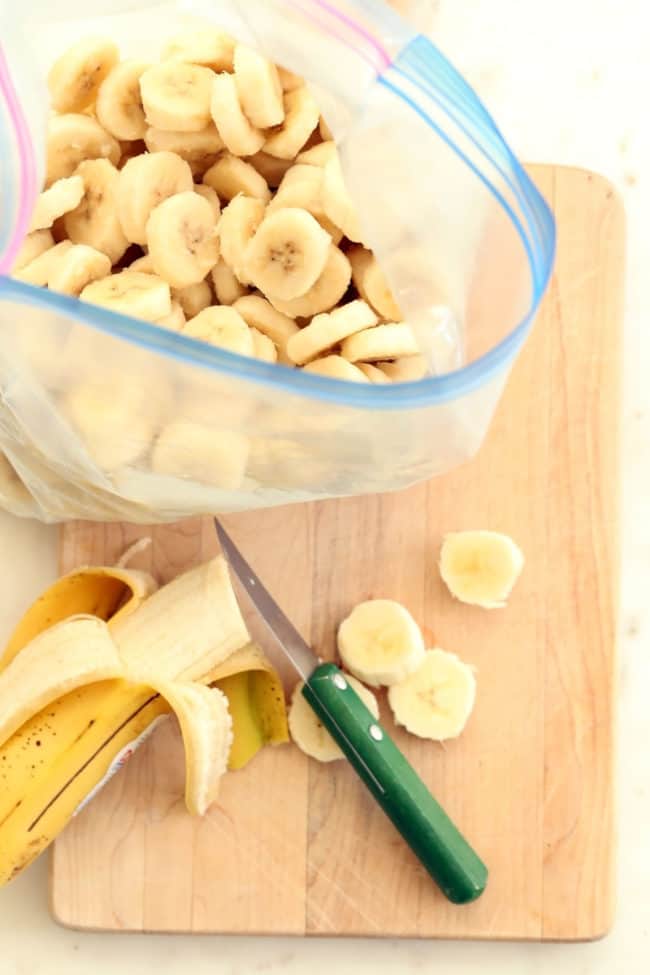 Serving Suggestions
There's other great ways to use frozen bananas besides adding them to smoothies.
Add a fistful to your morning smoothies
Blend them in a blender or food processor to make "ice cream"
Add to banana nut bread or muffin batter
Toss them in oatmeal as it simmers on the stove
Add them to pancake batter
How to Thaw Frozen Bananas
You'll want to thaw frozen bananas if you're using them to bake with.
Remove the amount of frozen bananas you'll be using.
Place them in a bowl to thaw on their own or keep the frozen slices in baggie and soak baggie is a bowl filled with warm water.
Mash with a fork or potato masher before they are fully thawed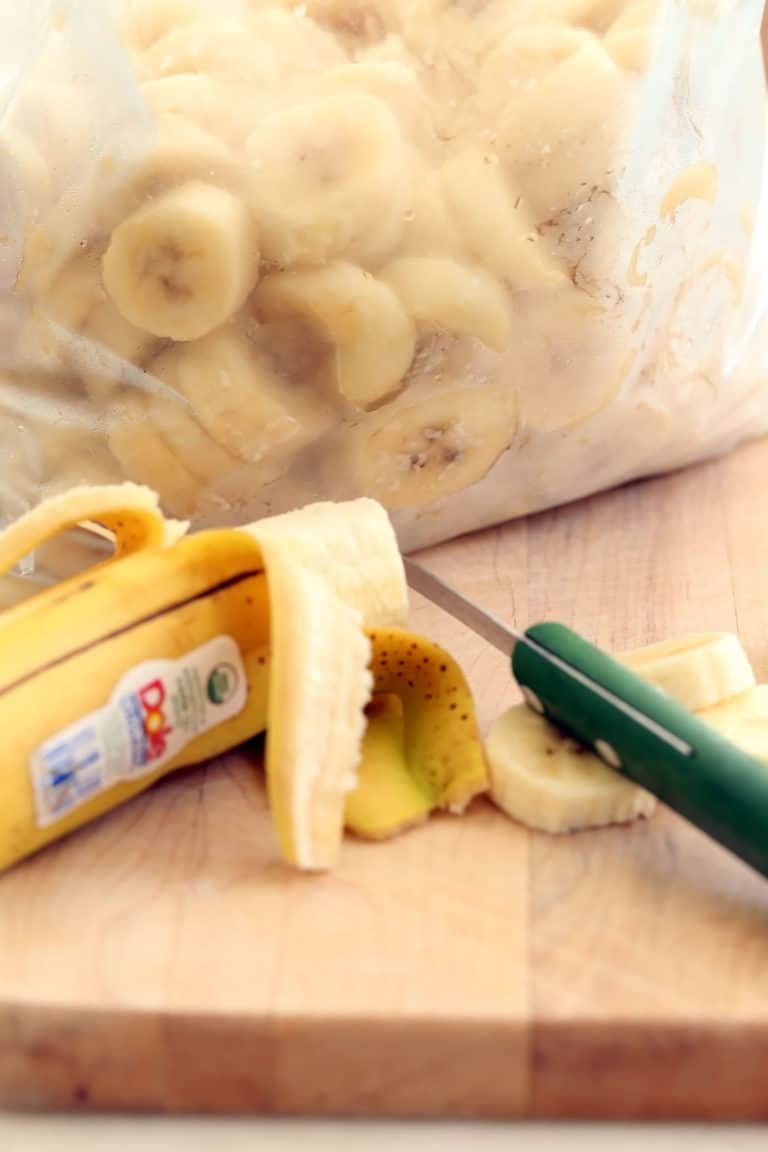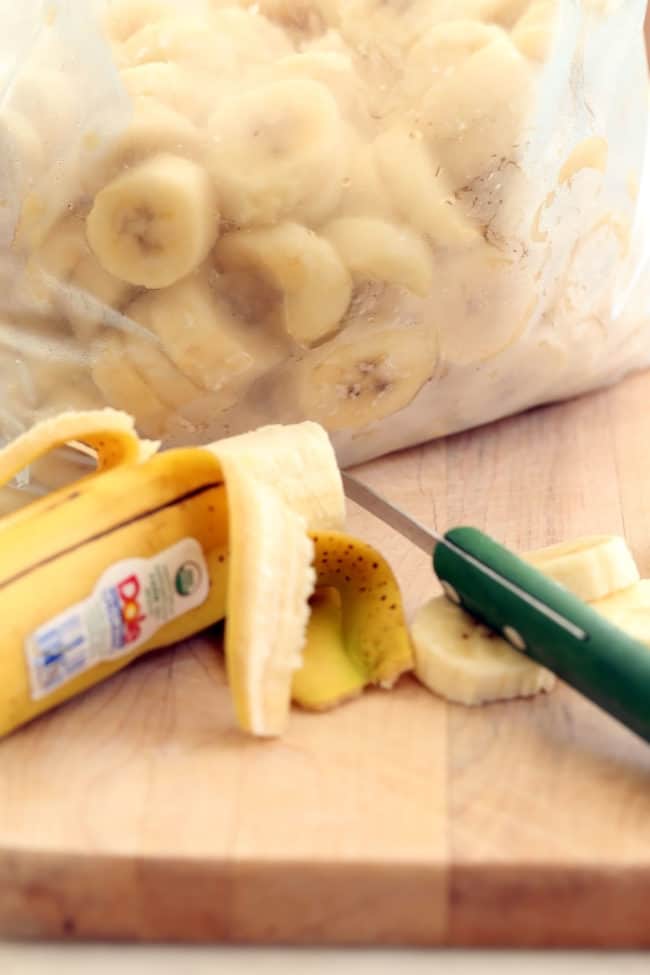 Banana Nutritional Value
Heart health: Bananas are rich with fiber, potassium, folate, vitamin C and antioxidants. People who maintain a high fiber diet may have a lower risk of heart disease and may have lower levels of LDL cholesterol (the bad kind of cholesterol). (1) The potassium found in bananas helps to maintain fluids in the body and helps regulate muscle contraction and nerve cell response (which regulates the heart beat). One medium size banana contains approximately 422 mg of potassium.
Blood sugar levels: Because bananas are rich with fiber, the fiber found in bananas may help lower blood sugar levels and may reduce the risk of developing type 2 diabetes. (2)
Memory and mood: Bananas are also rich with the amino acid known as tryptophan, an amino acid that may help boost mood, enhance memory and the ability to learn new things. It also has a high content of dopamine (a type of neurotransmitter that our nervous system uses to send messages between nerve cells). Dopamine plays a role in our ability to think, plan and focus. It also plays a role in our mood. (3)
Digestion: The fiber in bananas (may keep things regular) which can enhance digestive health.
Banana for Weight Loss
Bananas are rich with fiber and low in calories. One medium size banana contains about 105 calories or 200 calories per 1 cup mashed banana. Fiber rich foods like bananas are more satiating and have been linked to lower body weight. (4)
Smoothies with Frozen Bananas
More Cooking Resources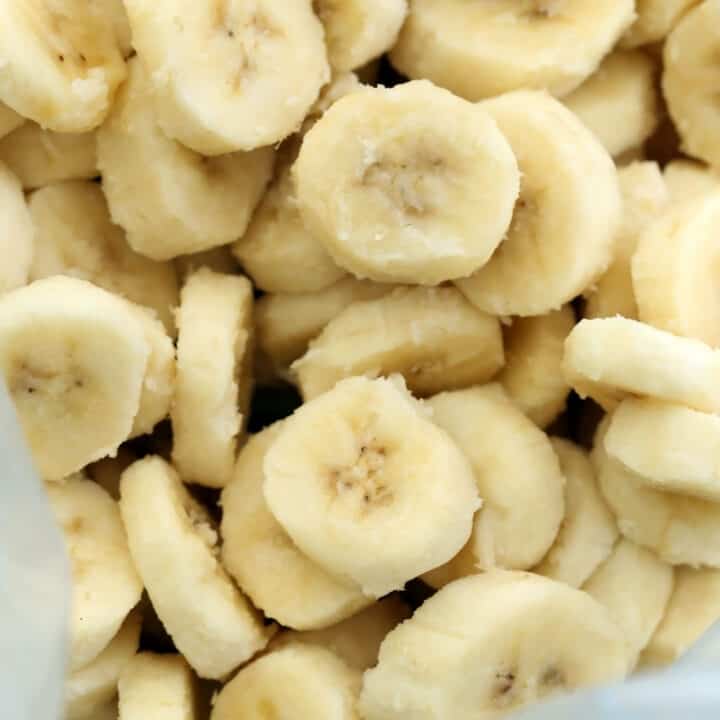 Yield: 2 servings
How to Freeze Bananas for Smoothies
Total Time
2 hours
20 minutes
Here's an easy hack on How to Freeze Bananas for Smoothies.  Adding frozen organic bananas to your smoothies makes them deliciously rich and creamy.
Ingredients
2 Organic Bananas, peeled and sliced in 1/2 - 1-1/2 inch pieces
Instructions
Spread the banana pieces in a single layer on a baking sheet
Freeze for 20 minutes then using a spatula - lift them from the cookie sheet so they don't stick
Freeze uncovered for 2 hours
Using a metal spatula, loosen the banana pieces from the cookie sheet
Transfer to a freezer safe bag or container
Store in the freezer
Nutrition Information:
Yield:
2
Serving Size:
1
Amount Per Serving:
Calories:

105
Total Fat:

0g
Saturated Fat:

0g
Trans Fat:

0g
Unsaturated Fat:

0g
Cholesterol:

0mg
Sodium:

1mg
Carbohydrates:

27g
Fiber:

3g
Sugar:

14g
Protein:

1g
theharvestkitchen.com attempts to provide accurate information, however, this nutritional information is provided as a courtesy and is an estimate only. The nutritional information provided comes from online sources and calculations.