Thai Coconut Curry Chicken
Yum
This stew-like Thai Coconut Curry Chicken is loaded with chunks of potato, lean chicken, carrots, onion, red bell pepper all simmered in a rich exotic tasting coconut curry sauce.   An easy chicken dinner to make any night of the week!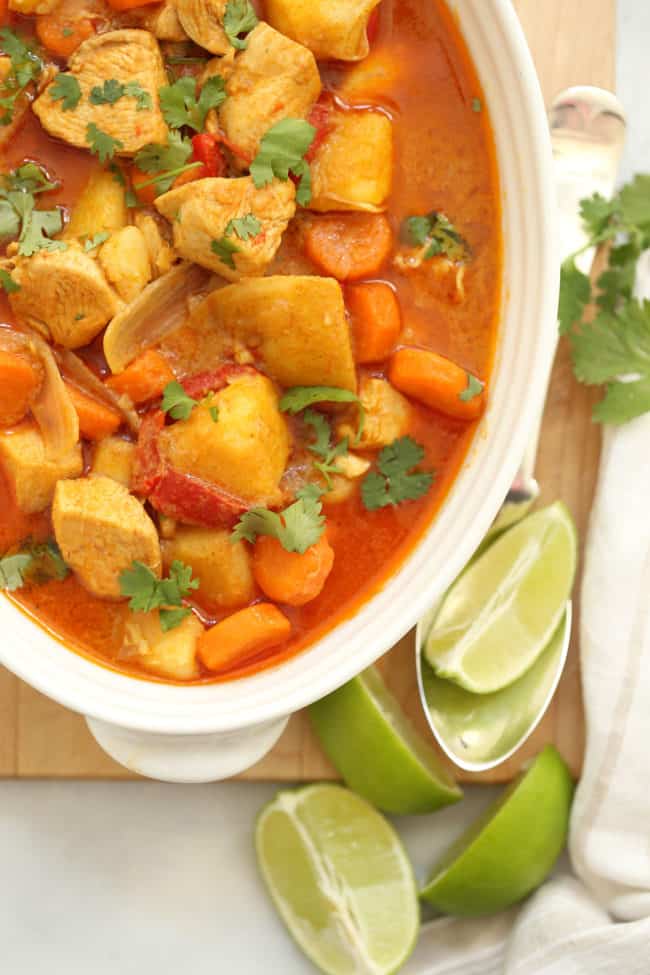 This Thai Coconut Curry Chicken has an incredible combo of flavors.  The sauce is silky smooth with just a hint of heat.  Not enough to make you work up a sweat – but just enough to let you know your taste buds are alive and well.   If you were ordering this Thai Chicken Curry at a restaurant – it would be ranked a "1".  Barely spicy at all.  But it's most definitely a "10" in the flavor department!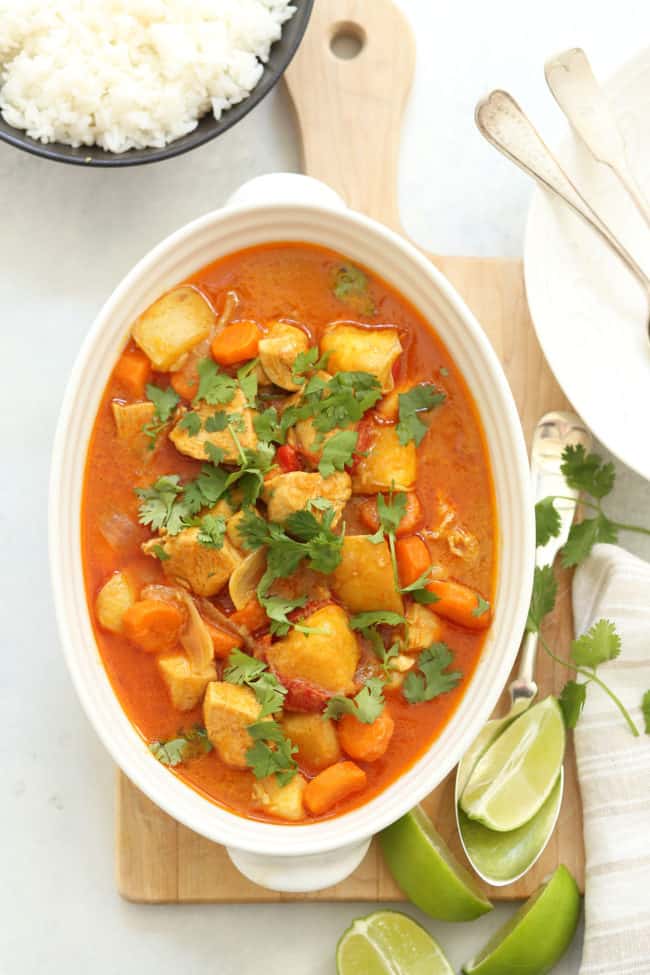 I used to work for an architectural firm….it used to be Orange County's largest.  I had the opportunity to work with some incredibly talented architects who designed some beautiful hotels and commercial buildings.  If any of you have ever worked with, or if you've ever been around architects….I'm sure you'd agree that it's quite an experience.
They see things everywhere they go….detail and lighting…and use of space.  Things that I take for granted.   And almost every dining experience with an architect involves them inevitably turning over a napkin to sketch out some architectural detail or layout of space.  And if the tablecloth is paper, it gets sketched on too.   They're fun people to be around!!  Thai food  and Japanese food used to be big with these folks, and that's where my tastebuds first fell in love with both.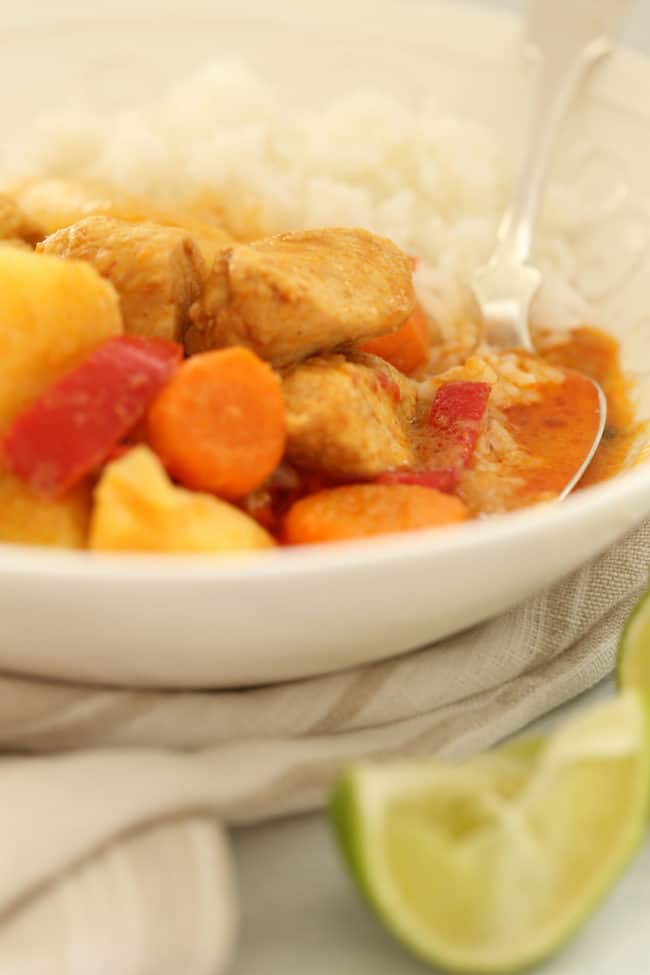 So… if you like Thai food that's not too spicy hot, but rich and flavorful –  you'll love this chicken curry with coconut milk.  It's also incredibly simple to make!  Be sure to serve it with plenty of rice.  If this is too spicy for you – which I'm a whimp and it's perfect for me – so I doubt it'll be too spicy for you – but if it is….just squeeze the juice of 1/2 a lime in the broth.  It will neutralize the spice a bit.  Serve with jasmine rice, lime wedges and chopped cilantro.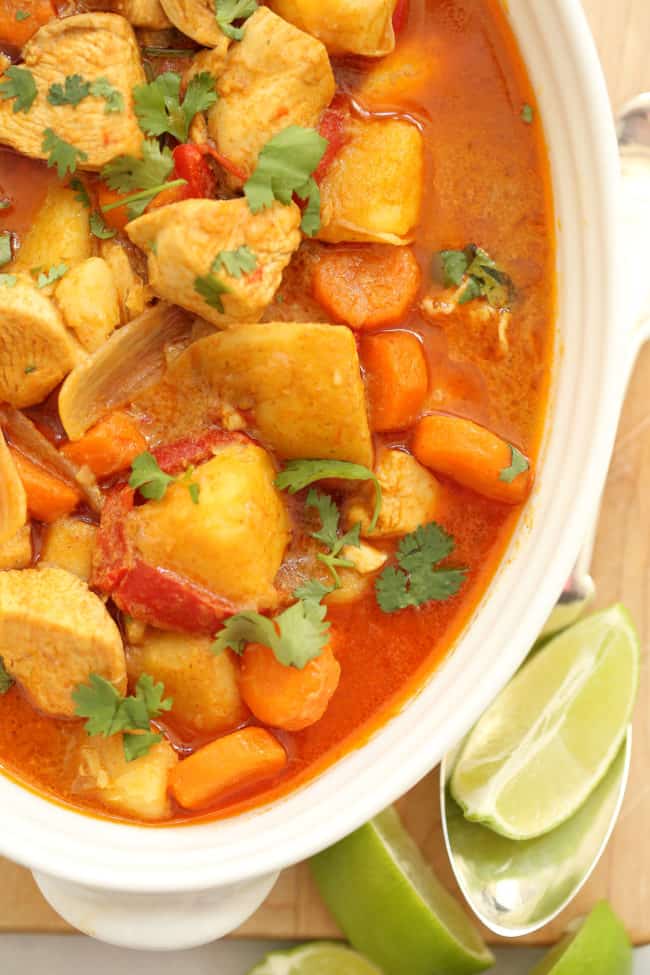 Just wait until you smell how wonderful your house will smell when you make this Thai Coconut Curry Chicken recip.  Intoxicating!
(This post is a repost with an updated recipe and new photos of a favorite dish of mine).
Enjoy!
~ Deb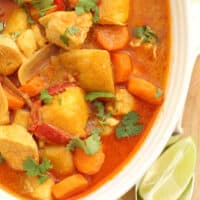 Thai Coconut Curry Chicken
Yield: 4 to 6 servings
Total Time: 1 hour
Ingredients:
1/4 cup coconut oil (you can use peanut or canola if that's what you have on hand)
1/4 cup red curry paste (you should be able to find this in the Asian section at your grocery store)
2 teaspoons curry powder
1 teaspoon fresh ginger, finely minced
2 chicken breasts, skinned, boned and sliced
2 potatoes, cut into chunks
2 carrots, peeled and sliced
1 small red bell pepper, seeded and sliced thin
1/2 small onion, sliced thin
4 cups of canned coconut milk (2 cans full fat or 1 fat and 1 low fat)
Directions:
Heat the oil in a large skillet or a wok.
Add the red curry paste and curry powder and stir fry over high heat for about one minute.
Add the chicken, potatoes, carrots, red pepper, onion and ginger and stir fry until the chicken turns golden brown.
Add the coconut milk and bring to a boil.
Reduce the heat to a simmer and cook for about 30-40 minutes or until the potatoes are tender and the sauce is rich and thick.
Garnish with toasted cashews or chopped cilantro
Leave a Comment