Healthy Italian Chicken Salad
Yum
Pile this Healthy Italian Chicken Salad high on lettuce leaves, thick juicy tomato slices or toasted sprouted bread. It's loaded with tender bites of chicken breast, red bell pepper, red onion, artichoke hearts, kalamata olives, celery and fresh herbs (basil, oregano and parsley), then it's all tossed in a creamy, slightly zesty dressing for a fun twist to a  classic chicken salad.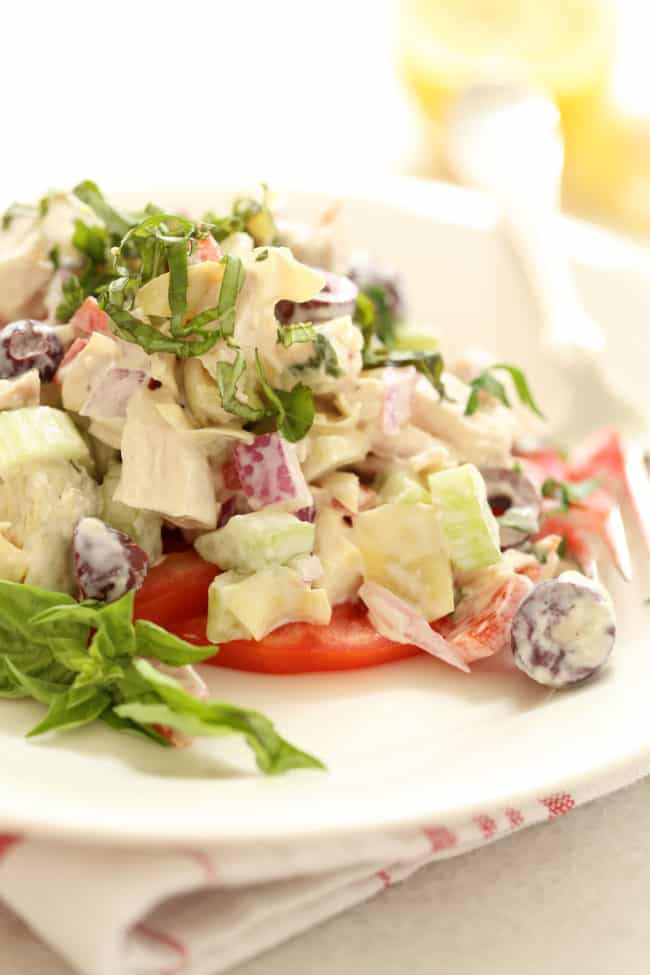 This version of chicken salad gets a light and fresh update with a slight Mediterranean twist. It's loaded with chunks of tender chicken breast, red bell pepper, red onion, kalamata olives, artichoke hearts, celery and fresh herbs (basil, oregano and parsley).
This Mediterranean chicken salad is so quick and easy to pull together.  It's even easier if you use store-bought rotisserie chicken for this recipe.  But, if you're cooking the chicken at home, it really matters not whether it's baked, poached, roasted or grilled.  Just make sure it's tender!  The dressing for this salad is made of yogurt, a wee bit of olive oil mayo, Dijon mustard and lemon juice.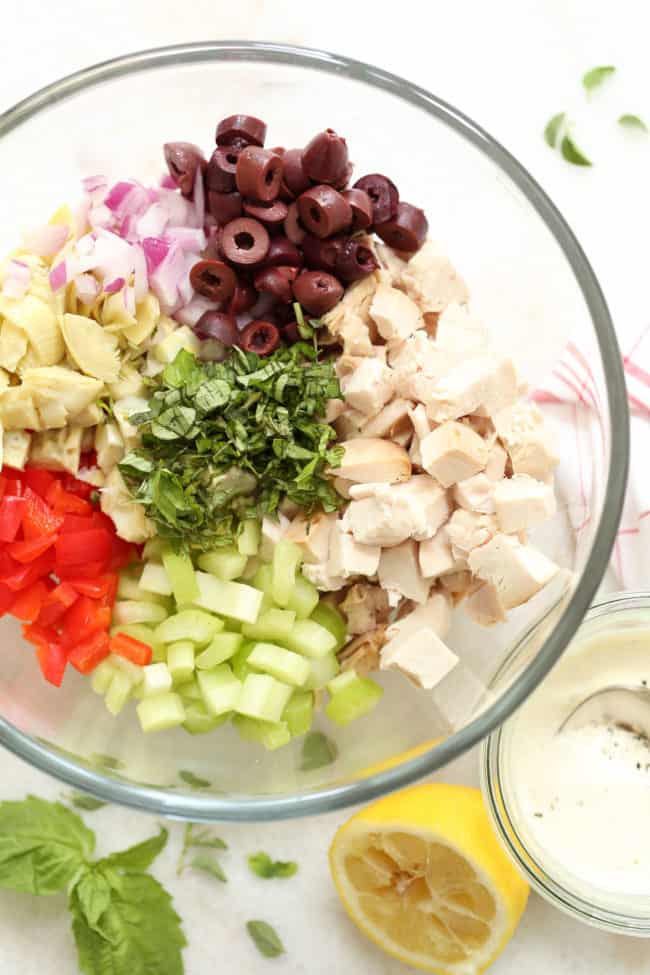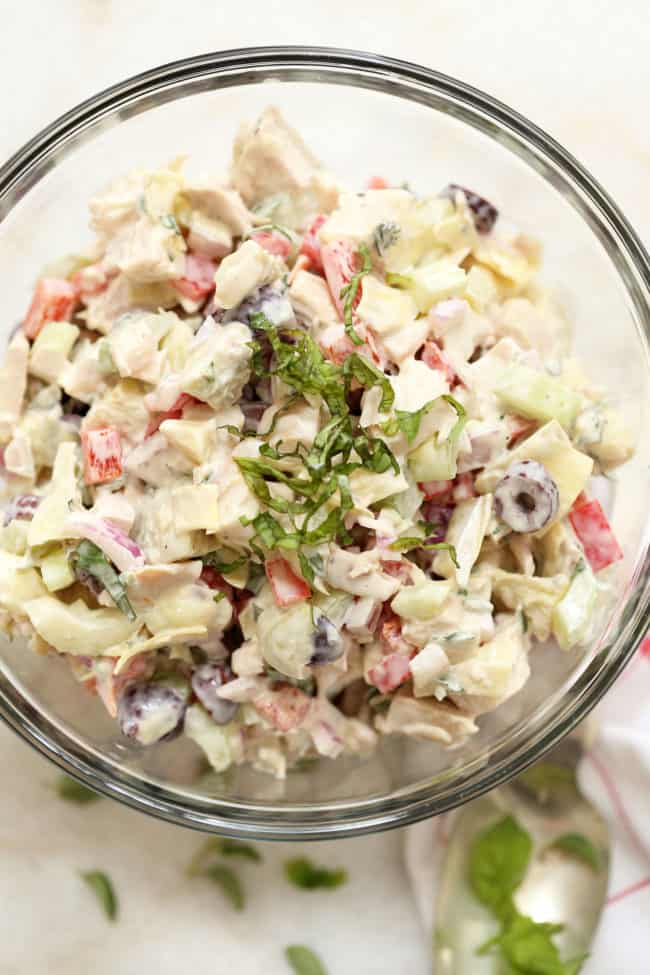 Be especially generous with the fresh basil for this dish. I've only used fresh herbs for this salad, so I can't really comment on how dried herbs would work.  But the fresh herbs make this salad pop with flavor.  I like to squeeze a little extra lemon juice over the top with some freshly cracked pepper.  This salad is one of my favorite chicken salad recipes!
This Healthy Italian Chicken Salad makes a satisfying main-course salad for lunch or a light dinner.
~ Deb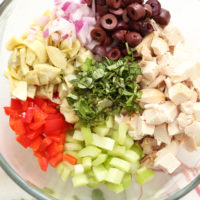 Healthy Italian Chicken Salad
Yield: Serves 4
Total Time: 30 minutes
Ingredients:
2 cups cooked chicken, chopped (store-bought rotisserie works)
1/2 cup celery, chopped
1 (14-ounce) can quartered artichoke hearts, drained and tough leaves cut away
1/2 cup chopped red bell pepper
3/4 cup sliced Greek olives
1/2 small red onion, finely chopped
2 cloves garlic, finely chopped
1/4 cup flat-leaf parsley, chopped
1/4 cup fresh basil, sliced
2 teaspoons fresh oregano,  chopped
1/4 cup Greek yogurt
2 tablespoons olive oil mayonnaise
1 heaping teaspoon Dijon mustard
3 tablespoons lemon juice
Salt and ground black pepper, to taste
Directions:
Put all the salad ingredients into a large bowl and gently fold together until well combined.
In a small bowl combine the yogurt, mayonnaise, Dijon mustard and lemon juice.  Mix until well blended.
Pour the dressing over the salad ingredients and gently fold until the salad ingredients are evenly coated.
Serve on sliced tomatoes, spoon on a green salad, or make a sandwich with it.
Leave a Comment