Oatmeal Cookie Crust Strawberry Tart
This post may contain affiliate links.
This Oatmeal Cookie Crust Strawberry Tart is a delicious fresh strawberry dessert recipe to make during the warm summer months!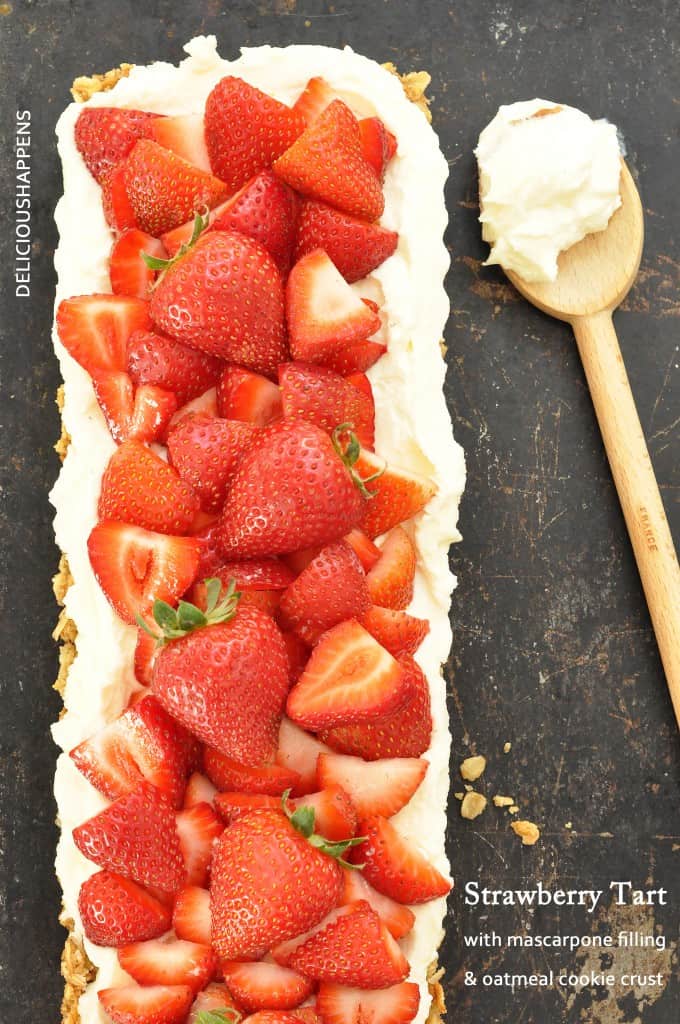 I really love strawberry desserts like this rustic Oatmeal Cookie Crust Strawberry Tart with Mascarpone. This is a simple, no-fuss fruit tart recipe that will make you look like you know a thing or two in the kitchen. This fresh fruit tart has just the right amount of sweetness (light), the mascarpone filling has just a hint of lemon and it is as light and fluffy as a cloud…and oh my gawd is this little ensemble good!!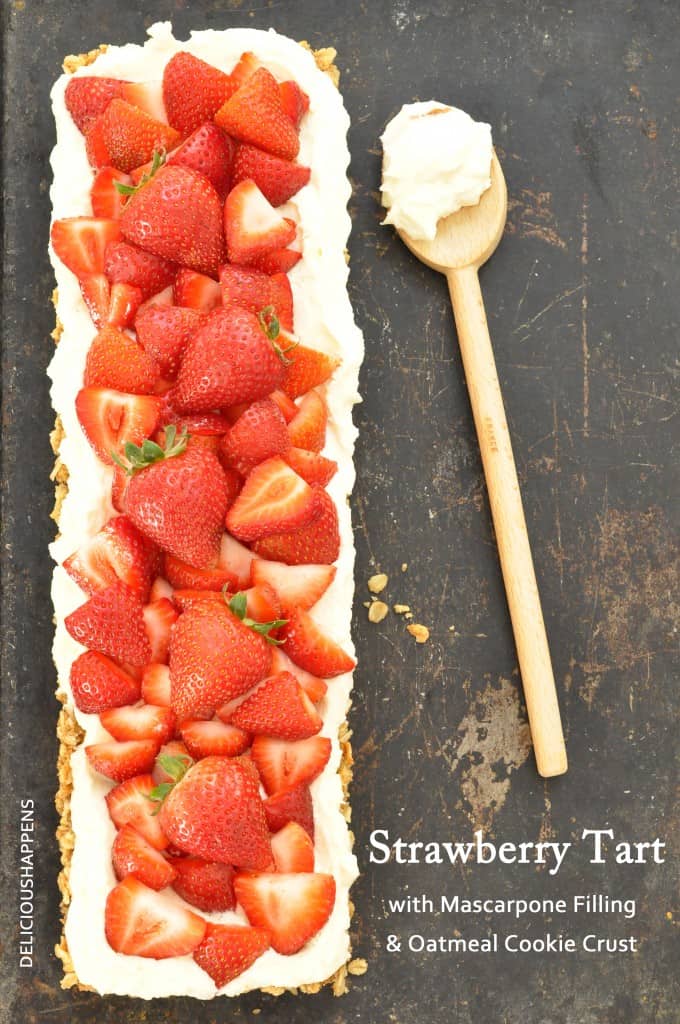 I love summer desserts loaded with fresh seasonal stone fruit and berries! And this Strawberry Tart recipe puts big beautiful seasonal strawberries to good use. The crust for this fruit tart is made out of oatmeal cookies. You know…you could actually eat this tart for breakfast. Seriously! And why not!? I think it would be fun to serve this pretty Strawberry Tart for brunch. Don't you?
And besides ….what a great way to eat your heart-healthy oats!
Fruit tarts have always been one of my favorite summer desserts to make. I tend to lean more towards rustic desserts – forgiving desserts. Desserts that don't have to look perfect. And this fresh strawberry dessert recipe is an easy one to pull together!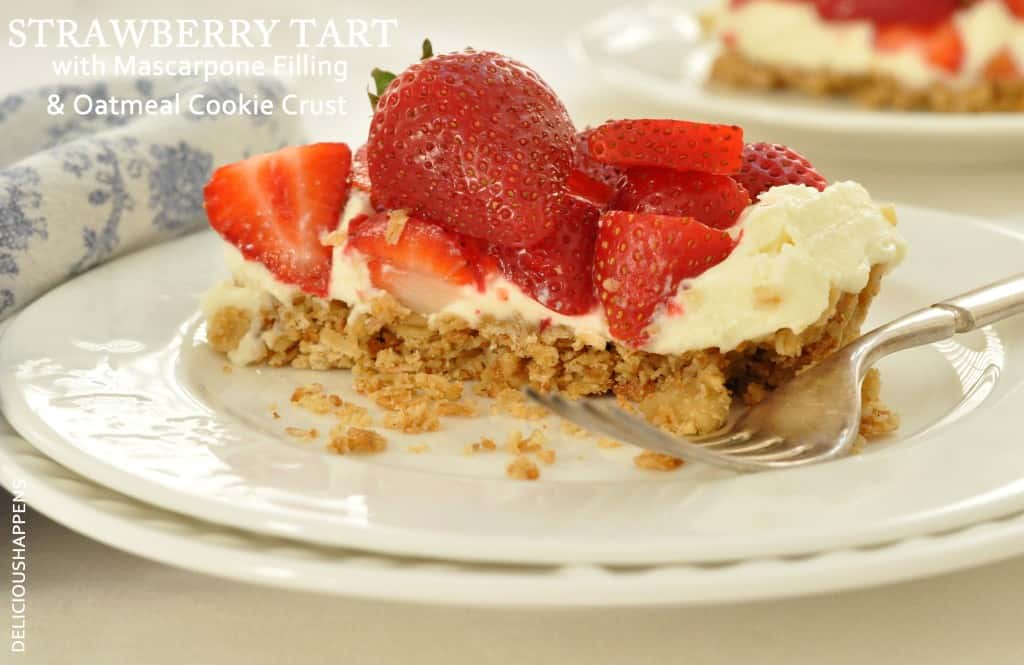 If you love fresh fruit desserts, you're sure to love this easy strawberry tart!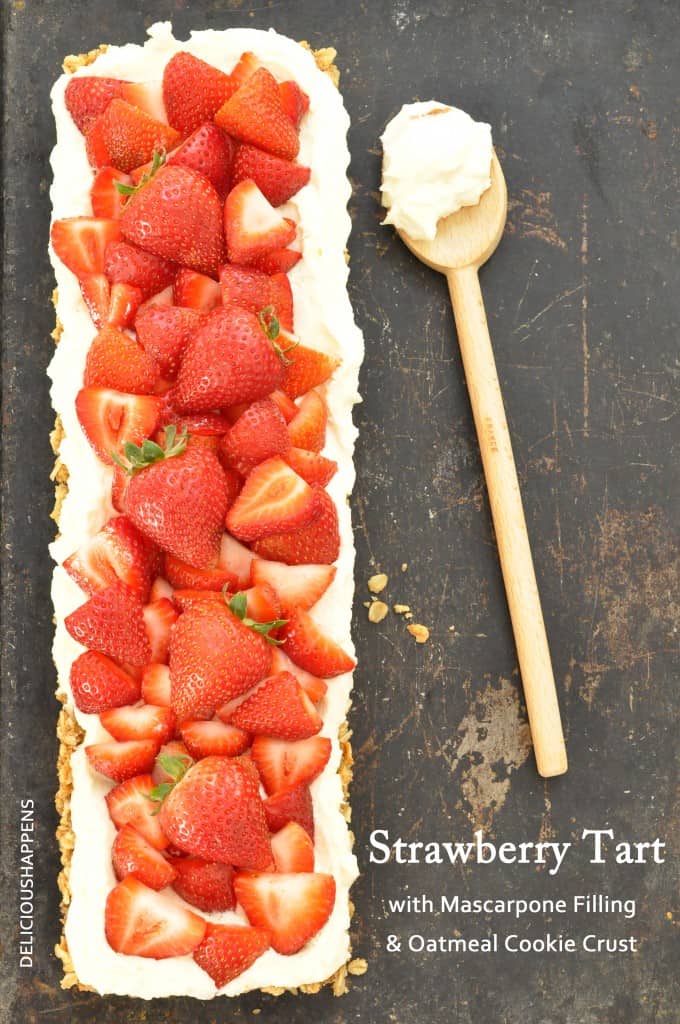 Yield: 6 - 8 servings
Strawberry Tart with Mascarpone and Oatmeal Cookie Crust
This Oatmeal Cookie Crust Strawberry Tart is a delicious fresh strawberry dessert recipe to make during the warm summer months.
Ingredients
For the Oatmeal Cookie Crust
2 1/4 cups old-fashioned oats, divided
1 tablespoon cornstarch (optional)
1/2 teaspoon baking powder
1/2 cup unsalted butter, softened  (plus 6 tablespoons, melted for the crust)
1/3 cup granulated sugar
1/3 cup packed light-brown sugar
1 large egg
1 teaspoon pure vanilla extract
1/2 cup chopped walnuts
1/2 teaspoon kosher or sea salt
For the Mascarpone Filling
1 8-ounce container mascarpone cheese
3/4 cup heavy whipping cream
2 tablespoons granulated sugar
1 teaspoon fresh squeezed lemon juice
1 teaspoon pure vanilla extract
For the Strawberry Topping
2 pints strawberries, hulled and sliced thin
Instructions
For the Oatmeal Cookie Crust
Heat oven to 350 degrees.
Line cookie sheets with Silpat or parchment paper.
Blend 1-1/4 cups oats in a food processor until fine flour texture.
Add cornstarch and baking powder; pulse briefly.
In a large bowl of a stand mixer add the butter and sugar and blend until light and fluffy. Add egg and vanilla and beat until smooth.
Add flour mixture and stir until just combined.
Using a tablespoon - measure out the dough and drop on the cookie sheet 2 inches apart.
Sprinkle with salt.
Bake for about 15 minutes or until the edges are golden brown.
Cool on wire racks until ready for use.
For the Mascarpone Filling
Whip the mascarpone cheese, cream, sugar, lemon juice, and vanilla extract in a stand mixer until soft peaks form.
To assemble the tart
You will need a 12 x 4 tart pan (long and thin).
For the crumb base, melt 6 tablespoons of butter in a small saucepan.
Crush the cookies to a coarse powder.
Mix the oatmeal crumbs with the oatmeal.
Add the crumbs into the tart pan and smooth them out to the edges and up the sides of the tart shell. Press firmly but loosely.
Spoon the mascarpone filling into the cookie crust. Spreading it smoothly out to the edges.
Arrange thinly sliced strawberries on top of the mascarpone.
Refrigerate for 15 to 20 minutes before serving.