Lemon Semifreddo
This post may contain affiliate links.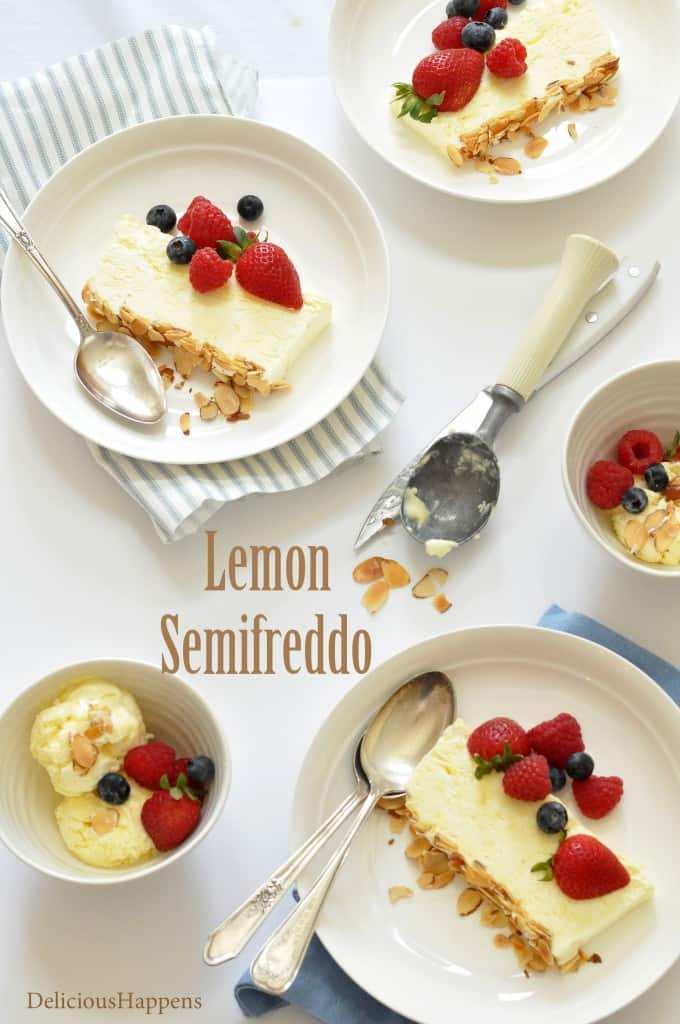 This Lemon Semifreddo with mixed berries is one of my favorite desserts to make. It's a light fluffy – melt in your mouth – elegant dessert. If you've never made semifreddo before – you'll want to give it a go. Semifreddo means "semi frozen"….so if you don't have an ice cream maker – this is a great ice cream-like dessert to make. All you need is a mixer and a loaf pan. I'm not 100% sure – but I'm thinking I like semifreddo better than ice cream or frozen yogurt. The texture is really quite heavenly!!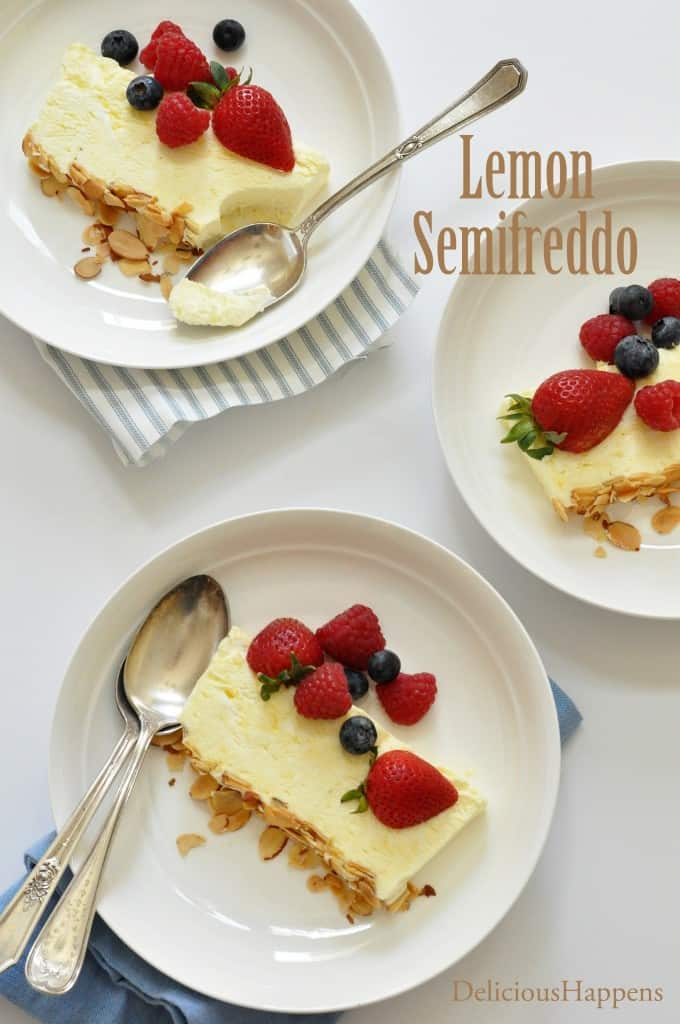 Semifreddo is a super quick and simple dessert to throw together. I whipped this one up at midnight on Saturday so I'd have it to take over to my parent's house for Father's Day. And yes….it was a hit!!
If you love lemons….this is sure to be a new favorite lemony dessert for you.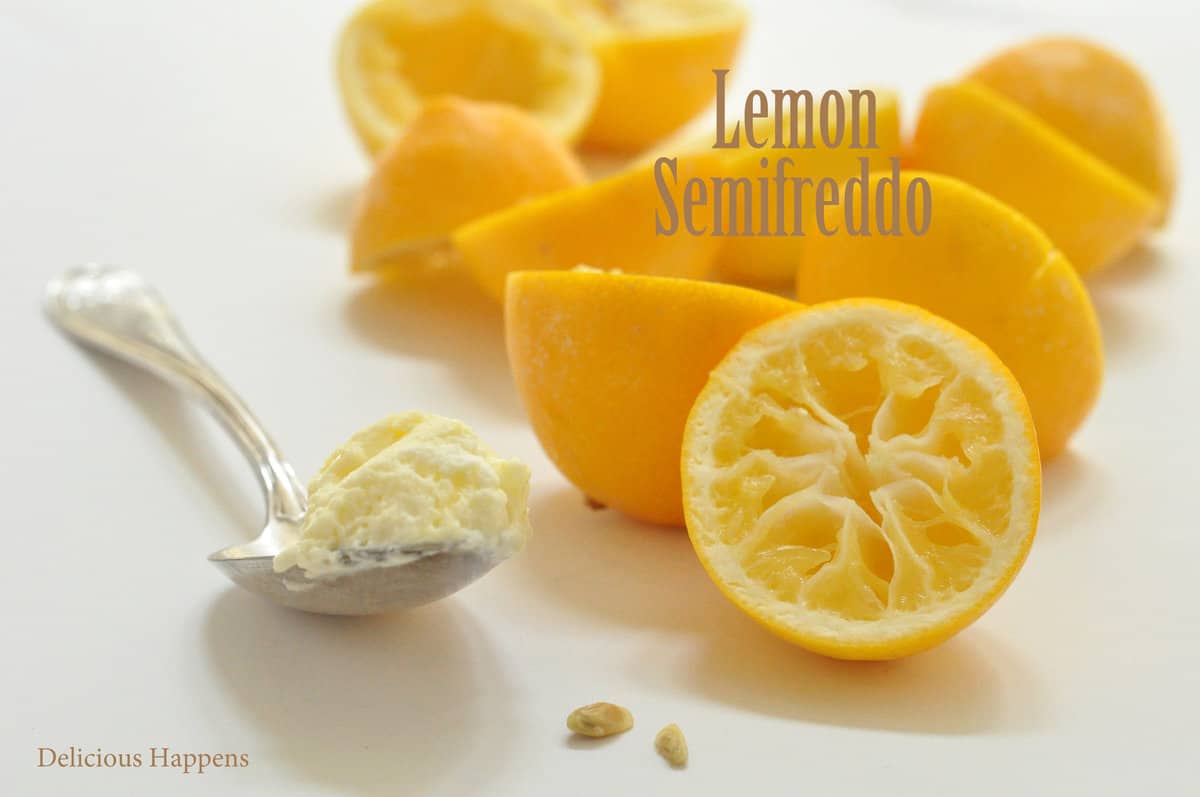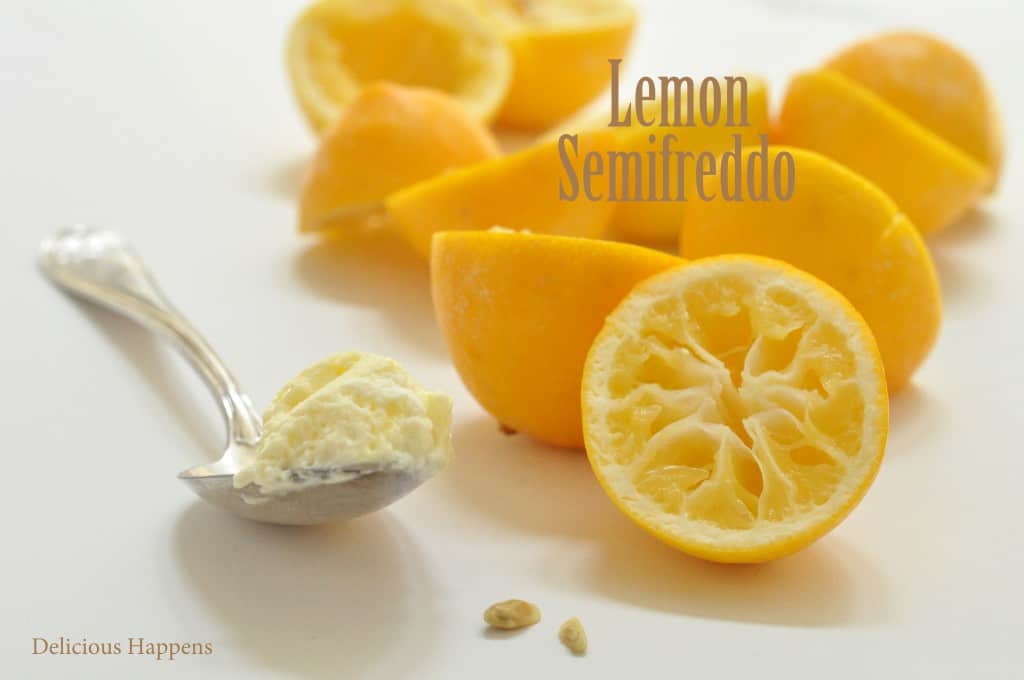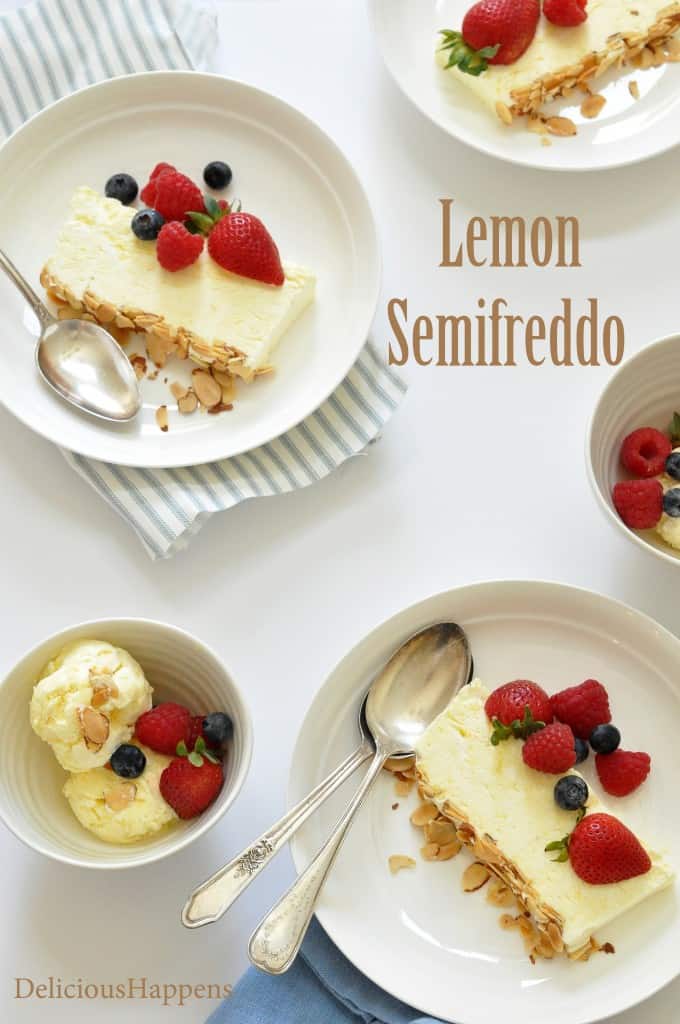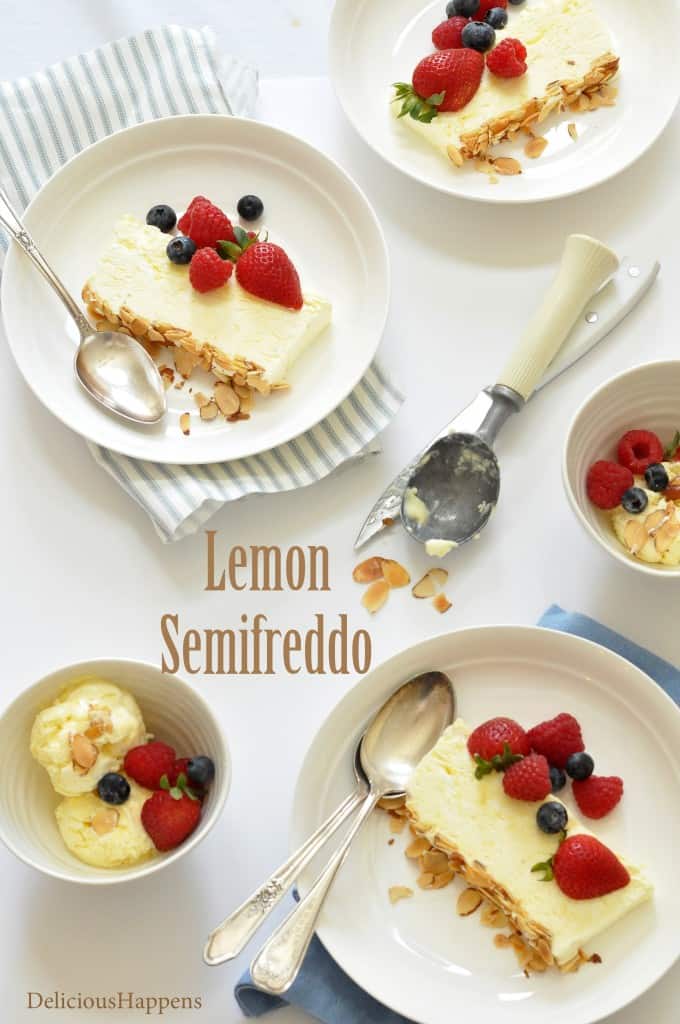 Yield: 8 servings
Lemon Semifreddo
Total Time
8 hours
20 minutes
No ice cream maker - no problem.  You'll love this easy to make frozen lemon dessert!
Ingredients
1/2 cup sliced almonds, lightly toasted
1 -3/4 cups chilled heavy whipping cream
1/2 cup granulated sugar
7 large egg yolks
1/2 cup fresh Meyer lemon juice or regular lemon juice
1 tablespoon finely grated Meyer lemon peel or regular lemon peel
1/4 teaspoon salt
4 cups mixed fresh berries (raspberries, blackberries, blueberries, and strawberries)
Instructions
Line 9x5x3-inch metal loaf pan with plastic wrap, leaving generous overhang.
Lightly toast almonds in the oven for 2 - 3 minutes at 325. Watch carefully so they don't burn. Set aside to cool before using.
Sprinkle toasted almonds evenly over bottom of pan. Set aside.
Using a stand mixer whisk the whipping cream until soft peaks form.
Refrigerate whipped cream while making custard.
Using a stand mixer whisk the sugar, egg yolks, lemon juice, lemon peel, and salt in a separate bowl.
Set bowl over large saucepan of simmering water and whisk constantly until yolk mixture is thick and fluffy and instant-read thermometer inserted into mixture registers 170°F, about 4-5 minutes.
Remove bowl from over simmering water. Secure the bowl back in the stand mixer and beat the mixture until cool, thick, and doubled in volume, about 5-6 minutes.
Fold in the chilled whipped cream.
Transfer mixture to the prepared loaf pan and smooth top.
Tap loaf pan lightly on work surface to remove air pockets.
Fold plastic wrap overhang over top to cover.
Freeze until firm, at least 8 hours or overnight.
Unfold plastic wrap from top of semifreddo and invert dessert onto platter; remove plastic wrap.
Dip heavy large knife into hot water; cut semifreddo crosswise into 1-inch-thick slices or scoop with an ice cream scooper.
Notes
Serve with fresh mixed berries.