Gluten Free Boozy Pecan Bars
This post may contain affiliate links.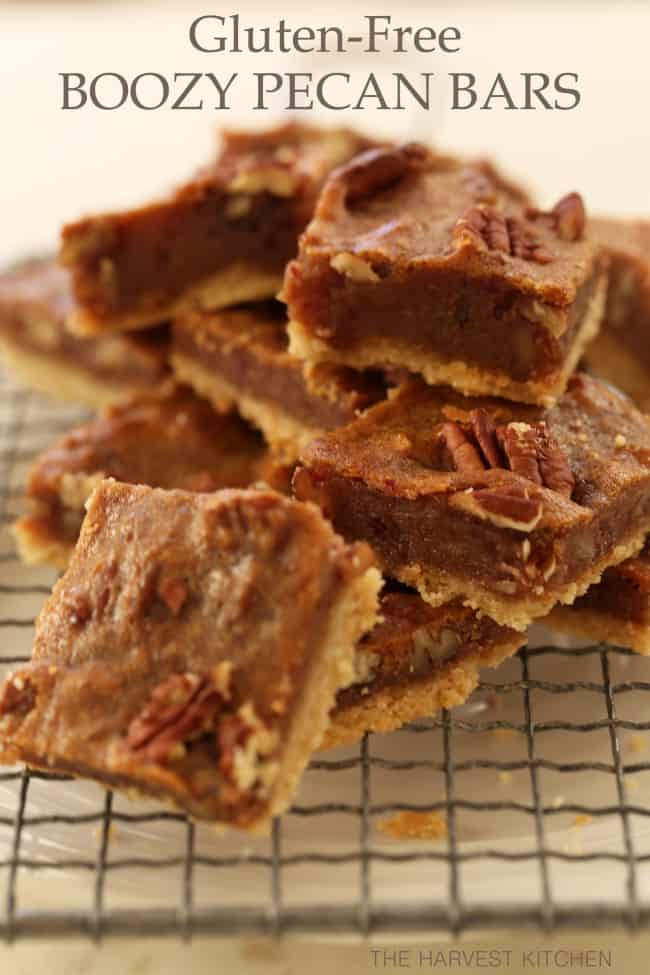 For those of you who love pecan pie for Thanksgiving – you're going to love these Gluten Free Boozy Pecan Bars! That taste every bit as good as pecan pie – only they're made with all healthy ingredients. This flaky crust is made out of almond flour, coconut oil and a wee bit of Jack Daniels, and it'll remind you of a shortbread cookie. The sweet center is made out of dates, pure maple syrup, pecans, eggs ….and a wee bit of Jack Daniels.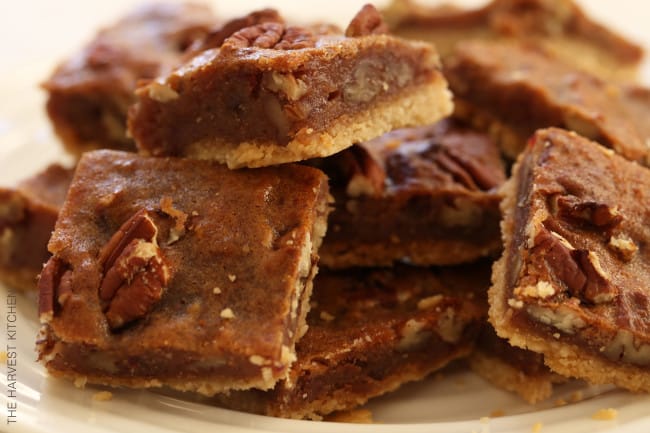 My mom especially loves these easy pecan bars because she never met a nut she didn't love! She prefers that her desserts come with nuts – and the more the merrier! You can pull a batch of these Gluten Free Boozy Pecan Bars together in 30 minutes. They're quick, easy and completely addicting. I cut this batch into bite-sized pieces, but feel free to crop them into larger pieces and serve with a scoop of frozen vanilla yogurt when they're right out of the oven. Pure bliss!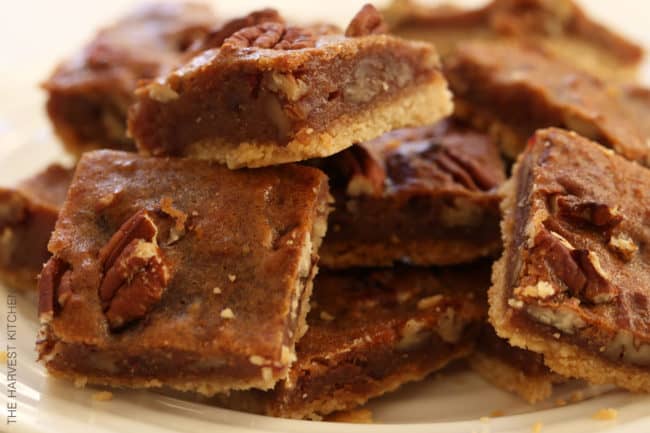 Yield: 1 dozen pieces
Gluten Free Pecan Bars
Ingredients
2 1/2 cups almond flour
1 tablespoon bourbon (optional)
2 teaspoons pure vanilla extract
2 tablespoon coconut oil, melted
1 tablespoon maple syrup
3 eggs, room temperature
1/2 cup maple syrup
1/2 cup dates (about five dates), pitted
1/2 chopped pecans
3 tablespoons coconut oil
2 tablespoons bourbon (optional)
1-1/2 teaspoons pure vanilla extract
Instructions
For the Crust
Preheat your oven to 350 degrees Fahrenheit.
Mix ingredients in a medium sized bowl until combined.
Line a 8x8 square baking dish with unbleached parchment paper.
Press crust mixture into the baking pan and bake for 10 minutes or until the crust starts to brown.
Remove from the oven and allow it to cool.
For the Center
Using a stand mixer, add the dates and maple syrup and blend until the dates start to form into a paste.
Add the eggs and and whisk for about 2 minutes.
Transfer the mixture to a saucepan.
Add the coconut oil, bourbon and pure vanilla extra. Cook over medium to low heat for about 6-8 minutes, stirring constantly until the mixture is thickened. Turn off the heat and allow filling to cool for 5-10 minutes.
Pour filling mixture over the crust and decorate with the pecans.
Bake for 20 minutes.
Store in the refrigerator.